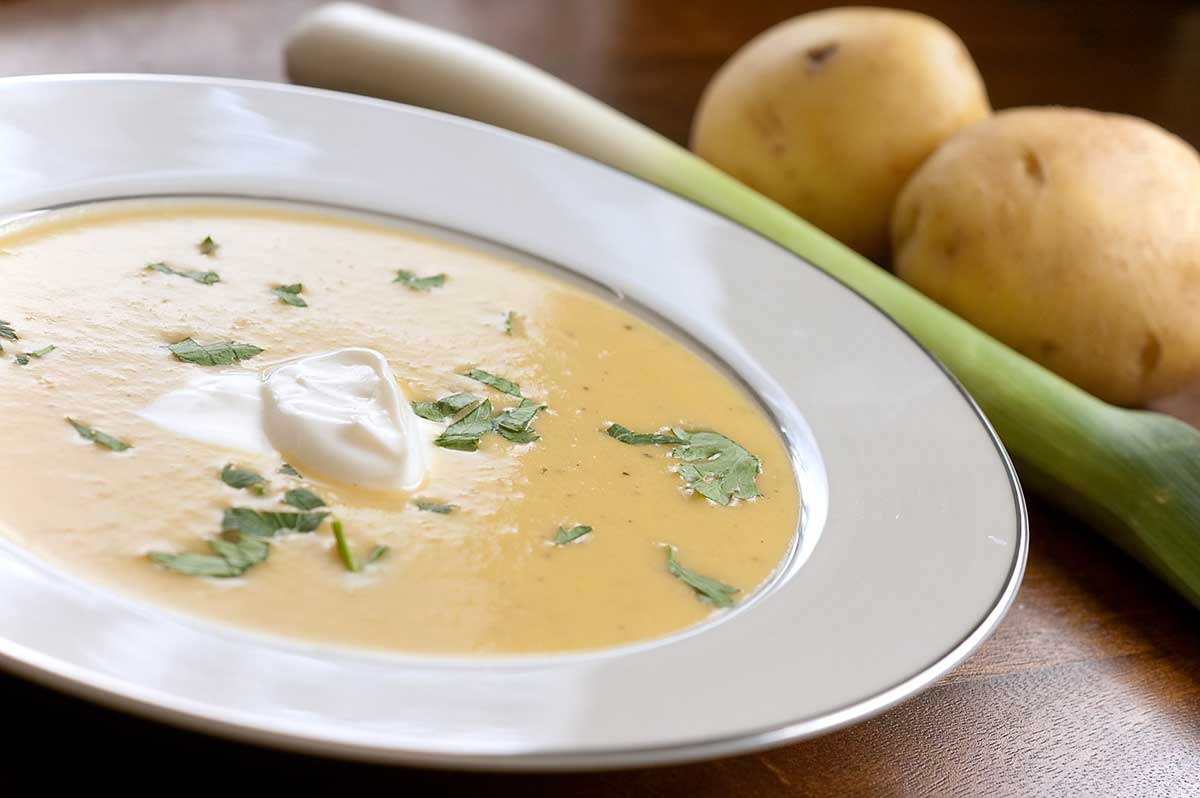 Potato Leek Soup
I decided to step away from the Thanksgiving food for a day and share another one of my fall favorites. This past week it has gotten really cold here. I mean down right blustery. Wind gusts, leaves blowing in the air, rain hitting the window panes. I'd be lying if I didn't say I love days like this. I love days like this because I can wrap up in a blanket, sit next to a fire and read a book. And in between page turns I can reach for a bowl of hot soup to warm me up. That is where this potato leek soup comes in.  It's smooth and creamy. Rich and hearty. It is the perfect way to warm you up on a cold autumn day.
In addition to warming me up on a cold fall day, I like this soup because it is pretty darn easy to make. To get it smooth and creamy I did use an immersion blender because I don't have a regular blender. Immersion blenders are great little tools. They easy to clean up and you don't have to transfer the hot soup to a blender. I'd recommend adding one to your Christmas list. Mine is red, it is pretty. I heart it.
Potato Leek Soup
This potato leek soup is smooth and creamy. Rich and hearty. The perfect way to warm you up on a blustery fall day.
Ingredients:
1

tablespoon

butter

1

tablespoon

olive oil

2

leeks

white part only diced and cleaned

4

cups

vegetable broth

4

medium yukon gold potatoes

peeled and diced

1/2

cup

half and half

1 1/4

teaspoons

salt

1

teaspoon

black pepper

sour cream

parsley
In a soup pot heat butter and olive oil over medium heat. When butter is melted add leeks. Cook 5 - 7 minutes or until leeks are softened. Pour in vegetable broth. Stir in potatoes and cook until fork tender, about 10 minutes.

Spoon some of the hot broth into the half and half to temper it. Pour the tempered half and half into the soup. Season with salt and pepper.

Use an immersion blender to blend the soup until smooth, adjust seasoning if needed. If you do not have an immersion blender, carefully transfer the soup to a blender, in batches if needed, and blend until smooth. Return to the pan and heat until warmed.

Ladle into warm soup bowls, top with a dollop of sour cream and a sprinkle of parsley. Serve.
Keywords:
blender, comfort food, fall, Food, leeks, potato, potato leek soup, potatoes, Recipe