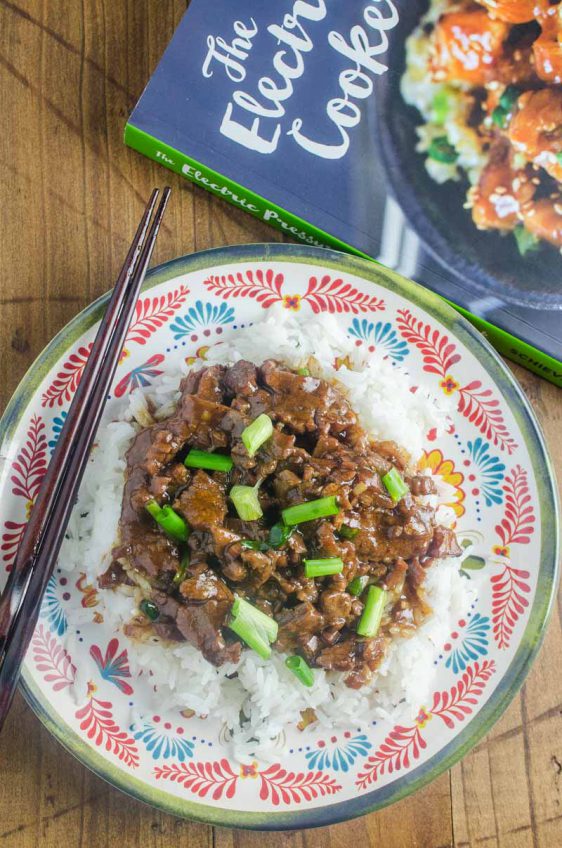 Pressure Cooker Mongolian Beef
Pressure Cooker Mongolian Beef is tender, full of flavor and can be made in a flash. It is a must make for pressure cooker users!
Disclosure: I recieved a copy of The Electric Pressure Cooker Cookbook to review. All opinions are my own.
Have you jumped on the Pressure Cooker Bandwagon yet? I did. Last year on "Prime Day" I bought my pressure cooker and each time I've used it, I've loved it.
Pressure cookers make THE best hard boiled eggs. When I am making deviled eggs and its important that the egg peels nicely, pressure cooker eggs are the only way to go. I have never had eggs peel that easy before.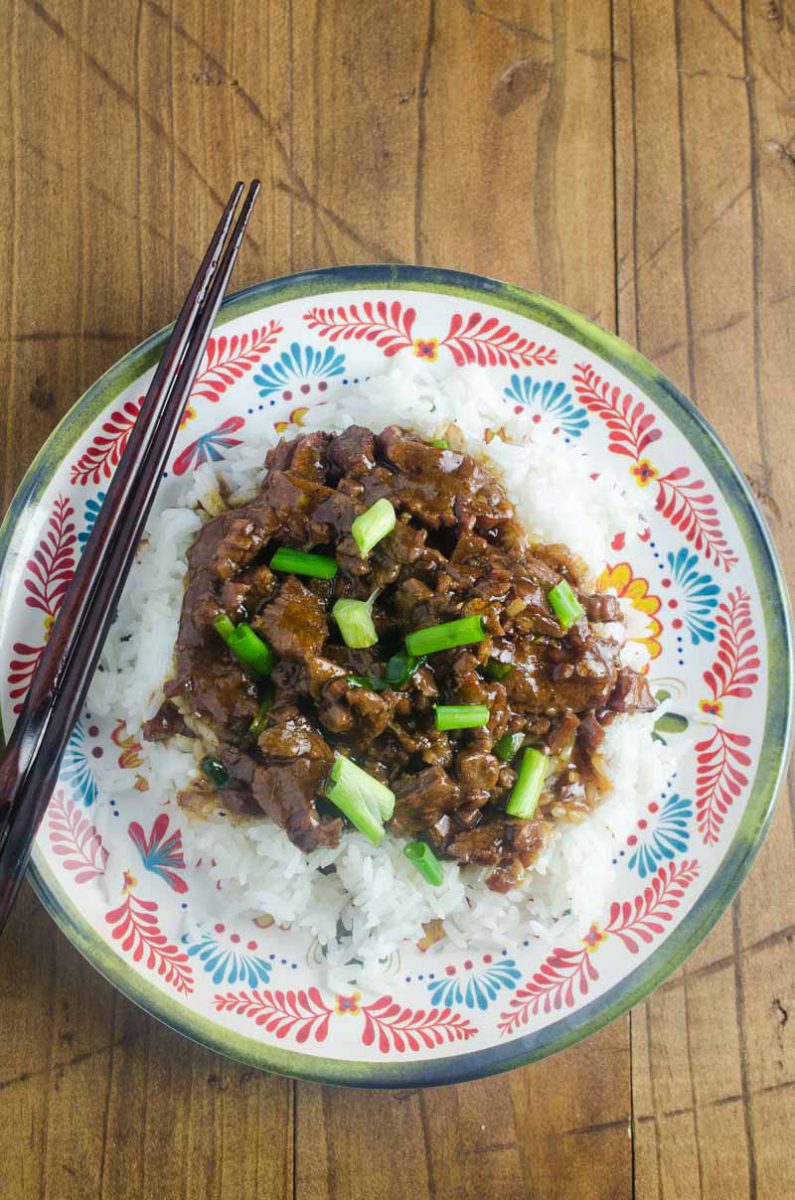 I use my pressure cooker to make pressure cooker potatoes. I've also used my pressure cooker to make a couple pot roasts (recipe testing still being done on those!) and pulled pork. That being said, I haven't used my pressure cooker to it's full potential. Like at all. I still need to try many more recipes. I just need to figure out what and how.  That is where the new cookbook "The Electric Pressure Cooker Cookbook" by my friend Barbara Schieving is going to come in handy.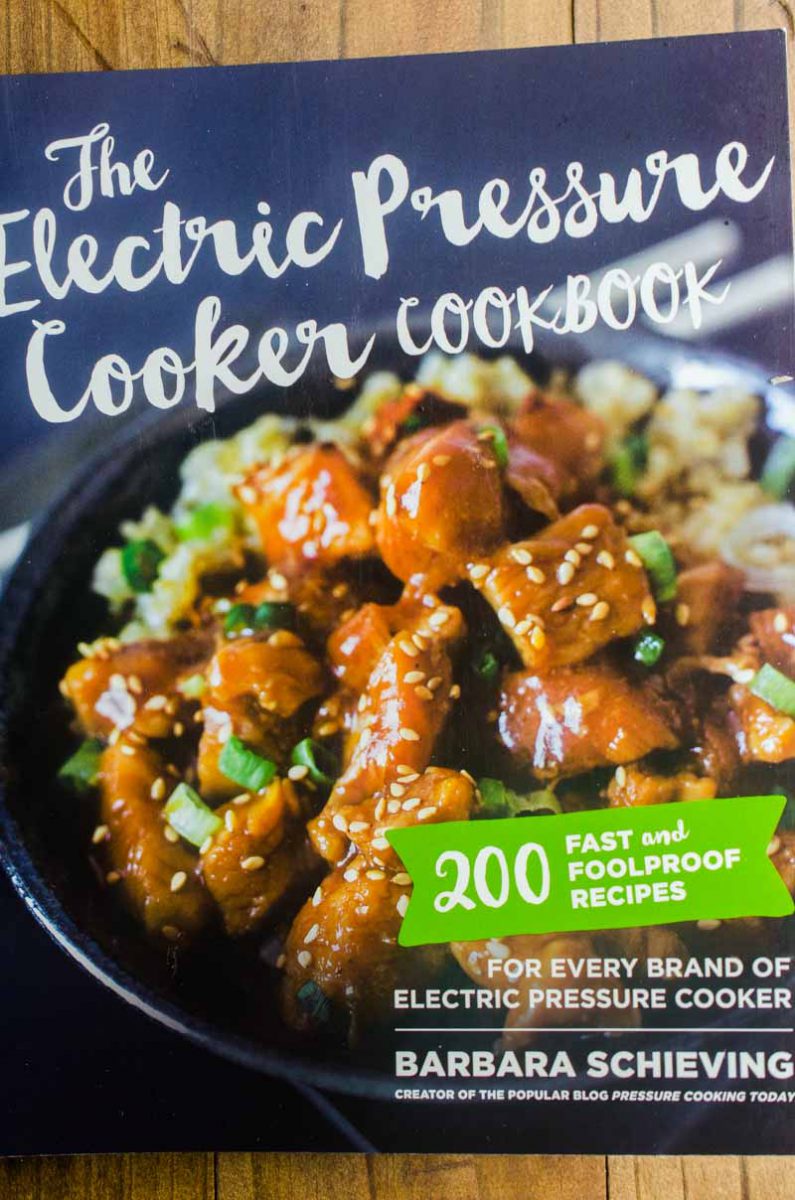 The Electric Pressure Cooker Cookbook is gorgeous and full of tons of great recipes. 200 recipes to be exact. There are recipes for Breakfast casseroles, steel cut oats, soups, stews, chicken pastas, mashed potatoes and, I kid you not, there are recipes for cheesecakes. Yes, you can make cheesecake in the pressure cooker. HOW COOL IS THAT?!
There are so many delicious recipes in this cookbook, it was hard to chose what I wanted to make first. Finally, I settled on this recipe for Pressure Cooker Mongolian Beef.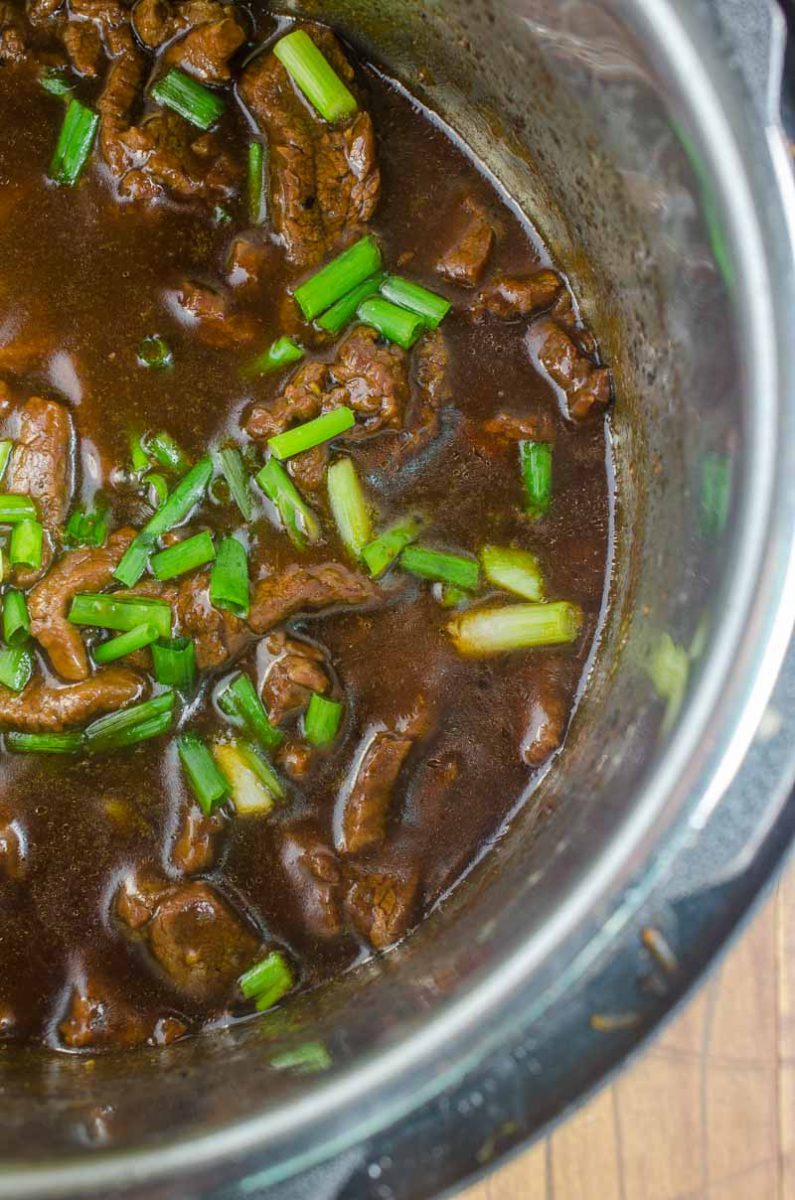 One of the things that I love to order when I go to an Asian restaurant is Mongolian Beef. I love it, but I've never made it at home. I always thought that the meat wouldn't be as tender as it is at the restaurant. That is not the case with this Pressure Cooker Mongolian Beef. The meat is SO tender. The sauce is SO flavorful. My entire family gobbled it up.
My boys even asked for seconds.
That doesn't happen all that often, so that is a very good sign.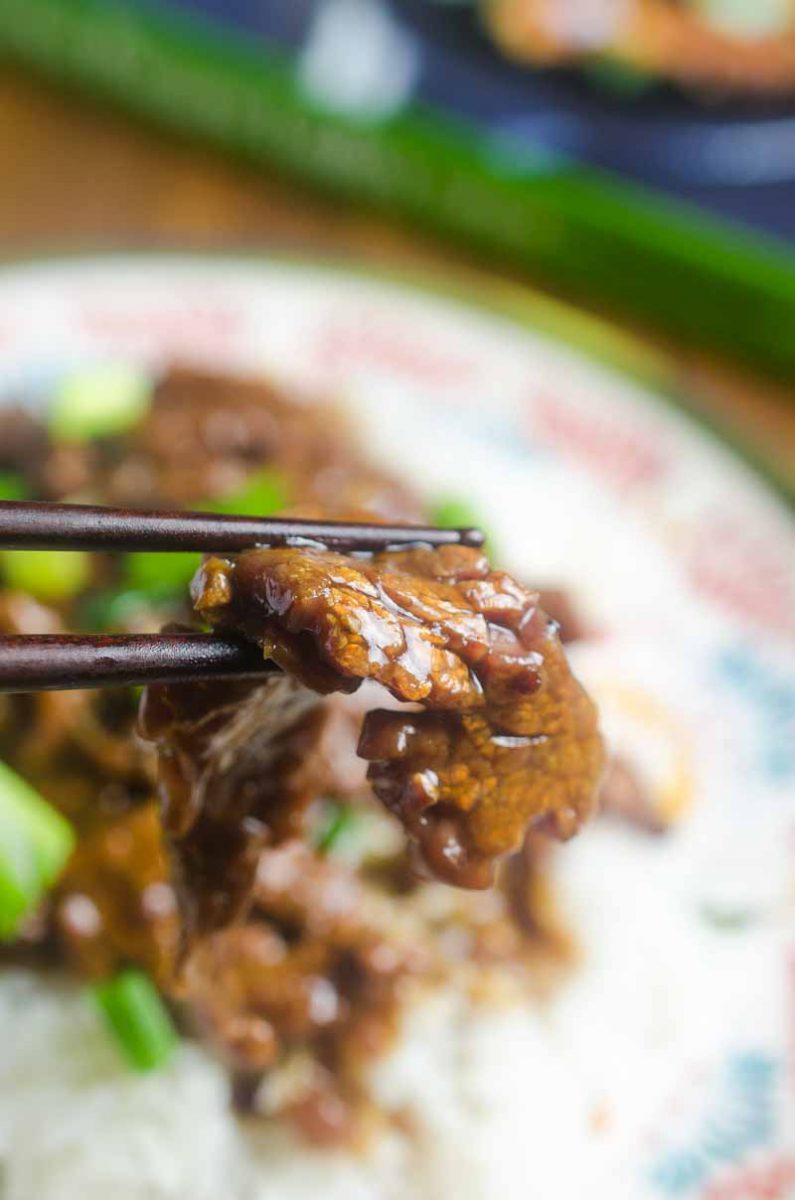 The fact that I also chowed down on all the leftovers the next day for lunch is also a good sign. This Pressure Cooker Mongolian Beef is definitely going to make it's way into our rotation.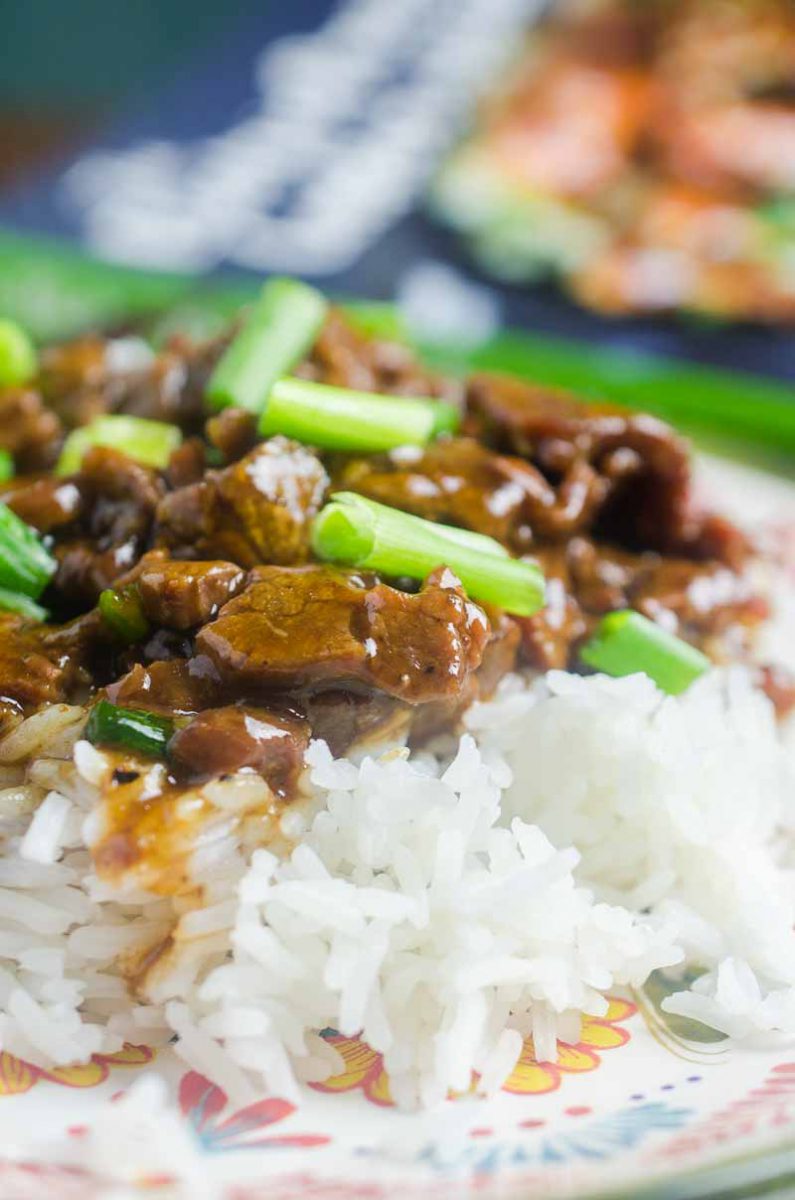 After we try all of the other scrumptious recipes in the Electric Pressure Cooker Cookbook that is. Recipes like: Garden Fresh Tomato, Basil and Parmesan Soup, Spicy Cheesy Chicken Spaghetti and Melt in your Mouth Baby Back Ribs, to name a few. But if I'm being completely honest with you, we're going to start with the Triple Chocolate Cheesecake.
Because obviously.
So if an electric Pressure Cooker is on your Christmas list (or the list of someone you love) you have GOT to buy this Electric Pressure Cooker Cookbook. Trust me.

Pressure Cooker Mongolian Beef Recipe
Ingredients:
2 pounds flank steak, cut into 1/4 inch strips
salt and freshly ground black pepper, for seasoning
1 tablespoon vegetable oil
4 cloves garlic, minced
1/2 cup low-sodium soy sauce
1/2 cup water
2/3 cup packed light brown sugar
1/2 teaspoon minced peeled fresh ginger
2 tablespoons cornstarch
3 tablespoons cold water
3 scallions, white and green parts, sliced into 1 inch pieces
cooked rice for serving
Instructions
1
Season the steak with salt and pepper. Select browning/saute to preheat the pressure cooking pot. When hot add the vegetable oil. In batches quickly brown one side of the steak strips. Transfer the browned meat to a plate.

2
Add the garlic and saute for 1 minute. Stir in the soy sauce, water, brown sugar and ginger, scraping up any browned bits from the bottom of the pot. Add the browned beef and any accumulated juices. Lock the lid in place. Select high pressure and 12 minutes cook time.

3
When the cook time ends, turn off the pressure cooker. Use a quick pressure release. When the valve drops, carefully remove the lid.

4
In a small bowl, whisk the cornstarch and cold water until smooth. Add the slurry to the pot. Select simmer/saute and bring the liquid to a boil, stirring constantly until the sauce thickens. Stir in the scallions. Serve over cooked rice.