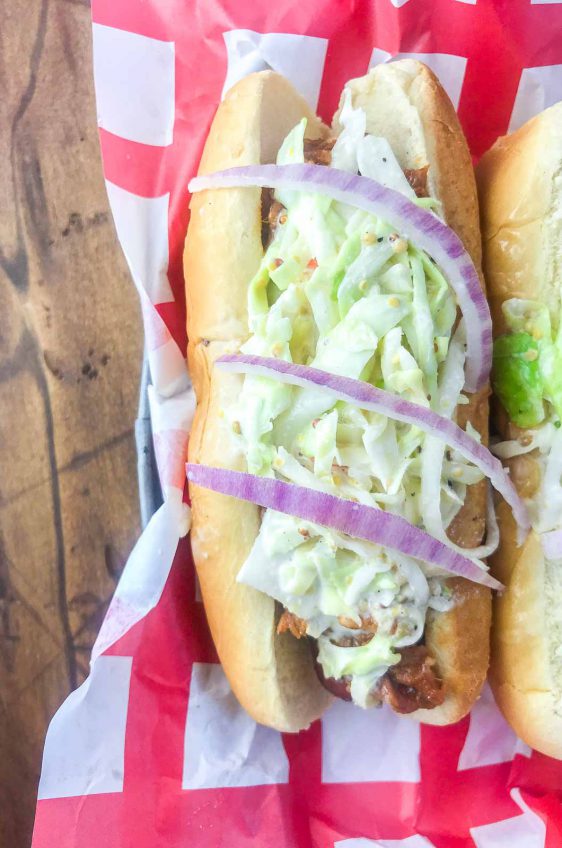 Pulled Pork Hot Dogs
Take your summer hot dogs to the next level with Pulled Pork Hot Dogs. Hot dogs loaded with pulled pork, creamy coleslaw and red onion.
Disclosure: This post is sponsored by Curly's. We appreciate our sponsors as they allow us to bring you delicious free recipes every week.
Now that we've had the unofficial kick off of summer and kids are starting to get out of school, it's time to think about all of those family summer cookouts.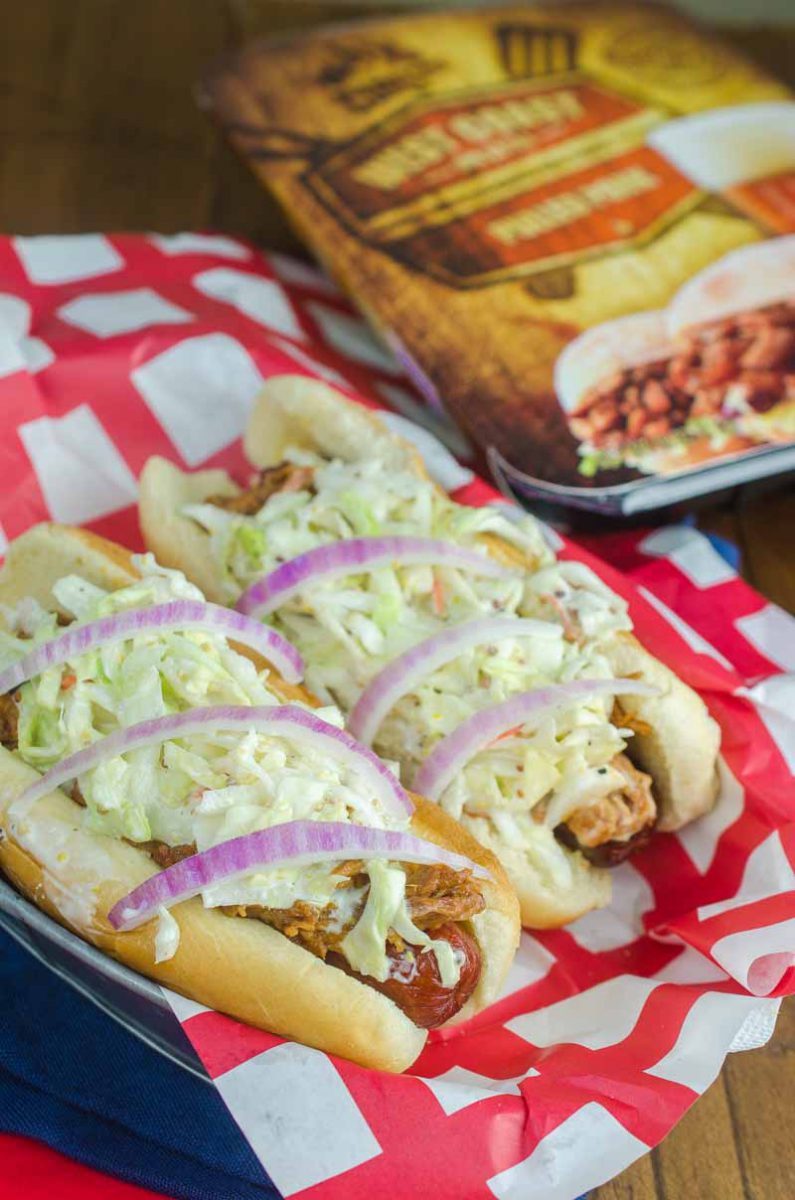 I don't know about you but hot dogs are always a part of our summer bbqs. They are easy, the kids love them. They are simple to make for a crowd. You really can't go wrong.
What hot dog toppings are a must?
There are so many different topping options when it comes to hot dogs. Depending on what part of the country you're in your topping musts might be different. In Chicago you might have a hot dog topped with yellow mustard, sweet relish and dill pickle spears. In New York, you might find hot dogs topped with sauerkraut or spicy brown mustard. Here in Seattle, Cream Cheese reigns supreme. Personally for my family, we like the usual standbys of ketchup, mustard, onions and relish. Everyone gets to do their own. Easy peasy.
However, sometimes it's fun to switch things up and make hot dogs that are out of the box.
Enter these Pulled Pork Hot Dogs. These hot dogs are, as the name suggests, topped with pulled pork. But not just any pulled pork. I teamed up again with the nice people at Curly's RoadTrip Eats and used their West Coast Style Pulled Pork.  I have partnered with Curly's for a little over a year now and each time I get to create a new recipe I'm amazed at how versatile the pork is.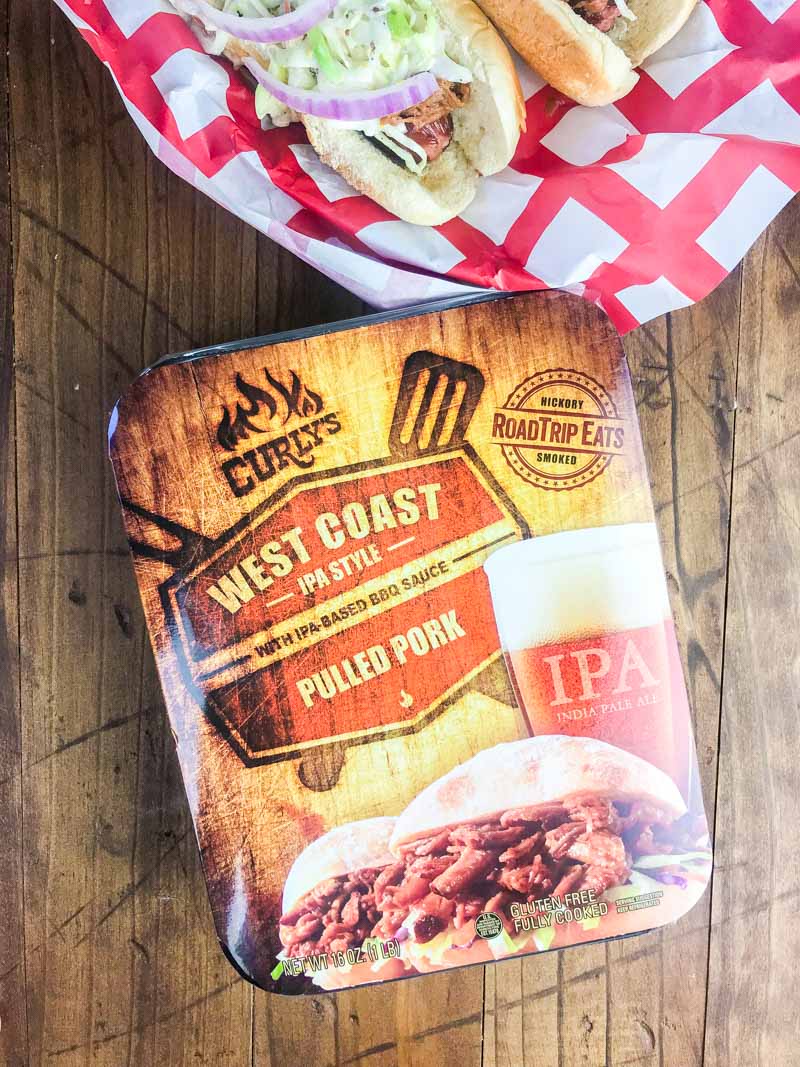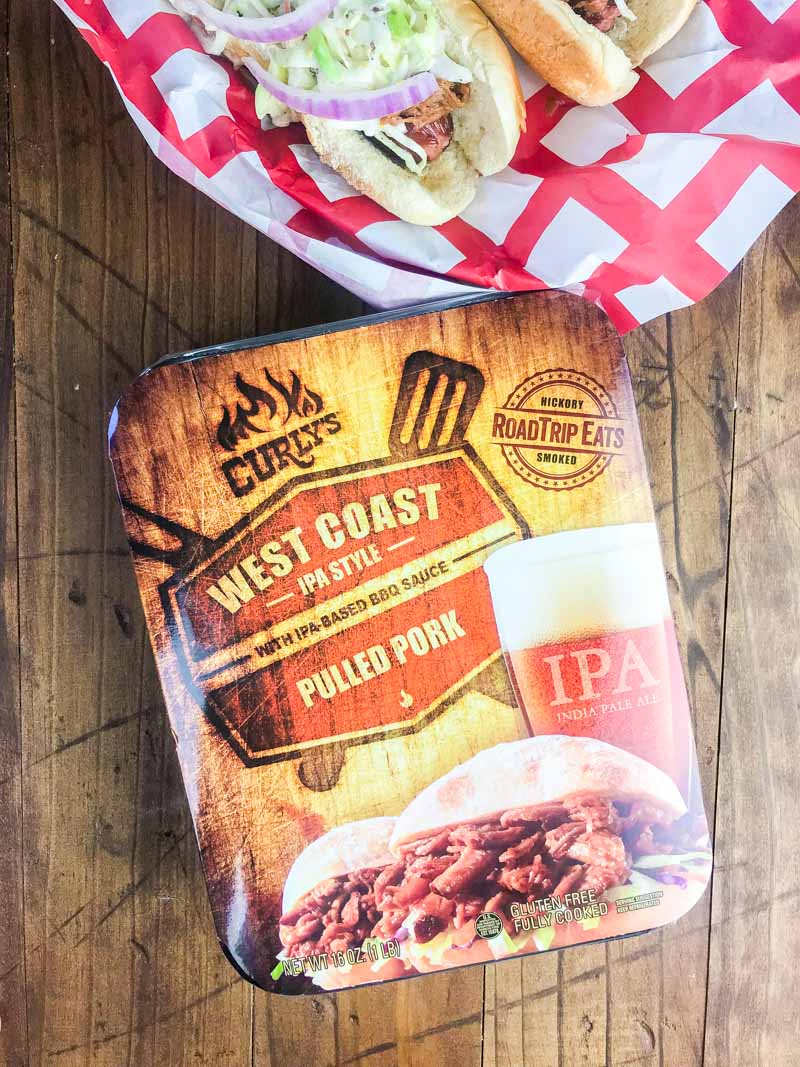 How to make a pulled pork hot dogs:
Making a pulled pork hot dog could not be easier. For this recipe, I made a quick homemade coleslaw. Homemade coleslaw is easy to make. You can buy a pre-shredded cabbage blend or shred the cabbage yourself. The dressing is the heart of the slaw, it really gives it it's flavor. For this recipe, I wanted a creamy slaw that paired well with the West Coast Style Pulled Pork. To do this I made a mayo based dressing with apple cider vinegar, stone ground mustard, salt, pepper and garlic. That's it!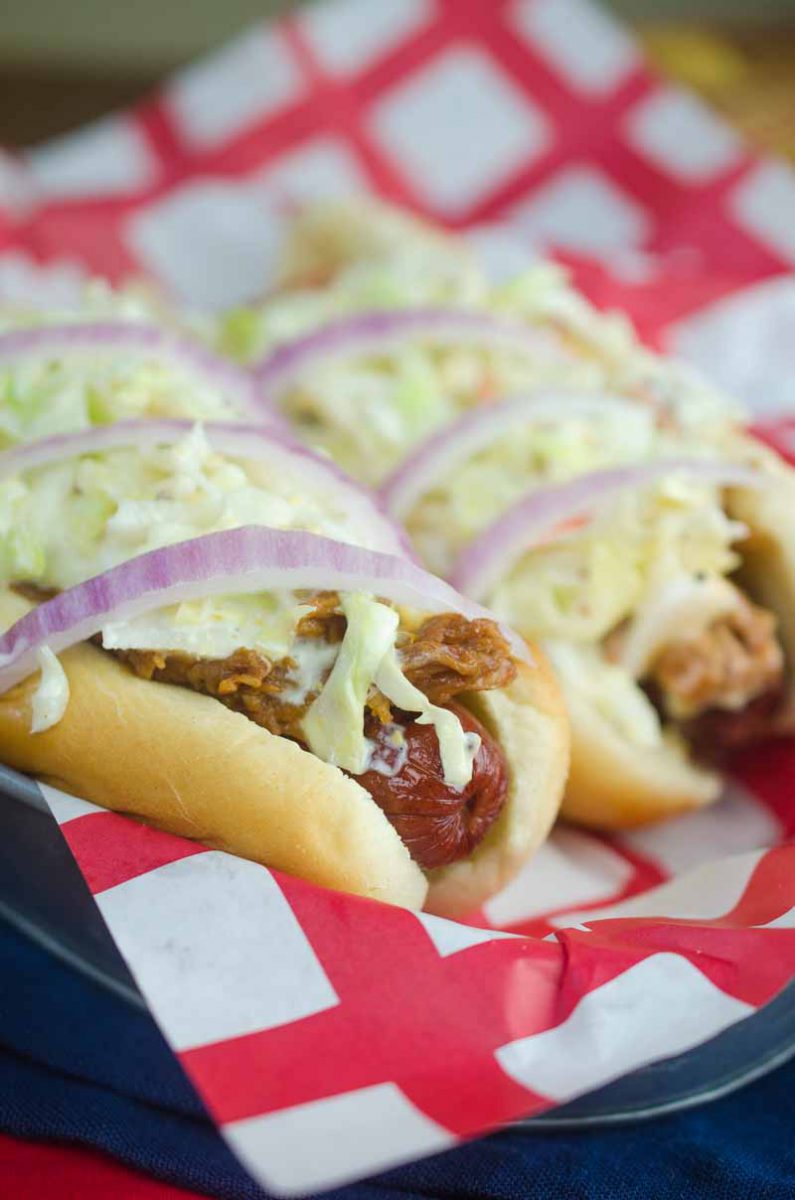 Finally, to assemble these Pulled Pork Hot Dogs, I simply topped grilled hot dogs with Curly's RoadTrip Eats West Coast Style Pulled Pork, the homemade coleslaw and some sliced red onions. The hot dogs were a hit with the whole family and I just know we'll be making more of these soon.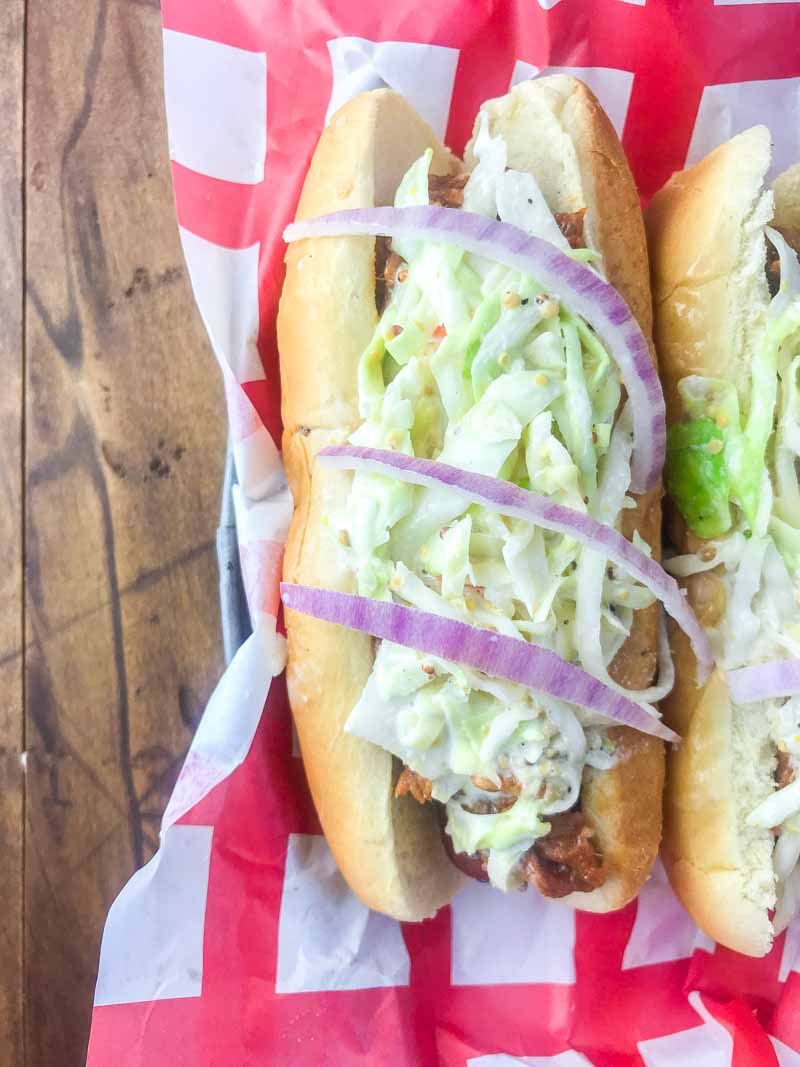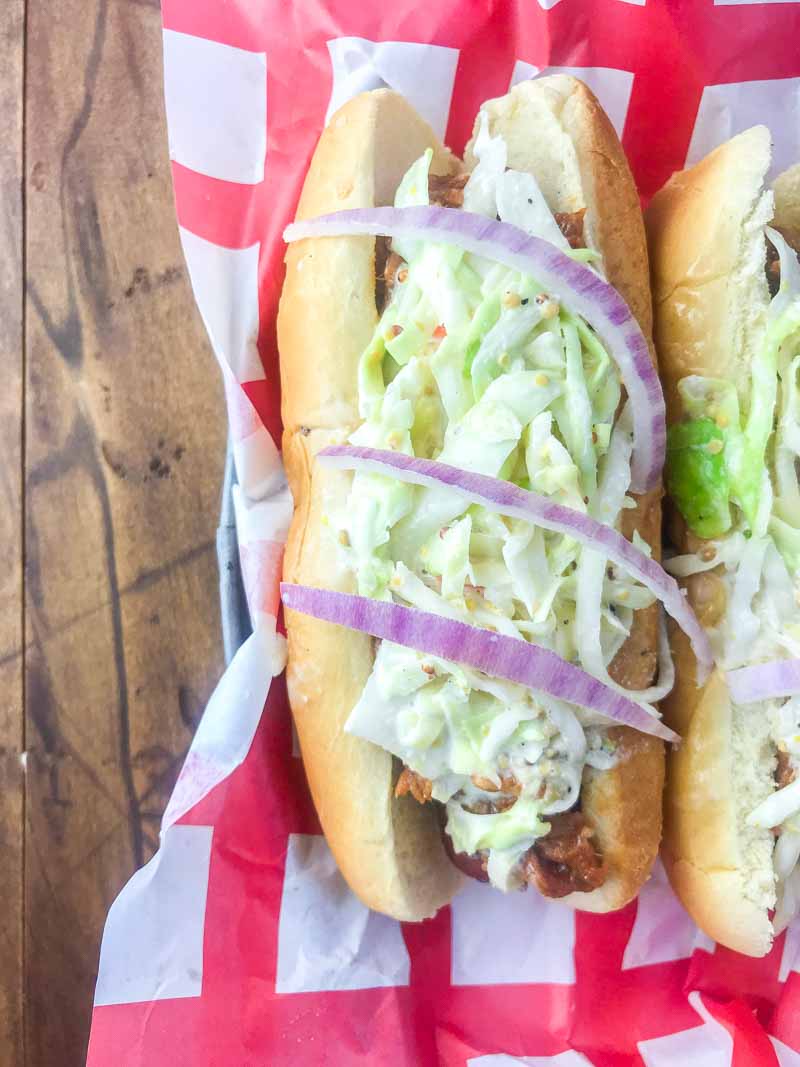 One last thing, Curly's is currently hosting a $10,000 Sizzling Summer Sweepstakes. You can enter for your chance to win $10,000 at Curlys.com/sweeps. The sweepstakes lasts until June 10, 2018. The Grand Prize is one $10,000 check, and the prizewinner has the option to use the funds to travel to his/her destination of choice. It's a big prize this summer that you don't want to miss so be sure to enter!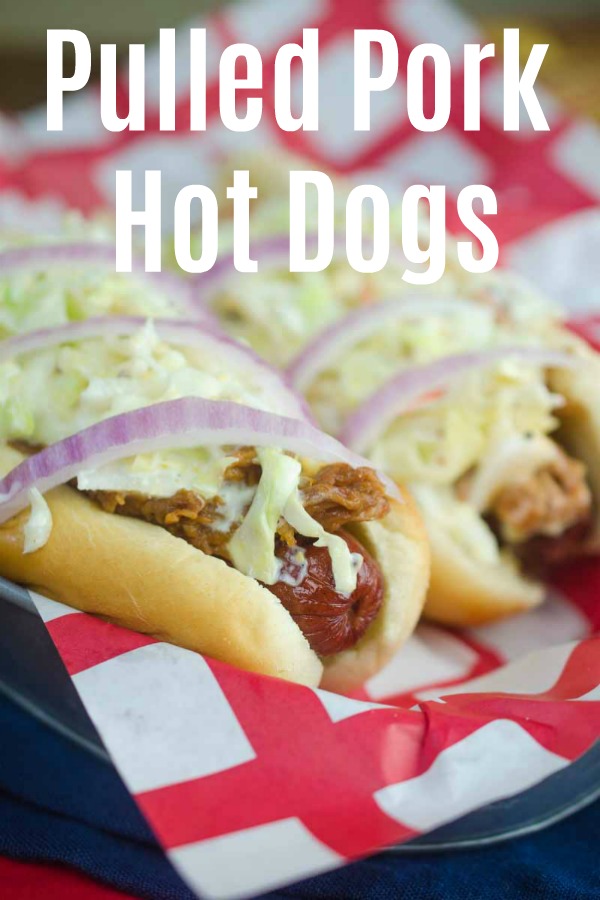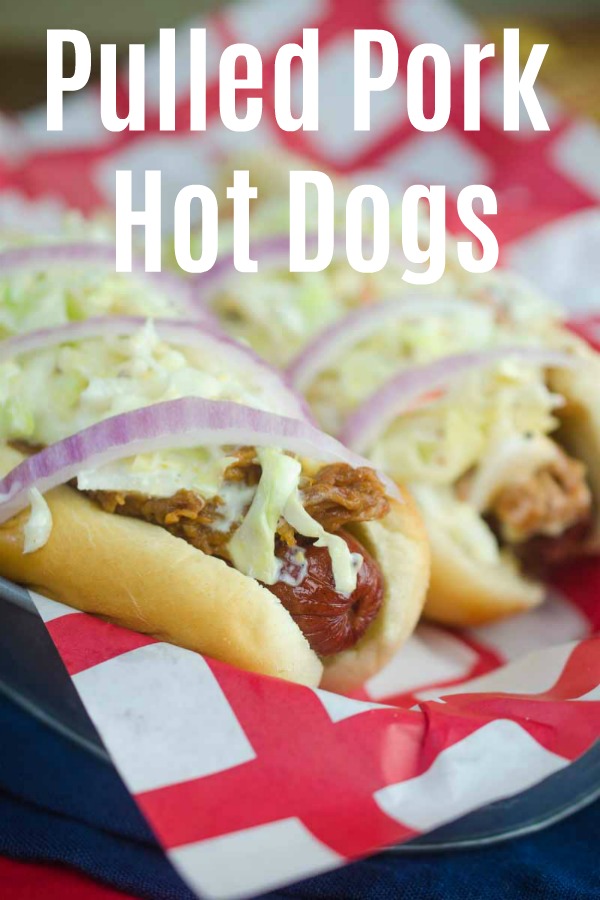 Pulled Pork Hot Dogs Recipe
Ingredients:
1 package RoadTrip Eats West Coast Pulled Pork
¼ cup mayonnaise
2 tablespoons apple cider vinegar
1 tablespoon stone ground mustard
½ teaspoon salt
½ teaspoon granulated garlic
¼ teaspoon pepper
3 cups coleslaw mix
4 hot dogs
4 hot dog buns
Sliced red onion
Instructions
1
Cook pulled pork according to package directions.

2
Whisk together mayonnaise, apple cider vinegar, mustard, salt, garlic and pepper. Pour dressing over coleslaw mix. Mix well.

3
Grill hot dogs until warmed through.

4
To assemble hot dogs: Place hot dogs in bun. Top with pulled pork, coleslaw and red onion. Serve immediately.