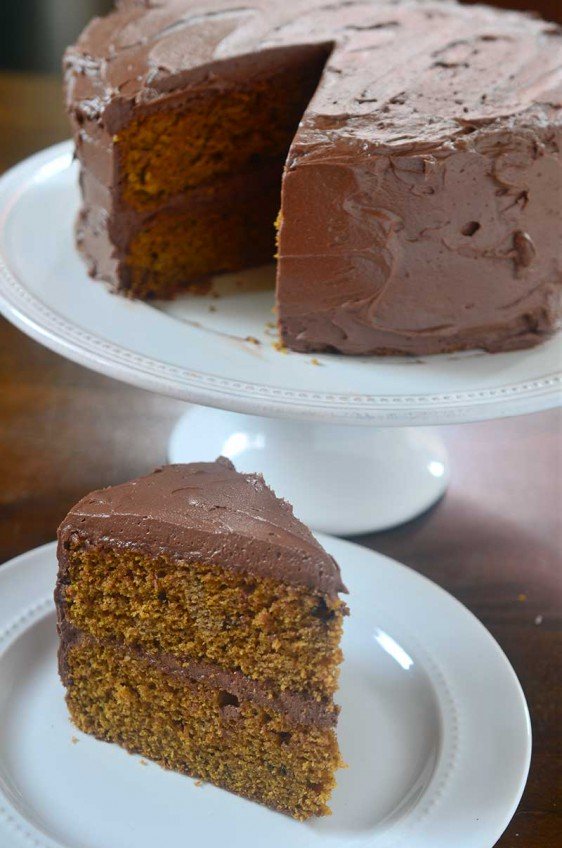 Pumpkin Cake with Mocha Buttercream
I put it off as long as I could. People told me to hold off. I tried to listen. I tried to be strong. I tried to wait. But I just couldn't. I caved. What can I say? When it comes to pumpkin I'm weak. My calendar says September so obviously, my mind says PUMPKIN ALL THE THINGS. This scrumptious Pumpkin Cake with Mocha Buttercream is the first of the pumpkin deliciousness I've made this year. And it's perfect for all you pumpkin coffee lovers out there.
I mentioned in this Malted Mocha Chocolate Chip Ice Cream post that I just recently started drinking coffee. I also mentioned that I now like to get it pretty much any way I can. So it should really come as no shock that I've made yet another dessert with it.
I may not have been a regular coffee drinker for long but every year, at least once, I always make sure to get myself a pumpkin spice latte. It's kind of my way to start of the fall season. It's because of this that I just knew that I would love the combination of pumpkin and coffee together. And because of this Pumpkin Cake with Chocolate Ganache, I knew that I also love pumpkin and chocolate together. Therefore, it only seemed logical that I would love Pumpkin Cake with Mocha Buttercream right?
Right.
And boy do I.
The cake itself is so tender. Which is one of my favorite things about pumpkin cakes. The pumpkin seems to always add just the right amount of moisture. The cinnamon and ginger in this cake add just the right amount of spice without totally overpowering it.
And then of course we've got the Mocha Buttercream.
Ohhh the buttercream. It is so decadent. So rich. Yet it is also light and fluffy. It's full of chocolate coffee goodness and it is the perfect frosting for this pumpkin cake.
So whether you're on the pumpkin in September band wagon, or not, I'm pretty sure you need to make this cake. Pronto.

Pumpkin Cake with Mocha Buttercream
A scrumptious pumpkin cake with a decadent mocha buttercream frosting. Perfect for all the pumpkin coffee lovers out there!
Pumpkin Cake Ingredients:
1 1/2

cups

granulated sugar

1

cup

softened butter

3

eggs

room temperature

1

teaspoon

vanilla

2

cups

all purpose flour

1

tablespoon

espresso powder

1

teaspoon

cinnamon

1

teaspoon

ground ginger

1

teaspoon

baking soda

2

teaspoons

baking powder

1/4

teaspoon

salt

1

cup

pumpkin puree
Mocha Buttercream
1

cup

unsalted butter

softened

3 - 4

cups

powdered sugar

1/2

cup

unsweetened cocoa powder

1

teaspoon

vanilla extract

3

tablespoons

brewed coffee
Preheat oven to 350 degrees. Grease and flour two 8-inch round cake pans.

In the bowl of a stand mixer fitted with a paddle attachment, cream together the butter and sugar until fluffy. Beat in the eggs one at a time, being sure to scrape down the edges after adding each egg. Beat in the vanilla.

In another bowl, combine flour, espresso powder, cinnamon, ginger, baking soda, baking powder and salt. Slowly beat the dry ingredients into the wet ingredients. Once mixed, turn the mixer off and gently fold in the pumpkin puree.

Scoop batter equally into the cake pans and level with a knife. Bake in preheated oven for 30 - 35 minutes or until a toothpick inserted in the center comes out clean. Remove from oven and allow to cool for several minutes. Gently remove the cake from the pans and place on a cooling rack to cool completely, about an hour.

To make frosting cream together butter and 3 cups of powdered sugar. Add in cocoa powder, vanilla and coffee. Continue beating until a stiff spreadable mixture forms. If frosting is too thin, add the remaining powdered sugar.

Once cake has cooled, place one layer on a serving plater and spread 1/3 of the frosting on top. Place the second layer on top and frost whole cake with remaining frosting. Slice and serve.

If you store it in the refrigerator, allow to set at room temperature for at least an hour before serving.
Keywords:
buttercream, cake, chocolate, coffee, mocha, pumpkin