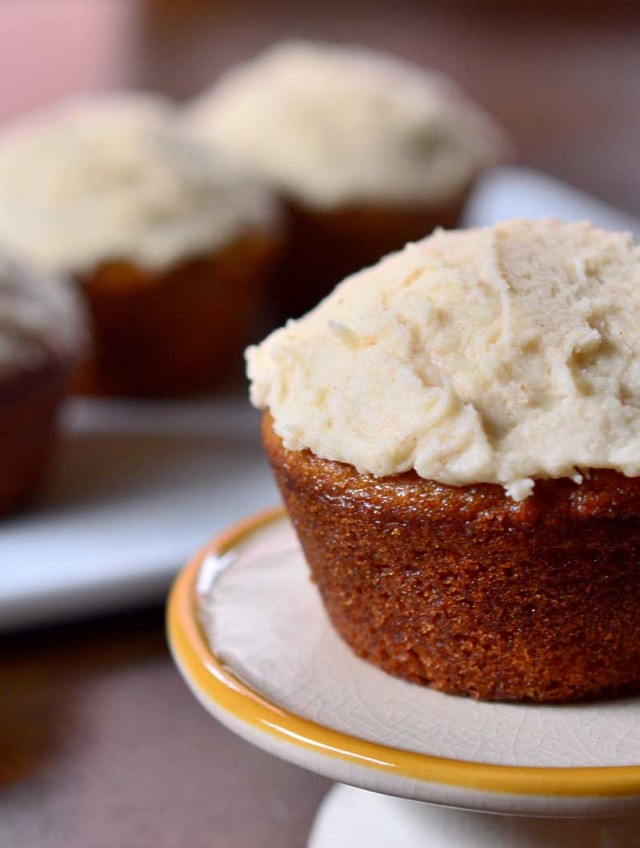 Pumpkin Cupcakes with Browned Butter Maple Frosting
I love cupcakes of all shapes and sizes. Of all flavors. But there is just something about a pumpkin cupcake that makes me all kinds of giddy. Maybe it's because the pumpkin makes the cupcakes so incredibly moist. Or maybe it's because the flavor and the seasonings just scream fall and fall is, after all, the best season ever. Or maybe it's just because pumpkin cupcakes, especially these Pumpkin Cupcakes with Browned Butter Maple Frosting, are incredibly delicious.
I made these as a dessert for one of our Sunday dinners a couple of weeks ago since it happened to fall on the first day of fall. Mid baking I was hit with a mini dilemma. No cupcake liners.
Cue the crazy thought process in my brain-
First "Well shoot, now I have to go to the store"
Then "I don't really want to go to the store"
Cue the rain. "Yeah, now I really don't want to go to the store"
Finally "If I bake them without cupcake liners does that make them muffins? And since they are muffins, can I eat them for breakfast?"
I liked where this was going.
So I baked these babies without the liners, frosted them with maple frosting which is another breakfast staple and promptly ate one for breakfast.
And you totally can to.
I won't tell if you don't.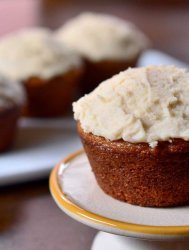 Pumpkin Cupcakes with Browned Butter Maple Frosting
Delectable pumpkin cupcakes topped with browned butter maple frosting.
Pumpkin Cupcake Ingredients:
Browned Butter Maple Frosting Ingredients:
Preheat oven to 350 degrees. Spray a cupcake tin with non-stick spray.

Combine flour, baking soda, salt, baking powder and pumpkin pie spice together in a bowl.

In the bowl of a stand mixer with the paddle attached, beat granulated sugar and butter together until fluffy. Beat in eggs one at a time. Scraping down the sides of the pan after adding each egg. Slowly beat in the dry ingredients. Fold in the pumpkin puree.

Fill in each cupcake mold 2/3 of the way full. Bake in preheated oven 15 -20 minutes or until a toothpick inserted comes out clean. Remove cupcakes from oven. Allow to cool for several minutes in cupcake tin, then transfer to a parchment paper lined cooling rack. Cool completely.

While cupcakes are cooling, heat butter over medium heat. As butter melts, it will foam slightly. Continue to cook until you notice little brown bits forming at the bottom of the pan. Stir the butter or shake the pan and continue cooking until the butter is a tan color and has a nutty aroma. Remove from heat and set it on a cool surface because it will continue to cook in the pan. Allow butter to cool completely.

Once cooled, place butter in a bowl with 2 1/2 cups powdered sugar and use a mixer to cream together. Add in remaining Beat in vanilla extract. Beat in maple syrup. Beat in 2 tablespoons of milk. The frosting will be thick but spreadable. Add remaining milk if frosting is too thick. Frost cupcakes and serve.
Keywords:
browned butter frosting, cupcakes, dessert, fall dessert, Food, maple frosting, pumpkin, Recipe, sweet, treat