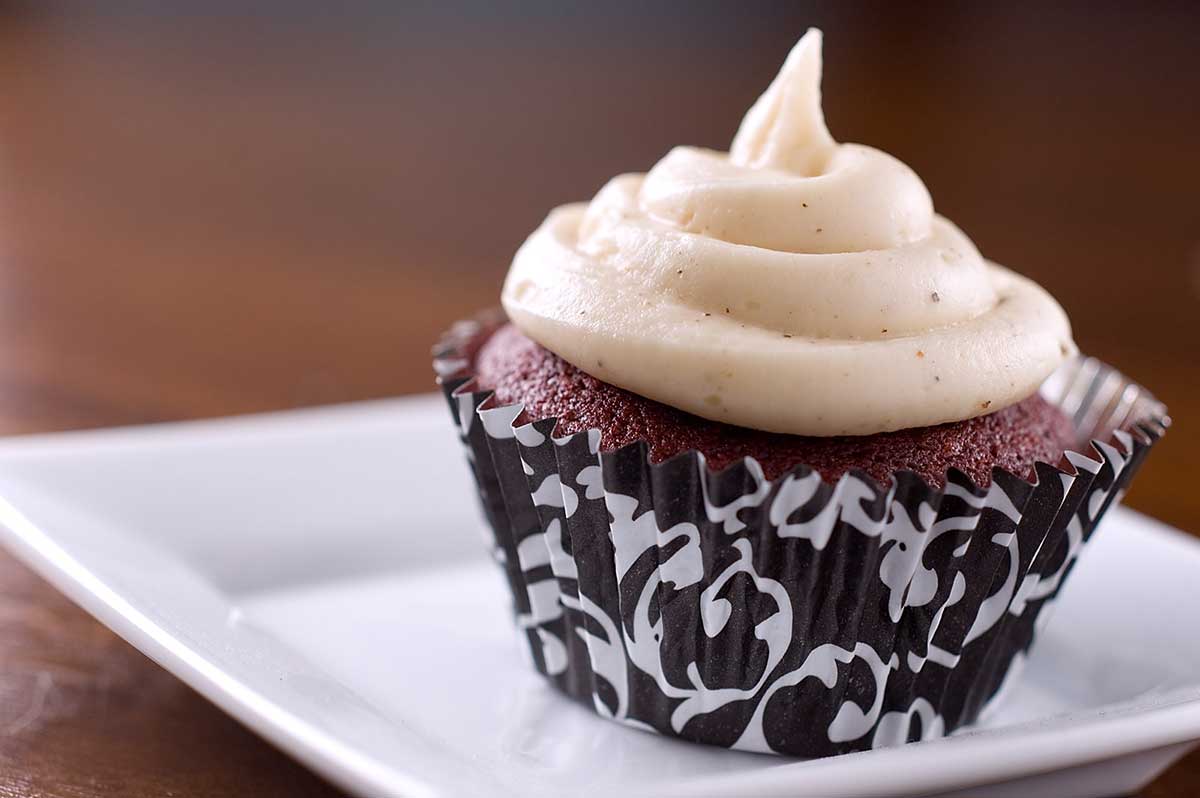 Red Velvet Cupcakes with Browned Butter Frosting
I should probably apologize. I've been hanging on to this one for a little while.  I know, I know not the nicest thing to do but I was just waiting for just the right time to share them. And since it's been awhile since I have shared a desert and Valentine's Day is just a few days away, I figured now would be the perfect time. They're red and white. Their chocolaty and just when you think that cream cheese frosting can't get any better, I decided to throw in some browned butter. Hold me.
I actually got the idea to try these cupcakes with browned butter cream cheese after I ordered Ryan a red velvet cake with that frosting for his birthday. It was a huge hit. Something about the nuttiness of the browned butter lends itself nicely to the cream cheese frosting.
Red Velvet Cupcakes with Browned Butter Frosting Recipe
Ingredients:
1 1/2 cups cake flour
3 tablespoons dutch processed cocoa powder
1 teaspoon baking soda
2/3 cup sugar
1/2 cup buttermilk
1/2 cup canola oil
2 eggs
1 teaspoon vanilla extract
2 teaspoons red food coloring
1 teaspoon distilled white vinegar
5 tablespoons unsalted butter
4 ounces cream cheese
1 1/2 to 2 cups powdered sugar
Instructions
1
Preheat oven to 350 degrees and line cupcake tin with cupcake liners.

2
In a bowl mix together flour, cocoa powder and baking soda. In another bowl whisk together sugar, buttermilk, oil, eggs, vanilla, food coloring and white vinegar. Gradually stir in the flour mixture. Mix well.

3
Full cupcake liners 2/3 full. Bake in preheated oven for 15 - 20 minutes or until an inserted toothpick comes out with just a few crumbs on it. Allow to cool on the baking sheets for a couple of minutes then transfer to a cooling rack to cool completely.

4
Meanwhile, make your frosting. In a stainless steel pan or pot, heat butter over medium heat. As butter melts, it will foam slightly. Continue to cook until you notice little brown bits forming at the bottom of the pan. Stir the butter or shake the pan and continue cooking until the butter is a tan color and has a nutty aroma. Remove from heat and set it on a cool surface because it will continue to cook in the pan. Allow butter to cool completely.

5
Use a hand mixer to beat cream cheese until smooth. Gradually beat in 1 1/2 cups of powdered sugar. Beat in browned butter. Frosting should be stiff but spreadable. Add more powdered sugar if needed.

6
Frost cooled cupcakes and serve.