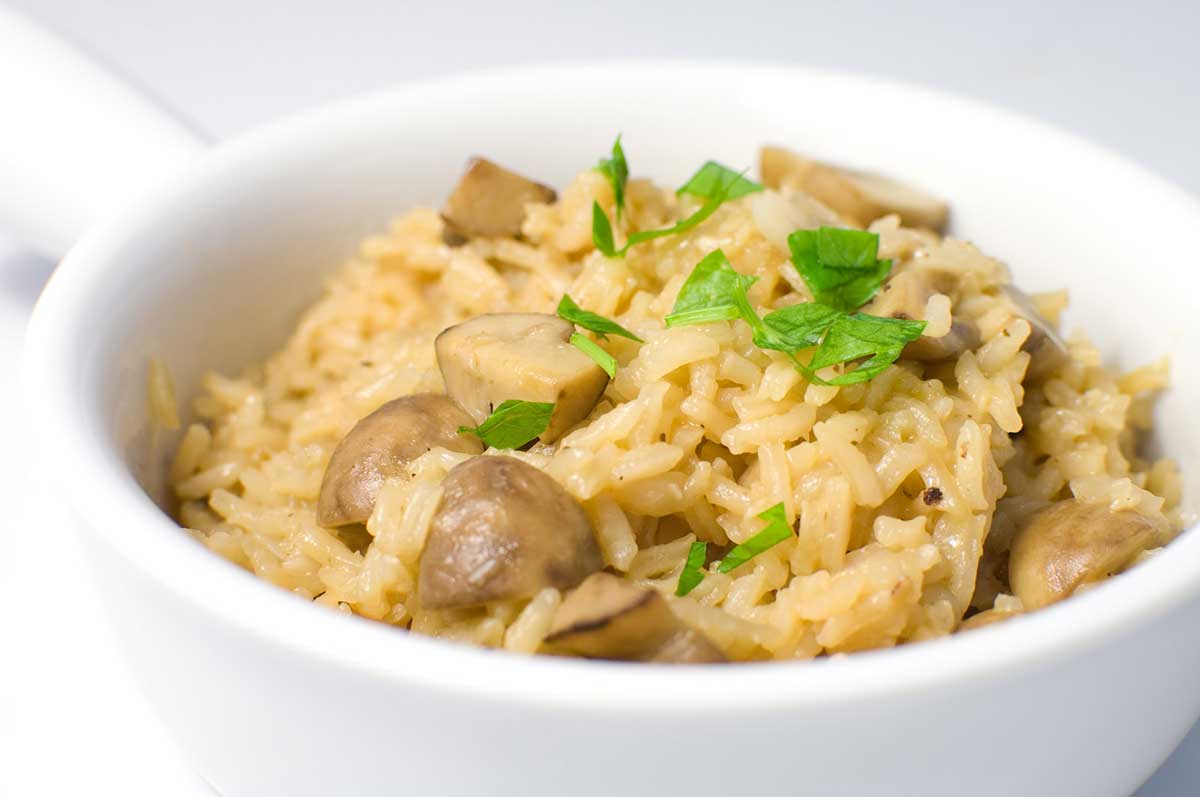 Rice Pilaf with Crimini Mushrooms
Well after that sinfully delicious cheesecake I shared yesterday, I thought I would share something a little lighter, but just as delicious today. Those of you that have been following the blog for awhile have probably realized that I am a huge fan of rice. I could seriously eat it everyday. While I love plain white rice with a little soy sauce, this past week I was looking for something a little different so I decided to take the few crimini mushrooms I had in the fridge and make a rice pilaf. First, I sauteed the mushrooms, garlic and a shallot in melted butter and olive oil. Next, I added the rice and some vegetable broth, covered it and let it simmer for about 20 minutes until all of the liquid was absorbed. With a few grinds of fresh ground pepper, this made a delightful side dish.
I just love the flavor of mushrooms and tend to add them to a lot of my dishes. I picked crimini mushrooms over white button mushrooms in this recipe because they have a richer, earthy flavor. If you only have button mushrooms feel free to substitute them.  While often more expensive, wild mushrooms such as chantrelles or morels would also be delicious in this recipe.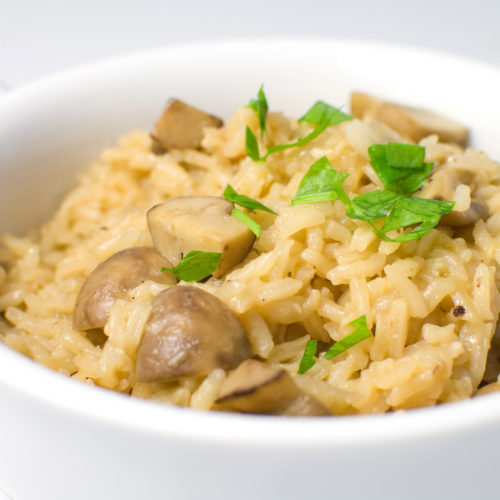 Rice Pilaf with Crimini Mushrooms
Rice pilaf cooked with garlic, shallots and earthy mushrooms.
Ingredients:
1

tablespoon

butter

1

tablespoon

olive oil

1

shallot

minced

2

garlic cloves

minced

1 1/2

cups

quartered crimini mushrooms

1

cup

long grain rice

2

cups

vegetable broth

I used Better than Bouillon

fresh cracked black pepper
In a saucepan over medium heat, combine butter and olive oil. When butter has melted add minced shallot and minced garlic. Cook 1-2 minutes.

Add crimini mushrooms. Cook 3 minutes or until mushrooms soften slightly.

Stir in rice, cook until rice becomes slightly translucent. Stirring occasionally to make sure rice doesn't stick to the bottom of the pan. About 4 minutes. Rice may brown slightly.

Stir in vegetable broth, bring to a boil. Reduce heat to medium-low. Cover and let cook 20-25 minutes.

Sprinkle with some fresh cracked black pepper. Stir. Serve.
Keywords:
crimini mushrooms, diet, Food, long grain rice, Mushrooms, Recipe, rice, rice pilaf, side dish, wild mushrooms