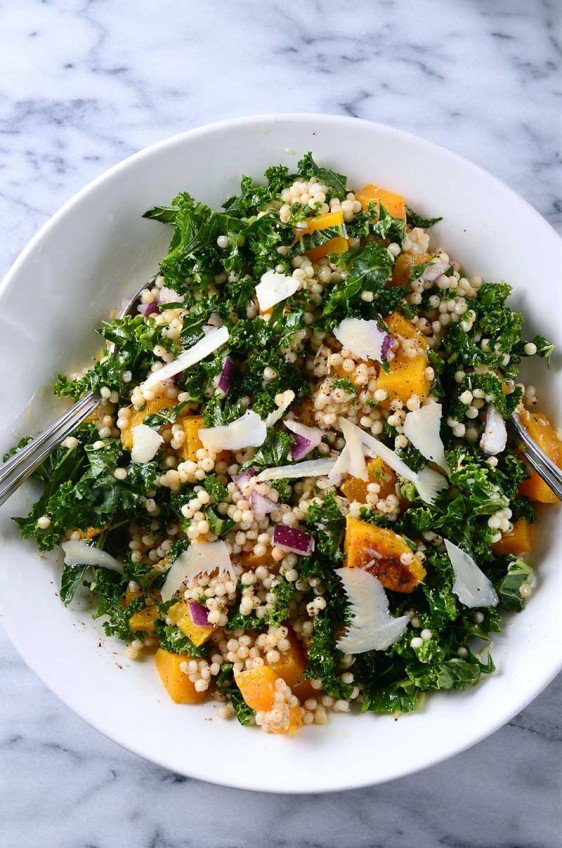 Roasted Butternut Squash, Kale and Couscous Salad
Every year I like to buy one or two new Halloween books. This year I picked up the cutest book ever: The Ugly Pumpkin. Have you read it yet? I adore it. I always hope that it's the one that Kellan wants to read at nap or bedtime. It's about a character who thinks he's an ugly pumpkin only to find out he's actually a squash. Seriously, just a cute fun book. Speaking of squash, I did some experimenting with butternut squash the other day and this amazing Roasted Butternut Squash, Kale and Couscous Salad was the result.
This was actually my first time roasting butternut squash. I've only ever used it to make soup like this Butternut Squash Soup with Curried Squash Seeds. I seriously feel like I've been missing out by waiting so long to try roasting it. It was so nutty and sweet, I found myself just snacking on the pieces before I even had the chance to get them in the salad.
And how did this salad come to be? Alas, I have to mention The Flavor Bible AGAIN. I know, I know, you'd think I have Flavor Bible stock or something but I don't, I promise. The fact is that I created this salad by going back and forth looking at different ingredients that I had and what the Flavor Bible said paired well with what. I ended up using butternut squash, kale, couscous, red onion and parmesan and tossed the whole thing in a lemon parmesan dressing. And again, the Flavor Bible did not let me down. This salad is scrumptious, guys. It is the perfect side for the upcoming holidays. It's perfect for a light lunch. And if you want to make it more substantial I bet it'd be great with some chopped chicken.
I was totally planning on trying that the next day for lunch but wouldn't you know, Ryan and I ate the entire salad in one sitting. Yes, I promise it should be enough to feed 4 as a side dish but Ryan and I could not stop eating it. I know it will be on our table again and again in the coming months. And, believe me when I say you want it on yours too!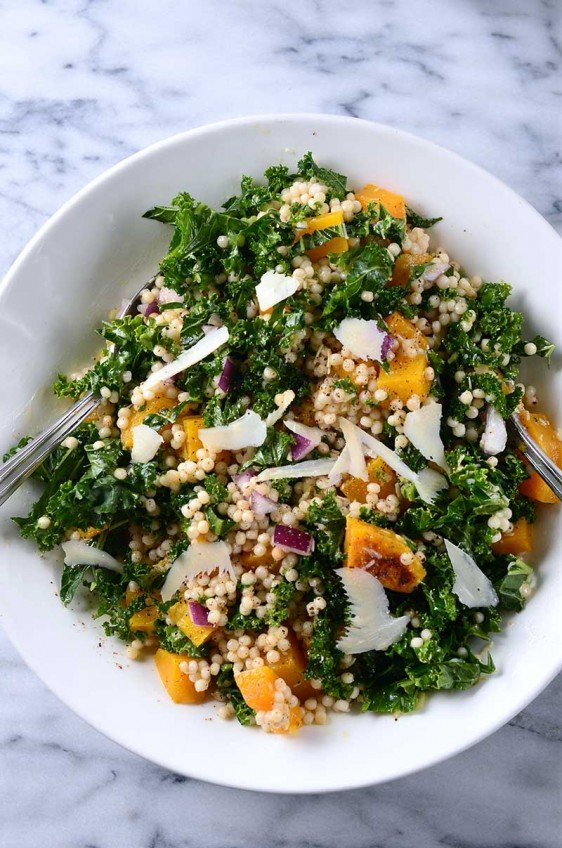 Roasted Butternut Squash, Kale and Couscous Salad
A hearty fall salad with kale, butternut squash and couscous tossed in a lemon Parmesan vinaigrette.
Roasted Butternut Squash, Kale and Couscous Salad Ingredients:
2

cups

peeled and diced butternut squash

1

tablespoon

olive oil

1/2

teaspoon

salt

1/4

teaspoon

black pepper

1

cup

dried Israeli pearl couscous

2

cups

finely chopped kale

1/4

cup

diced red onion

parmesan shavings
Preheat oven to 400 degrees.

Whisk together all ingredients for salad dressing. Season to taste with salt and pepper. Allow to set at room temperature while you prepare the rest of the salad.

Toss squash with olive oil, salt and pepper. Roast on a baking sheet in preheated oven for 20 minutes or until tender.

Meanwhile, prepare couscous according to package directions. Allow to cool.

Combine butternut squash, kale and couscous together in a bowl. Whisk dressing until it comes together, pour dressing over the top. Toss to coat completely. Top with Parmesan shavings. Serve.
Note: Can be made ahead and refrigerated until ready to serve.
Enjoy!
Keywords:
butternut squash, couscous, dressing, salad, Vegetarian