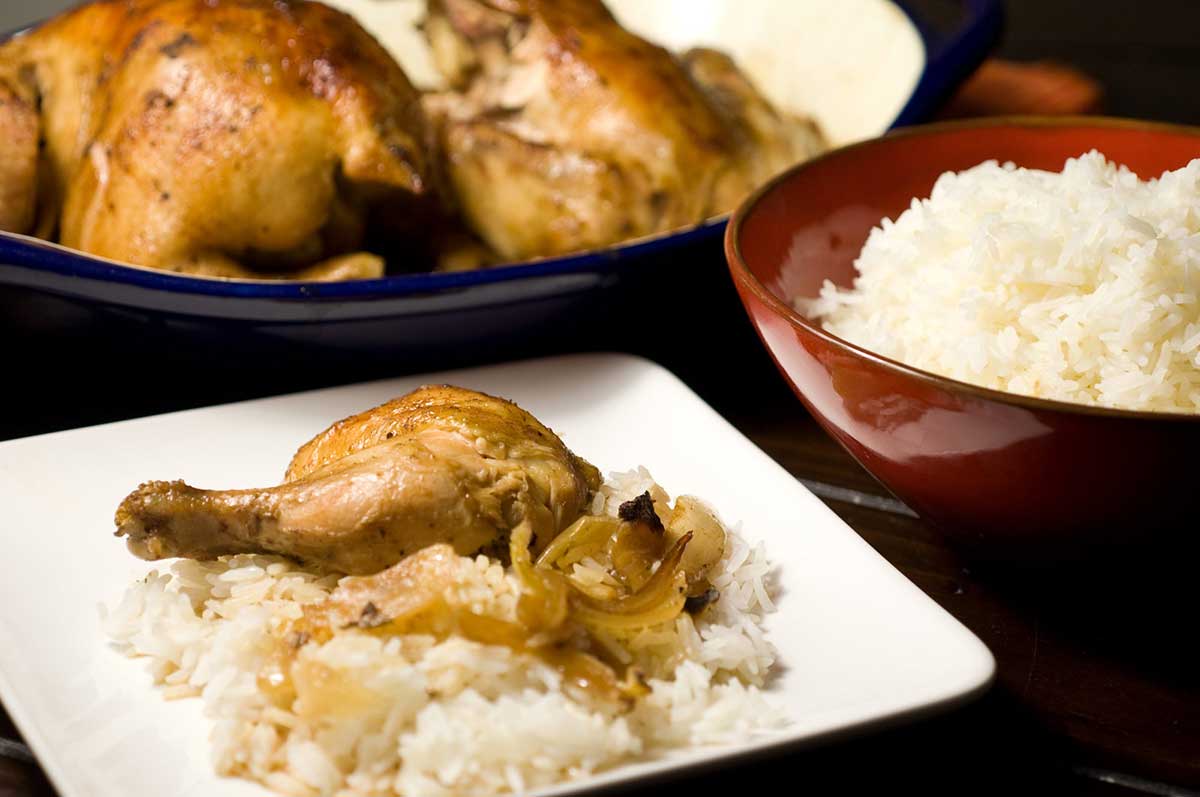 Roasted Cornish Game Hen
This recipe was inspired by my late grandmother who would prepare chicken this way.  I didn't have chicken but I did have a couple of Cornish game hens so I substituted those. In this recipe, Cornish game hens are slow roasted in the oven with sliced onions, soy sauce, garlic and butter. The result is tender meat with a savory sauce that is perfectly matched with some jasmine rice.
Roasted Cornish Game Hen Recipe
Ingredients:
2 cornish game hens
1/2 onion, sliced
1 teaspoon granulated garlic
1/8 cup soy sauce
1 tablespoon butter, cut into 1/4 inch squares
kosher salt and pepper
2 cups prepared jasmine rice
Instructions
1
Preheat oven to 350 degrees.

2
Rinse the game hens, remove the giblets if present. Season the cavity with kosher salt and pepper.

3
Place the game hens in a baking dish large enough to hold both of them. Lay the sliced onions around the game hens, sprinkle with granulated garlic, pepper and kosher salt (Note: Go easy on the salt since you will be using soy sauce). Sprinkle butter cubes around the hens. Pour soy sauce over. Cover with foil and bake for 50 minutes. Basting every 20 minutes.

4
Remove foil and cook 30 more minutes or until a meat thermometer inserted into the thickest part of the hen registers 180 degrees and the hen is golden brown. Cover and let rest 10 minutes.

5
Cut game hens in half. Serve over prepared jasmine rice. Spoon sauce over the top.
Notes
Note: As I mentioned before my grandmother would prepare her chicken this way so you can use one cut up fryer chicken if you would like, the cooking times will vary. Not only do these taste great, but the smell from your kitchen will leave your mouth watering. Enjoy!