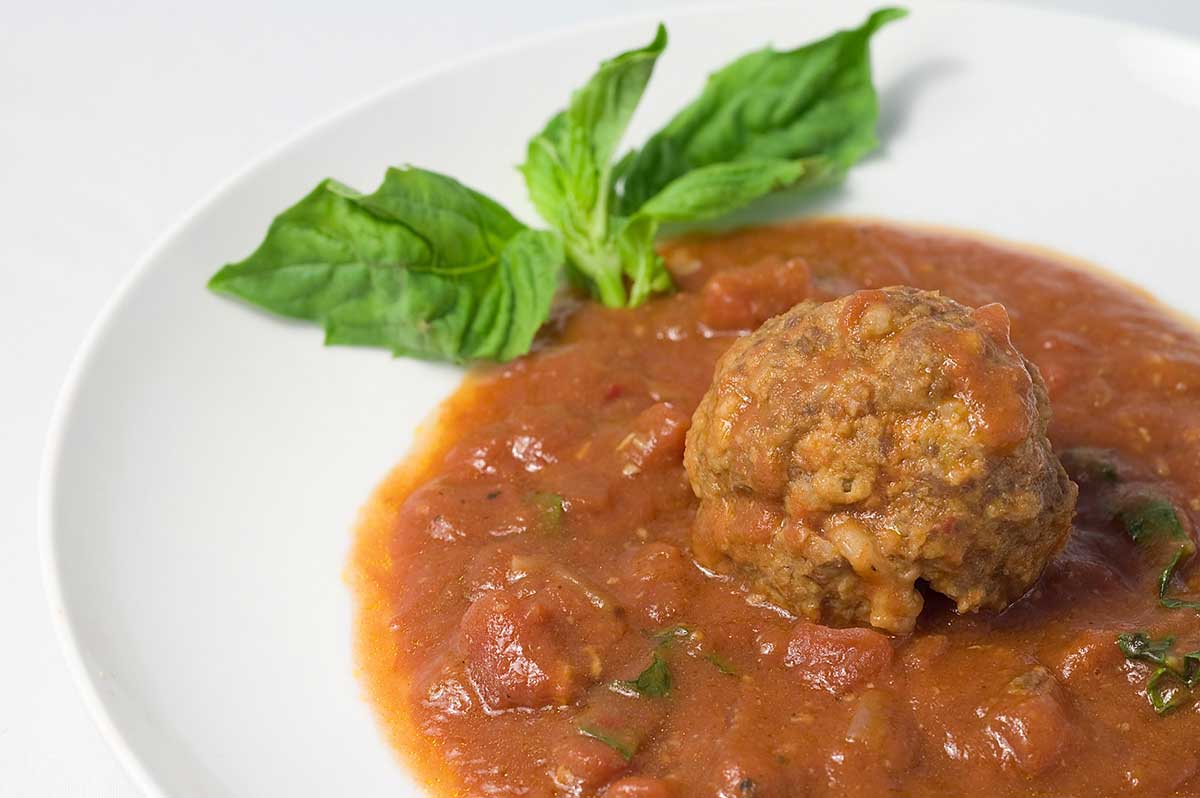 Roasted Garlic and Mozzarella Meatballs with Tomato-Basil Marinara
If there was ever a meal that included all of my favorite things, this would definitely be it. Imagine for a moment, a mixture of ground beef and sausage rolled into tender meatballs with hints of roasted garlic and melted mozzarella cheese. Now if that is not enough, imagine these same tender cheesy, garlicky meatballs with a savory tomato basil sauce poured over the top. I don't know about you, but to me it seems like a combination made in heaven.
I chose to use roasted garlic in this recipe because the soft garlic cloves are easy to work into the meat. So instead of biting into pieces of garlic you will find a hint of sweet roasted garlic flavor throughout the entire meatball. For those of you that have never made roasted garlic before, its super easy. I've included the recipe and instructions on my post for Roasted Garlic Mashed Potatoes .
Roasted Garlic and Mozzarella Meatballs with Tomato-Basil Marinara Recipe
Ingredients:
1/2 pound ground Italian sausage
1/2 pound ground beef
1 head (or bulb) of roasted garlic, cooled
1/3 cup plain dry breadcrumbs
1 egg, beaten
1/2 cup cubed fresh mozzarella pieces
1 tablespoon olive oil, plus more for drizzling
1 shallot, chopped
1 garlic clove, minced
1/4 cup red wine (I used Chianti)
1 (28 ounce) can crushed tomatoes
1 (14.5 ounce) can tomato sauce
1/4 teaspoon fennel seed
kosher salt
fresh basil leaves
Instructions
1
Preheat oven to 350 degrees.

2
Squeeze or use a fork to remove the cloves of garlic from the skins.

3
Using your hands, mix the Italian sausage, ground beef, breadcrumbs, egg, mozzarella pieces and garlic cloves in a bowl until well combined.

4
Using a heaping tablespoon of the mixture, roll into approximately 15 meatballs. You'll want to completely encase the mozzarella so you cannot see any on the outside of the meatball.

5
Place prepared meatballs in a glass baking dish. Drizzle with a little olive oil. Bake for 30-35 minutes or until meatballs are cooked through.

6
While the meatballs are cooking, heat olive oil in a saucepan over medium heat. Cook shallot and garlic 3-5 minutes, or until softened. Pour in red wine, cook for 1 minute.

7
Pour in crushed tomatoes, and tomato sauce. Sprinkle in fennel seed. Season with salt to taste.

8
A couple minutes before serving, chiffonade basil and sprinkle it over the sauce. To do this, stack a few basil leaves on top of each other. Roll them up and use a sharp knife to slice them.

9
Transfer finished meatballs to a serving platter and spoon sauce over the top.
Notes
You can eat these as they are with some crusty garlic bread to soak up the sauce. Or you can also serve them over pasta. Either way they are delicious :) Enjoy!