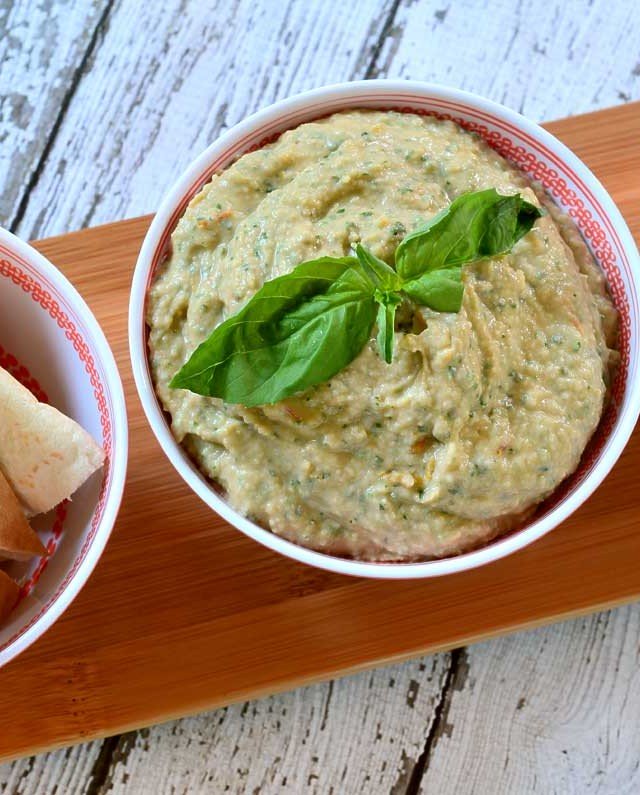 Roasted Tomato and Herb White Bean Hummus
My boys and I spent the last week visiting family and friends while on a little vacation. I don't know about you but after I go on vacation, I always feel that I didn't eat like I should. And that I should eat a bit healthier when I get home. I don't mean just meals either, after all this pregnant lady needs to snack. But I need healthy snacks. Snacks like this Roasted Tomato and Herb White Bean Hummus.
I adore hummus. It is such a blank canvas. You can eat it traditional with garbanzo beans, tahini, garlic, lemon etc. You can add some roasted garlic like this recipe for Roasted Garlic Hummus or you can even switch up the kind of beans you use like this Edamame Hummus or this Black Bean Hummus. Basically you can add just about anything you want. And after returning from our vacation, I wanted some roasted tomatoes and fresh herbs. After all, Memorial Day is just around the corner and what screams summer more than tomatoes and basil?
This whole dip comes together pretty quickly but the key is to let it chill for at least an hour. That way the flavors have a perfect chance to blend. Even better, I say make it the night before you want to eat it. The result is a creamy dip with the sweetness of roasted tomatoes and basil and the nuttiness of tahini. It will be one of my favorite go to dips this summer, I can already tell.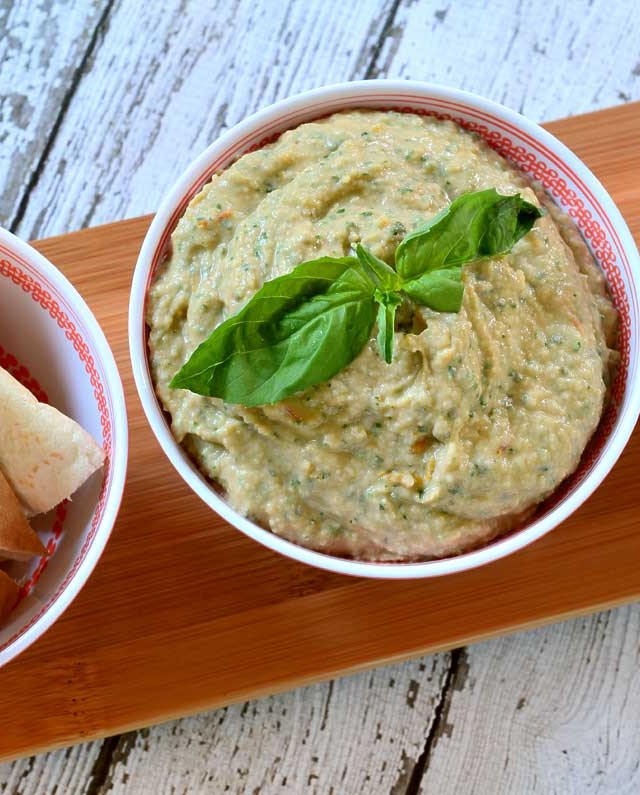 Roasted Tomato and Herb White Bean Hummus
A twist on hummus with white beans, roasted tomatoes, garlic and fresh herbs.
Ingredients:
1

cup

halved cherry tomatoes

4

cloves

garlic

peeled

5

basil leaves

1

handful chopped Italian parsley

1

15 ounce can white beans, rinsed and drained

2

tablespoons

olive oil

plus more for drizzling over fomatoes

1

tablespoon

lemon juice

1

tablespoon

tahini

1/2

teaspoon

salt
Preheat oven to 450 degrees.

Place tomatoes on a baking sheet, drizzle with olive oil and sprinkle with salt. Roast in preheated oven for 10 minutes. Remove from oven and set aside.

Combine remaining ingredients and roasted tomatoes together in the bowl of a food processor. Process until smooth. Transfer to a bowl. Cover and refrigerate for at least 1 hour.

Serve with pita chips.
Keywords:
Dip, hummus, memorial day, summer, tomatoes, Vegetarian