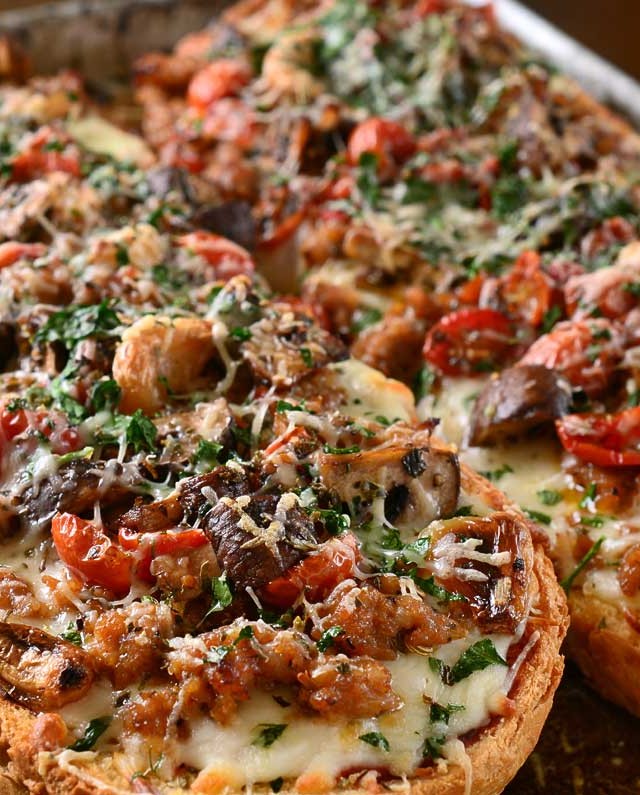 Roasted Veggie and Sausage French Bread Pizza
Sorry for the absence guys! The family and I took a much needed vacation to sunny Arizona to soak up some sun, marvel at the blue skies and watch some Mariners games. It was tons of fun, but traveling with a toddler while 5 months pregnant sure did take it's toll. When we got back home I was in a word: exhausted. And after almost a week of eating out for every meal, I wanted a home cooked, rustic, tummy comforting meal.  Enter this Roasted Veggie and Sausage French Bread Pizza.
I grew up eating French bread pizza. It was one of the meals that I looked forward to my mom making the most. My favorite part was the bread. It was different then traditional pizza crust. The center was soft and the outside was perfectly crunchy.
We always did traditional toppings: pepperoni, sausage, mushrooms, peppers and of course cheese. Lots and lots of stringy, melty, mozzarella cheese.
Now that I think about it, maybe the cheese was my favorite part.
But truth be told when cheese is involved, it's always my favorite part.
Although with this french bread pizza it really is a toss up between the crusty bread, the melty cheese, the perfectly roasted garlic, tomatoes and mushrooms and the herb cheese blend on top.
Oh heck. Who am I kidding? I cant possibly pick a favorite part, I love it all. And trust me, you will too.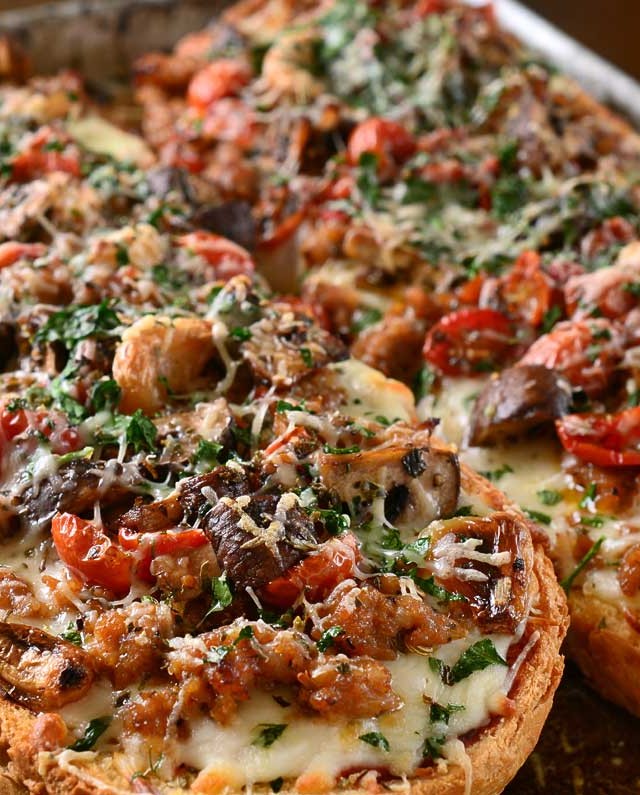 Roasted Veggie and Sausage French Bread Pizza
A rustic, cheesy french bread pizza with Italian sausage, roasted veggies and a delectable herb cheese blend.
Roasted Veggie and Sausage French Bread Pizza Ingredients:
1

cup

halved cherry tomatoes

5 - 6

crimini mushrooms cut into 8ths

about 2 cups

1

tablespoon

plus 1 teaspoon olive oil plus more for drizzling on bread

1/2

teaspoon

salt

1/4

teaspoon

black pepper

1

teaspoon

dried oregano

10

cloves

garlic

unpeeled

3/4

pound

bulk mild Italian sausage

1

loaf french bread halved

lengthwise

1

clove

garlic

peeled

pizza sauce

2

cups

mozzarella cheese

herb cheese
Pizza Sauce
8

ounce

can tomato sauce

1

teaspoon

dried basil

1/2

teaspoon

salt

1/4

teaspoon

pepper

1/4

teaspoon

garlic powder
Herb Cheese
1/2

cup

freshly grated Parmesan cheese

2

tablespoons

chopped fresh Italian parsley

1

teaspoon

dried oregano
Combine tomatoes, mushrooms, 1 tablespoon olive oil, salt, pepper and oregano together in a bowl. Allow to set at room temperature for 20 minutes.

Preheat oven to 375 degrees.

Toss unpeeled garlic cloves with remaining teaspoon olive oil and sprinkle lightly with salt. Place on a baking sheet and bake for 10 minutes. Add marinated tomatoes and mushrooms to the pan and roast until the veggies and garlic are soft, about 10 more minutes.

Meanwhile, cook sausage until cooked through.

Combine all of the ingredients for the sauce in a small sauce pan and heat until warmed through.

Combine all ingredients for herb cheese blend.

Remove veggies from the oven. Peel garlic. Set aside.

Place french bread on a baking sheet, drizzle with olive oil and bake in the oven for 5 minutes. Remove from oven. Rub with uncooked peeled garlic clove.

To assemble the pizzas spoon sauce on top, top each half with 1 cup of mozzarella, divide sausage and roasted veggie mixture equally between the pizzas. Bake in oven for 10 - 12 minutes or until cheese has started to melt. Remove from oven, sprinkle with herb cheese blend. Return to oven and bake for 2 - 3 more minutes or until Parmesan just starts to melt. Slice and serve.
Keywords:
entree, french bread pizza, pizza, sausage, vegetables