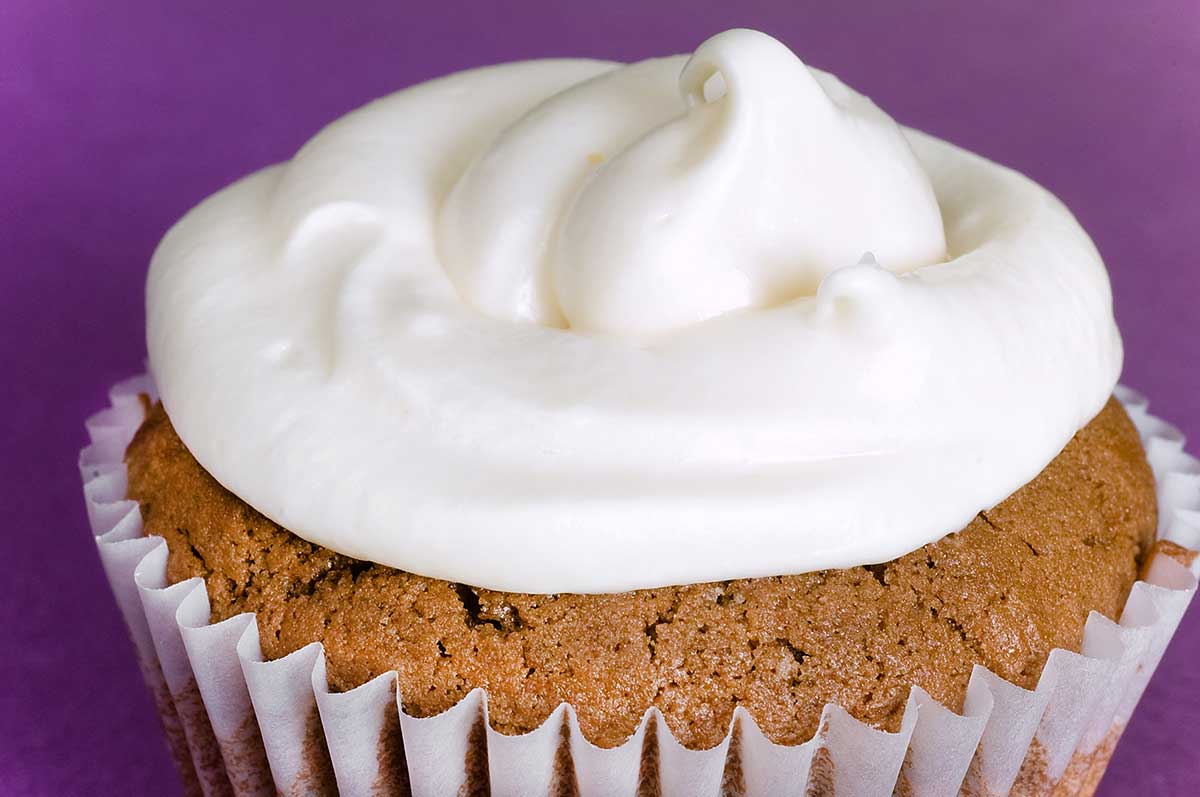 Rolo Cupcakes
Whenever I get a box of chocolates I bite my way through each one until I find the one with caramel in the middle. The sweet milk chocolate and the creamy, chewy caramel are like little bites of heaven. Recently, while eating a chocolate caramel, visions of cupcakes stuffed with these little treasures began dancing around in my head.  So I gave it a try. These sinfully delicious cupcakes are the result.
As much as I wanted to eat my way though a couple of boxes of chocolates to find the caramel ones, I figured it wasn't a good idea. Instead, I turned to my favorite chocolate candy and made these scrumptious Rolo Cupcakes. And because no cupcake is complete without frosting, these are topped with deliciously sweet cream cheese frosting.
Rolo Cupcakes Recipe
Ingredients:
4 ounces bittersweet chocolate, chopped
1 1/2 cups all purpose flour
1 1/2 teaspoon baking powder
1/4 teaspoon salt
1/2 cup unsalted butter, softened
2/3 cup granulated sugar
2 eggs at room temperature (separated into 2 egg yolks and 2 egg whites)
1 1/2 teaspoons vanilla extract
1/2 cup milk
12 Rolos, unwrapped
cupcake liners
Frosting Ingredients
4 ounces cream cheese, softened

1/4 cup unsalted butter (1/2 a stick)

1 1/2 teaspoons vanilla

1 1/2 cups powdered sugar
Instructions
1
Preheat oven to 350 degrees. Line cupcake tin with cupcake liners. Set aside.

2
Melt chocolate in a saucepan over the lowest heat possible. Stirring constantly until melted. Remove from heat and allow to cool to room temperature.

3
Using a hand held mixer, cream together butter and sugar until light and fluffy. Mix in the egg yolks one at a time. Beat in the vanilla.

4
In another bowl sift together flour, baking powder and salt. Add 1/2 of the flour mixture to the sugar mixture. Stir in milk. Add remaining flour mixture. Mixture will be thick. Stir in cooled chocolate.

5
With clean beaters, beat the egg whites until soft peaks form. Gently fold egg whites into cupcake mixture.

6
Spoon mixture into cupcakes, filling 2/3 of the way full.

7
Gently press one Rolo into each cupcake. The top of the Rolo will still be visible.

8
Bake for 15-20 minutes or until a toothpick inserted in the cupcake comes out with just a few crumbs on it. The Rolo may still be visable but you are topping it with frosting so no one will see it. Cool completely.

9
To make frosting, using a hand held mixer, cream together butter and cream cheese. Add vanilla, combine well. Gradually beat in powdered sugar until frosting is thick and spreadable.

10
Spread frosting on the cooled cupcakes or use a piping bag.
Notes
If you store these in the fridge, I suggest removing them a few minutes before you plan to eat them. If you don't the Rolo becomes hard in the center. Enjoy!