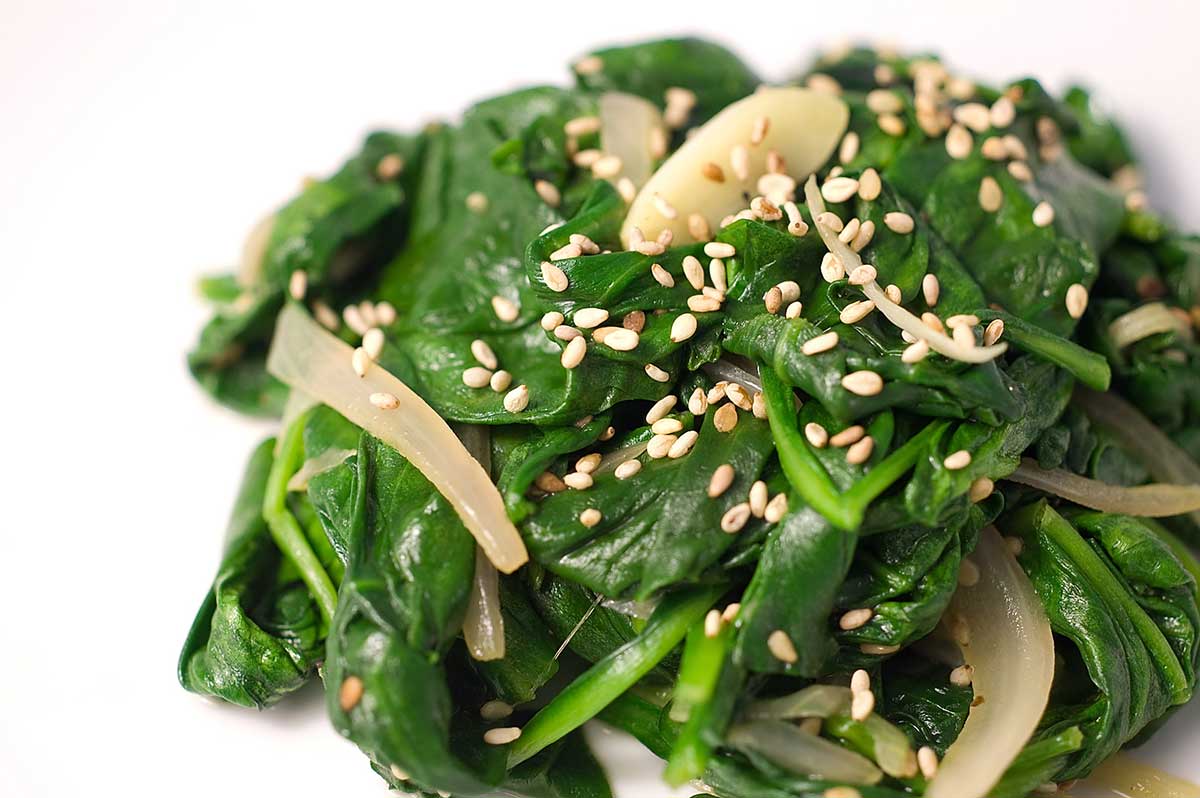 Sauteed Spinach with Toasted Sesame Seeds
Spinach is one of my favorite vegetables. Not only is it good for you, it is also delicious in just about everything.  From show stopper dishes like Mushroom and Spinach Stuffed Flank Steak or a simple Spinach Salad with Dijon Vinaigrette , spinach is a wonderful addition to many dinners. For this recipe, I decided to do an Asian inspired dish. I sauteed garlic, sliced shallots and sesame seeds in sesame oil and chili oil, then tossed in some baby spinach leaves and cooked them just until they wilted. Sprinkled with some more sesame seeds, the result was yet another spinach dish that I will be making often.
I wanted this dish to be a little spicy so I chose to use a mixture of chili oil and sesame oil to saute the spinach in. However, if you want to cut out the spice, feel free to omit it. Just increase the amount of sesame oil to two teaspoons.  Now I usually have all of these ingredients on hand, but if you don't, you should be able to find everything in your local grocery store. For the sesame seeds, sesame oil and chili oil, I would check the Asian food aisle.
Sauteed Spinach with Toasted Sesame Seeds Recipe
Ingredients:
1 teaspoon chili oil
1 teaspoon sesame oil
3 cloves garlic, thinly sliced
1 small shallot, thinly sliced
1 teaspoon sesame seeds, plus a little more to sprinkle over the top of the finished dish
1 (9 ounce) package baby spinach leaves
Instructions
1
Heat chili oil and sesame oil in a skillet over medium heat. Add garlic and shallot. Cook 2 minutes or until garlic and shallots soften. Add 1 teaspoon sesame seeds, cook 30 seconds.

2
Add spinach leaves and cook just until wilted, about 2 minutes. (Note: Keep an eye on it at this point, it cooks really fast and does not taste very good if over cooked.)

3
Sprinkle with sesame seeds. Serve.