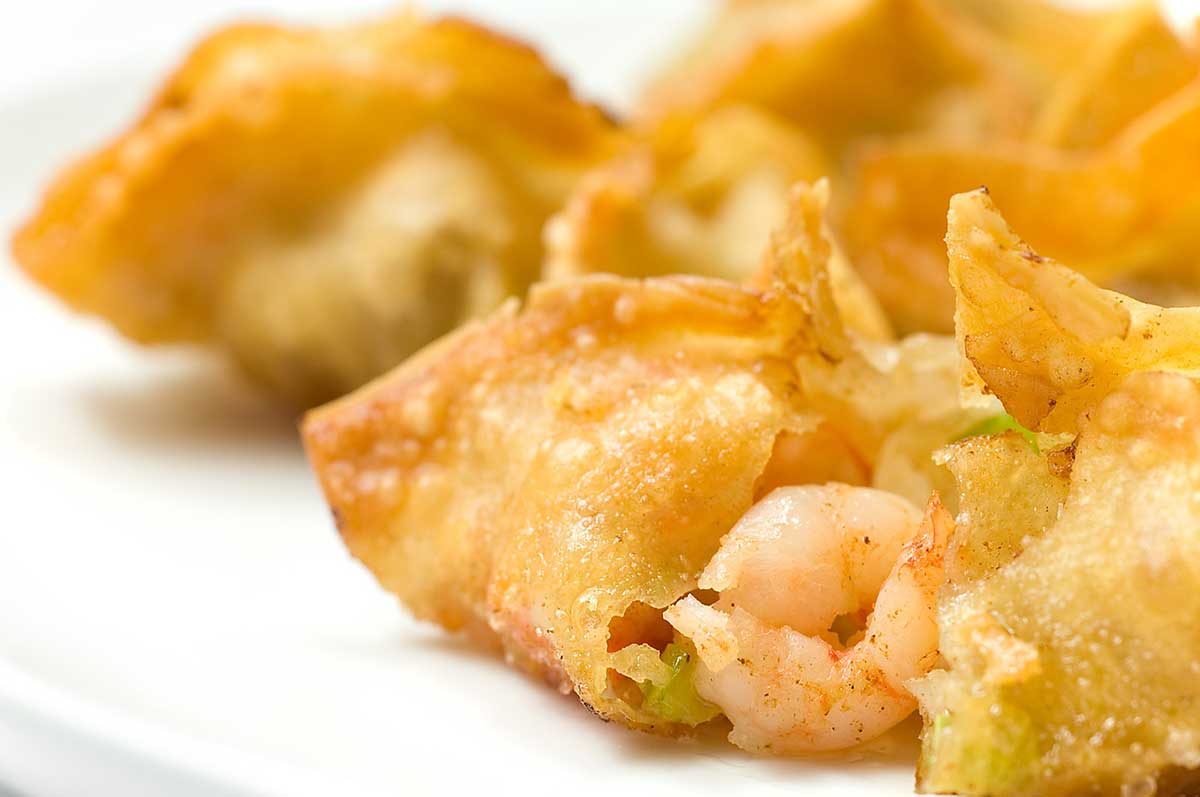 Shrimp and Vegetable Wontons
Whether it is crab, jalapeno or pork I usually always have some frozen wontons waiting to be plucked from my freezer and tossed into the fryer on a moments notice.  I say usually because to my utter dismay, when I opened my freezer to grab some for dinner last week, I realized I was out. Apparently I had been a little too busy (or was it lazy) lately to replenish my stock. But this was a problem that was quickly and quite easily remedied by these wontons filled with bay shrimp, vegetables, garlic and a little Chinese 5 spice.
For those of you that don't have much experience with Chinese 5 spice, that has flavors of cinnamon, star anise, fennel, szechuan pepper and cloves. This combination has a bit of a sweet flavor and pairs really nicely with the sweetness of the shrimp and the salty soy sauce. You should be able to find it in the spice aisle of your grocery store. And keep in mind that a little goes a long way so a jar should last you for awhile.
I used bay shrimp otherwise known as shrimp meat, for this recipe. I picked these because they are small, pre-cooked and can be found relativity easily at the seafood counter of your grocery store.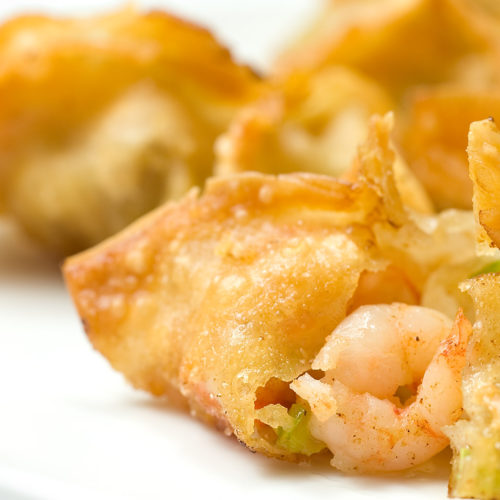 Shrimp and Vegetable Wontons
Wontons filled with bay shrimp, vegetables, garlic and a little Chinese 5 spice.
In a bowl combine shrimp, mushrooms, celery, carrots, onion, garlic, 5 spice powder, vinegar and soy sauce. Cover and refrigerate for 30 minutes.

Spoon 1 teaspoon of shrimp mixture onto a wonton wrapper. Dip your finger in water and run along the edge of the wonton wrapper. Then carefully pull opposite sides together to make a pointed top. Repeat with remaining filling and wrappers.

Heat 2 inches of oil in a large pan over medium high-heat. Once oil starts to shimmer, drop a little piece of a wonton wrapper into the oil. If it sizzles it is ready. Fry wontons in batches until golden brown, about 3-4 minutes. Be careful not to overcrowd the pan. With a slotted spoon, transfer wontons to a paper towel lined plate. Sprinkle with kosher salt and serve.
If you don't want to eat all of the wontons at once, place the ones you don't want to fry on a cookie sheet and freeze them. Once frozen transfer to sandwich baggies for later use. Enjoy!
Keywords:
appetizer, bay shrimp, carrots, celery, chinese 5 spice, Food, fried, fried food, garlic, Mushrooms, Recipe, shitake mushrooms, shrimp, shrimp meat, snack, wonton, wonton wrapper