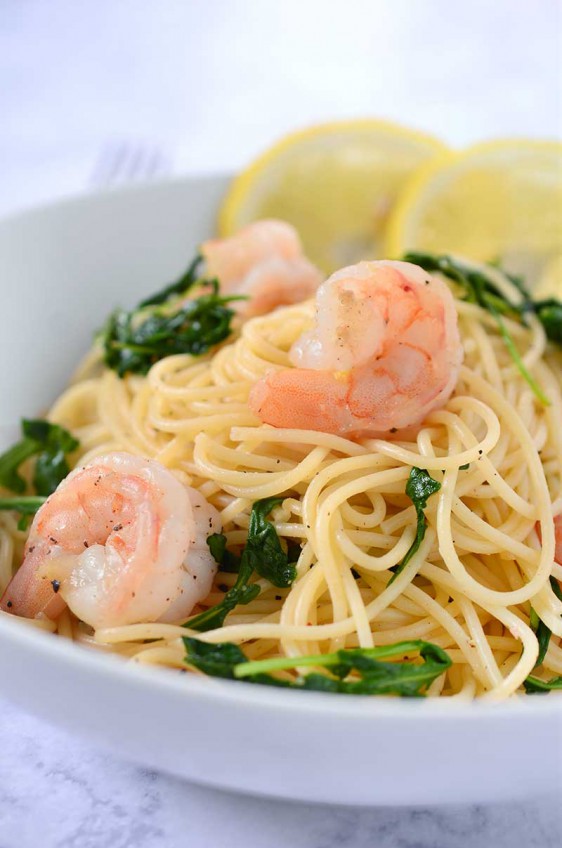 Shrimp Pasta with Arugula and Lemon
Happy Monday! I hope you all had a wonderful weekend! If you follow me on Instagram then you may have noticed that I spent the weekend eating way too much delicious food.We're talking donuts, spicy tuna rolls, sliders, whipped butter and roasted leg of lamb with a curried yogurt sauce to name a few. So as I sit here in my super comfy yoga pants that I'll probably be wearing for the next week or so, I decided that today I wanted to share something a bit lighter. Enter this Shrimp Pasta with Arugula and Lemon. It's so light and flavorful it just screams summer.
First things first. Why was I eating so much delicious food?  Well.  This weekend I attended the Indulge food bloggers conference in beautiful Portland. It was packed with friends and food. What more could a girl ask for?
I have actually been to a few food blogging conferences during the 6 years that I have been blogging. They have all been fun, but this conference was one of my favorites. One of the reasons is because it was in Portland. If you've been following the blog for a while you know that that is my old stomping ground. I grew up right across the bridge and love everything about Portland, it's such a quirky city with an amazing food scene.
This conference was small which is one of the things I loved best about it. We were all in the same room and each panel was packed with so much information. I literally used up the entire notebook we were given just taking notes. It really inspired me to start setting some more goals for this little blog o' mine. I can't wait to start working on them!
In addition to the wonderful speakers, I got to see some of my blogging friends that I haven't seen since the last conference as well as meet some new ones. I spent a lot of time chatting and getting to know Jesseca from One Sweet Appetite, Holly from Happy Food, Healthy Life, Yvonne from Tried and Tasty and Alli from Cupcake Diaries. They all were super sweet, have amazing blogs and a love for food just like yours truly. You should totally check out their blogs if you haven't yet! :)
And the food, guys. Oh man the food. It was all wonderful. From the welcome dinner at Portland City Grill (The same restaurant that Ryan and I had dinner at when we went to prom together) to the VooDoo Donuts to lunch at the PSU Farmers market, it was all wonderful. And then, if all that deliciousness wasn't enough,  I was lucky enough to attend a dinner with the absolutely lovely people from Tillamook and it was seriously like one of the best dinners I've ever had. Ever. It was at a restaurant called Clyde Common in Portland, I had never been there before but the next time Ryan and I are in Portland we are SO THERE for a date night.Each course had a Tillamook product so I knew it was going to be good. There was whipped curry butter that I wanted to lick off the plate. There was amazing house made cured meats. To die for leg of lamb and the best peas I've ever eaten. Basically, if you're ever in Portland you should eat there too. A.MAZ.ING.
Needless to say though, I'm stuffed. Everything was so rich and hearty that this light and fresh Shrimp Pasta with Arugula and Lemon was just begging to be made. The shrimp are succulent with just a hint of lemon and garlic. The arugula is peppery and has a wonderful bite. It's a really refreshing pasta that is not too heavy and perfect for summer.
Or for a perfect meal after a very indulgent weekend :)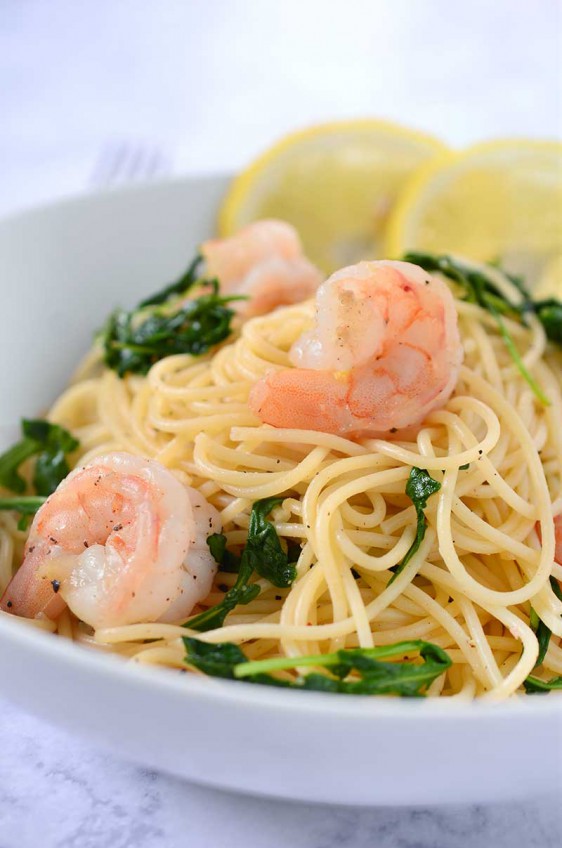 Shrimp Pasta with Arugula and Lemon
A simple and light shrimp pasta with arugula and lemon. Perfect for warm summer nights.
Bring a large pot of water to boil. Cook angel hair pasta according to package directions. Reserve 1/4 cup pasta water. Drain pasta.

Heat olive oil in a skillet over medium heat. Add in shrimp, cook until they start to turn pink. Add in garlic, lemon juice and lemon zest. Add in baby arugula, cook just until wilted and shrimp has cooked through. Add in pasta and toss to coat. If pasta seems dry add reserved pasta water. Season to taste with salt and pepper. Serve.
Keywords:
dinner, pasta, seafood, shrimp