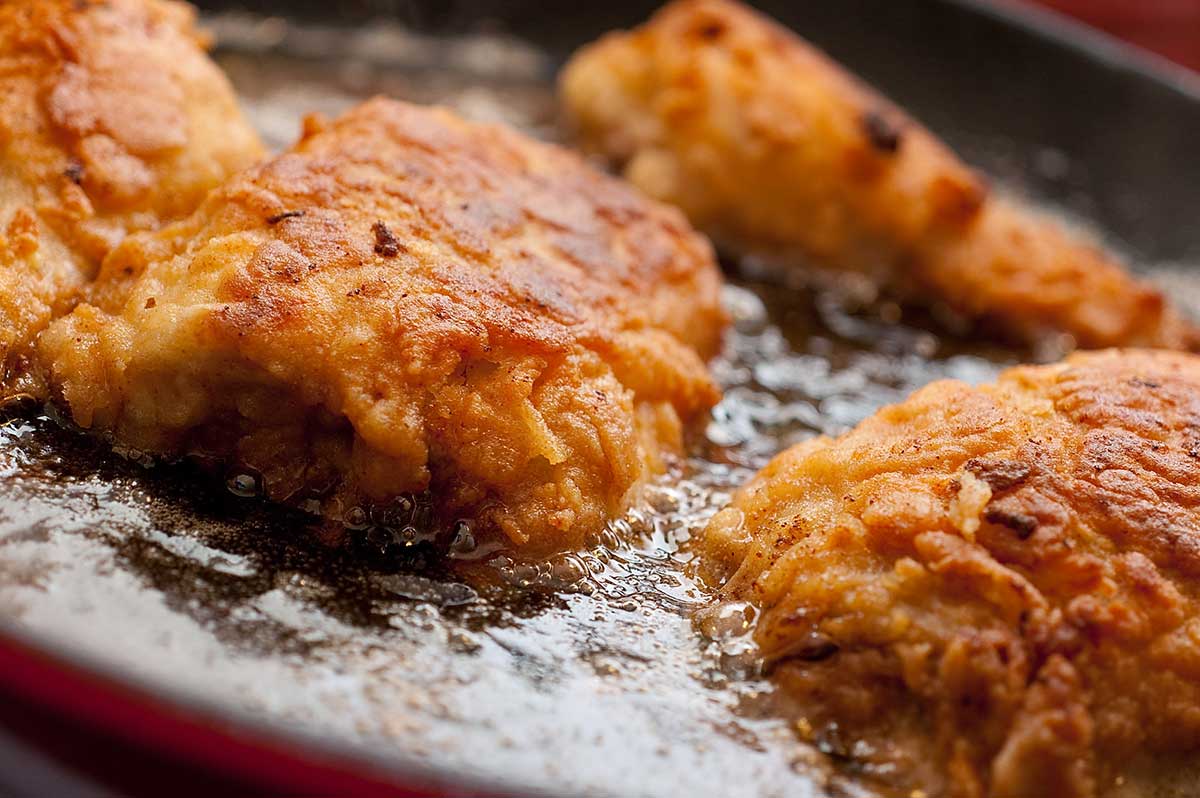 Spicy Fried Chicken
Spicy fried chicken is the perfect summer picnic food, and it's the best comfort food any day of the year!
I know it's bad. Like your mama told you not to, but you still did it, and now you're grounded for a month bad. But I'm not gonna lie, this spicy fried chicken is so good.
The skin, the best part in my opinion, is crispy, crunchy and addicting. The meat underneath the luscious crispy skin is succulent and pulls right off the bone. Each bite is pure, unadulterated, deep fried goodness and every once in a while, I treat myself to a leg or two. But really, who is counting?
Making perfect fried chicken can be tricky. Here are my tips for making the best spicy fried chicken:
If the oil isn't hot enough the skin can be soggy and no one wants to bite into a drumstick expecting crispy and getting a soft, greasy bite. On the other hand, in an effort to make the skin crispy you can crank up the heat on the oil only to end up with burnt skin and the inside still as pink as the day you bought it. The best way to tackle this problem is controlling the temperature of the oil. It works best for me when I heat the oil to 350 degrees over medium heat. I then cook the chicken for 5 minutes and reduce the heat to medium-low and continue to cook the chicken for 20 – 30 minutes or until the chicken is cooked through and the juices run clear. I then transfer the cooked chicken to a cooling rack to drain any excess grease.
The result is chicken that is crispy on the outside and tender on the inside. AKA= fried food heaven.
Note: Please plan ahead when making this recipe. It requires 4 hours in the marinade.
While you wait for the chicken to marinate, make a big batch of biscuits and some potato salad. Maybe some fried apple pie egg rolls for dessert?
Spicy Fried Chicken Recipe
Ingredients:
1 cup plain non-fat yogurt
1 1/2 teaspoons garlic powder
1/2 teaspoon cayenne pepper
1 teaspoon hot sauce
1/2 teaspoon onion powder
1 teaspoon kosher salt
1/2 teaspoon paprika
10 chicken pieces (drumsticks and thighs)
1 cup all purpose flour
1/2 cup plain bread crumbs
1/2 cup whole wheat flour
1 teaspoon baking powder
1 teaspoon kosher salt
1/2 teaspoon cayenne pepper
1 teaspoon garlic powder
canola oil
Instructions
1
In a bowl combine first 7 ingredients. Mix well. Place chicken in the bowl and coat completely. Cover and refrigerate for at least 4 hours.

2
When you are ready to begin cooking mix all purpose flour, bread crumbs, wheat flour, baking powder, remaining kosher salt, cayenne pepper and garlic powder together in a bowl.

3
Dip marinated chicken into the flour mixture. Coat completely. Transfer to a plate and let set for 15 - 20 minutes while the oil heats.

4
In a large heavy bottomed skillet heat 1 inch of canola oil over medium heat. Once oil reaches 350 degrees. Begin frying chicken. Fry for 5 minutes. Reduce heat to medium-low and continue cooking chicken for 20 - 30 minutes, turning occasionally, until chicken the chicken is cooked through and the juices run clear. Transfer to a cooling rack. Note: If you need to cook the chicken in batches make sure that you raise the oil temperature back up to 350 degrees before adding the next batch. Serve.