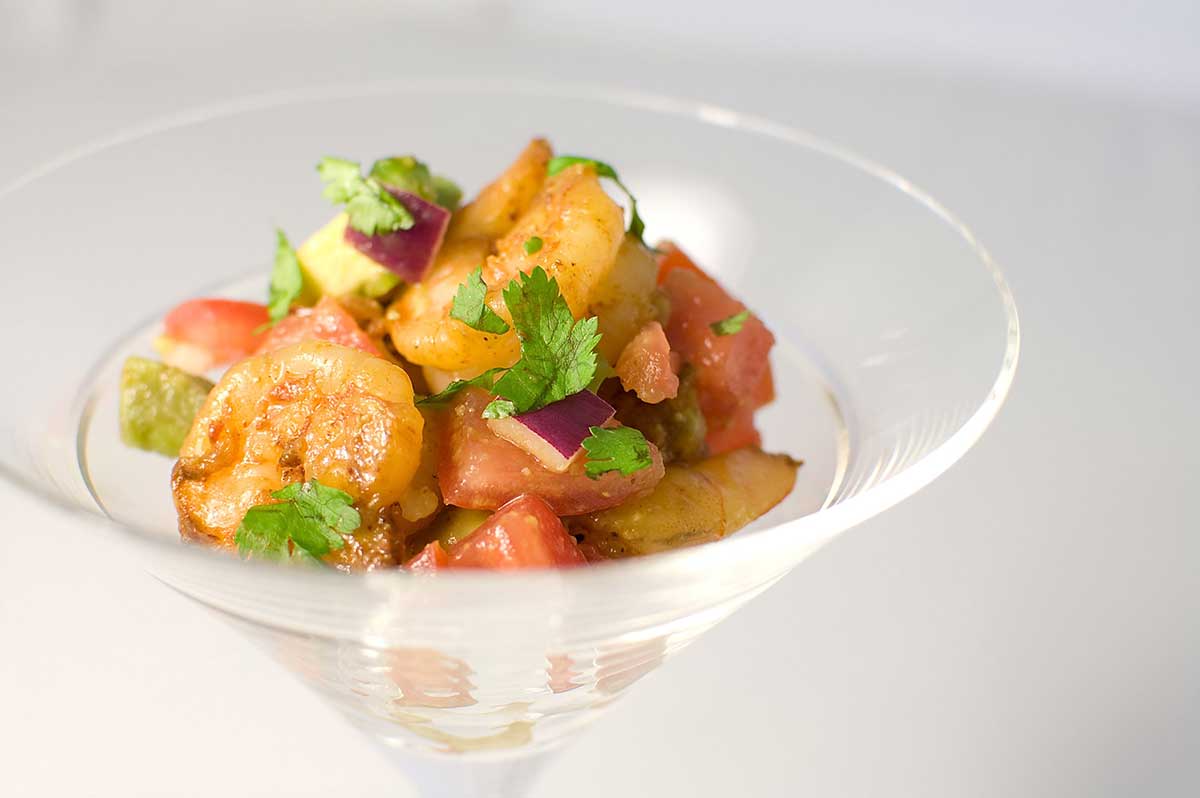 Spicy Shrimp and Avocado Cocktail
I've been on a real kick with these summer recipes lately, and its not even really summer yet. But when the sun is out and the temperature rises, I crave cool dishes like this spicy shrimp and avocado cocktail.  This really just came together when I was looking for some sort of side dish to go with my Grilled Flat Iron Steak with Chimichurri Sauce. I looked through the fridge and happened to find an avocado, tomato, red onion, jalapeno and cilantro. My first thought was guacamole and chips, but then I remembered that I also had some prawns and thought, wouldn't a cool chunky avocado, shrimp and tomato concoction be yummy? And it was :)
Because it was just Ryan and me and because avocados aren't particularly good the next day, I decided to make small batch but you could easily double the recipe if you have more people. I think this would make a great addition to a summer dinner party.
We got these martini glasses for our wedding and while we don't drink a lot of martini's at home I find that they work wonders for presentation.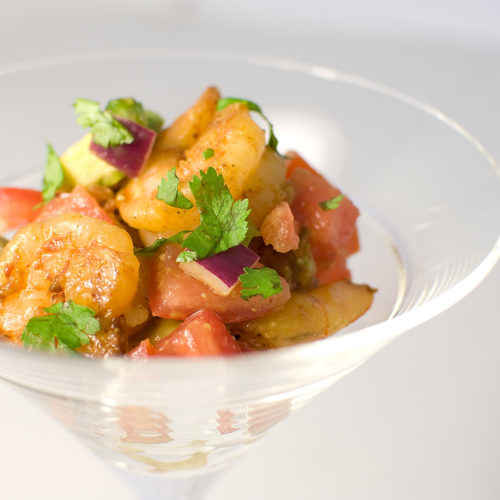 Spicy Shrimp and Avocado Cocktail
A spicy shrimp cocktail with avocados, tomatoes and cilantro.
Ingredients:
14

26-30 count prawns, peeled and deveined

1/4

teaspoon

ground cumin

1/4

teaspoon

chili powder

1/4

teaspoon

granulated garlic

pinch

of kosher salt

sprinkle of ground cayenne pepper

2

small tomatoes

seeded and diced

1

avocado

diced

1

small jalapeno

seeded, minced

1/4

cup

minced red onion

2

drops Tabasco

juice of one lime

few sprigs of cilantro

chopped

1

teaspoon

olive oil
In a bowl combine prawns, cumin, chili powder, granulated garlic, kosher salt and cayenne pepper. Stir to coat the shrimp completely. Refrigerate for 20 minutes.

In another bowl mix remaining ingredients, except olive oil. Stir gently to combine. Refrigerate while you cook the prawns.

Heat olive oil in a small skillet over medium heat. Cook until the shrimp turn pink, about 3-4 minutes, turning occasionally. Remove from skillet, allow to cool several minutes. Add prawns to avocado mixture. Chill for 15-20 minutes.

Serve.
If you wanted, served with some crusty french bread and a nice Pinot Gris, this would make the perfect light summer supper. Enjoy!
Keywords:
4th of July Recipes, avocado, cayenne pepper, chili powder, cilantro, cocktail, cumin, diet, Food, lime, lime juice, Prawns, Recipe, red onion, shrimp, summer, tabasco, tomatoes