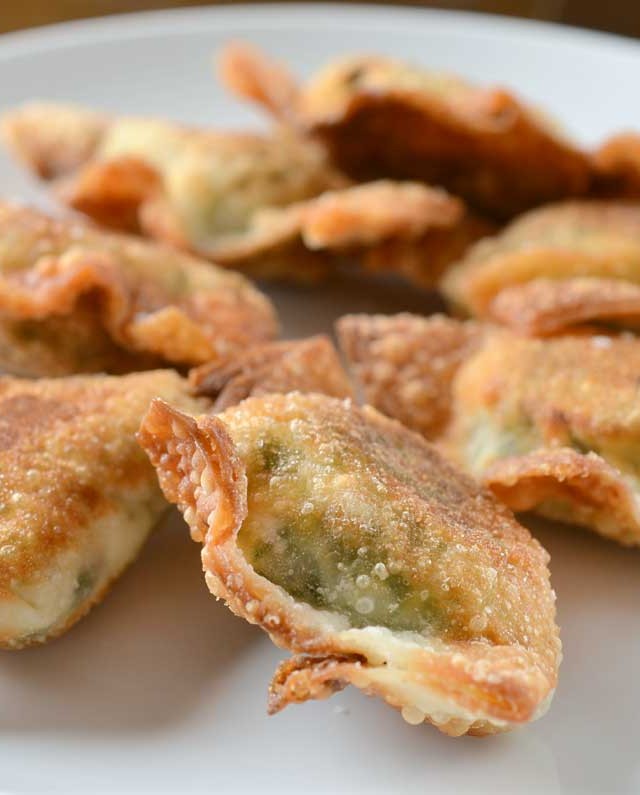 Spinach, Kale and Cream Cheese Wontons
I have been thinking about these little devils for a while now. But I only got around to trying them last night. And I am sharing them with you today. What does that tell you? These babies are good. Real good. Stuffed with sauteed spinach, kale and cream cheese how could they not be?
Wontons and I are BFFs. Seriously, I have always adored them. When they are stuffed with pulled pork they are fantastic. When they are stuffed with guacamole, you'll forget about ever dipping chips it it. But my absolute favorite wontons are those that are stuffed with some kind of cream cheese. In this case, I chose to mix the cream cheese with kale and spinach.
It totally takes all of the guilt out of these. Who cares if they are fried since they are stuffed with super foods like kale and spinach.
Right?
Right.
If you are having an Oscar's party this weekend these would be perfect! One batch makes about 20 or so and it is super easy to double if you need to.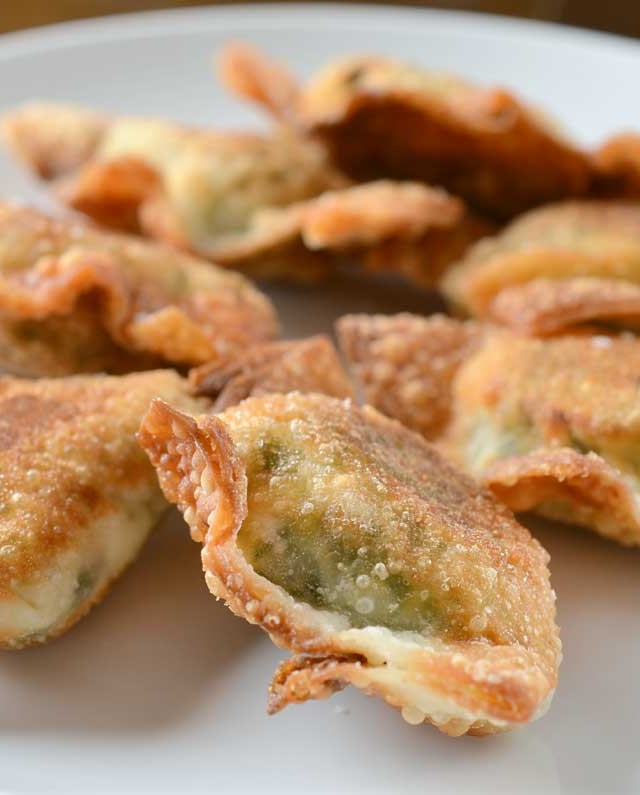 Spinach, Kale and Cream Cheese Wontons
Wontons filled with a delectable mixture of cream cheese, kale and spinach then fried until golden brown and crispy.
Ingredients:
1

tablespoon

olive oil

3

cups

baby spinach

3

cups

diced kale

8

ounces

cream cheese

softened

1/4

teaspoon

salt

1/4

teaspoon

black pepper

1/4

teaspoon

garlic powder

20

wonton wrappers

oil for frying
Heat olive oil in a skillet over medium heat. Cook kale and spinach until wilted, about 2 minutes. Remove from skillet and allow to cool.

Combine cream cheese, salt, pepper and garlic powder together in a bowl. Once the kale and spinach has cooled slightly, add to cream cheese and mix well.

To make the wontons, place 1 heaping teaspoon of the cheese mixture in the center of the wonton wrapper. Dip your finger into a bowl of water and run your finger along the edges of the wrapper. Fold bottom corner of the wrapper over the filling and press all edges to close the wrapper, you'll have a triangle. For presentation purposes, with the top of the triangle facing away from me, I folded the left and right corners in, but it is not necessary, you just want to make sure it is closed. Repeat with remaining ingredients.

Heat 1/2 inch of oil in a skillet over medium-high heat. Once it reaches 375 degrees, fry the wontons, in batches if necessary until golden brown, about 2 minutes. Use a slotted spoon to transfer to a paper towel lined plate. Sprinkle with kosher salt. Serve hot with Sweet Thai Chili Sauce if desired.
Keywords:
Cream Cheese, Vegetarian, wontons