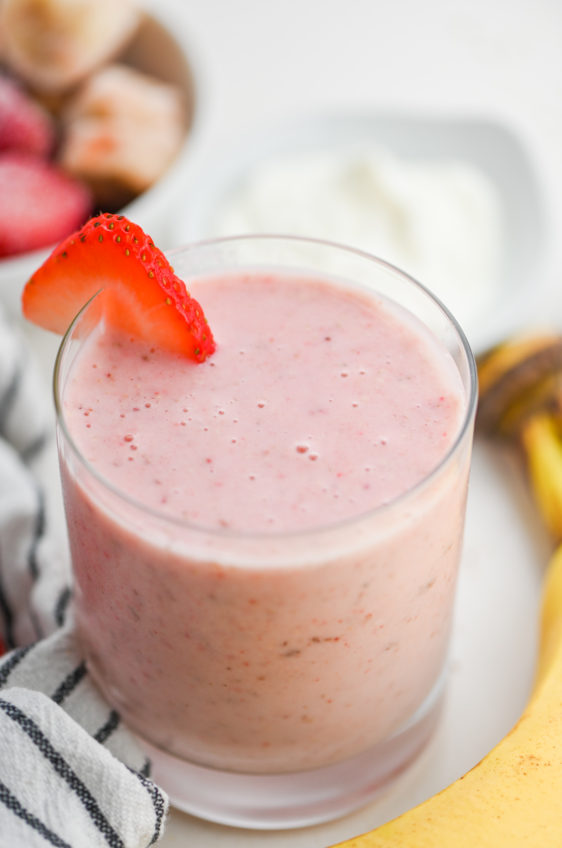 Strawberry Banana Smoothie
Jump to Recipe
This Strawberry Banana Smoothie Recipe is a refreshing start to the day or a great post workout treat. A handful of ingredients and a blender is all you need!
When it comes to quick and easy breakfast or post workout drinks, this Strawberry Banana Smoothie is my go to. I have been making it for years. It's sweet, refreshing and one of my favorite ways to start the day.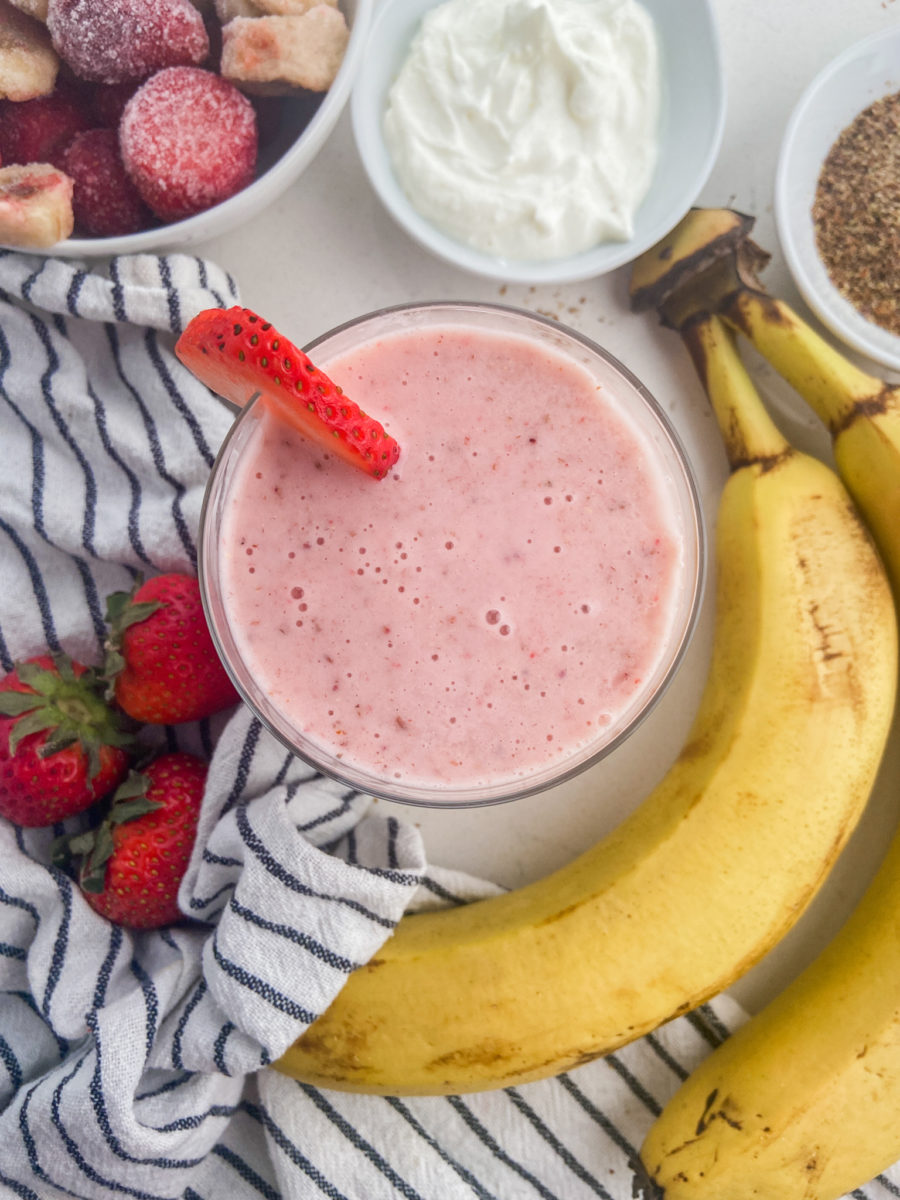 In high school, I used to get a similar smoothie at Jamba Juice. That one however was made with apple juice. In an effort to cut the sugar content, I make this smoothie with water instead. I find that the banana and strawberries are sweet enough.
Let's talk about what else you'll need:
Strawberry Banana Smoothie Ingredients: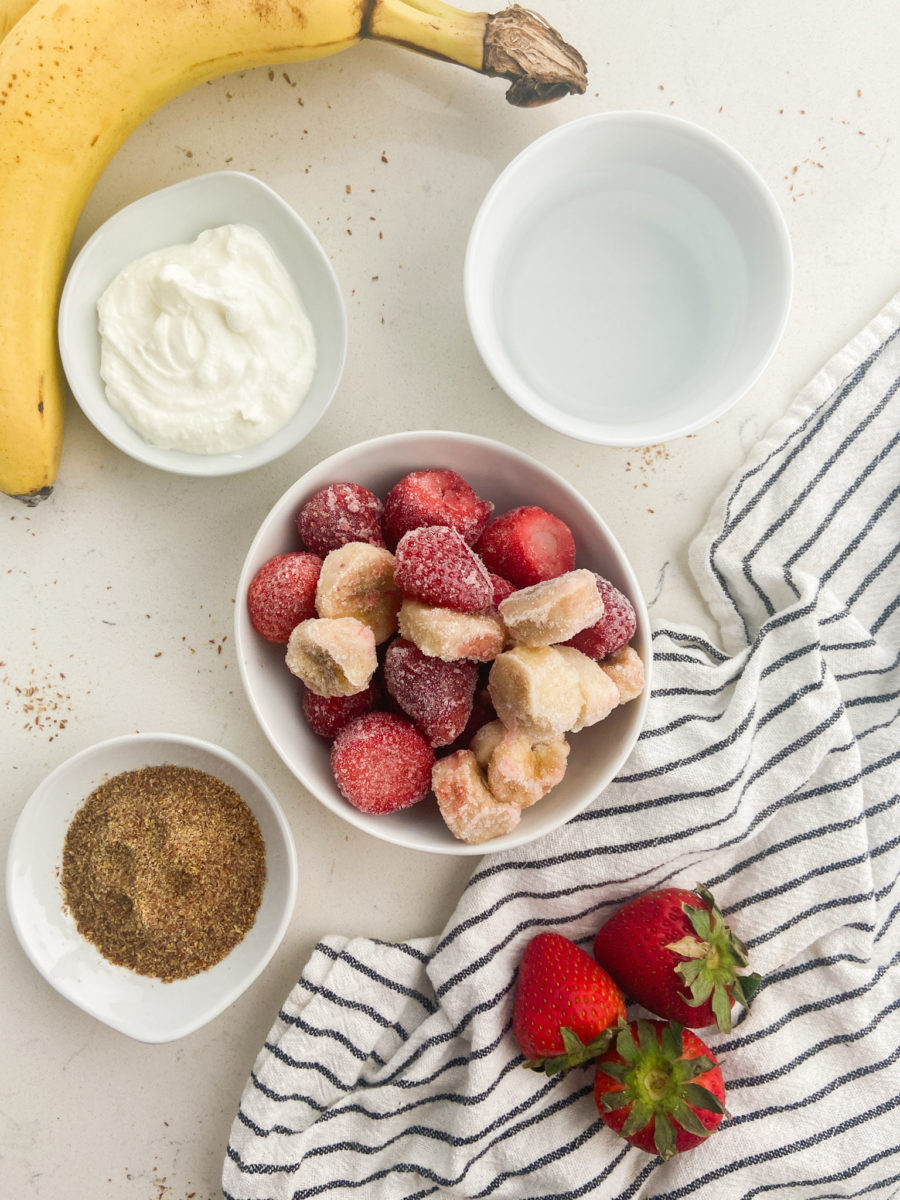 FROZEN STRAWBERRY/BANANA BLEND: I found this in the frozen fruit section at my local grocery store. I like using both frozen strawberries and bananas because it eliminates the need to use ice.
WATER: Using water in this smoothie is going to make it a bit lighter and less creamy than other smoothies. I find it particularly refreshing. If you want to make it creamier, you can substitute milk or your favorite milk alternative. I've tried it both with whole milk and soy milk and it was delicious.
GREEK YOGURT: Because you aren't getting the creaminess from added milk you're going to want to use full fat Greek yogurt in this recipe.
FLAXSEED: Flaxseed adds an additional nutritional boost to smoothies Omega-3s, fiber and fatty acids.
How to Make a Strawberry Banana Smoothie with Yogurt:
Like any smoothie, this Strawberry Banana Smoothie is really easy to make. All you need to do is combine all of the ingredients together in a blender and blend until smooth.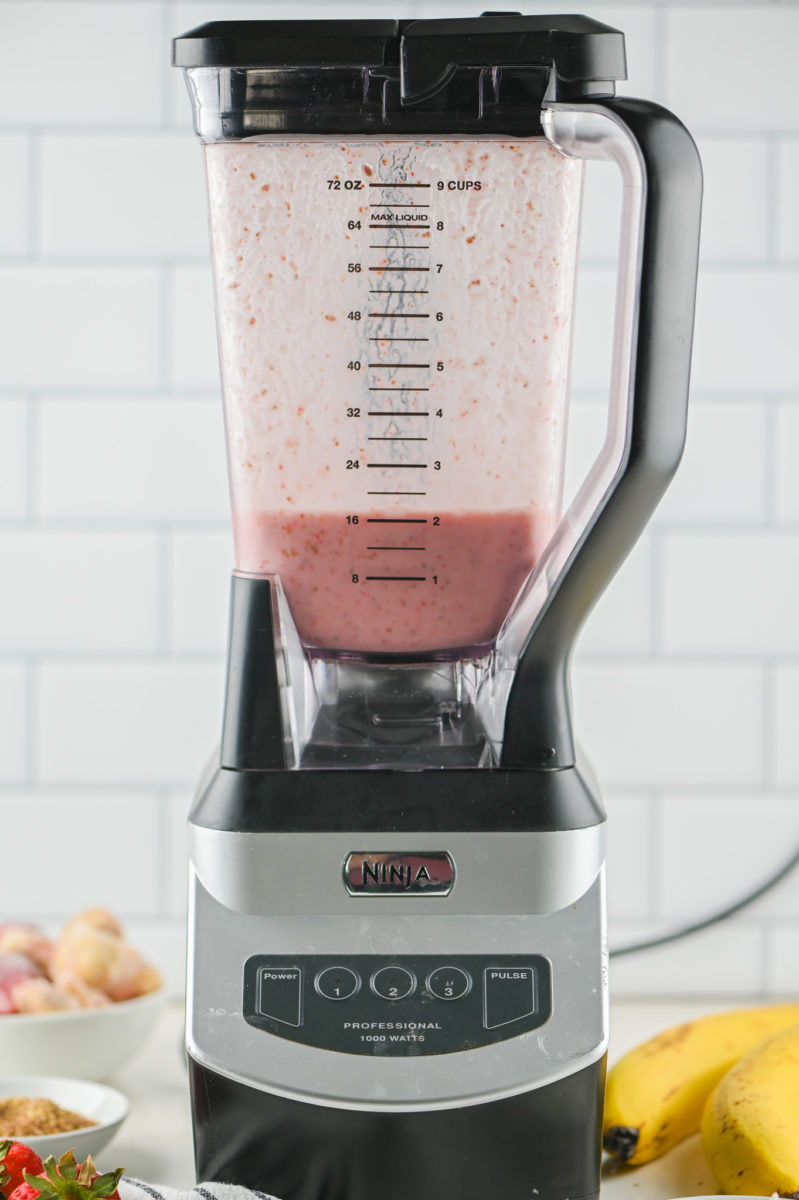 I find that if you blend it at least 30 seconds it'll be a bit smoother as the ice crystals in the fruit will melt a bit from the friction in the blender.
Other Smoothie Add-ins
PEANUT BUTTER: This was one of my favorite add-ins when the kiddos were toddlers. It was a great way to get added protein.
CHIA SEEDS: Chia seeds are a great addition to smoothies. As they absorb liquid they expand. This will make your smoothie a bit thicker and help keep you fuller longer.
MILK/MILK ALTERNATIVES: If you want your smoothie a bit creamier, use milk instead of water. Kefir is another great alternative!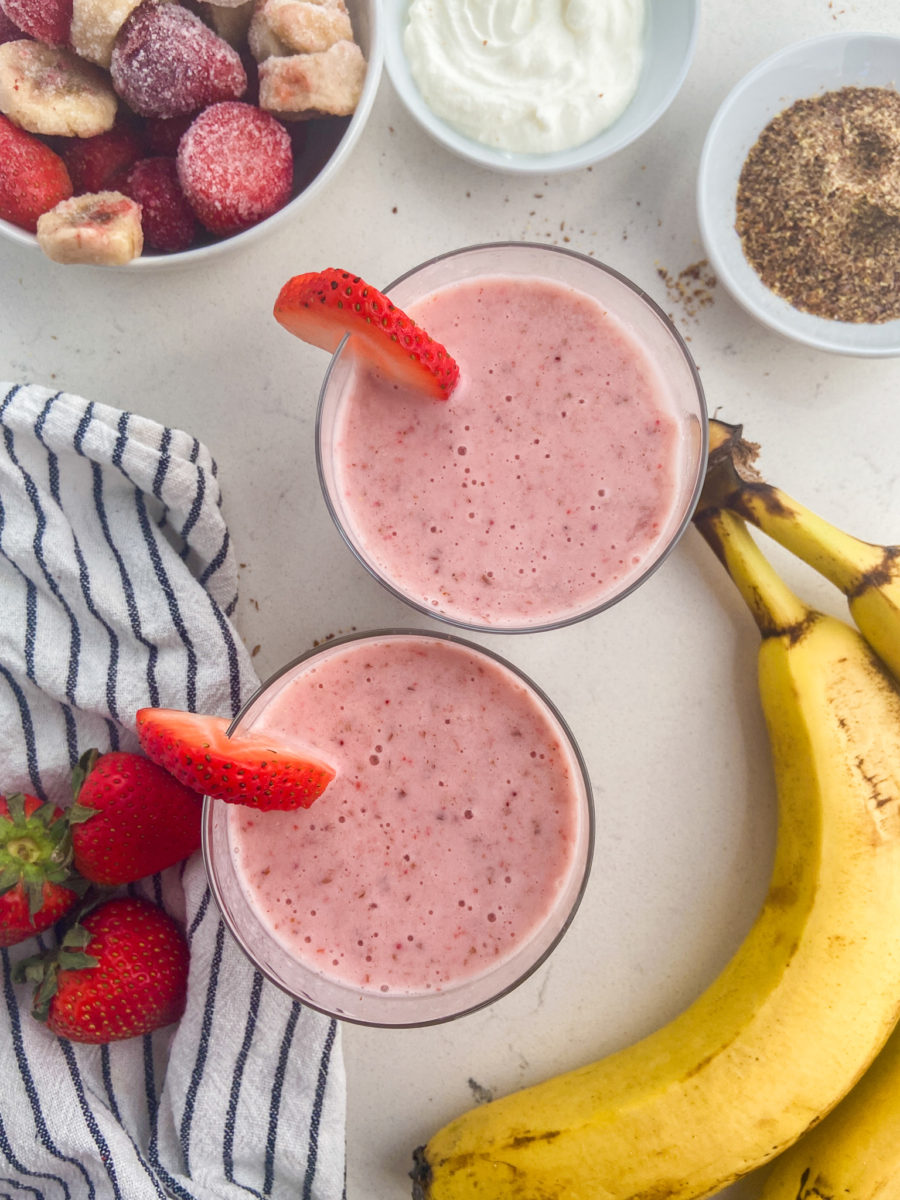 Storing/Leftovers:
This smoothie is really best if you drink it right away. Leftovers don't keep very well.
Want more smoothie recipes? Try these:
Strawberry Banana Smoothie
This Strawberry Banana Smoothie is so easy to make! You only need a handful of ingredients and you've got yourself a sweet treat for a quick breakfast or post workout drink!
Combine all ingredients together in a blender and blend until smooth. 30 seconds – 1 minute.
This recipe makes 1 (16 ounce) smoothie or 2 (8 ounce)  smoothies. 
To make it creamier substitute 1 cup of milk for 1 cup of water.
To make it thicker try adding 1 tablespoon of chia seed. 
Nutrition information is for estimation purposes only. 
Calories:
301
kcal
Carbohydrates:
58
g
Protein:
13
g
Fat:
4
g
Saturated Fat:
1
g
Polyunsaturated Fat:
2
g
Monounsaturated Fat:
1
g
Trans Fat:
1
g
Cholesterol:
5
mg
Sodium:
67
mg
Potassium:
514
mg
Fiber:
8
g
Sugar:
43
g
Vitamin A:
1078
IU
Vitamin C:
8
mg
Calcium:
153
mg
Iron:
2
mg