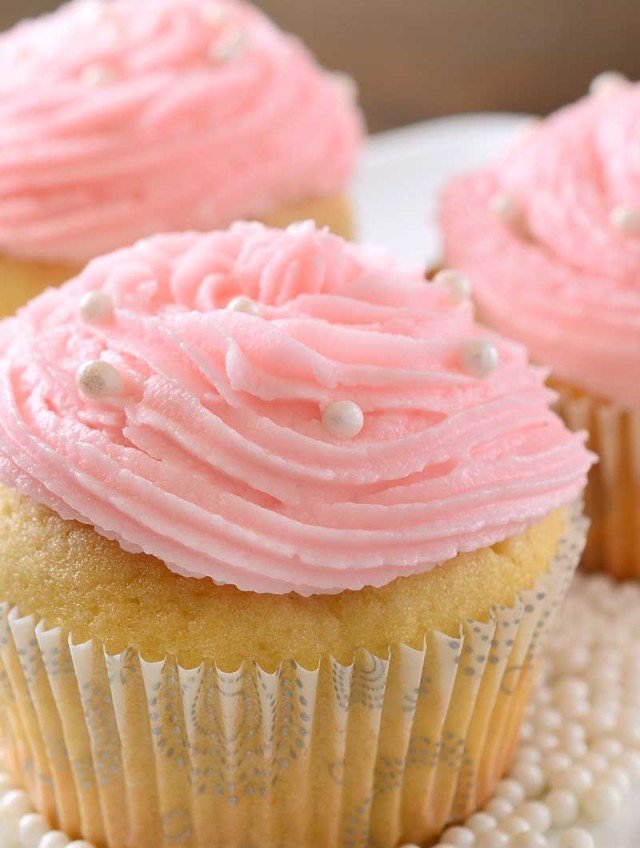 Strawberry Cream Cupcakes
Spring is here! Spring is here! The rain should be leaving…soon. The sun will come out. The skies will be blue. Baseball will be on TV. Flowers will bloom. And what a better way to celebrate the end of cold, dreary winter and the prospect of sunny days, than with these pretty pink cupcakes.
I actually made these cupcakes for a baby shower that I helped throw a couple of weeks ago. One of my best friends in the whole world is having a baby. A little baby girl if you can't tell by the pink. It was a second shower so there was less emphasis on the games and more emphasis on cute little baby clothes and food.
Oh the food.
The food is always my favorite part of any event. This was no exception. There was hummus and guacamole. Veggies. Fruit. Chocolate covered cookie dough. Lumpia. And these cupcakes.
I was in charge of a few of the dishes, cupcakes included.  After asking the Mommy to be what flavor cupcake she wanted, vanilla, I set out to make the prettiest cupcakes I could. Because frilly cupcakes are fun to make.
And to eat.
And frilly cupcakes filled with strawberry cream cheese? Well, they are just fit for a party.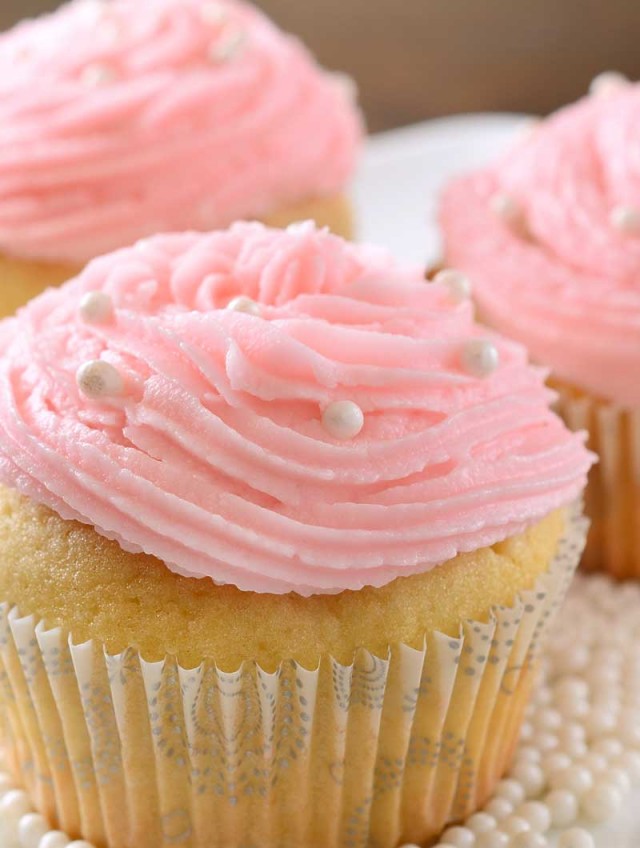 Strawberry Cream Cupcakes
Vanilla cupcakes stuffed with strawberry cream cheese and topped with a pretty pink buttercream.
1 1/2

cup

butter

room temperature, divided

1 1/3

cups

granulated sugar

3

large eggs

3

teaspoons

vanilla extract

divided

3

cups

flour

1 1/2

teaspoon

baking powder

1/4

teaspoon

salt

1

cup

milk

divided

4

cups

plus 2 tablespoons powdered sugar

8

ounces

strawberry cream cheese

softened

2 - 4

drops red food coloring

White pearl candies

optional
Preheat oven to 350 degrees. Line a cupcake tin with cupcake liners.

Beat together 1 cup of butter and 1 1/3 cups sugar together until fluffy. Beat in the eggs one at a time. Be sure to scrape down the sides of the bowl after adding each egg. Beat in 2 teaspoons vanilla.

In another bowl sift together flour, baking powder and salt.

Add in half of the dry ingredients. Beat in 1/2 cup of milk. Beat in remaining dry ingredients followed by 1/4 cup of milk.

Fill cupcake liners 2/3 full. Bake for 20 - 25 minutes or until a toothpick inserted comes out with just a few crumbs on it. Remove cupcakes and cool completely.

Combine strawberry cream cheese and 2 tablespoons of powdered sugar together in a bowl. Mix well. Stuff into a pastry bag fitted with a small tip. Use a paring knife to make a small hole in the middle of the cupcake but don't go all the way through. Squeeze a small amount of the filling into the cupcakes, the cupcakes may bulge a little.

Use a mixer to beat remaining 1/2 cup of softened butter and remaining powdered sugar together until fluffy. Beat in remaining 1/4 cup of milk and remaining teaspoon vanilla. Drop a couple of drops of red food coloring into the frosting. Mix well. Add more if you want a deeper pink. Frosting should be stiff but spreadable.

Stuff a piping bag, fitted with the decorating tip of your choice ( I used Wilton #22) and frost cupcakes. Top with white pearls. Serve.
If you have any leftovers store them in the refrigerator. Remove them about an hour before serving.
Enjoy!
Keywords:
cupcake, cupcakes, dessert, Food, Recipe, strawberry cupcake, sweet, treat