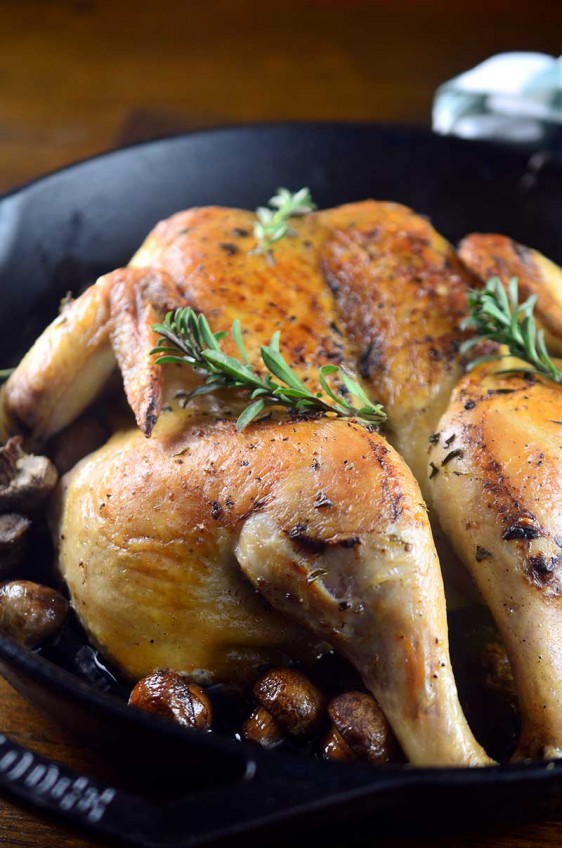 Summer Savory Spatchcocked Chicken
Spatchcocked chicken is a quick and easy way to cook a whole chicken. With the backbone removed, your whole chicken recipes will cook up moist and flavorful, without much effort!
I've been sitting on this lovely Summer Savory Spatchcocked Chicken recipe for a while now. I first made it last fall when I started getting a craving for all things comfort food. It has since been on our menu at least a couple of times a month. It is perfect for Sunday dinners and not to mention, it's a pretty gorgeous looking chicken.
Spatchcocked chicken. I get that it's a weird name. But when it comes to roasting a whole chicken, it is a total win. All you need to do is take some kitchen shears and remove the backbone of the chicken. After the backbone is removed, you press down the breastbone to flatten the chicken. Here are some step by step photos showing how to spatchcock a chicken.  By spatchcocking chicken, two great things happen. One, you reduce the amount of time it takes to cook the chicken and two, you expose more of chicken skin which means more crispy chicken skin.
For the record: Crispy chicken skin = win.
Since I'm all about the chicken skin, I want to ensure I get it nice, brown and crispy. For this reason, I place the spatchcocked chicken skin side down in a cast iron skillet, then place a sheet of aluminum foil on top and then another cast iron skillet on top to weigh it down. I cook it over medium heat for about 7 minutes. After 7 minutes, I try to flip the chicken using tongs. If the chicken skin starts to stick I simply let it cook a few more minutes. It will lift easily when done. After I flip it, I scatter some mushrooms and fresh summer savory before I finish it off in the oven.
Finally, one last thing. I brine this spatchcocked chicken first because, as I have mentioned before, I'm basically obsessed with brining chicken.
So keep in mind when you set out to make this recipe, that you'll need to plan for the chicken to be in the brine for at least 6 hours. I used a 5 pound chicken and was able to fit the whole chicken (before spatchcocking) and brine in a gallon size resealable bag. Then, just in case there is any leaking, place it in a glass bowl before putting it in the refrigerator. You can also do the brining in another non-reactive container.
I used my summer savory brine for this chicken. It's the same brine that I used for this Summer Savory Brined Fried Chicken. Out of all of the brines I make, I'm going to say that the summer savory one is my favorite. It's the one I use the most. The summer savory has just the right amount of peppery flavor to it.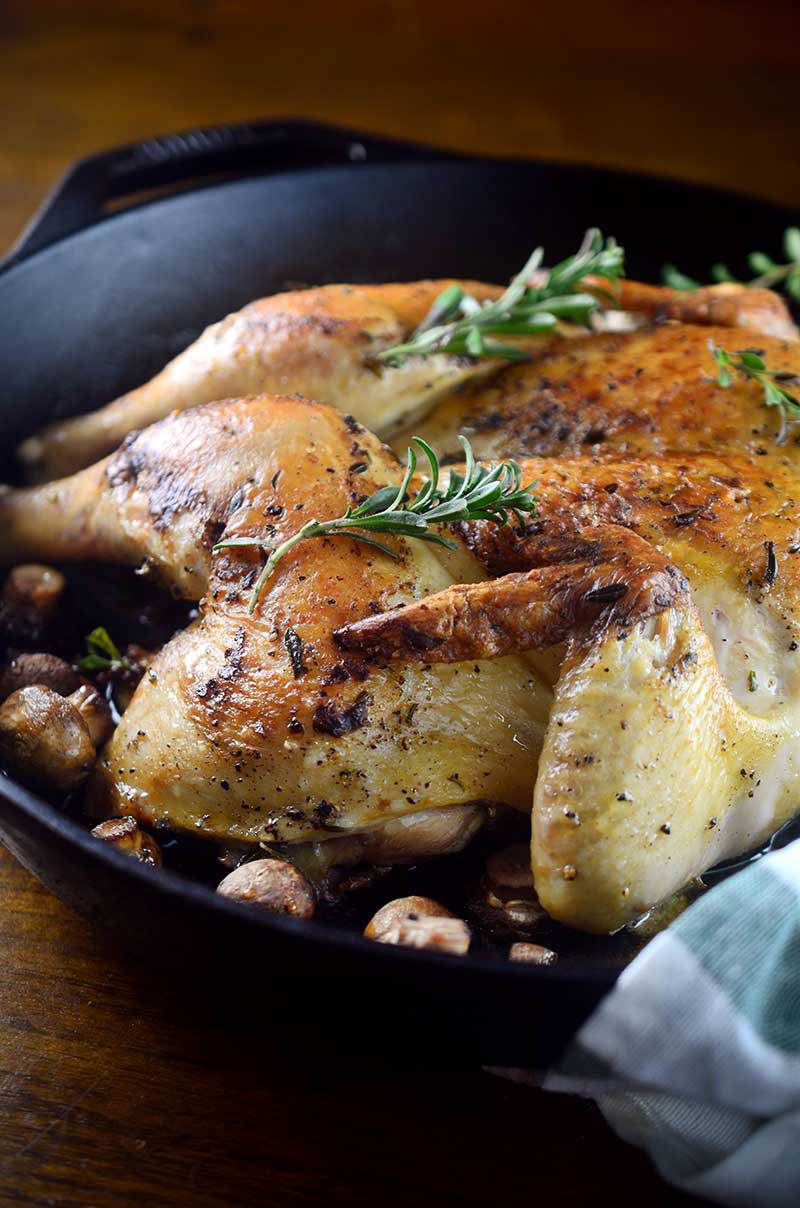 So let's run a tally. We've got juicy brined chicken. Crispy, golden brown chicken skin. And perfectly roasted mushrooms. I think the best way to sum it up is: WINNER. WINNER. CHICKEN. DINNER.
Now that you know how to spatchcock a chicken, it's time to make this Summer Savory Spatchcocked Chicken recipe!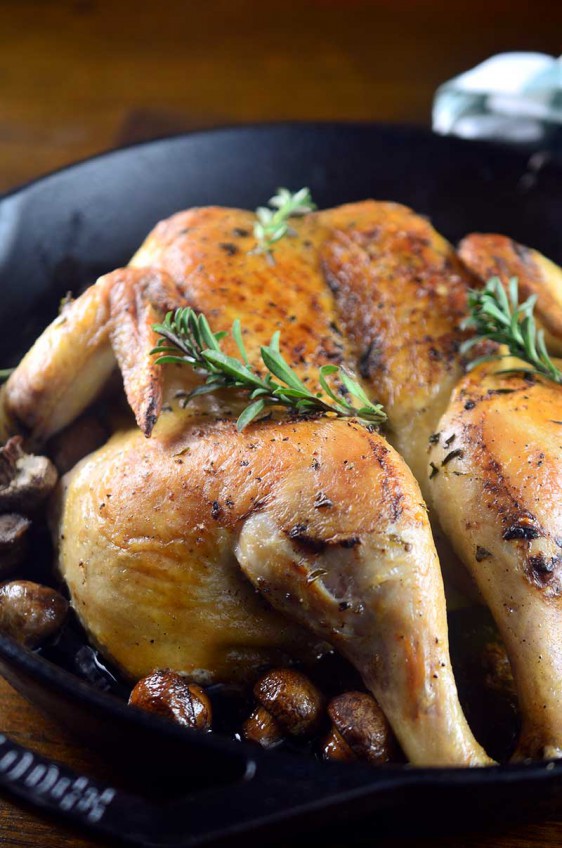 Summer Savory Spatchcocked Chicken
Learn how to spatchcock a chicken and make this Summer Savory Spatchcocked Chicken recipe! Roasted spatchcocked chicken makes the perfect Sunday dinner!
Ingredients:
1

4 - 5 pound chicken, giblets removed

2

quarts

cool water

6

sprigs plus 1 tablespoon fresh summer savory

5

cloves

garlic

1

tablespoon

black peppercorns

1/2

cup

plus 1 1/2 teaspoons kosher salt

1/4

cup

brown sugar

1/2

teaspoon

black pepper

2

teaspoons

avocado

or olive oil

2

cups

petite button mushrooms
Prepare the brine first. Place 1 quart of water in a pan over medium heat. Stir in 6 savory sprigs, 5 cloves garlic, 1 tablespoon peppercorns, 1/2 cup kosher salt and 1/4 cup brown sugar. Cook just until salt and sugar dissolve. Turn off heat and add remaining quart of cool water. Allow brine to cool to room temperature.

Place chicken in a gallon size resealable bag. Place into a bowl in case there are any leaks. Carefully pour brine into the bag. You may not need all the brine, you just want to make sure the chicken is covered. If you don't use all the brine just make sure that all of the garlic, savory and peppercorns make it into the bag with the chicken. Place chicken in refrigerator for at least 6 hours or overnight.

Remove chicken from brine. Discard brine and gently rinse chicken. Pat dry.

Place chicken, breast side down, on a working surface and using kitchen shears, cut the backbone out. Turn the chicken over and firmly press down on the breastbone to flatten the chicken.

Combine remaining 1 tablespoon fresh summer savory, 1 1/2 teaspoons kosher salt, black pepper and avocado oil together in a bowl. Mix well then rub over the chicken.

Preheat oven to 425 degrees.

Heat a cast iron, or other oven safe skillet over medium heat. Place chicken skin side down. Place a piece of aluminum foil over the top of the chicken and place another cast iron skillet (or other heavy bottomed pan) on top to weigh the chicken down. Cook for 7 minutes.

Gently turn chicken over. Scatter mushrooms around the chicken and place in preheated oven.

Cook at 425 degrees for 10 minutes. Reduce heat to 350 and continue cooking for another 30 - 35 minutes or until a meat thermometer inserted reaches 165 degrees.

Remove chicken and allow to rest 5 minutes before carving. Spoon mushrooms and pan juices over the top of carved chicken. Serve.
Keywords:
chicken, comfort food, spatchcocked, summer savory