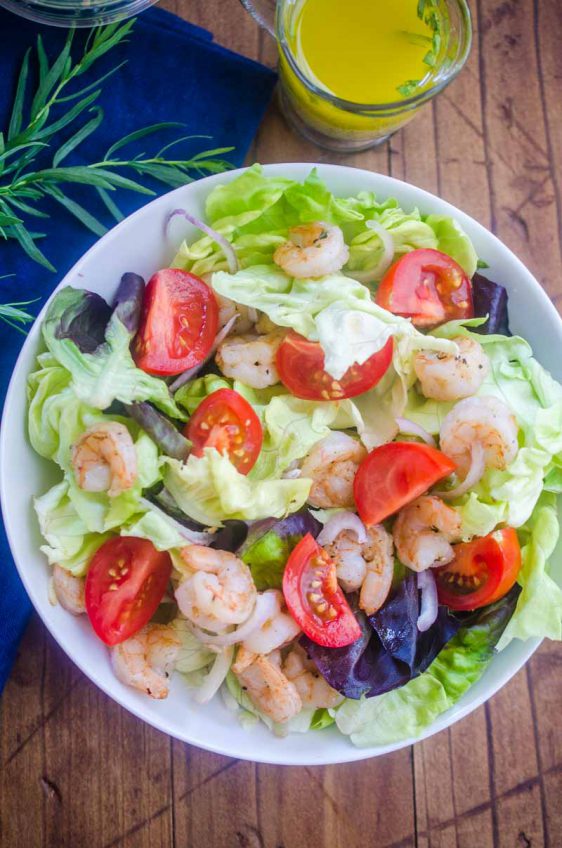 Tarragon Shrimp Salad
Tarragon Shrimp Salad is loaded with tender butter lettuce, shrimp, tomatoes and shallots tossed in a tarragon vinaigrette.  It's a perfect summer lunch! 
This post is sponsored by Organic Girl. We are grateful for our sponsors as their support allows us to bring you free delicious content every week.
This summer I have made the personal goal to eat a big salad for lunch a few days a week. One thing I have learned on my journey is that, if I am eating a big salad every day I have got to change things up a bit. I can not just eat a green salad with the same vegetables and dressing every day. I need chopped salads, chickpea salads and greek loaded salads.
The second thing I learned is that I have a favorite lettuce. Seriously. Not romaine, not ice berg. My favorite lettuce, hands down, is butter lettuce. It is tender. Perfectly crunchy. And my favorite part about it, there is no bitterness.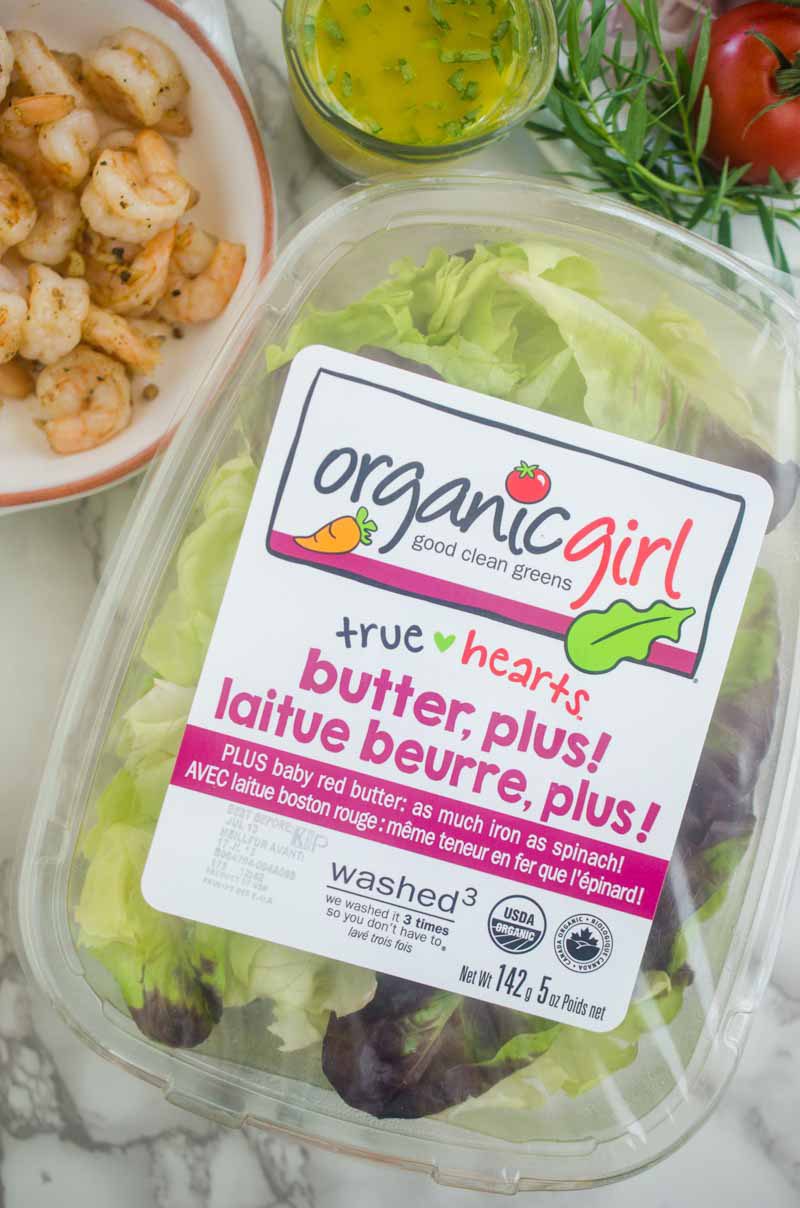 It has always been hard for me to find butter lettuce at my grocery store but not anymore. Now Organic Girl has two new pre-packaged butter lettuce options: butter and butter, plus! The butter lettuce is simply the heart of the green butter lettuce leaves. 'Butter, plus!' is the hearts of the green and red butter lettuce varieties. Both are great for salads or for adding the perfect crunch to sandwiches.
When making this Tarragon Shrimp Salad, I used the butter, plus variety because I just love the extra color that the red butter lettuce adds to the mix and the added iron is a nice bonus.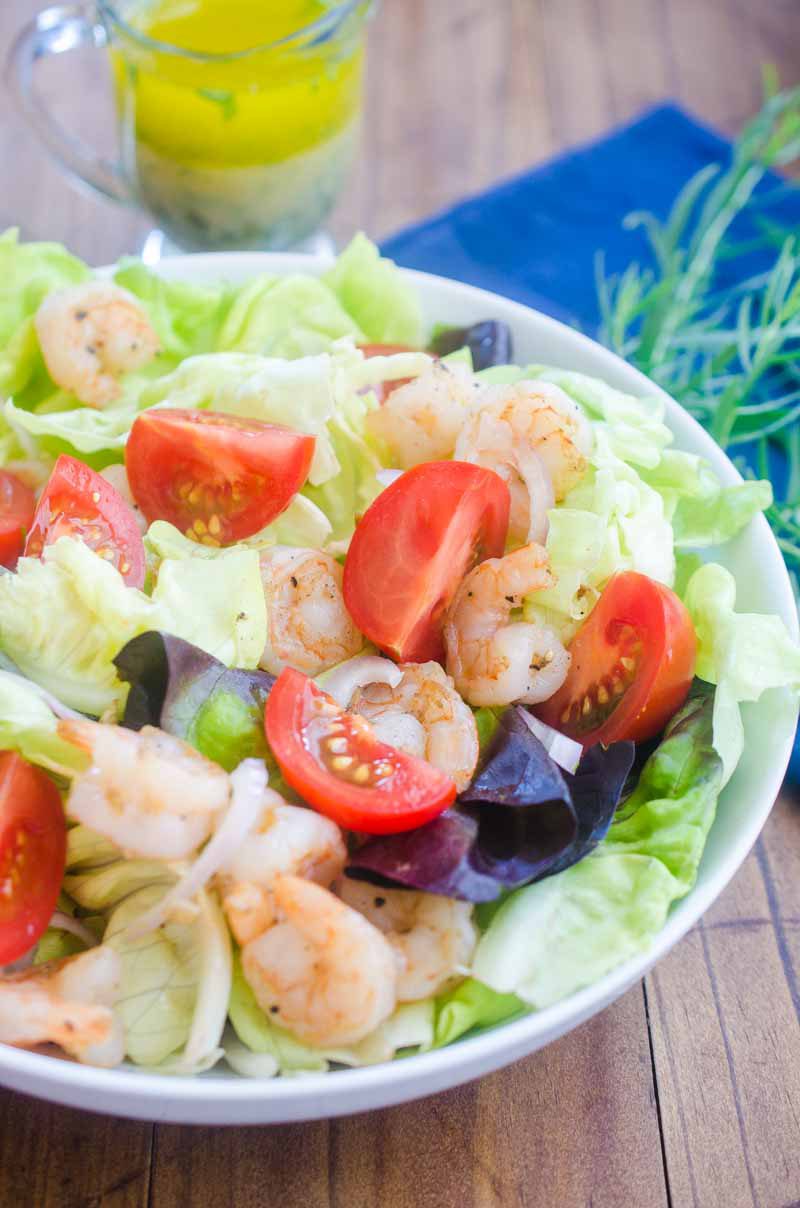 Every good big salad, has got to have an awesome dressing to drizzle over the top of it. For this Tarragon Shrimp Salad, I made a quick tarragon vinaigrette. Tarragon and shrimp is one of my favorite flavor combinations. Plus tarragon is growing like crazy in my garden right now.
To make the dressing, just whisk the tarragon with some olive oil, vinegar, capers and dijon mustard, and you're good to go. It's light and flavorful and has the perfect amount of tanginess.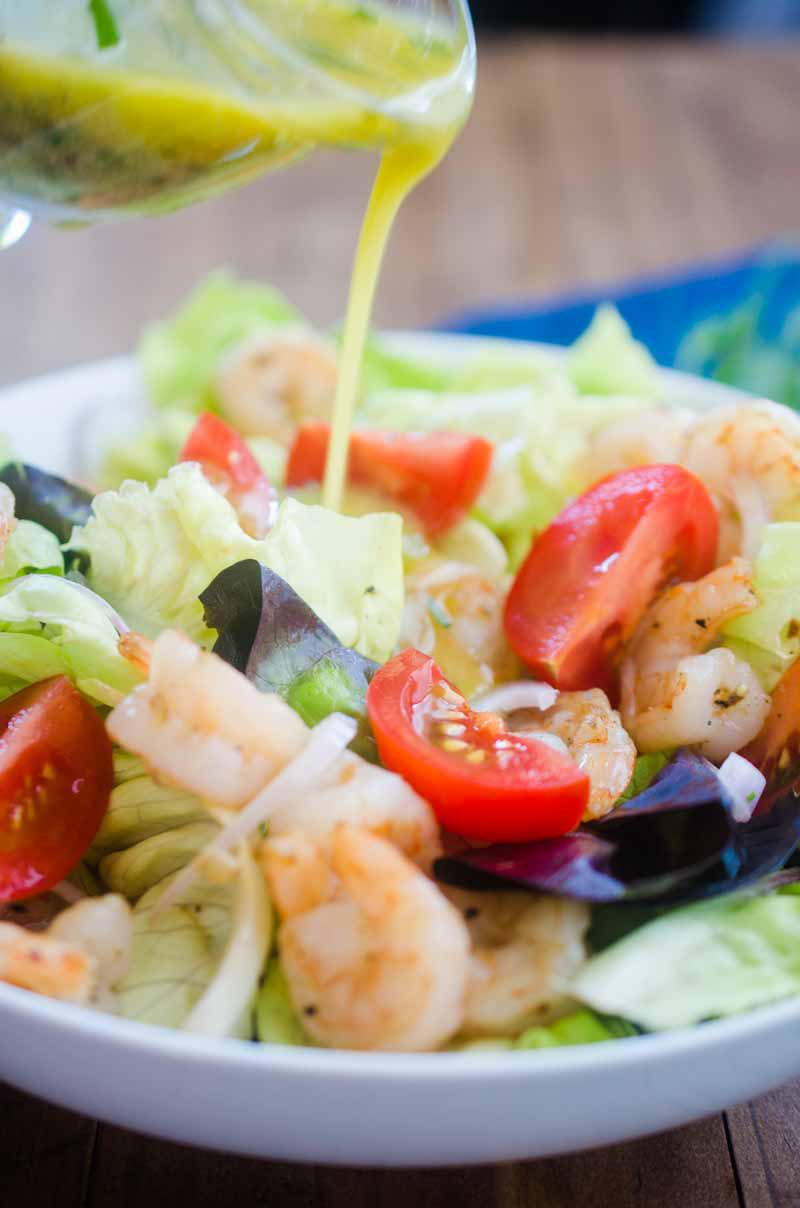 With the bright red tomatoes and, pink shrimp, shallots, green and red butter lettuce, this salad is almost too pretty to eat.
Almost. 
If you want to go out and get yourself some of this new butter lettuce (psst, you totally do) here is a BOGO coupon from the nice folks at Organic Girl!

Tarragon Shrimp Salad Recipe
Salad Ingredients:
1 tablespoon olive oil
1/2 pound 31-40 count shrimp, peeled and deviened
1 clove garlic, minced
1 (5 ounce) package Organic Girl True Hearts Butter, Plus!
4 campari tomatoes, quartered
1/4 cup thinly sliced shallots
Tarragon Vinaigrette
1/4 cup extra virgin olive oil

1 tablespoon red wine vinegar

1 tablespoon non-pareil capers

2 teaspoons chopped fresh tarragon

1 teaspoon dijon mustard

salt and pepper

Instructions
1
Whisk together all ingredients for dressing. Season to taste with salt and pepper and set aside until ready to use.

2
Heat olive oil in a skillet over medium heat. Add shrimp and cook 1 - 2 minutes. Add garlic and continue to cook until shrimp are cooked through, about 2 more minutes.

3
Place Organic Girl True Hearts Butter, Plus! into a salad bowl. Top with tomatoes, shallots and shrimp. Drizzle with tarragon vinaigrette. Serve immediately.