Tuna Pasta Salad with Spring Vegetables
A spring take on Tuna Pasta Salad with peas and asparagus in a creamy dill dressing. 
We are starting to see a bit more sunshine, a little more blue sky, a lot more flowers and a little less rain. That can only mean one thing, spring has finally arrived here in the PNW and we are this close to all the potlucks and pasta salads that nice weather is sure to bring. This Tuna Pasta Salad with Spring Vegetables is how I am going to celebrate.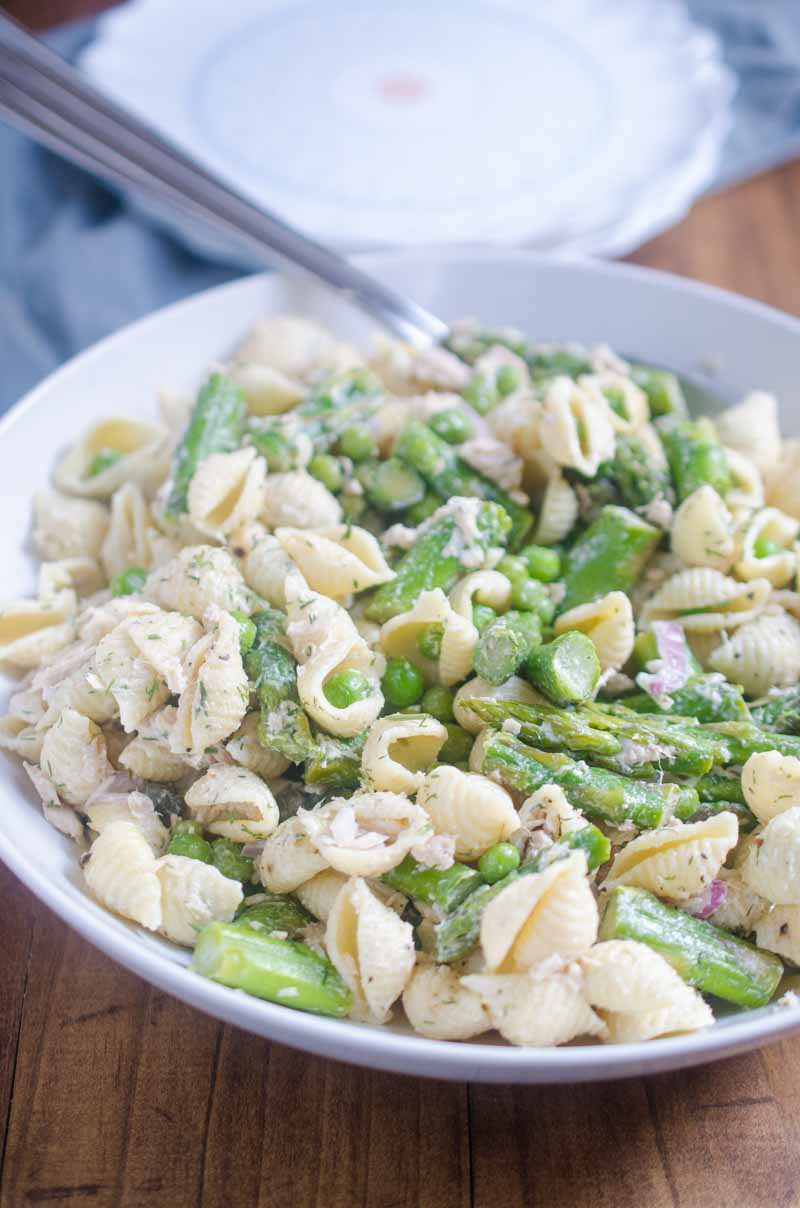 Asparagus is by far my favorite spring vegetable. I usually simply roast it or steam it and eat it by itself. However, adding it to salads is another favorite way to use it. In this salad, the asparagus is added to the cooking pasta during the last two minutes of cooking so that it's still nice and crunchy in the salad.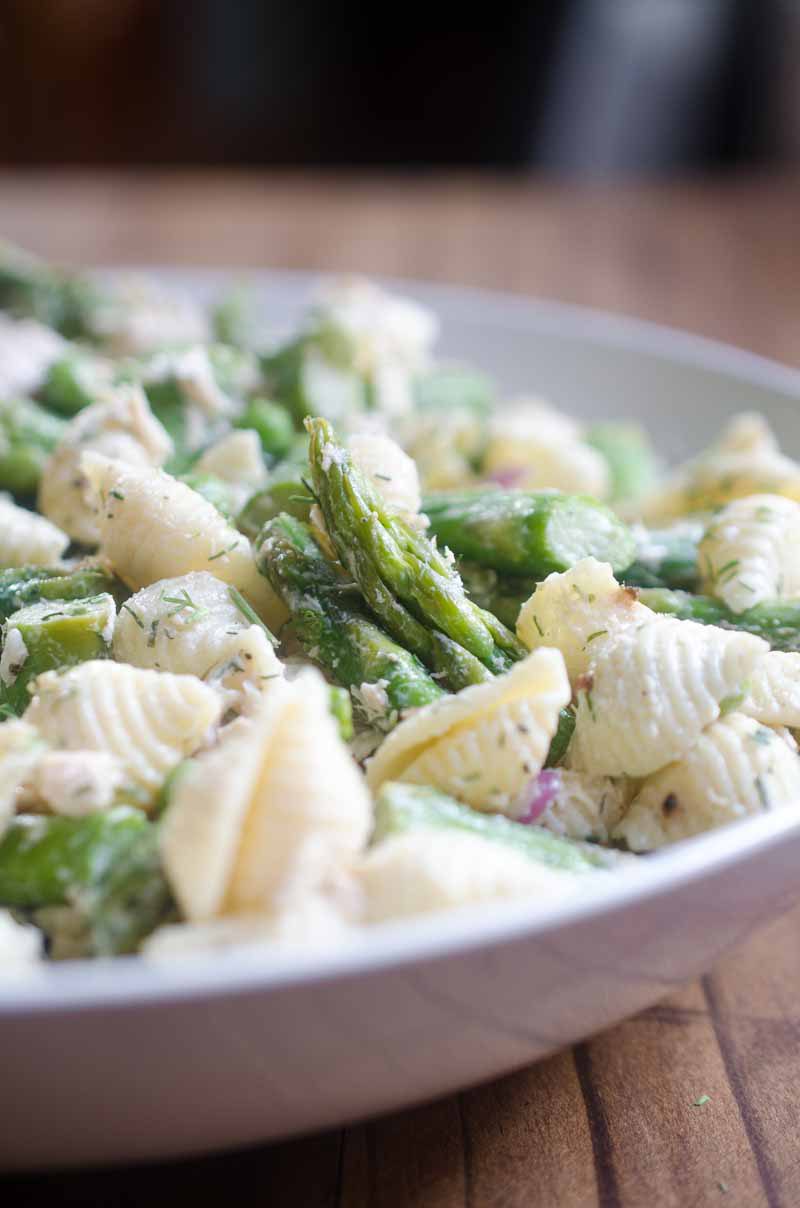 We don't eat tuna that often. The only tuna we really have around here is tuna sandwiches. Always with onion and pickles. That is until now. Now I am going to be making this Tuna Pasta Salad with Spring Vegetables any time I get the chance. It is loaded with fresh asparagus, peas and shallots then tossed in a creamy lemon vinaigrette with dill and capers.
It is full of flavor, friends. Full of flavor.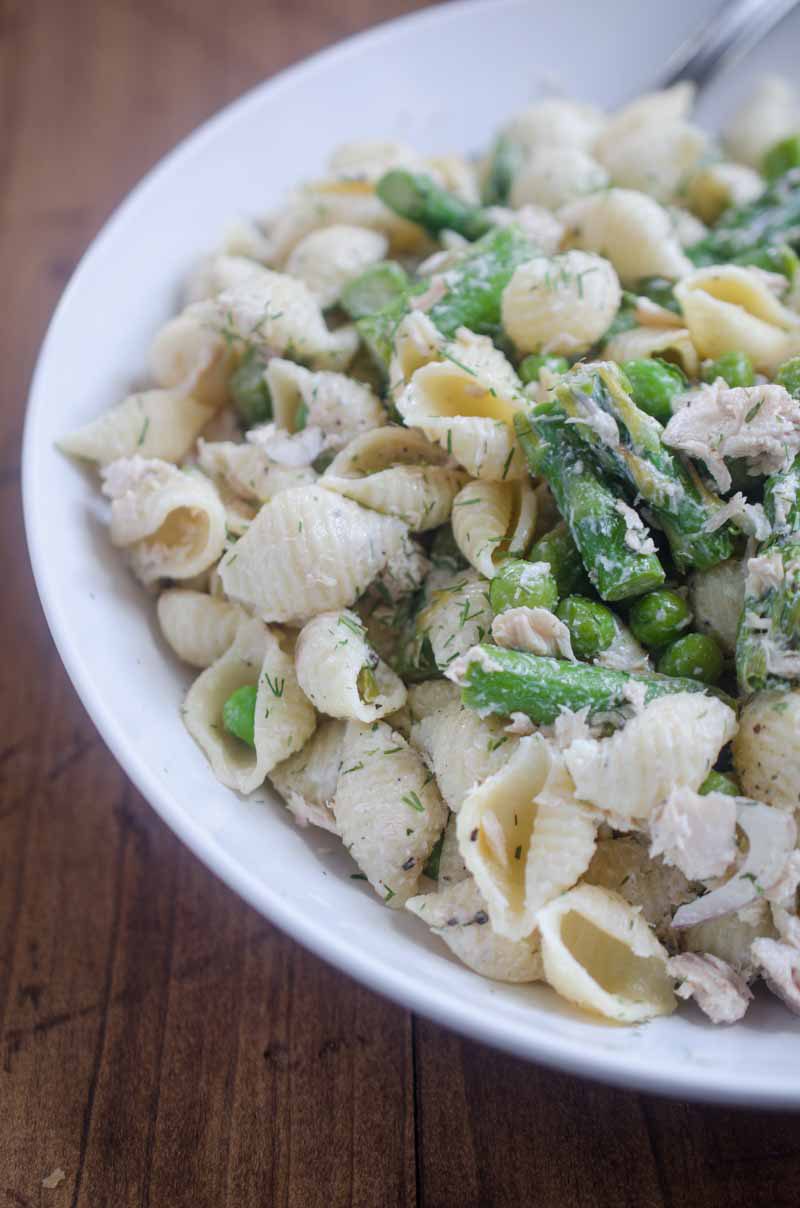 And guess what, the dressing is lighter too. Instead of being a mayo based dressing like most pasta salad dressings, the dressing in this Tuna Pasta Salad is yogurt based. I love using Greek yogurt in my creamy salad dressings because it adds all the creaminess without being heavy like mayo. The addition of lemon juice and lemon zest also help lighten things up.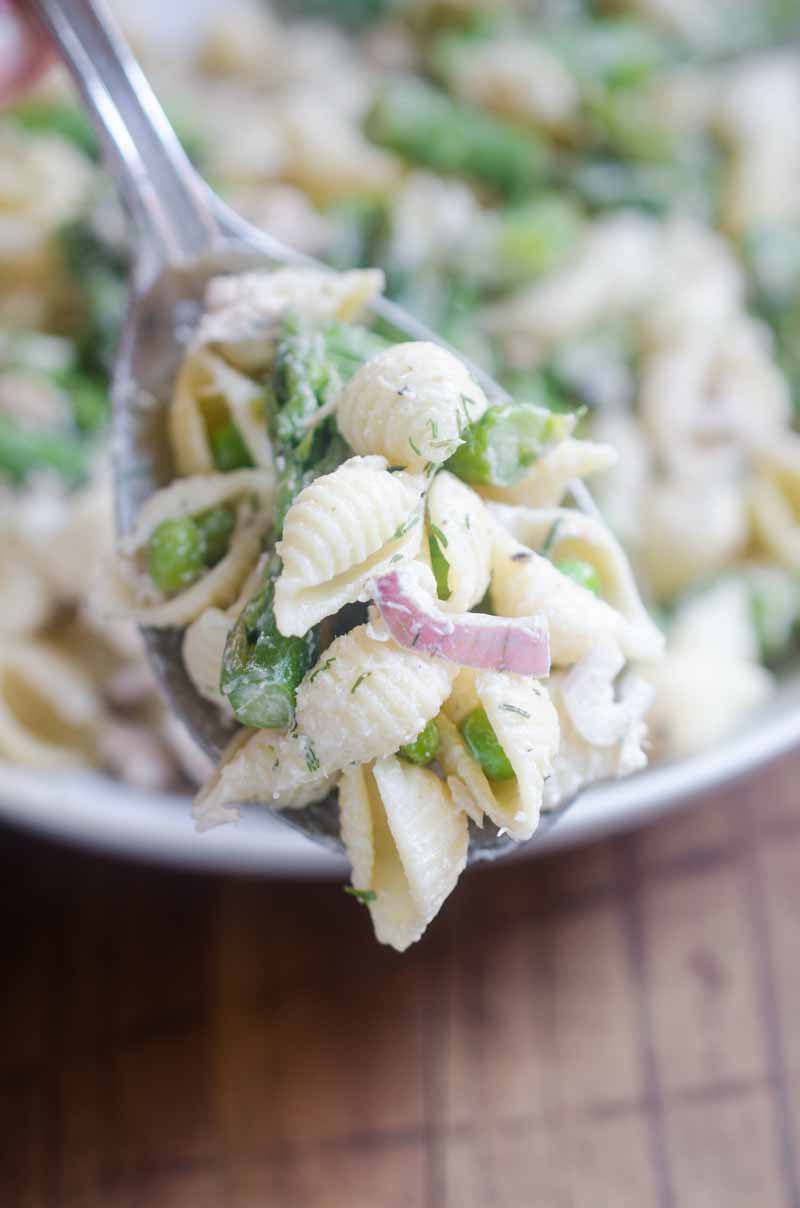 In addition to all of the goodness that we've already talked about this Tuna Pasta Salad with Spring Vegetables also has sweet peas, shallots, briny capers and dill. Trust me when I say it'll be your new favorite pasta salad this summer.

Tuna Pasta Salad with Spring Vegetables Recipe
Salad Ingredients:
2 cups dried shell pasta
1 pound asparagus, trimmed and cut into 1 inch pieces
1 cup frozen peas
1/4 cup sliced shallots
1 (6oz) can tuna packed in water, drained
salt and pepper
Dressing Ingredients:
1/4 cup Greek yogurt

2 tablespoons mayonnaise

1 tablespoon lemon juice

2 teaspoons nonpareil capers

1 teaspoon dried dill

1/4 teaspoon lemon zest

Instructions
1
Bring a large pot of water to boil. Cook pasta for 5 -6 minutes. Add in peas and asparagus during the final 2 minutes. Drain under cool water.

2
In another bowl whisk together all ingredients for the dressing.

3
In a large bowl combine pasta, vegetables, tuna and shallots. Pour dressing over the top. Mix to coat. Season to taste with salt and pepper. Cover and chill for at least 30 minutes.