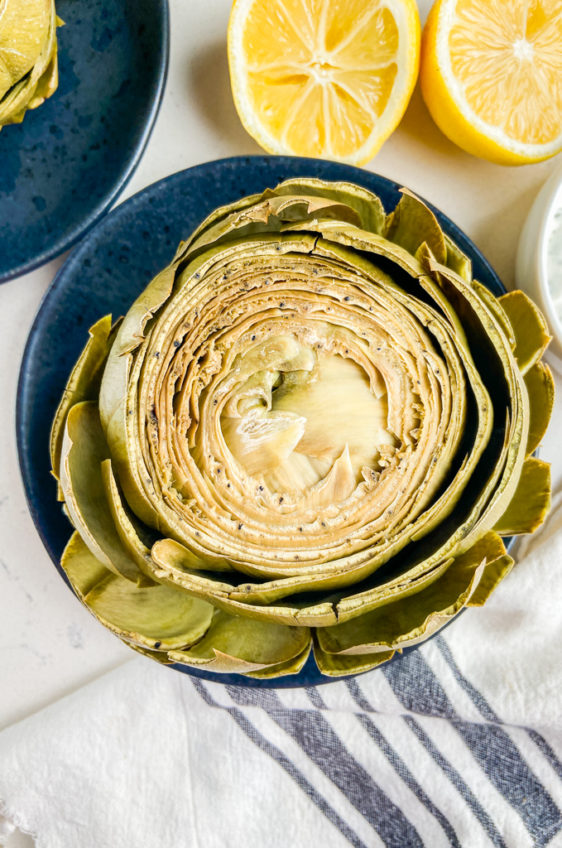 Instant Pot Artichokes with Creamy Herb Dip
Making whole steamed Artichokes in the Instant Pot is incredibly easy! I show you how in this easy to follow tutorial with step by step photos and even includes a creamy herb dipping sauce to serve along side!
I have been an artichoke fan ever since I was a kid. They are great stuffed. They are great baked with tomatoes. In dips and of course grilled. But one of my biggest complaints about cooking whole artichokes is how long they take to cook. Steaming whole artichokes usually takes about 45 minutes to 1 hour. And while I think they are totally worth the wait, Instant Pot Artichokes cook in a fraction of the time.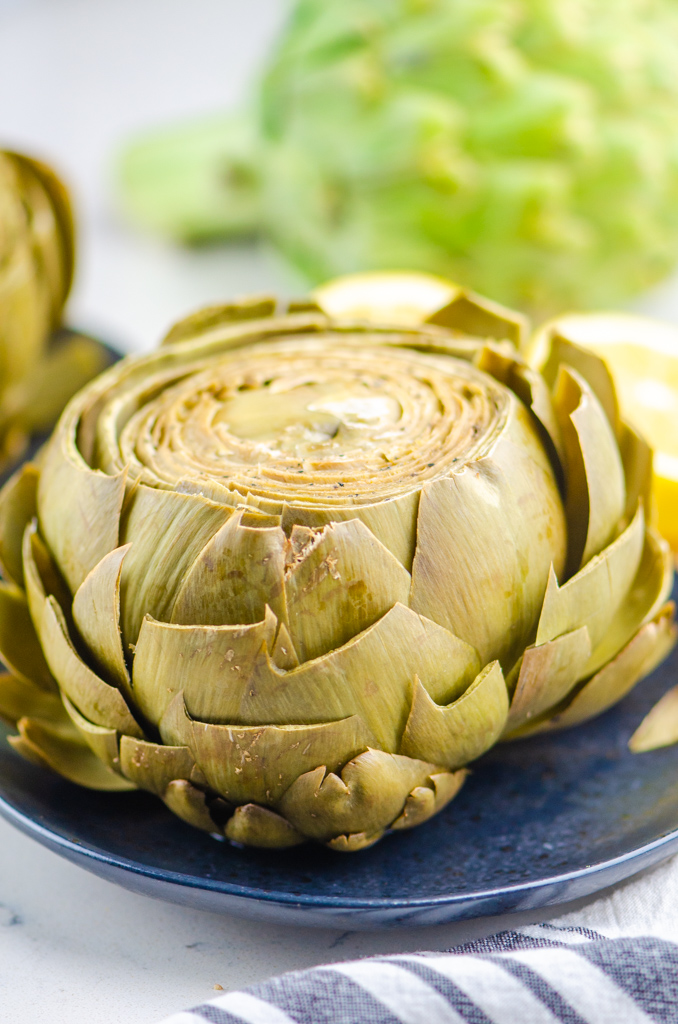 How to pick out an artichoke:
If you're like me, the very first time you decide to prepare an artichoke you're super intimidated. And that could start with the simple question: How do I pick out a good artichoke?
There are a couple of ways to ensure that the artichoke will be good:
You want to look for an artichoke that has leaves that are closed. If the leaves are splayed out, that means that the artichoke is old. As far as color go, a ripe artichoke will be a dusty green color. A few brown spots is nothing to worry about but you don't want one with deep purple or soft brown spots. That means the artichoke has spoiled.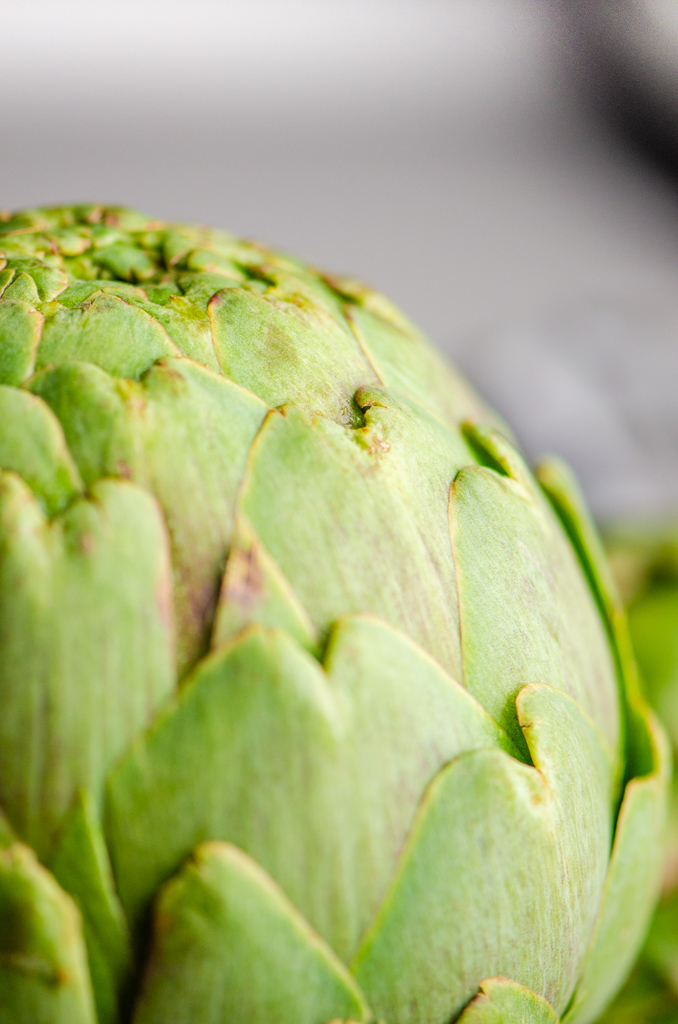 How to prep a whole artichoke for steaming:
Similar to when you are steaming whole artichokes in a pot, you will need to trim the artichoke first. Trimming an artichoke could seem a bit daunting if you have never trimmed one before. But it is actually really easy to do. Let me show you just how easy it is!
Step #1: let's talk about the tips of the artichoke leaves. They can be a little prickly. So we want to get rid of them. To do that simply cut off the top 1/2 inch or so of the artichoke using a sharp knife.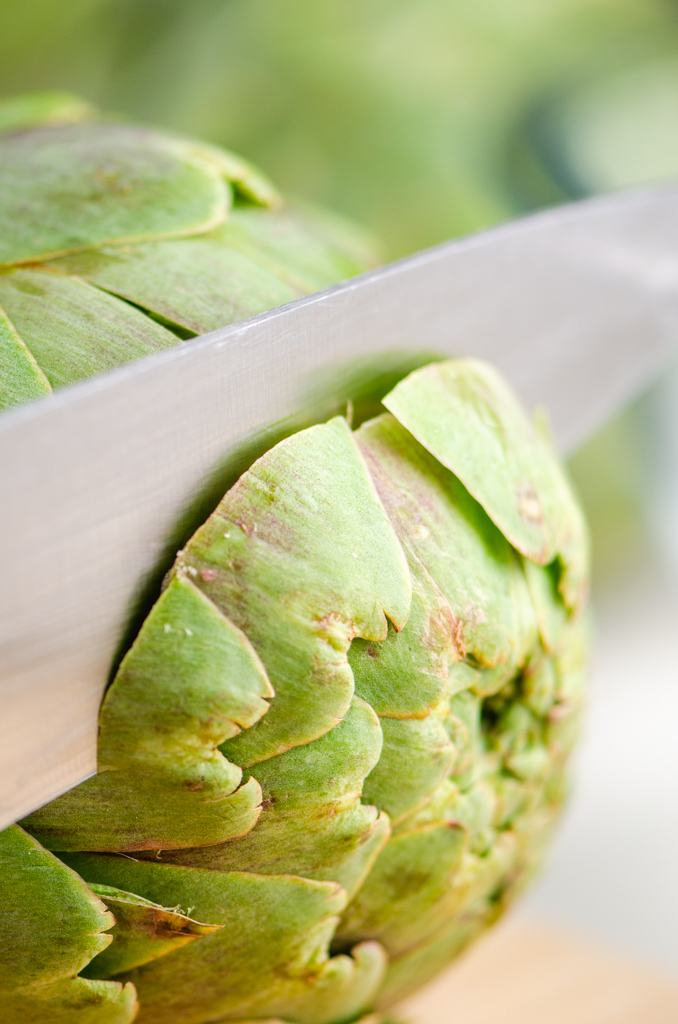 Step #2: Next, you will want to trim the tips of the remaining leaves. A good pair of kitchen shears will do the trick here. Just use them to trim off the prickly top of the leaves.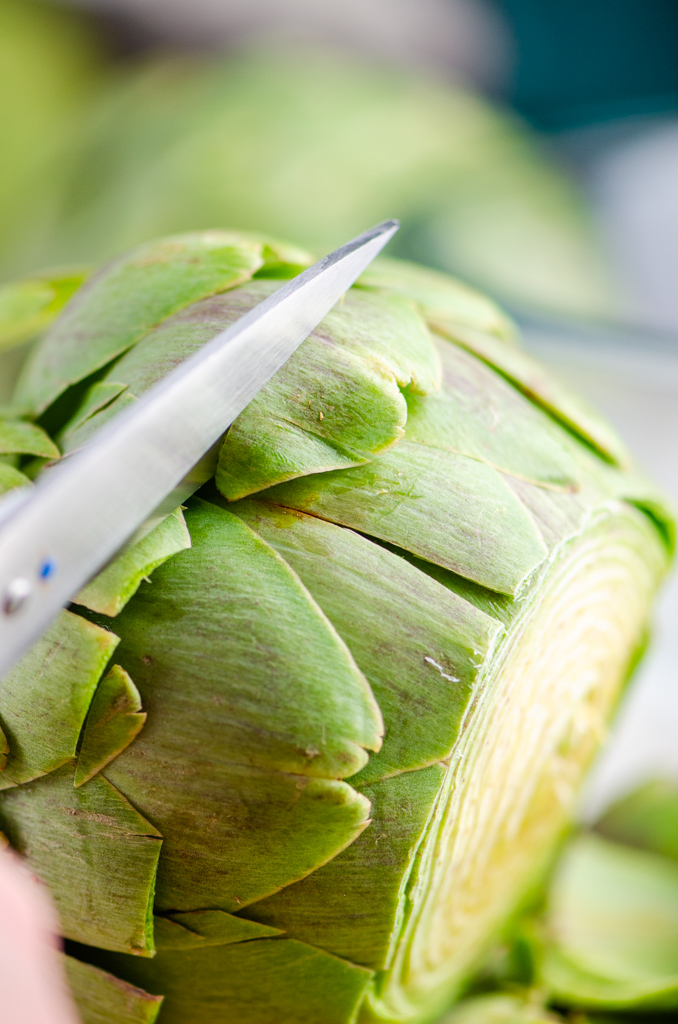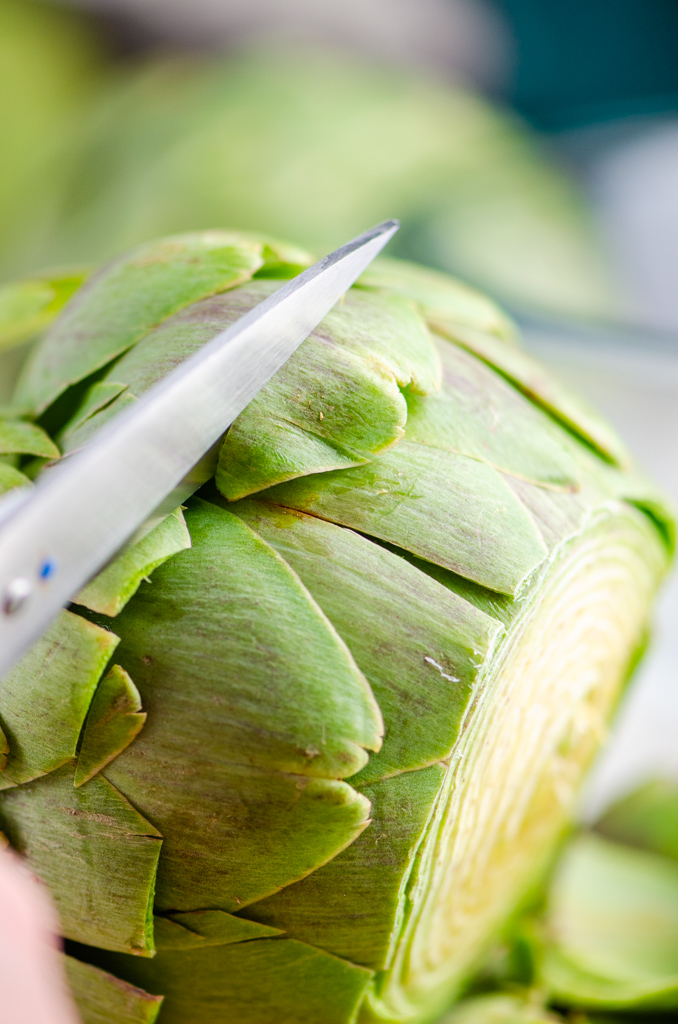 Step #3: Cut off the stem of the artichoke so that it sits flat.
Step #4: When artichokes are cut, they will begin to oxidize and turn brown. That is why it is essential to dip then in lemon water immediately after cutting. I usually have a bowl of ice water that I have squeezed a lemon into right next to where I am cutting.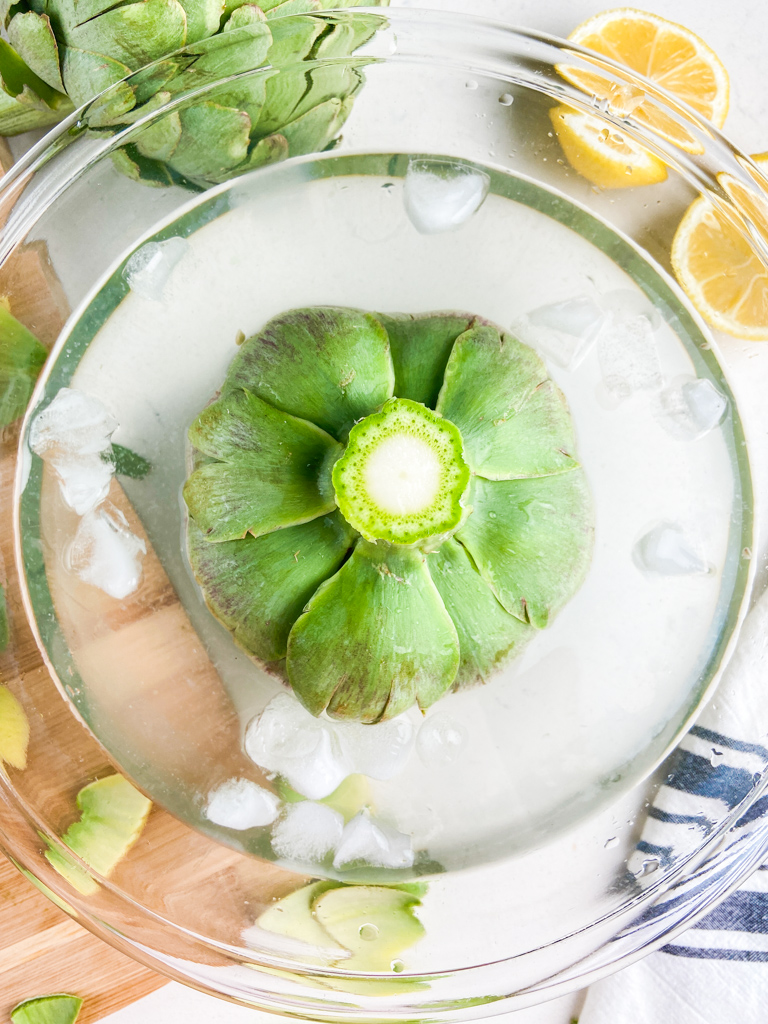 How to make whole steamed artichokes in a pressure cooker:
You will need to place the artichokes in the steamer basket or trivet that came with your pressure cooker. Pour in a cup of water. Place the lid on and seal.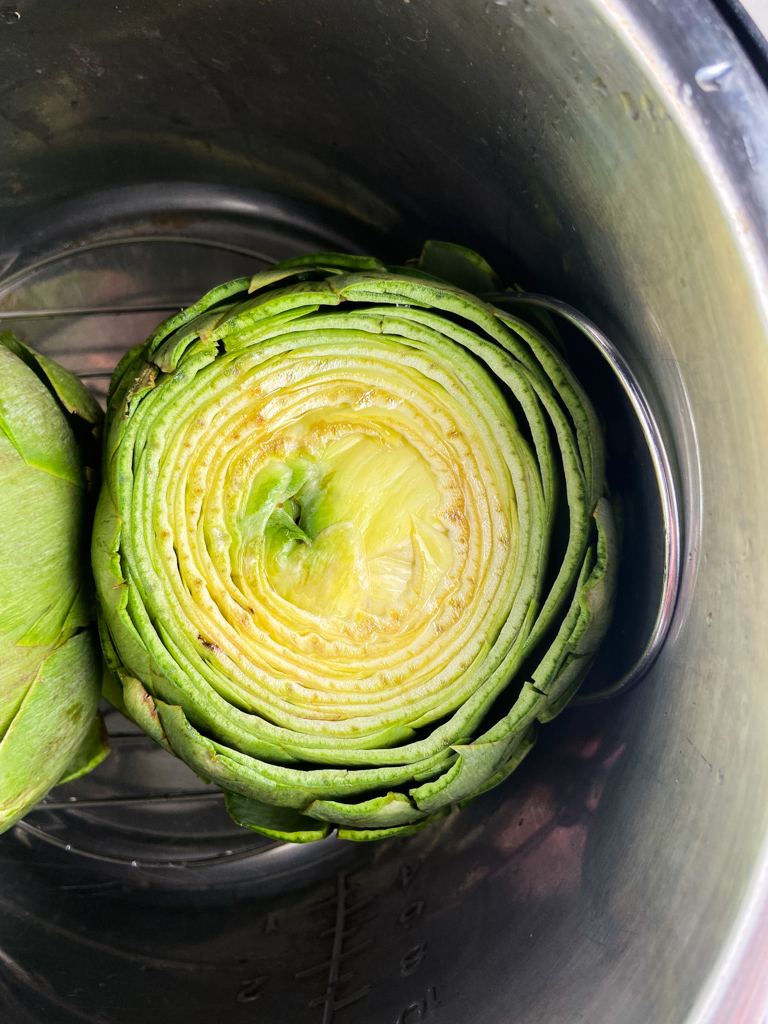 Cook the artichokes on high pressure for 9 minutes and then do a manual release.
DES' TIP: Depending on the size of your artichoke timing may vary. This recipe calls for two large globe artichokes but if you were to use smaller artichokes the time might be closer to 7. You can always cook an additional 2 – 3 minutes if after the pressure is released the artichoke is too tough.
Once the pressure has been released, carefully remove the artichoke. The artichoke is done when the leaves pull away easily.
What is the best dip for steamed artichokes?
Finally, let's talk dip. When you're eating a steamed artichoke, the dip is just as important as the artichoke itself. Some people prefer butter or mayonnaise. Garlic Aioli is nice too! For this recipe, I made a quick and easy creamy herb dip that is also fab!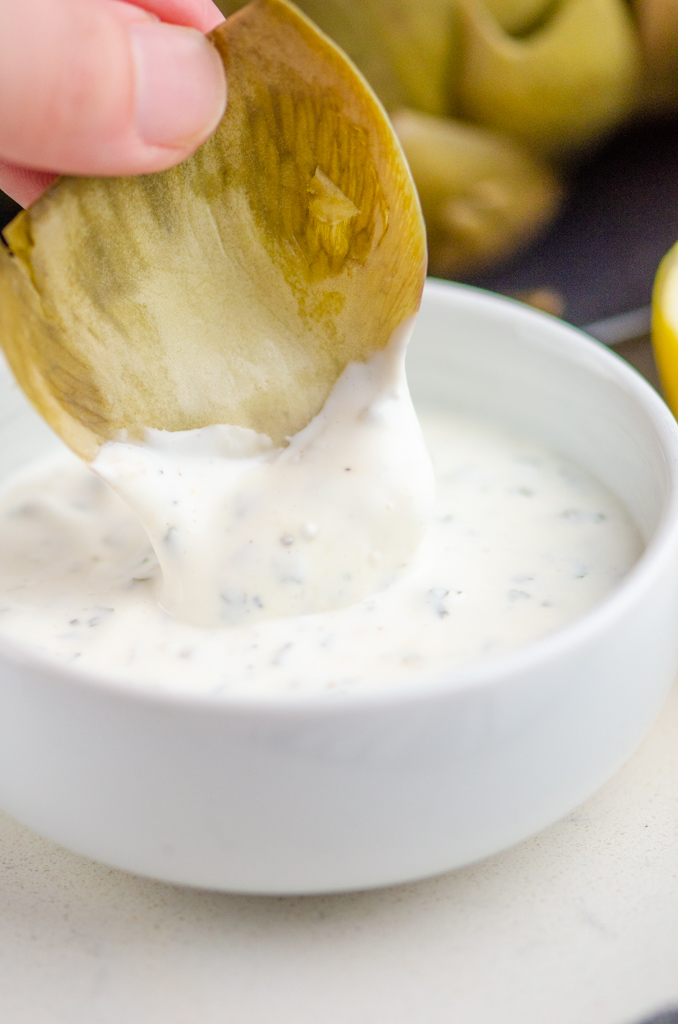 Now that you know just how easy it is to make Artichokes in the Instant Pot, I'm pretty confident it'll be your new favorite way to prepare them.
Love artichokes? Here are some more artichoke recipes:
2 Ingredient Artichoke Chicken
Note: This post was originally posted in 2018. It was updated with new step by step photos and nutrition information in 2021.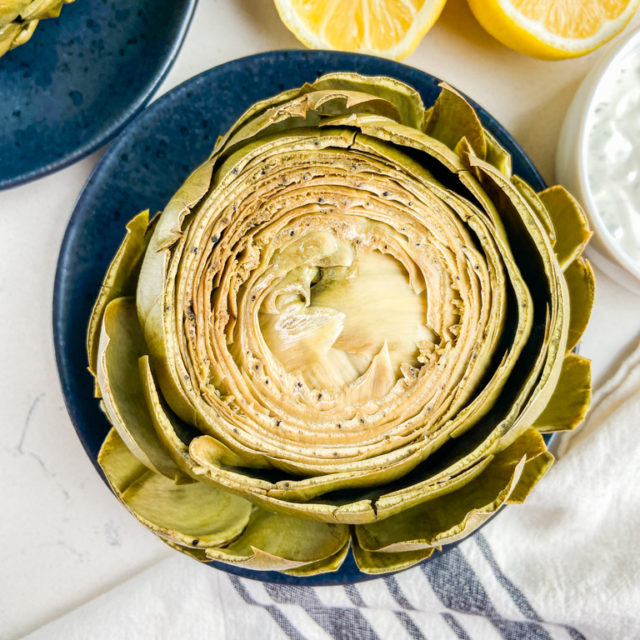 Instant Pot Artichokes with Creamy Herb Dip
Making whole steamed Artichokes in the Instant Pot is incredibly easy! I show you how in this easy to follow tutorial with step by step photos.
Ingredients:
2

large globe artichokes

trimmed

lemon juice

water
Creamy Herb Dip
1/2

cup

Greek yogurt

1

tablespoon

mayonnaise

1

teaspoon

dried parsley

1

teaspoon

dried chives

1/4

teaspoon

granulated garlic

salt and pepper
Whisk together all ingredients for creamy herb dip and refrigerate until ready to use.

Prep the artichokes by cutting off the top inch of the artichoke as well as the stem so the artichoke sits flat. Use kitchen shears to trim the pointed tops off the remaining artichoke leaves. Immediately dunk the artichokes in the lemon juice to help them from browning.

Place artichokes on a trivet (or in a steamer basket) in the Instant Pot. Pour in 1 cup water. Pressure cook on high for 9 minutes. Do a manual release.

Once the pressure is released, carefully transfer the artichokes to a serving dish and serve with creamy herb dip.
Nutrition information for estimation purposes only.
Calories:
201
kcal
Carbohydrates:
17
g
Protein:
22.4
g
Fat:
5.3
g
Saturated Fat:
3.2
g
Cholesterol:
11
mg
Sodium:
154
mg
Fiber:
4
g
Sugar:
10.2
g
Keywords:
artichoke, instant pot, steamed artichoke, Vegetarian