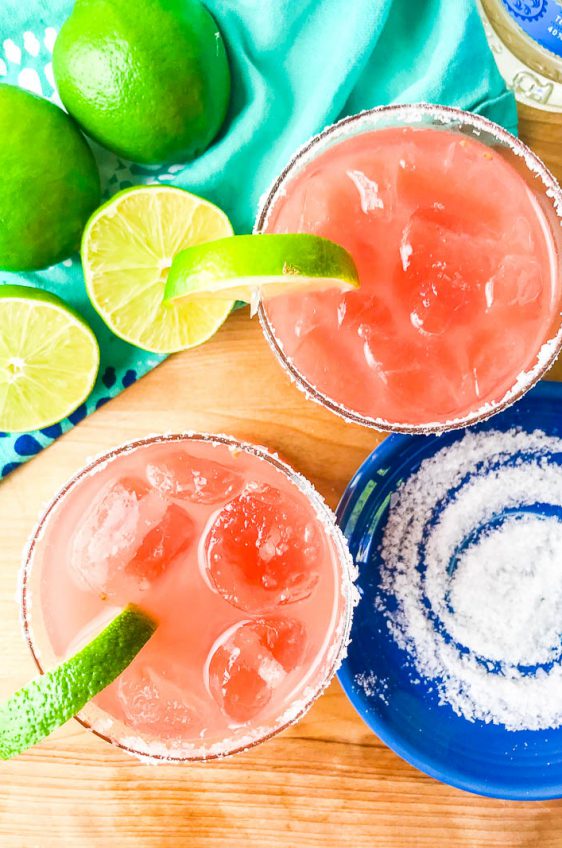 Watermelon Margarita
Simply refreshing Watermelon Margaritas will be your go to way to cool down this summer! And you only need 3 ingredients to make them! 
Growing up in the Pacific Northwest, you could say that I am kind of a baby when it comes to heat. I mean, anything above 85 and I'm uncomfortable.
I know, I know, it's crazy.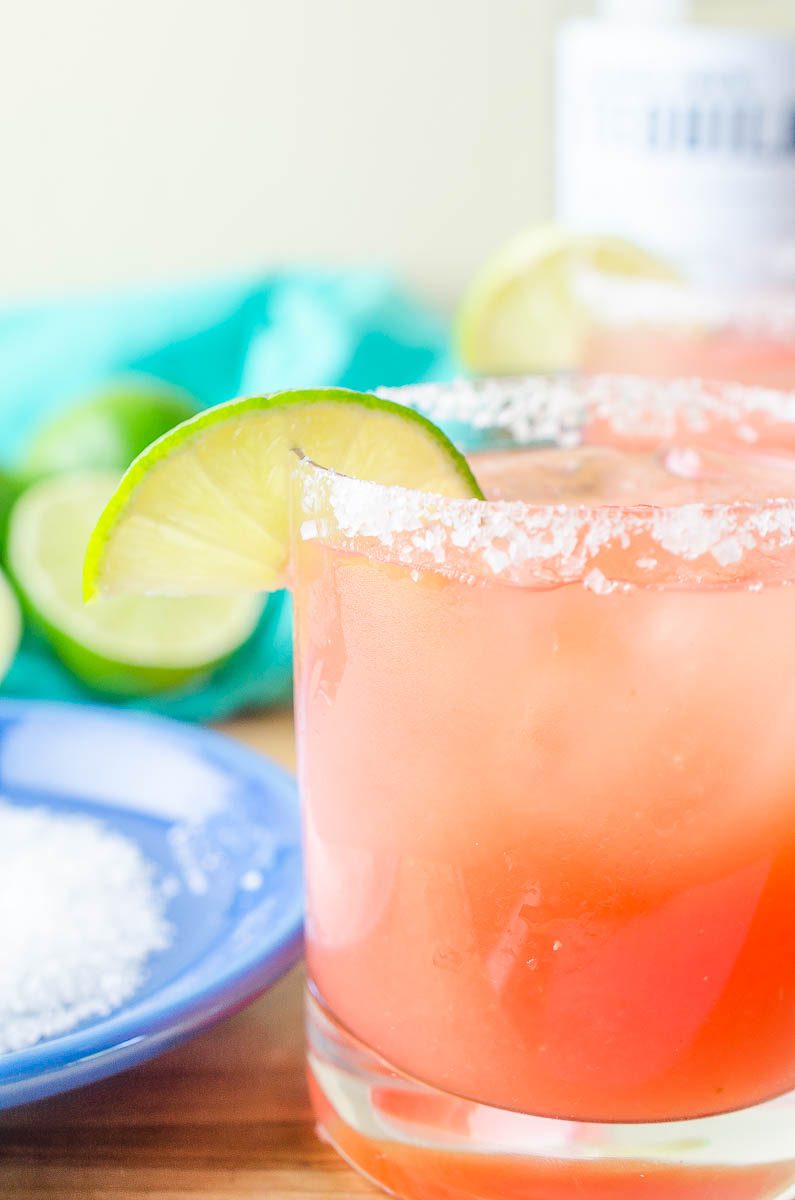 This means that come summer time, I am always looking for refreshing ways to cool down. And with cinco de mayo next week and summer just around the corner, it's time to start getting summer cocktail recipes ready.
And these watermelon margaritas are a great way to start!
How do you make watermelon juice?
To make watermelon margaritas, you're going to need watermelon juice.  All you need to do to make it is blend up cubed watermelon with some ice and voila, watermelon juice.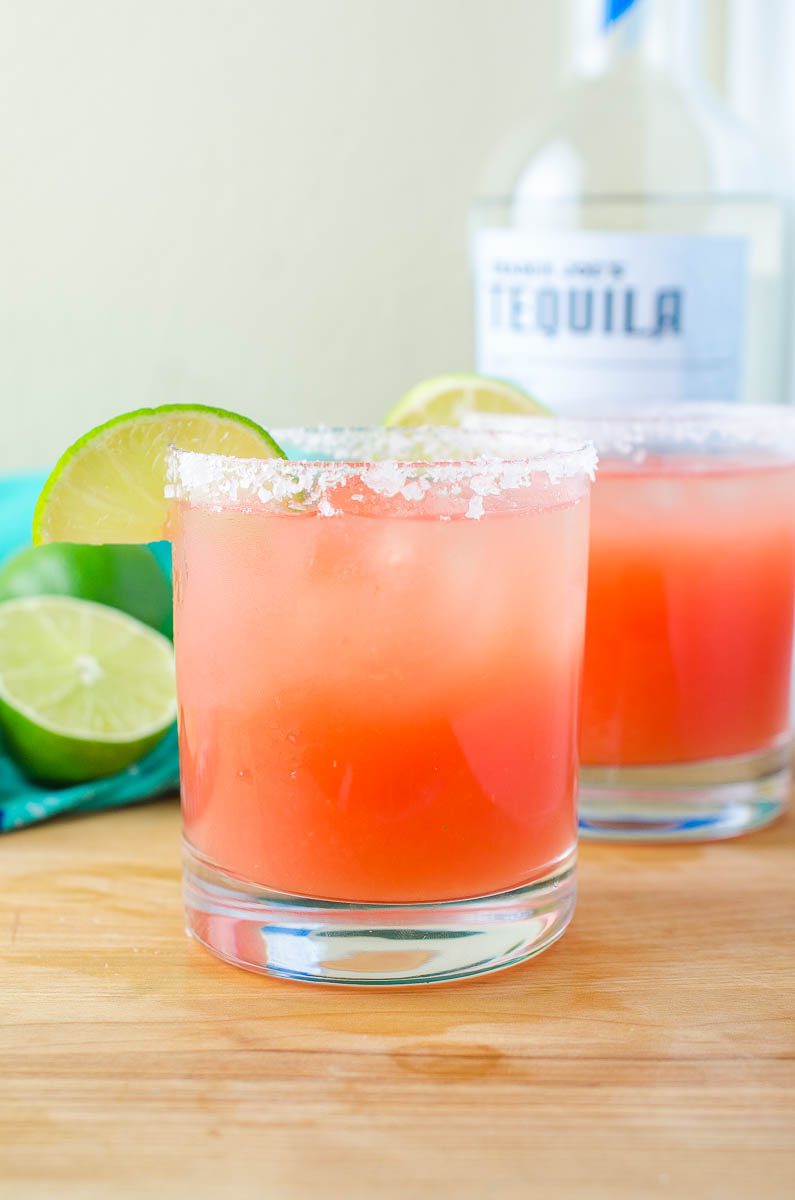 I actually saw some at the grocery store the other day that you can buy too. But I mean, with all the fresh watermelons hitting the shelves and the fact that it is SO easy to make. Save your money!
How do you make a Watermelon Margarita?
This watermelon margarita could not be easier to make. You simply need watermelon, lime juice and silver tequila.
After you blend the watermelon, simply stir it together with the lime juice and silver tequila.
I find the watermelon pretty sweet on it's own so I forgo the use of simple syrup or sugar. If you like things a bit sweeter add a splash of simple syrup.
Finally, you can choose to strain the margaritas if you prefer. I like the added watermelon flavor you get from leaving the pulp in there.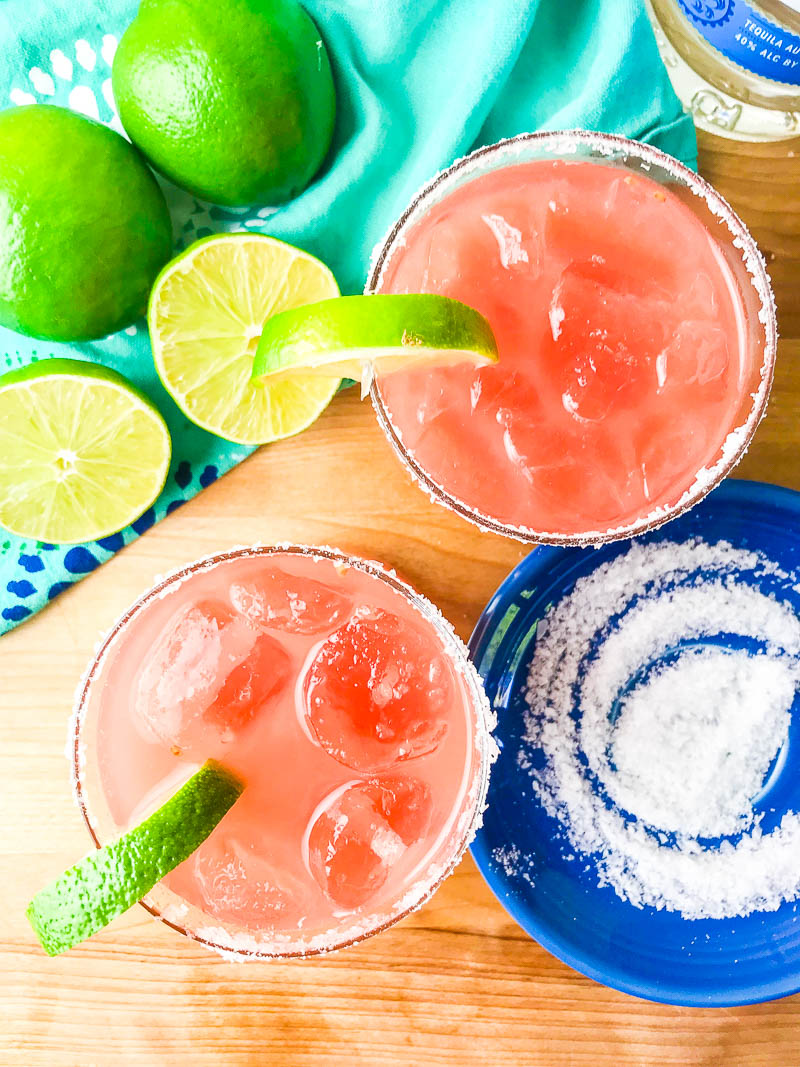 How do you garnish a Watermelon Margarita?
Like a classic margarita, this margarita is garnished with a salt rim and a lime. You could also garnish it with sugar.
Can you make this Watermelon Margarita frozen?
Yes! Simply combine all the ingredients for the margarita with ice, blend and you're good to go!
Other Margarita Recipes to try! 
Perfect Pitcher Margarita Recipe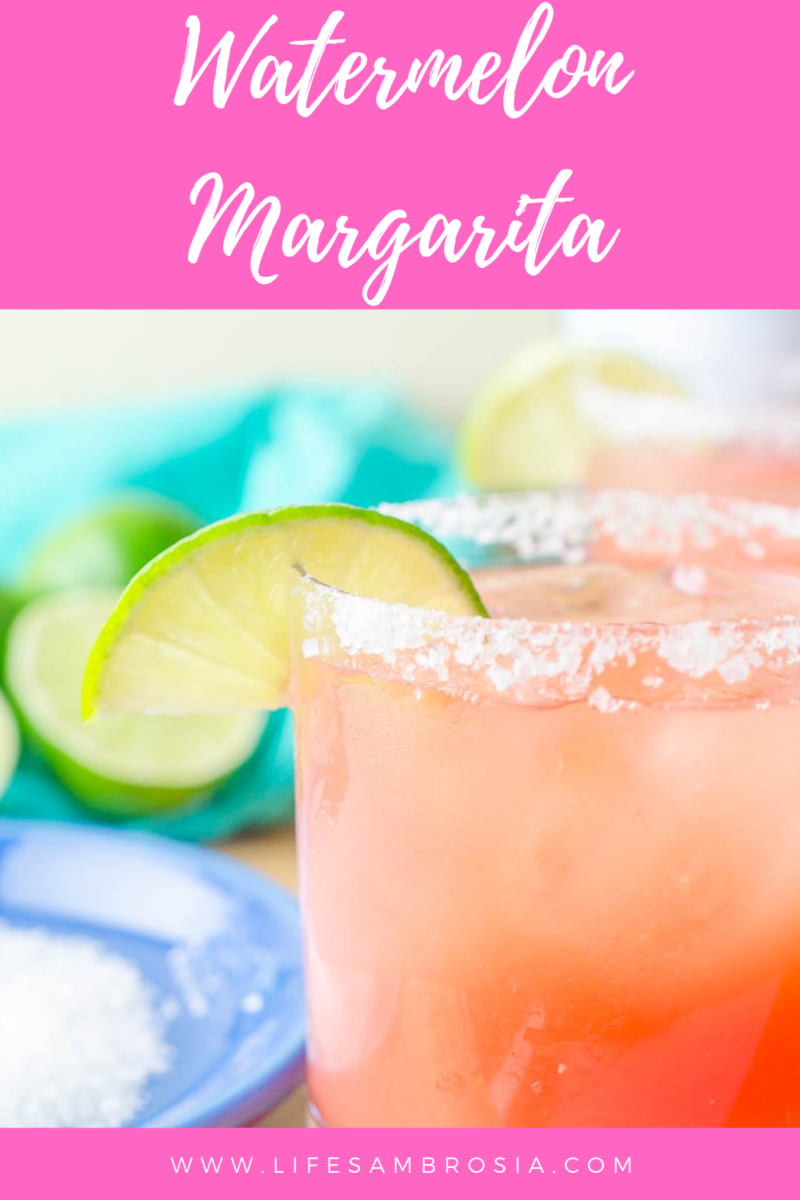 Watermelon Margarita Recipe
Ingredients:
2 cups cubed seedless watermelon
1/2 cup ice, plus more for serving
2 ounces lime juice
4 ounces tequila
salt/sugar
lime for garnish
Instructions
1
Place watermelon and ice in a blender and blend.

2
Pour watermelon juice, lime and tequila in a pitcher or large glass and stir together.

3
Rub a lime wedge around the edge of a glass, dip cup in salt or sugar to coat the rim.

4
Put ice in the cup and pour watermelon margarita over the top. Garnish with lime and serve.
Notes
Nutrition facts not guaranteed.
Nutrition information
Amount per serving: Not including salt or sugar garnish
Calories: 191 , Total Fat: 0.2g , Saturated Fat: 0g , Cholesterol: 0mg , Sodium: 0.5g , Carbohydrates: 12.9g , Fiber: 0.7g , Sugar: 9g , Protein: 1g