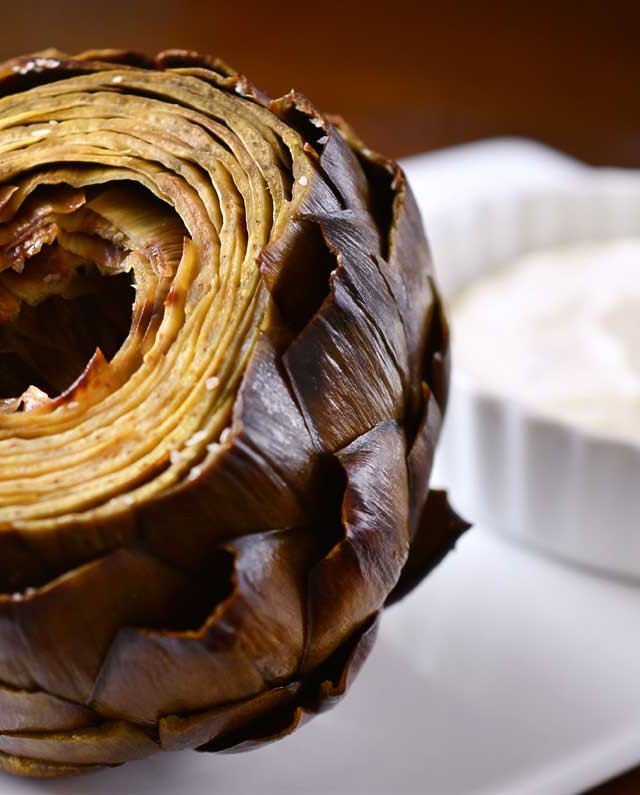 Whole Roasted Artichoke with Roasted Garlic Lemon Dip
I adore artichokes. I love them added to pasta. I love them fried. I love them in cheesy dips. But the way that I love them the most, is cooked whole and then dipped in a creamy mayo based dip. The mayo is my guilty pleasure. I mean, artichokes themselves are healthy enough that a little mayo isn't going hurt right? Right.
Right now this pregnancy is just like my last in terms of what I am craving. In the beginning things were totally different. I wanted only fruits, pickles and I could not get enough orange juice as well as tomatoes. Which was completely different then when I was pregnant with Kellan. But as things progressed, my cravings changed and became what I was craving when I was with Kellan: Chips and Habanero salsa and anything and everything that involved mayonnaise.
I am not a huge mayonnaise fan when I am not pregnant. I mean I'll eat it but I can do without it as well.  But when I am pregnant that is a whole other story. Let's just say my craving falls just short of eating it with a spoon.
That is why this whole roasted artichoke dipped in a lemon garlic mayo is one of my favorite things to indulge in when I'm pregnant.
Oh who am I kidding, I adore these when I'm not pregnant too. The roasting brings out all of the flavor of the artichoke. The garlic for the dip is actually roasted inside the artichoke. The dip is creamy and zesty. It's an all around winner that I'm sure you'll love!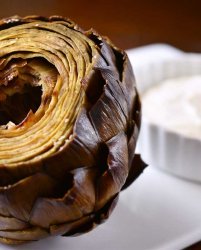 Whole Roasted Artichoke with Roasted Garlic Lemon Dip
My favorite way to enjoy an artichoke, simply roasted with a creamy roasted garlic dip.
Roasted Artichoke Ingredients:
Roasted Garlic Dip Ingredients:
garlic from artichoke

1/4

cup

mayonnaise

1

tablespoon

lemon juice

1

teaspoon

lemon zest

salt and pepper
Preheat the oven to 425 degrees.

Prep the artichoke by cutting the top 1 inch of the artichoke and then clipping the pointed tips of the leaves. Gently scrape out the leaves in the center of the artichoke as well as the fuzzy "choke". Rinse the artichoke under cool water. Press the garlic cloves inside the center of artichoke, drizzle lightly with 1 teaspoon olive oil.

Combine the remaining olive oil, salt and lemon juice together in a bowl. Rub over the artichoke, making sure to get the areas where you cut to keep them from turning brown. Bake in the preheated oven for 1 hour and 20 minutes or until the artichoke is tender and the leaves pull away easily.

Remove the garlic cloves from the center and mash together in a bowl. Add in mayonnaise, lemon juice and lemon zest. Season to taste with salt and pepper. Serve with artichoke.
Keywords:
artichoke, roasted garlic, snack, Vegetarian