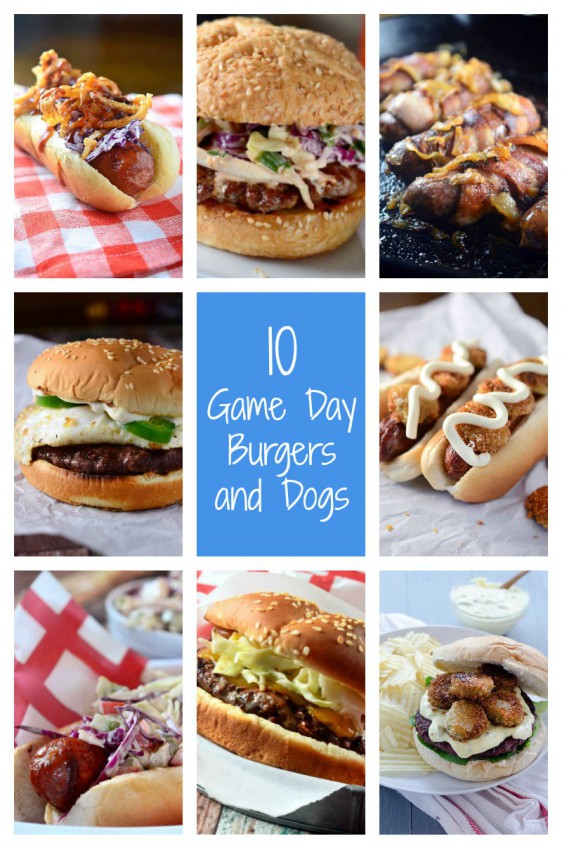 10 Game Day Burgers and Dogs
A collection of 10 hamburgers and hot dogs, perfect for any game day get together. 
Are you ready for the big game yet? Will you be throwing a party to watch it? Whenever I throw a game-day party, I like to have the traditional snacks but I also like to include a burger or hot dog for those that want something hearty. Today I have compiled a list of my favorite game day burgers and hot dogs so you can serve them at your party too!
Cajun Hot Dogs with Spicy Slaw 
Bourbon BBQ Sauce Cheeseburgers 
Grilled Brats with Warm Cabbage Slaw 
Garlic and Black Pepper Pork Burgers with Sriracha Slaw 
Loaded BBQ Hot Dogs 
Whisky Mushroom and Dubliner Cheese Burger 
Jalapeño Popper Hot Dogs 
Fried Pickle Burger
BaconWrapped Bear Brats  
Jalapeño Egg Burger with Bacon Aioli 
Bonus recipe! This Burger spread recipe is a copy cat from a local restaurant in my home town. You're going to want to put it on ALL THE THINGS.