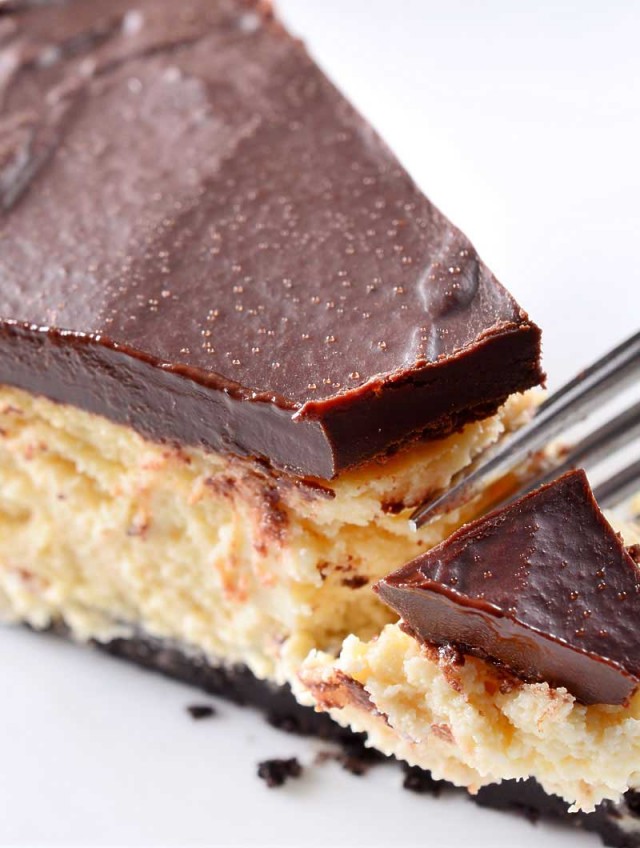 Bailey's Irish Cream Cheesecake with Chocolate Ganache
Be. Still. My. Heart. Just look at this cheesecake. Just look at how thick the ganache on top is. It's. just. so. gorgeous. And sinful. And decadent. And in honor of St. Patty's day the cheesecake itself is loaded with Bailey's Irish Cream. It doesn't get much better than this.
When I was texting a friend this week asking her if they were going to come over for a St. Patty's day dinner, my phone auto-corrected it to St. Party's day. Fitting.
5 years ago.
Now a days, St. Patty's day isn't as much of a going out kind of a holiday for us. Instead we stay at home. Instead of greasy bar food we eat scrumptious colcannon.  Instead of Irish car bombs, we'll drink a Guinness. And instead of the 2am run to Taco Bell to eat a taco for dessert, we'll eat this Bailey's Irish Cream Cheesecake with Chocolate Ganache in our pjs and before 10.
I don't know about you, but I think our new way of celebrating is much more fun and not to mention way more delicious.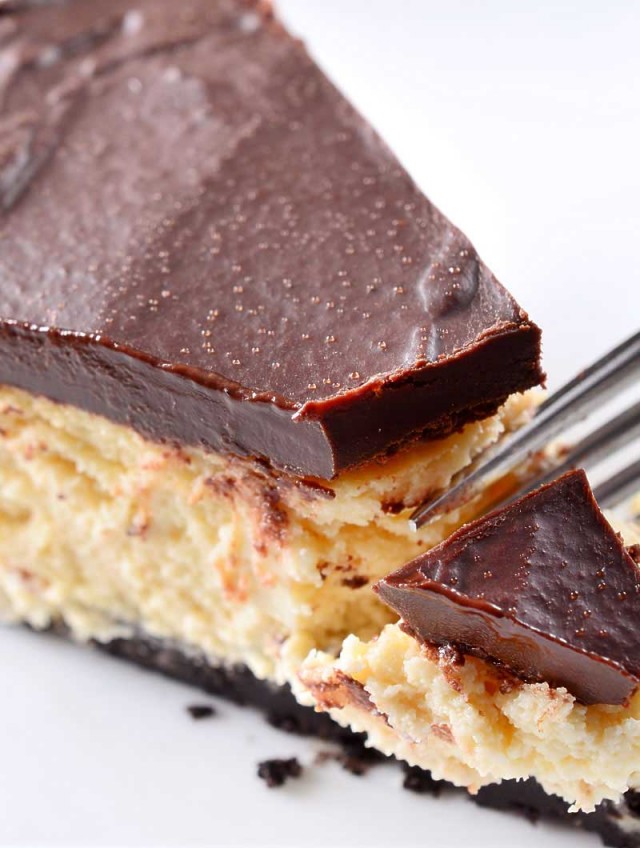 Bailey's Irish Cream Cheesecake with Chocolate Ganache
Luscious Bailey's Irish Cream Cheesecake with a decadent chocolate ganache topping.
Ingredients:
2

cups

Oreo cookie crumbs

5

tablespoons

unsalted butter

melted

3

8 oz packages cream cheese, softened

1

cup

granulated sugar

3

eggs

3/4

cup

Bailey's Irish Cream

1/2

cup

sour cream

1

teaspoon

vanilla extract

1

cup

heavy cream

10

ounces

bittersweet chocolate chips
Preheat oven to 350 degrees. Begin to bring a large pot of water to boil. Place the spring form pan in the middle of two large pieces of heavy duty aluminum foil. Bring the foil up the sides of the pan. Crimp the pieces together around the pan. Make sure it is tight and secure so no water gets in during the baking process.

Combine cookie crumbs and butter together in a bowl. Press into the bottom of the prepared spring form pan. Bake for 10 minutes. Remove from oven and cool.

While the crust is cooling, beat cream cheese and sugar together in the bowl of a stand mixer. Beat in the eggs one at a time, being sure to scrape down the sides after adding each egg. Beat in the Bailey's, sour cream and vanilla extract. Continue beating on medium speed until smooth and silky. Pour over cooled crust.

Place cheesecake into a roasting pan. Place in the oven and pour the boiling water into the roasting pan, quickly close the door. Bake for 45 - 55 minutes or until the cheesecake is set. The middle will still be jiggly. Turn off oven, keep oven door closed and allow cheesecake to cool 1 hour in oven. It will finish cooking during this time.

Remove cheesecake from oven, carefully remove it from the water bath. Remove the aluminum foil, being careful of any water that may have worked its way in.

Chill cheesecake in the refrigerator overnight.

The next day, use a knife to gently loosen the cheesecake. Remove the sides of the pan.

Bring the heavy cream to a boil in a small sauce pan. Place the chocolate chips in a bowl. Pour the boiling cream over the top of the chocolate chips. Stir until it starts to come together into a smooth chocolate mixture. Allow to set for 2 minutes.

Begin pouring the ganache over the cheesecake. Smoothing as necessary.

Chill the cheesecake for another hour. Slice and serve.
Please note that you'll need to plan ahead when making this cheesecake as it needs to chill overnight and then for another hour once the ganache has been poured on. Enjoy!
Keywords:
bailey's irish cream, cheesecake, chocolate ganache, dessert, Food, Recipe, st patty's day, st. patricks day