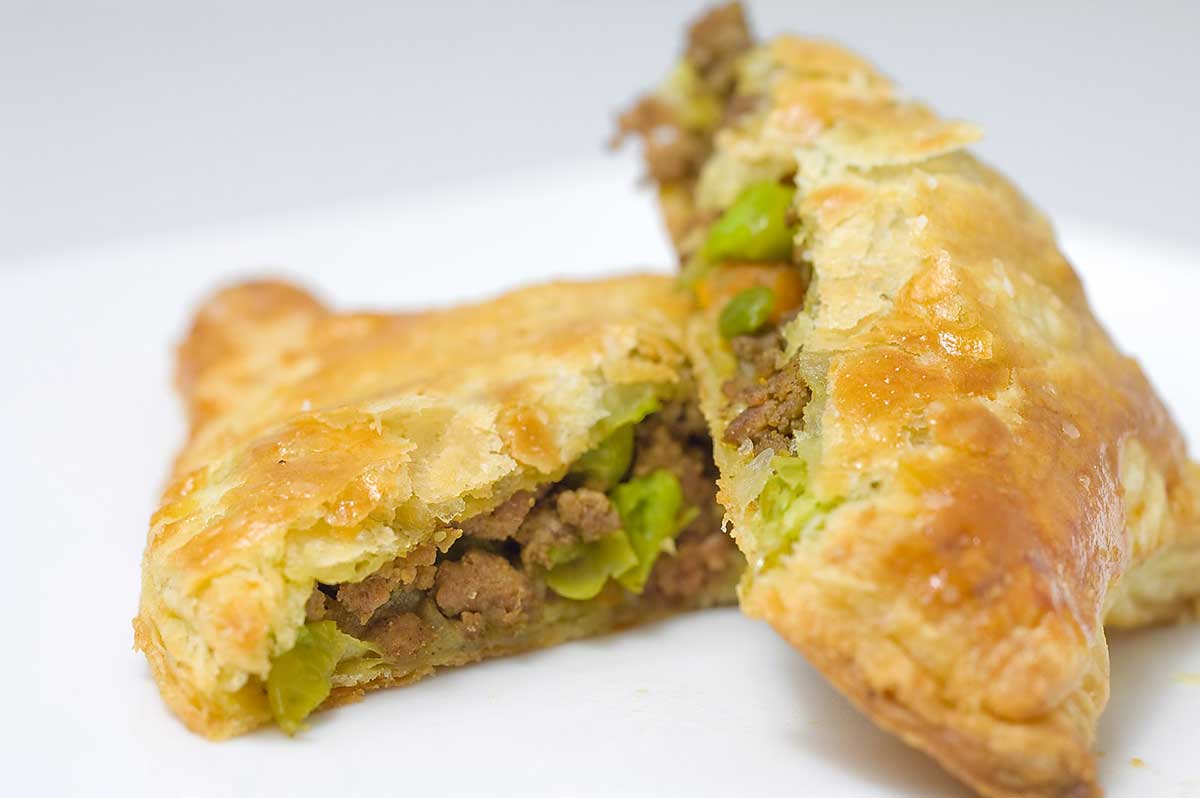 Beef Samosas
Since I started blogging dining at restaurants has not been the same. I use to order, wait patiently and then enjoy my meal while engaging in whatever conversation was taking place. Now however, when I take my first bite,  I don't have much time to savor it before I immediately start thinking to myself "How can I make this at home?" It's like a little challenge for myself to see how close I can actually get to the restaurant version.  My latest at home attempt were these scrumptious beef samosas. It took just one bite of these flaky snacks filled with a mixture of seasoned ground beef, onions and peas and carrots to realize challenging yourself can be a very good thing.
Traditional samosas are made with a samosa dough and fried. I however happened to have some puff pastry in the freezer and decided to bake them. The puff pastry turned a lovely golden brown and made a wonderful flaky pocket for the savory filling. If you prefer you could substitute ground chicken for the beef.
Beef Samosas Recipe
Ingredients:
1/2 pound lean ground beef
1 teaspoon olive oil
1/2 cup chopped yellow onion
1 cup frozen mixed peas and carrots
1/2 teaspoon ground cumin
1/2 teaspoon kosher salt
1/4 teaspoon turmeric
1/4 teaspoon garam masala
1/4 cup water
1 sheet of puff pastry
1 egg, beaten
non-stick spray
Instructions
1
Preheat oven to 400 degrees.

2
In a pan, brown ground beef over medium heat. While cooking use a spoon to make the pieces of beef as small as possible. Transfer cooked beef to a colander on top of a bowl to strain grease.

3
In the same pan you browned the ground beef, heat olive oil over medium heat. Add onion and frozen peas and carrots. Cook 3 minutes. Return ground beef to the pan. Stir in cumin, kosher salt, turmeric and garam masala. Pour water over the top and continue cooking for 3-4 minutes or until water is absorbed. Stirring occasionally. Remove from heat.

4
Roll puff pastry into a 18" x 12" rectangle. Cut into 8 even rectangles. Place 2 tablespoons of mixture in the center of each rectangle. Fold one side over the top of the filling and bring it to the other side. Use a fork to press down edges to seal. Brush each samosa with egg wash. Sprinkle with kosher salt.

5
Spray a baking sheet with non-stick spray. Place filled samosas on the prepared sheet. Bake for 12-15 minutes or until golden brown.