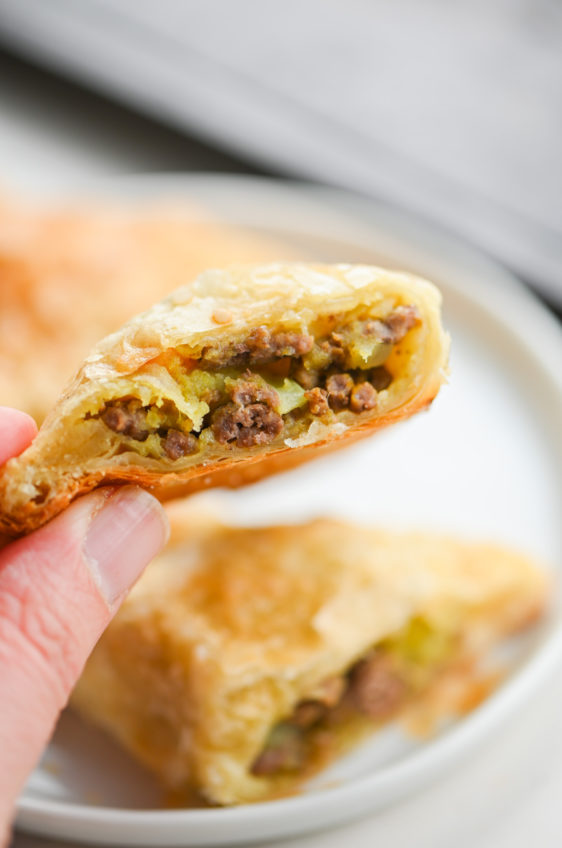 Beef Samosas
Beef Samosas are little pockets of deliciousness! A flavorful filling of beef and vegetables is wrapped in puff pastry and baked until golden.
Do you ever go to a restaurant and then go home and try to recreate what you ate? I do all the time! It's one of my favorite things about going out to eat. This Baked Beef Samosa Recipe is the product of one of these recreation sessions.
If you're unfamiliar with samosas, they are a classic Indian appetizer. Typically fried, they are a pastry filled with savory filling. You can get them as a vegetarian appetizer filled with vegetables. Or you can get samosas with meat fillings like chicken, lamb or in this case, beef.
While traditional samosas are usually made with a samosa dough and then fried, I opted to use puff pastry as the dough so that I could bake these. The result was a buttery flaky pocket with savory filling.
Let's talk about what other ingredients you'll need to make them.
Beef Samosa Ingredients:
Some of the ingredients you need to make beef samosas might not be pantry staples but most of them are!
GROUND BEEF: You can use lean or extra lean ground beef. The fat is drained from the beef after cooking.
RUSSET POTATOES: When I originally shared this recipe, I left out the potatoes but as I've had more samosas over the years, I've realized that potatoes add a great texture to the filling. You'll want to make sure they are peeled.
OLIVE OIL: To saute the vegetables.
ONION
PEAS AND CARROTS: I used a frozen peas and carrots blend and it worked well. No need to worry about thawing before hand.
SALT
TURMERIC POWDER: Turmeric is a spice that is native to Southeast Asia and used a lot in Indian cooking. It is known for it's bright yellow color (Be careful it stains!) and it has a bitter, earthy flavor.
GARAM MASALA: Garam masala is a blend of ground spices that adds a warm flavor. It often contains cumin, cardamom, coriander, cinnamon, cloves, nutmeg and pepper.
PUFF PASTRY: Traditional samosas are made with samosa dough and fried. For this recipe, I use pre-made puff pastry to make things easier.
EGG: To brush onto the puff pastry to help it brown in the oven.
NON-STICK SPRAY: To spray the baking sheet.
Step by Step Photos and Instructions:
The hardest part about making the samosas is folding the pastry dough. They don't need to look perfect just make sure that the edges are well sealed so that the filling doesn't sneak out when they are baking.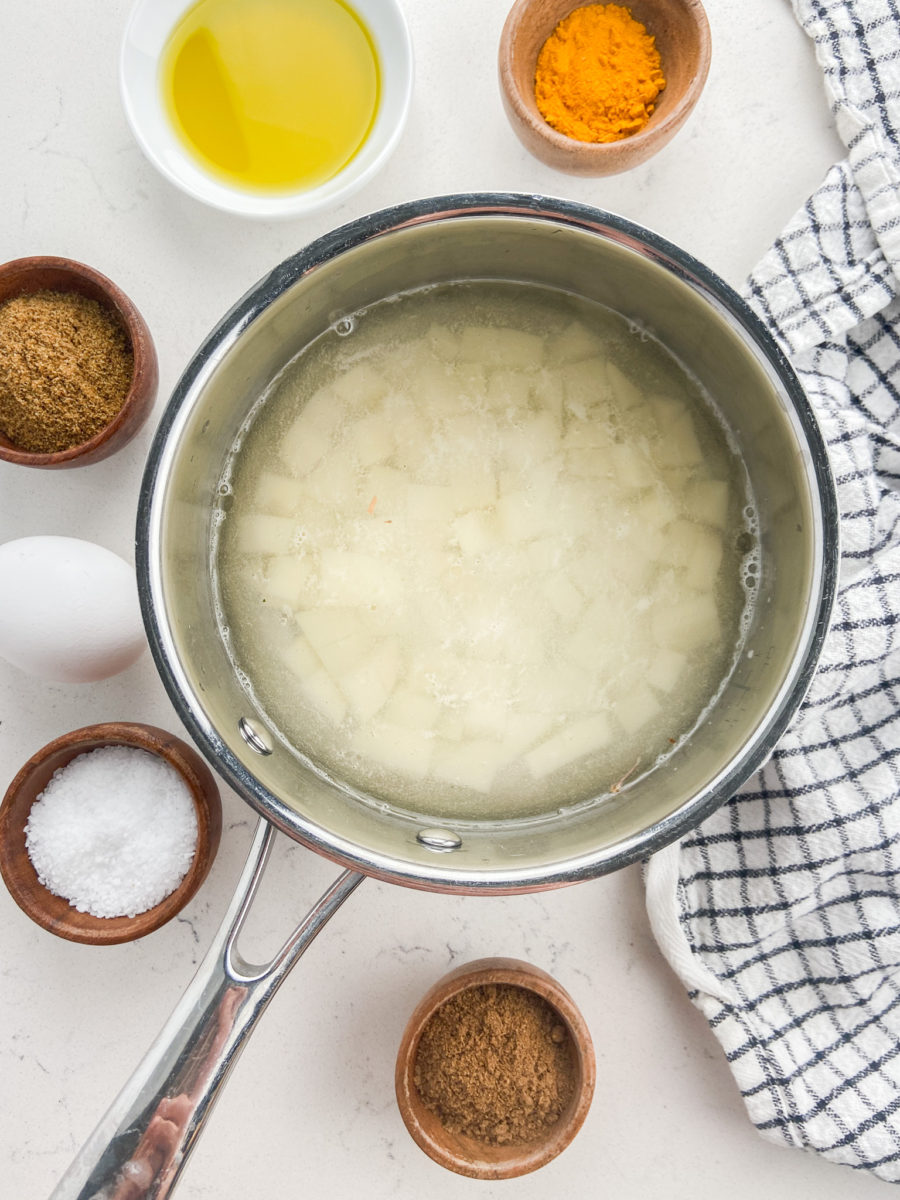 STEP #1: If puff pastry is frozen, remove from the oven and allow to come to room temperature, this takes about 40 minutes.
STEP #2: Place diced potatoes in a small pot and cover with water. Bring them to a boil and cook just until fork tender, about 5 – 6 minutes. Drain.
STEP #3: In a large skillet, cook beef until browned. Drain excess grease and set aside.
STEP #4: Add olive oil to the same pan you cooked the beef in. Once hot add in onions, peas and carrots. Cook just until softened, about 3 minutes. Return ground beef to the pan and add potatoes. Stir in cumin, salt, turmeric and garam masala.
STEP #5: Roll puff pastry into a 10″ x 14″ rectangle. Cut into 8 even rectangles. Place 2 tablespoons of mixture in the center of each rectangle. Fold one side over the top of the filling and bring it to the other side. Use a fork to seal the edges. Brush the samosas with egg wash. Sprinkle with kosher salt.
STEP #6: Bake at 400 degrees for 12 – 15 minutes or until browned.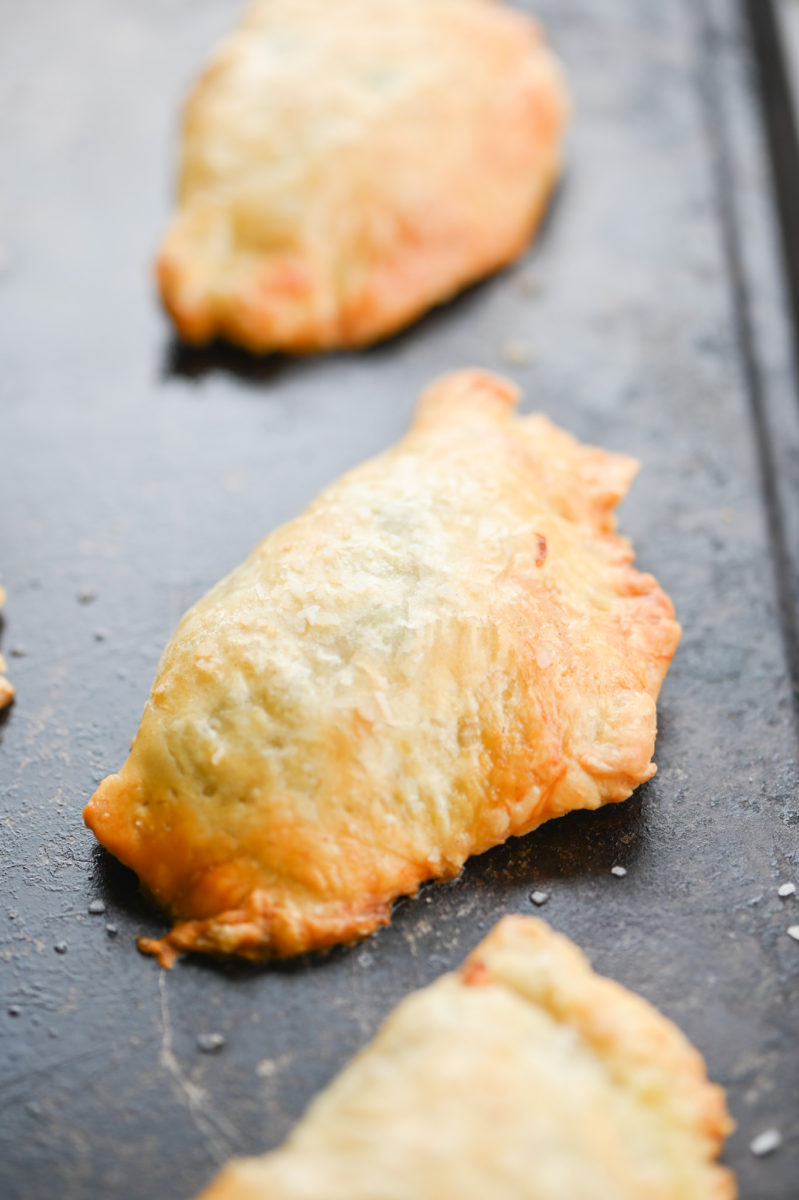 Storage and Leftovers:
This recipe does make quite a few samosas but guess what! Beef samosas reheat beautifully in the air fryer. Air Fry them at 400 for a few minutes. You can also reheat them in the oven until warmed through.
These Beef Samosas can also be frozen. I cook them, freeze them individually and reheat them in the air fryer or oven whenever I get the craving!
I find that these Beef Samosas are great on their own but dipped in Maggi Hot and Sweet Sauce they are extra delicious.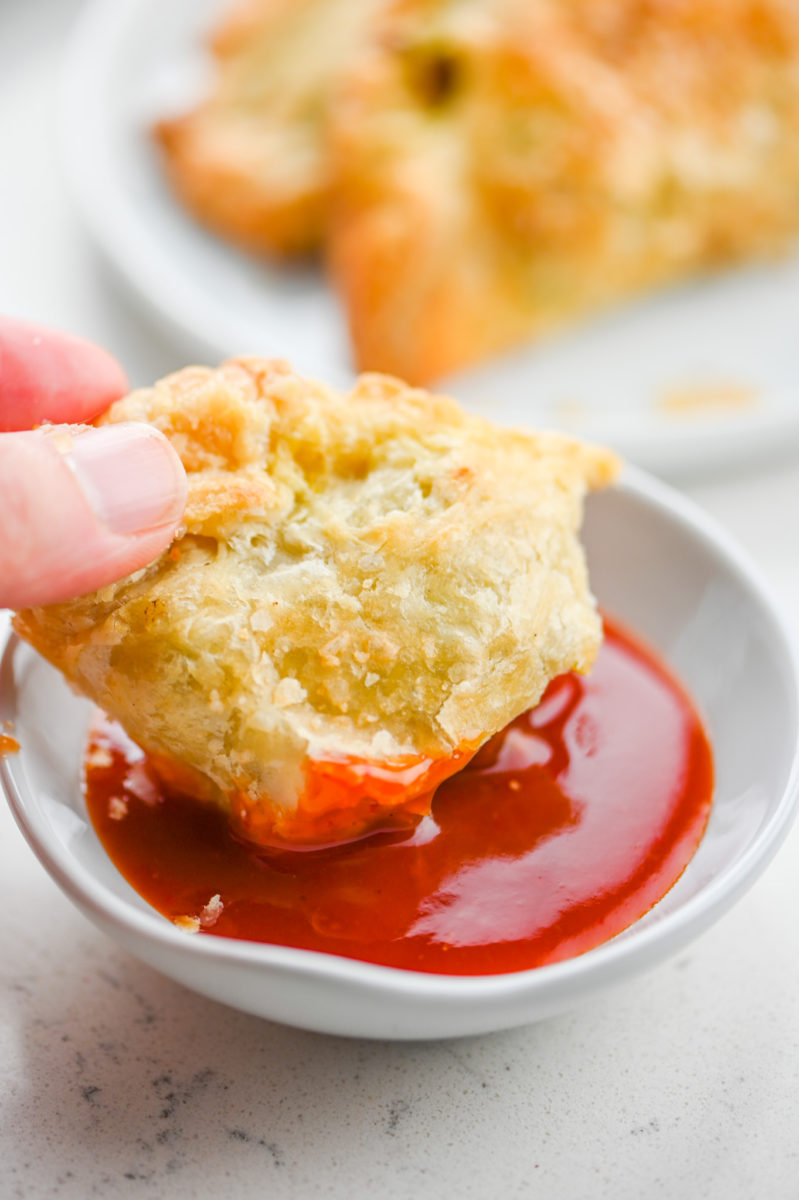 Looking for more Indian inspired dishes? Try these:
Chicken Curry is one of my family's favorite meals and is a great entree to compliment these samosas.
Mulligatawny Soup is a flavorful, hearty soup perfect for cold days!
Indian Butter Chicken is one of my favorite dishes to get when we go to Indian restaurants and now you can make it at home with this recipe!
Note: Originally published in 2009. Updated in 2023 with new photos, a slightly modified recipe, step by step photos and nutrition information.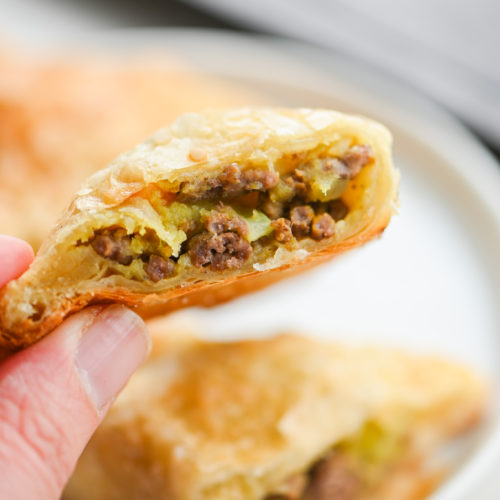 Beef Samosas
Ground beef, peas, carrots and spices wrapped in a flaky puff pastry shell and baked to perfection.
Preheat oven to 400 degrees.

In a pan, brown ground beef over medium heat. While cooking use a spoon to make the pieces of beef as small as possible. Transfer cooked beef to a colander on top of a bowl to strain grease.

In the same pan you browned the ground beef, heat olive oil over medium heat. Add onion and frozen peas and carrots. Cook 3 minutes. Return ground beef to the pan. Stir in cumin, kosher salt, turmeric and garam masala. Pour water over the top and continue cooking for 3-4 minutes or until water is absorbed. Stirring occasionally. Remove from heat.

Roll each puff pastry into a 10" x 14" rectangle. Cut into 8 even rectangles so you'll have 16 total. Place 2 tablespoons of mixture in the center of each rectangle. Fold one side over the top of the filling and bring it to the other side. Use a fork to press down edges to seal.

Whisk together egg and water. Brush each samosa with egg wash. Sprinkle with kosher salt.

Spray a baking sheet with non-stick spray. Place filled samosas on the prepared sheet. Bake for 12-15 minutes or until golden brown.
Nutrition information for estimation purposes only. 
Serving:
2
samosas
Calories:
445
kcal
Carbohydrates:
40
g
Protein:
13
g
Fat:
26
g
Saturated Fat:
7
g
Polyunsaturated Fat:
3
g
Monounsaturated Fat:
14
g
Trans Fat:
1
g
Cholesterol:
38
mg
Sodium:
342
mg
Potassium:
417
mg
Fiber:
2
g
Sugar:
1
g
Vitamin A:
1695
IU
Vitamin C:
6
mg
Calcium:
27
mg
Iron:
3
mg
Keywords:
appetizer, beef, frozen puff pastry, garam masala, indian food, puff pastry, samosas, snack