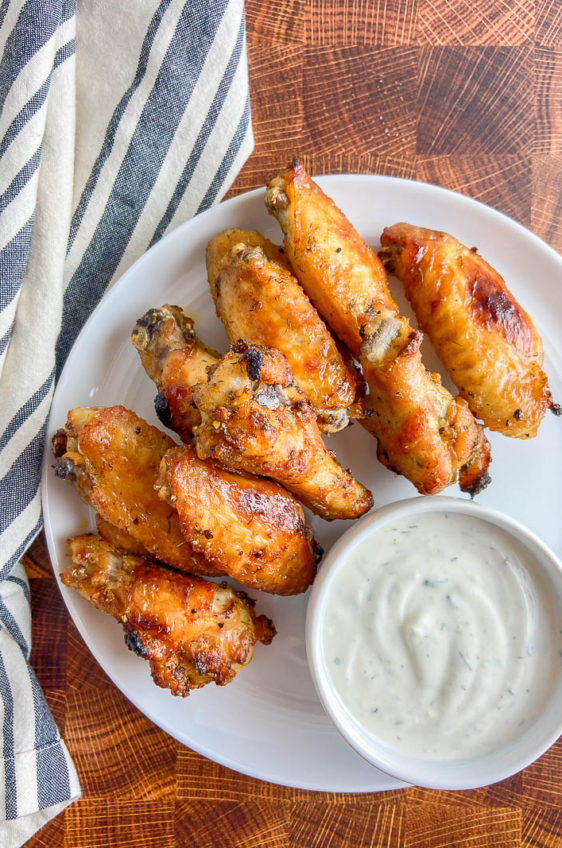 Beer Brined Chicken Wings
Beer Brined Chicken Wings are crispy, succulent and full of flavor. They are the perfect dish for your next game day party!
When it comes to planning an epic game day celebration or party, chicken wings are always a crowd pleaser. Whether you make them saucy and spicy, or mild and sauceless, they are always a hit with kiddos and adults alike.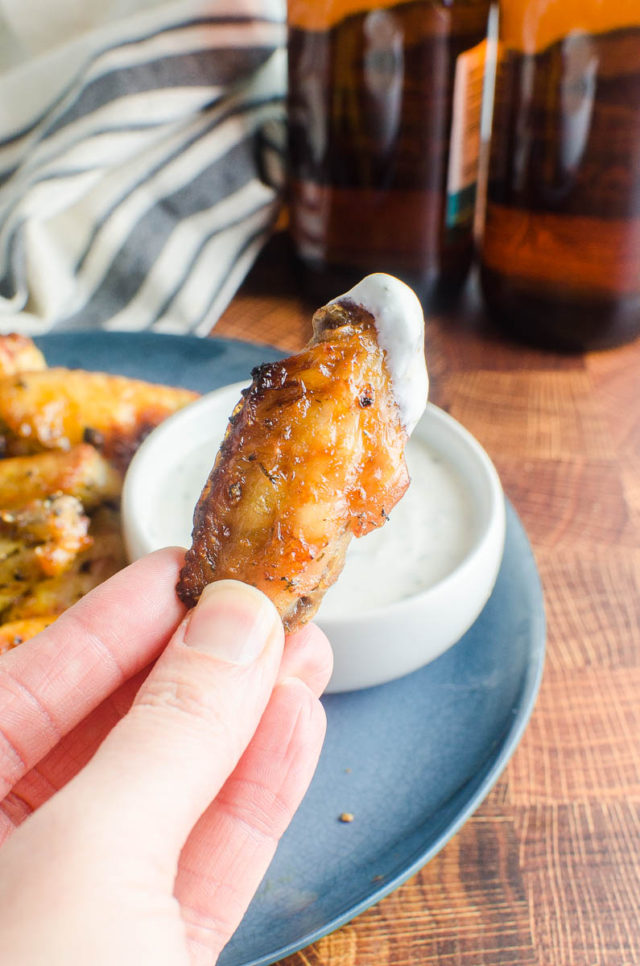 There are endless ways to make chicken wings and these Beer Brined Chicken Wings should absolutely be the next version you try. 
I mean really, beer and chicken wings? It doesn't get anymore game day friendly than that! 
What is brining?
First things first, let's talk about brining. It is a technique that many may have heard of but are still a little unsure of what it means.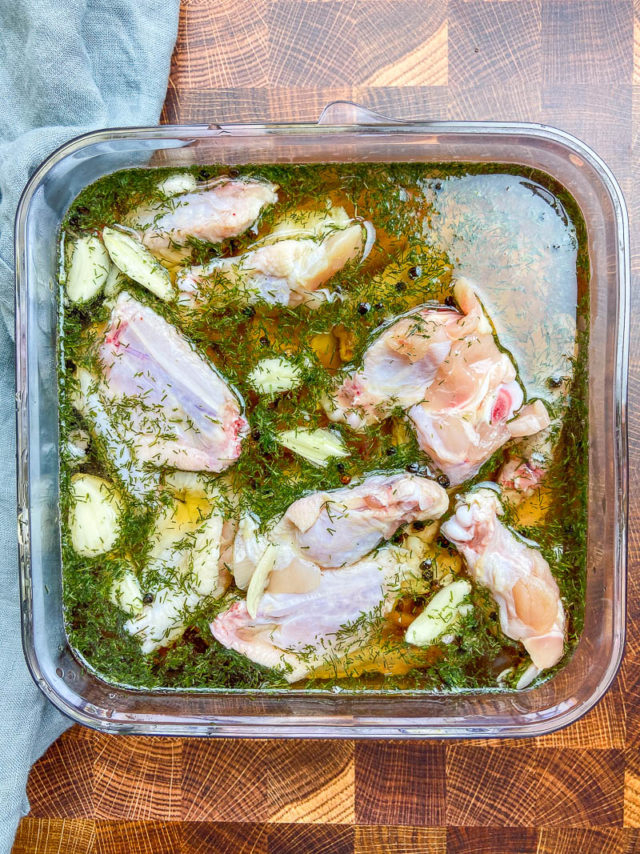 Remember osmosis that we all learned about in school? That is basically what happens when you brine meat. The meat is submerged a salt water solution for a couple of hours. The meat absorbs the extra liquid and some of the salt resulting in a tender flavorful final product. To learn more about the process, the Kitchn has a great article about the science of brining meat.
Typically a brine is simply a salt water solution. For this brine, I switch things up a bit and use beer, salt, sugar, garlic, dill and peppercorns. 
How do you make beer brined chicken wings?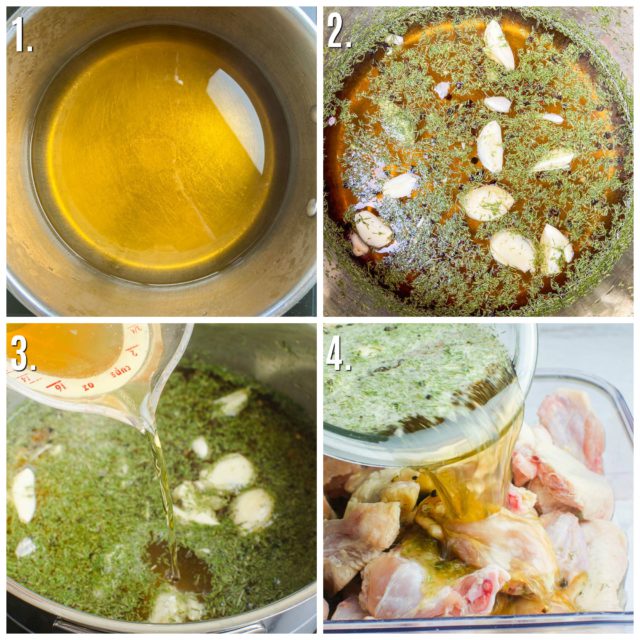 Step 1: Heat water, sugar and salt over medium heat. Whisk until salt and sugar dissolve. 
Step 2: Add in garlic, dill and peppercorns . 
Step 3: Pour in beer cold beer. Allow brine to cool to room temperature. 
Step 4: Once the brine has cooled, pour over the chicken wings and brine chicken wings for 2- 4 hours. 
Step 5: Once the chicken is done brining, rinse and pat dry. 
DES' TIP: Rinsing the chicken is necessary when brining because otherwise it will be too salty. Take care when rinsing the chicken so water isn't splashed and be sure to clean your sink afterwards to prevent the spread of any bacteria. 
Step 6: Season the chicken with garlic, paprika, salt and pepper.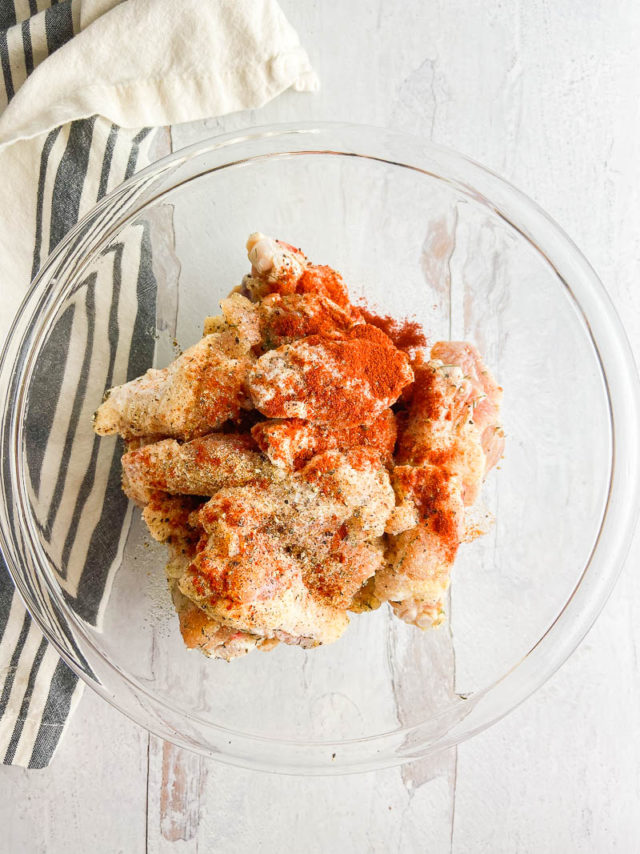 Step 7: Bake until golden brown and crispy. 
A couple notes about making baked chicken wings: 
Unlike most chicken wing recipes, these chicken wings are baked. To keep them crispy, I prefer to bake the chicken wings on top of a cooling rack that is set on a baking sheet. This allows the air to circulate around them to make them stay crispy.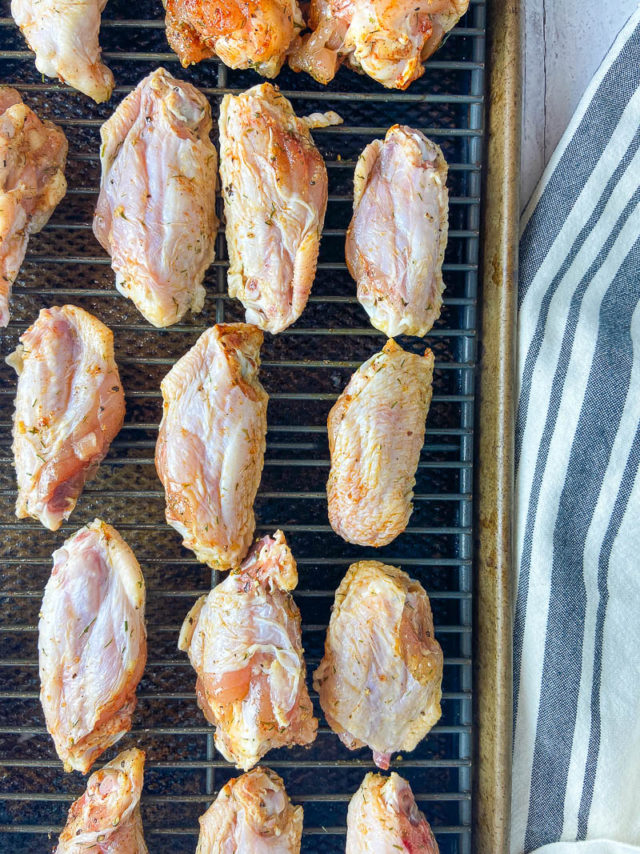 Chicken wings will produce a bit of grease while they are cooking which could cause some smoking in your oven. I like to keep my fan on to help with this.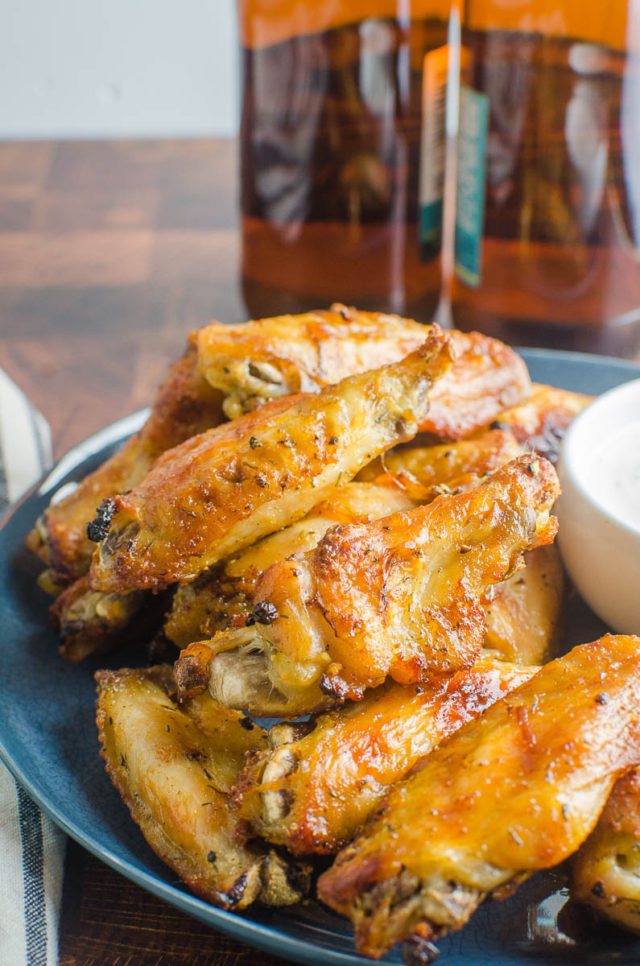 To say these Beer Brined Chicken Wings were a hit is an understatement. I made two batches in as many days.  My kiddos were literally sitting in front of the oven waiting for them to finish. Once they were done, they were gone in a flash! Make them once, you'll see. 
Oh and don't forget the homemade ranch dip. Obviously.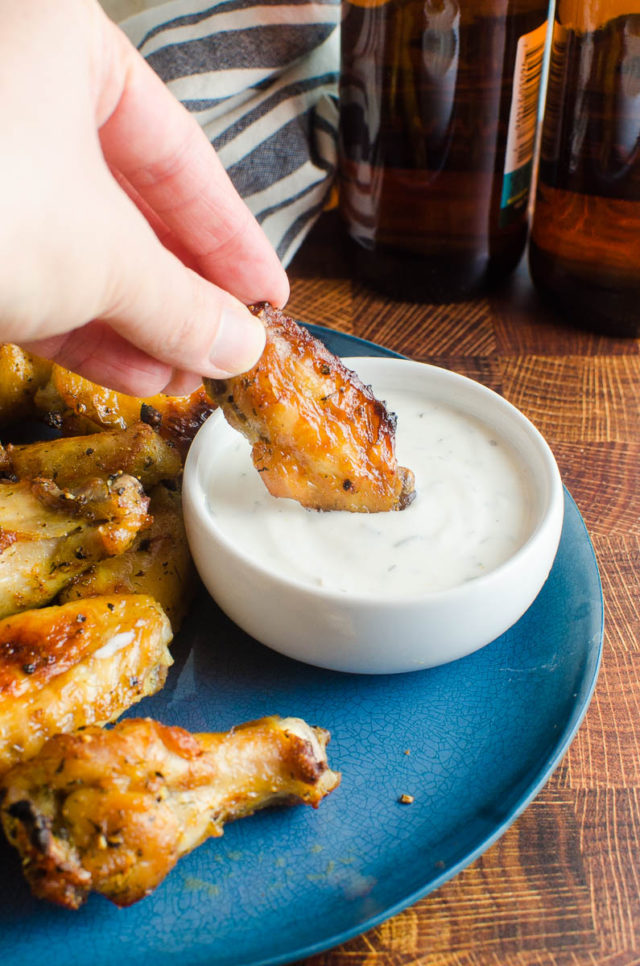 Looking for more chicken wing recipes? I have all the recipes you'll need! Here are some of my favorites: 
Dill Pickle Keto Chicken Wings
If you need more game day appetizer recipes, check these out!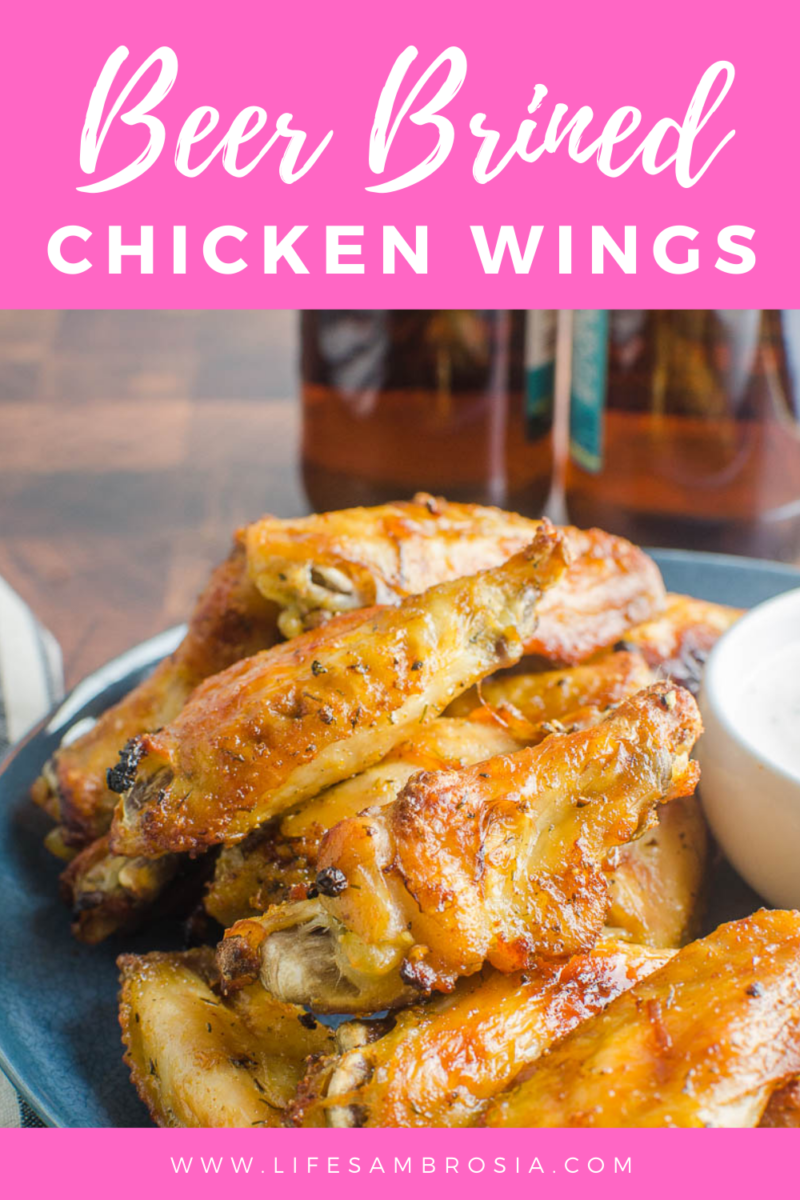 Beer Brined Chicken Wings Recipe
Ingredients:
2 cups water
1/2 cup kosher salt
1/4 cup brown sugar
1 tablespoon dried dill
1 tablespoon black peppercorns
6 cloves garlic
12 fl ounces beer such as lager
3 pounds chicken party wings
1 tablespoon oil
1/2 teaspoon paprika
1/2 teaspoon granulated garlic
1/2 teaspoon salt
1/2 teaspoon black pepper
non-stick spray
Instructions
1
Heat water, sugar and salt over medium heat just until sugar and salt dissolve.

2
Add in dill, peppercorns and garlic. Turn off heat, pour in beer and allow to cool to room temperature.

3
Once cool, pour brine over chicken wings. Cover and refrigerate for 2 - 4 hours.

4
Preheat oven to 425 degrees. Spray a cooking rack with non-stick spray and place on top of baking sheet.

5
Carefully rinse and pat dry.

6
Place chicken in a bowl and top with oil, paprika, garlic, salt and pepper. Toss to coat completely.

7
Place chicken wings on prepared cooking rack. Bake in preheated oven for 20 minutes. Turn and bake for another 20 minutes or until cooked through, brown and crispy.
Notes
Nutrition facts are for estimation purposes only.
Nutrition information
Calories: 728 , Total Fat: 49.4 , Saturated Fat: 0.5 , Cholesterol: 216 , Carbohydrates: 14.1g , Fiber: 0.8g , Sugar: 9g , Protein: 52.1g