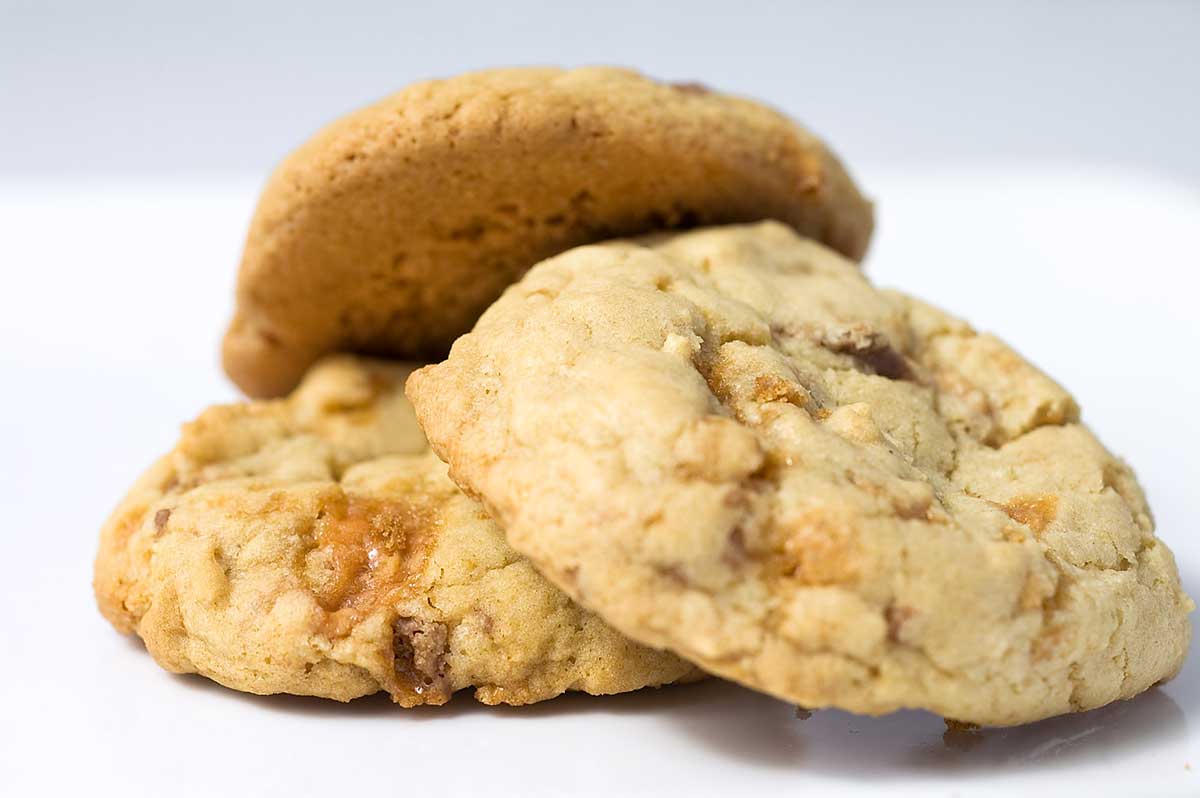 Butterfinger Cookies
Nobody better lay a finger on my Butterfinger…cookies. Yep that's right, in an apparent flashback  to my 90's childhood  I'm embracing these peanutty candy bars once again. Only this time I'm not eating candy bar after candy bar while channeling Bart Simpson. Instead I'm chopping up Butterfingers and adding them to cookies while I channel Betty Crocker. Oh how the times have changed.  
These chewy cookies were a spur of the moment concoction resulting from an unplanned trip to our local Target.  Sandwiched in between the rows of Halloween costumes and Christmas decorations (I know, early right?) there were aisles of fairly priced Halloween candy, including our childhood favorite: Butterfingers. So I picked up a couple of bags and headed home. Once home, the rain pounding on the windows and the warmth of a fire brought on a baking mood that I just couldn't shake.  However,with only a few hours before I had to head out of the house for our dinner reservations I was short on time.  So whats a girl to do? Suddenly it came to me:  Baking mood + short on time + Butterfingers = Butterfinger Cookies. It was the perfect way to spend my afternoon and the perfect excuse to skip dessert at dinner that night.
Butterfinger Cookies Recipe
Ingredients:
2 1/4 cups flour
1 teaspoon baking soda
1/2 teaspoon iodized salt
1/2 cup (1 stick) butter, melted, cooled
1 cup packed brown sugar
1/4 cup granulated sugar
1 teaspoon vanilla extract
2 eggs
1 cup chopped Butterfinger candy bars (about 8 "fun size" candy bars)
Instructions
1
Preheat oven to 325 degrees. Line baking sheet with parchment paper. Set aside.

2
Sift together flour, baking soda and salt. Set aside.

3
In another bowl beat together butter, brown sugar and granulated sugar until creamy. Beat in vanilla. Beat in eggs 1 at a time.

4
Slowly mix in dry ingredients until well combined.

5
Fold in chopped Butterfingers.

6
Drop rounded teaspoonfuls onto prepared baking sheet. Cook 8-10 minutes or until edges start to brown and cookies are set.

7
Allow to cool for 2 minutes on cookie sheet. Transfer to cooling rack to cool completely.