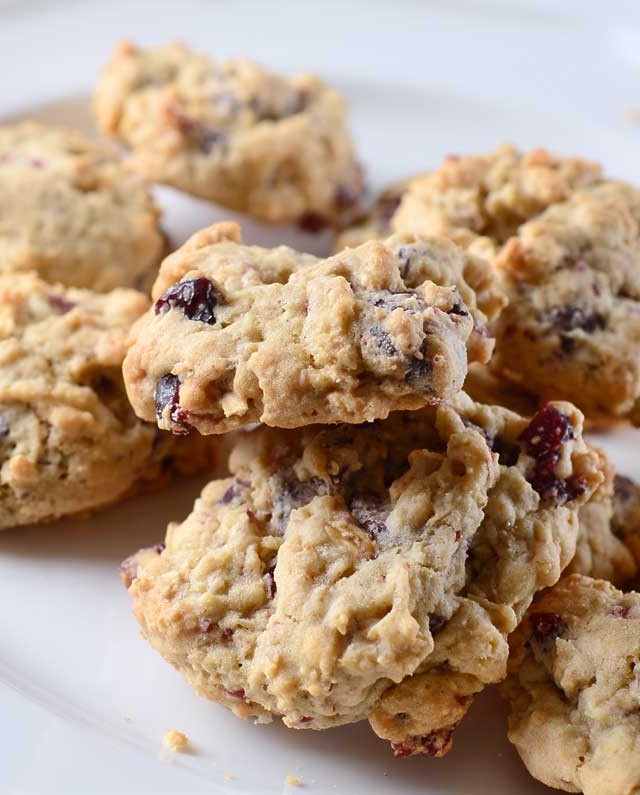 Dark Chocolate, Cranberry and Oatmeal Cookies
Today's the day! A little while ago I signed up to participate in the Great Food Blogger Cookie Swap. And it's finally time to share the cookies that I made, and sent to a few other food bloggers: Ali, Loy and Eleana. I think they are perfect for the holidays, and if you've got to mail them they hold up pretty well too!
The Great Food Blogger Cookie Swap is more than just about cookies though. It was created by Julie and Lindsay as a way to help food bloggers donate to Cookies for Kids' Cancer. This year there were 622 participants and we raised $13,778.40! Pretty darn amazing if you ask me.
Because I was sending this cookies out, I wanted to make a cookie that I knew would hold up well. This lead me to oatmeal cookies. And then I realized that I do not have a recipe for oatmeal cookies on the blog yet. How is that possible?!
I adore oatmeal cookies. I especially adore oatmeal cookies with chocolate chips added. And these ones also have the sweet, fruity bonus of dried cranberries.
If you want to sign up to get info about next year's cookie swap check out this link.
Dark Chocolate, Cranberry and Oatmeal Cookies Recipe
Ingredients:
1/2 cup (1 stick) unsalted butter, softened
3/4 cup light brown sugar
3/4 cup granulated sugar
2 eggs
1 teaspoon vanilla extract
2 1/4 cup all purpose flour
1 teaspoon baking soda
1/4 teaspoon salt
1 cup dried sweetened cranberries
1 cup dark chocolate chips
2 cups old fashioned oats
Instructions
1
Preheat oven to 350 degrees.

2
In the bowl of a stand mixer, beat butter, brown sugar and granulated sugar together until fluffy.

3
Beat in eggs one at a time. Be sure to scrape down the sides of the bowl after adding each egg. Beat in vanilla.

4
In another bowl whisk flour, baking soda, and salt. Slowly beat dry ingredients into butter mixture.

5
Fold in cranberries, chocolate chips and oats.

6
Drop rounded tablespoonful onto prepared cooking sheet. Bake in preheated oven 10 - 12 minutes or until edges begin to brown. Allow to cool slightly on the cooking sheet. Remove to a cooling rack to cool completely. Serve.