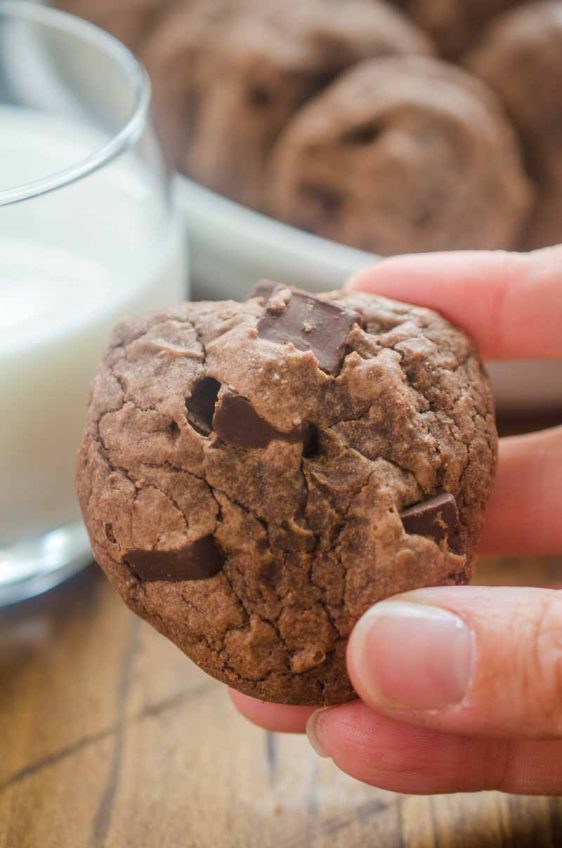 Brownie Mix Cookies
Brownie Mix Cookies are a delicious combination of two easy dessert recipes; brownies and cookies! They come together in a snap and are always a crowd pleaser. 
Brownie Mix Cookies. You guys, these are my favorite cookies of all time.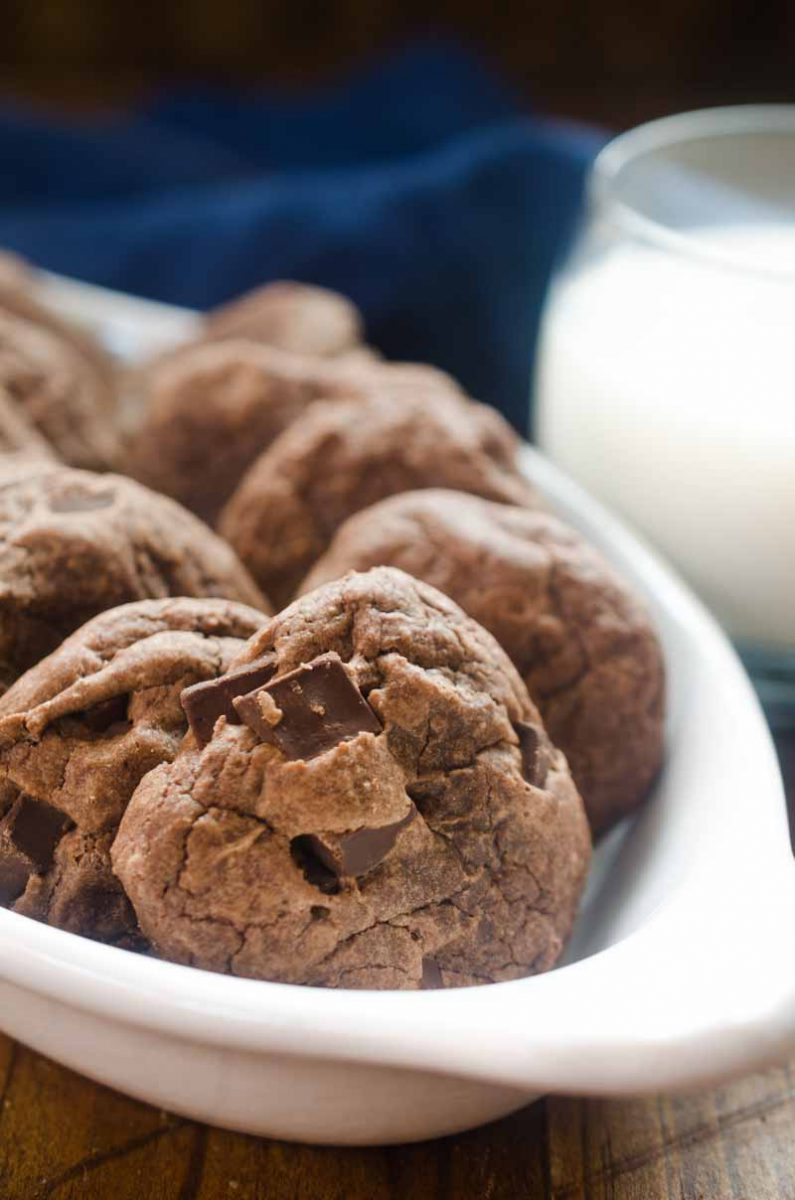 I am a sucker for brownies. If I had to pick a favorite dessert of all time brownies would be at the top. It's probably because of all that chocolaty goodness.  Cookies would come in at a close second.
Because cookies.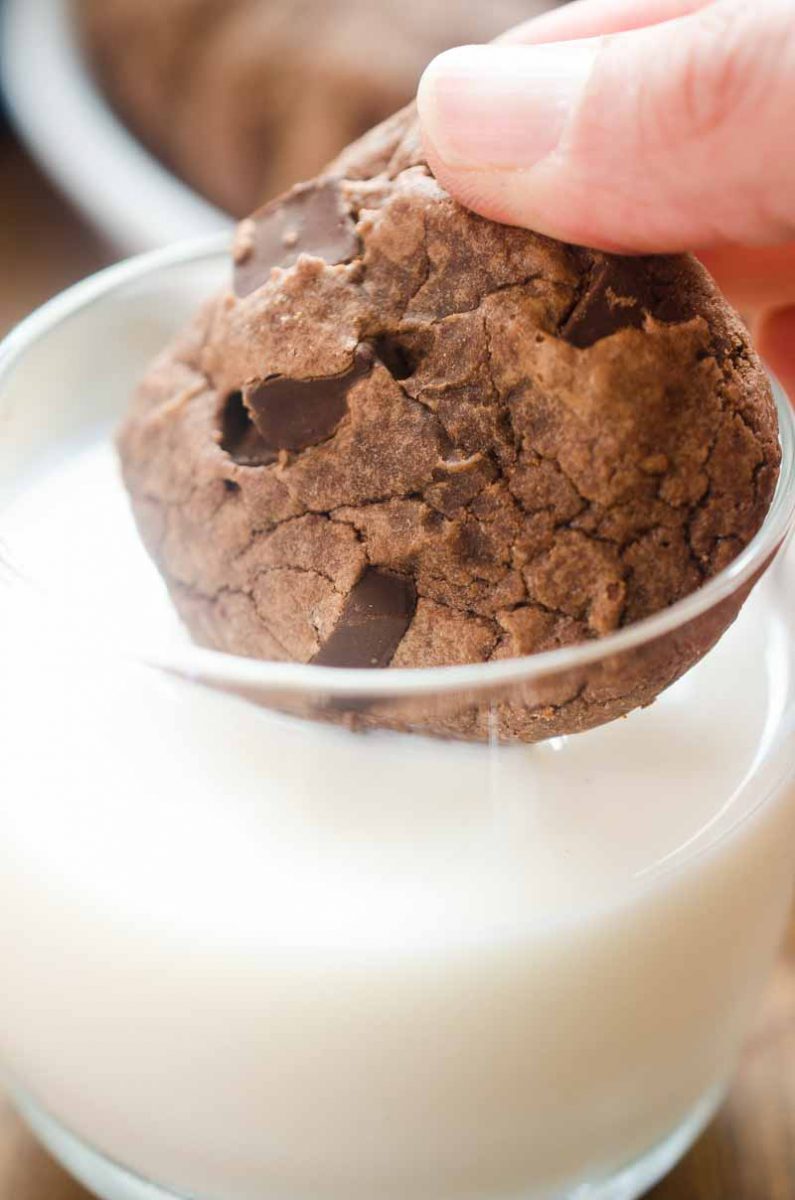 So I figured why not put them together? And how about I throw in some dark chocolate chunks for good measure? The cookies are slightly flaky on the outside, gooey and fudgy on the inside.
AKA: The perfect chocolate lover's dessert fix.
I mean seriously, just look at that melty chocolaty inside.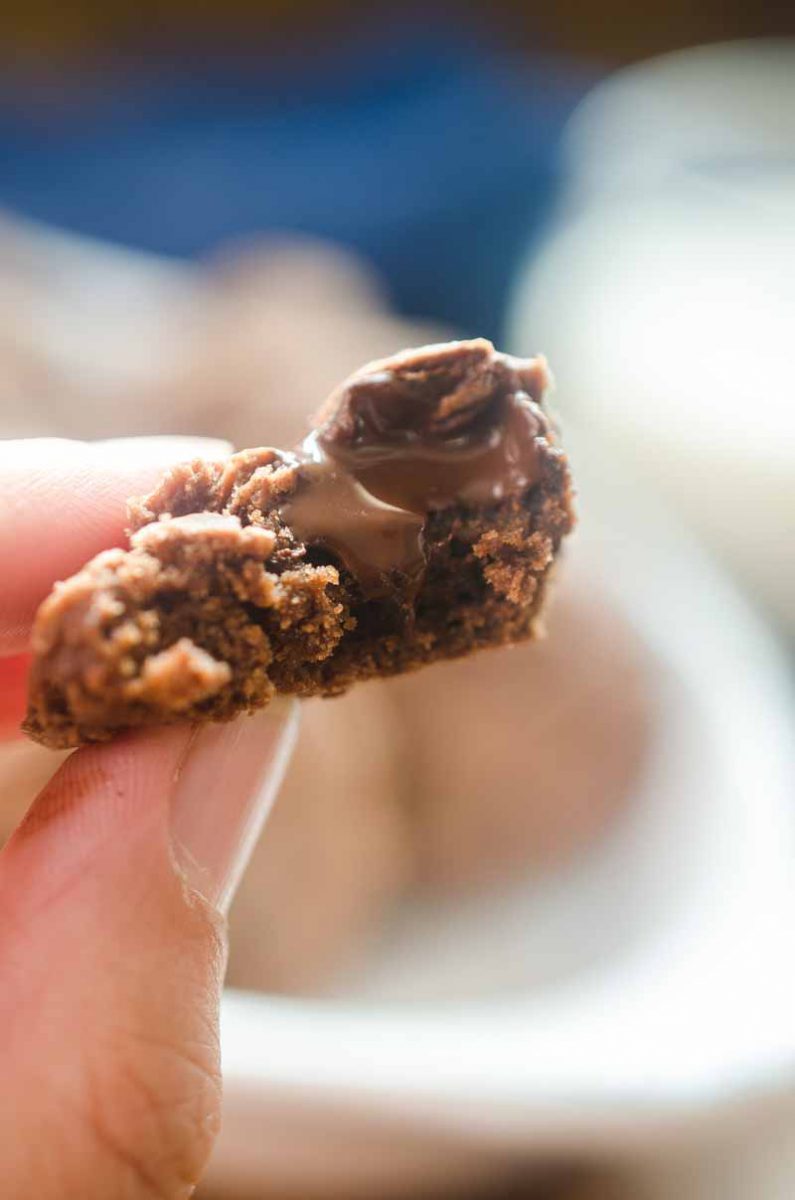 What else can you do with brownie mix?
Being a blogger and recipe developer, I will, most of the time make everything from scratch. I even make my own Hot Oil and Pasta.
But sometimes, it's nice to have premade mixes on hand. Especially when you're in a pinch. Since this was kind of a spur of the moment thing, I didn't have all of the necessary ingredients to make brownie batter from scratch, so I used a box brownie mix (gasp!) that I had on hand to help me.
I think that it worked perfectly and saved me a trip to the grocery store.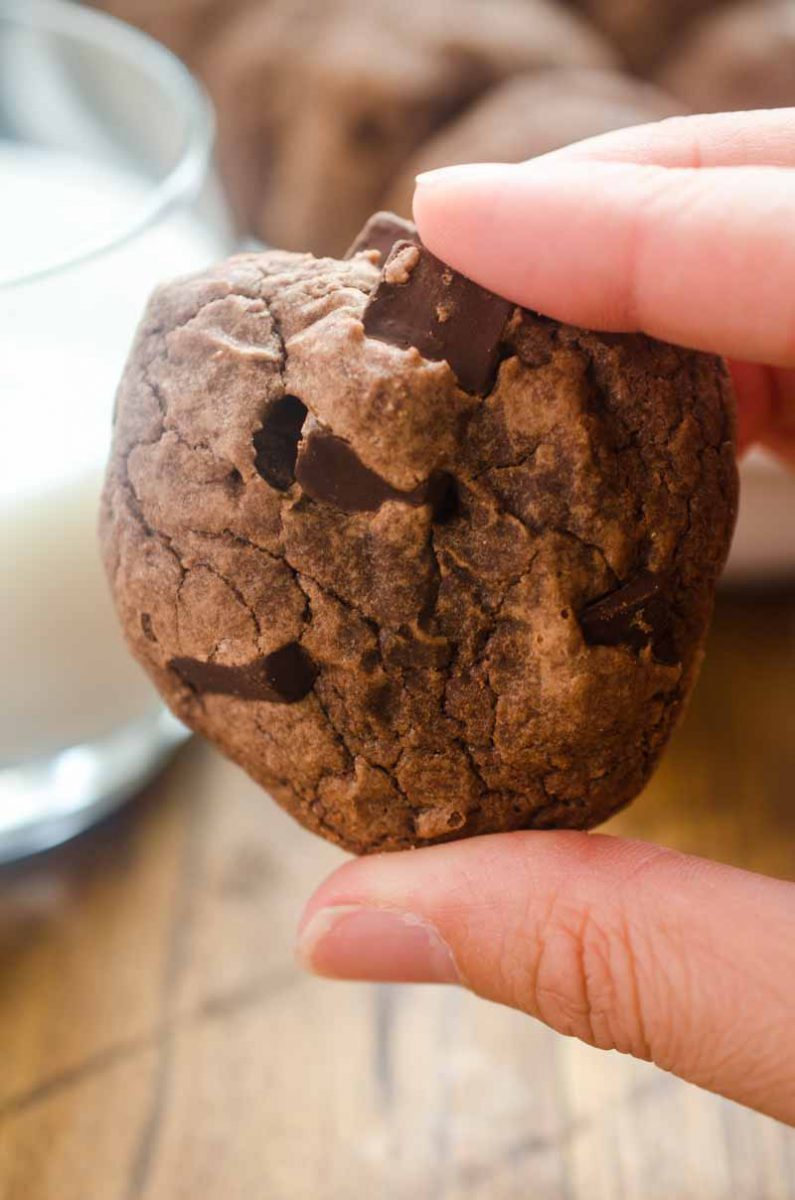 Do you need to chill brownie mix cookies?
When I originally wrote this recipe way back in 2009, I had included a chill time of 2 hours. I originally included those instructions because I find that it does make the batter a little bit easier to work with. That being said, when I have found it a little hard to wait, I omit the chilling time. The batter is a little stickier but the finished product is the same.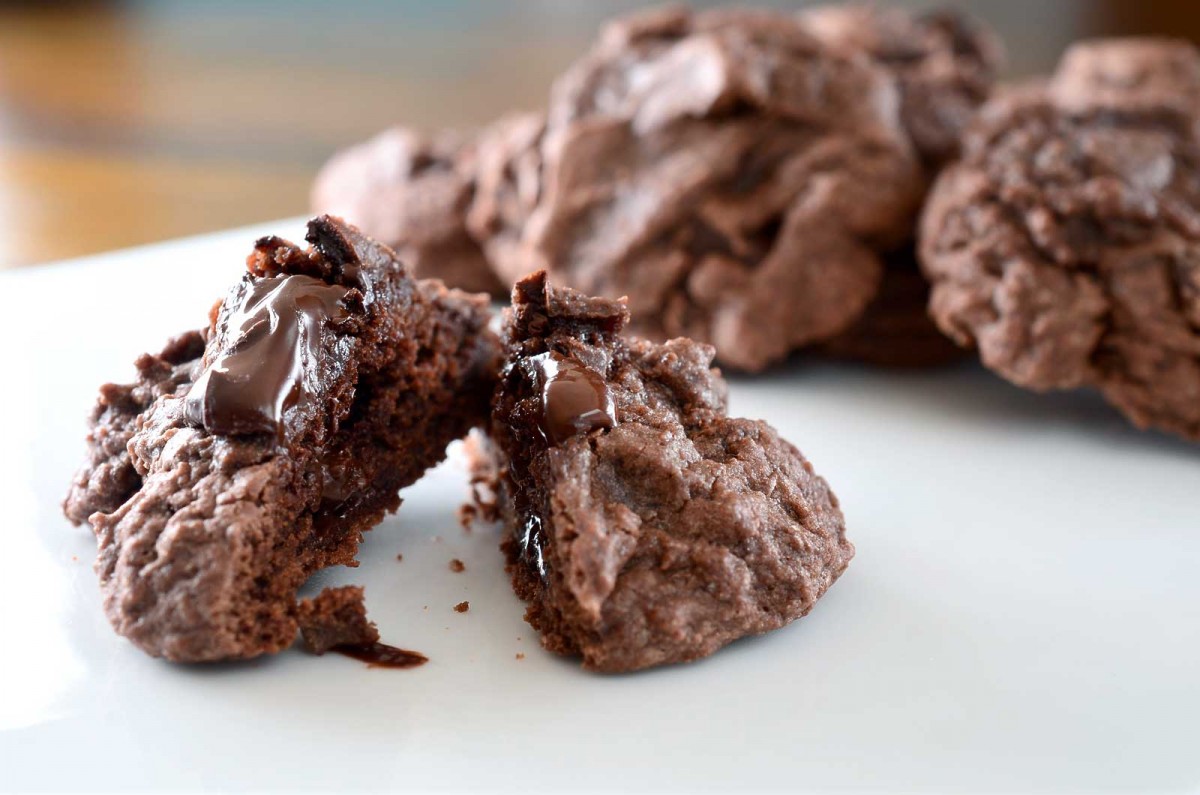 Can I freeze brownie cookie dough?
Yes! Freezing cooke dough is a great way to have cookies around whenever you want. These dough for these brownie cookies is perfect to freeze because they are hearty enough to handle the freezer.
To freeze the cookie dough, roll heaping tablespoonfuls of the dough into balls. Place them in a single layer on a cookie sheet and freeze until firm. Once they are frozen, you can place them in ziplock bags. By freezing them individually, it prevents them from sticking together and you can grab as many as you'd like when you're ready to cook them.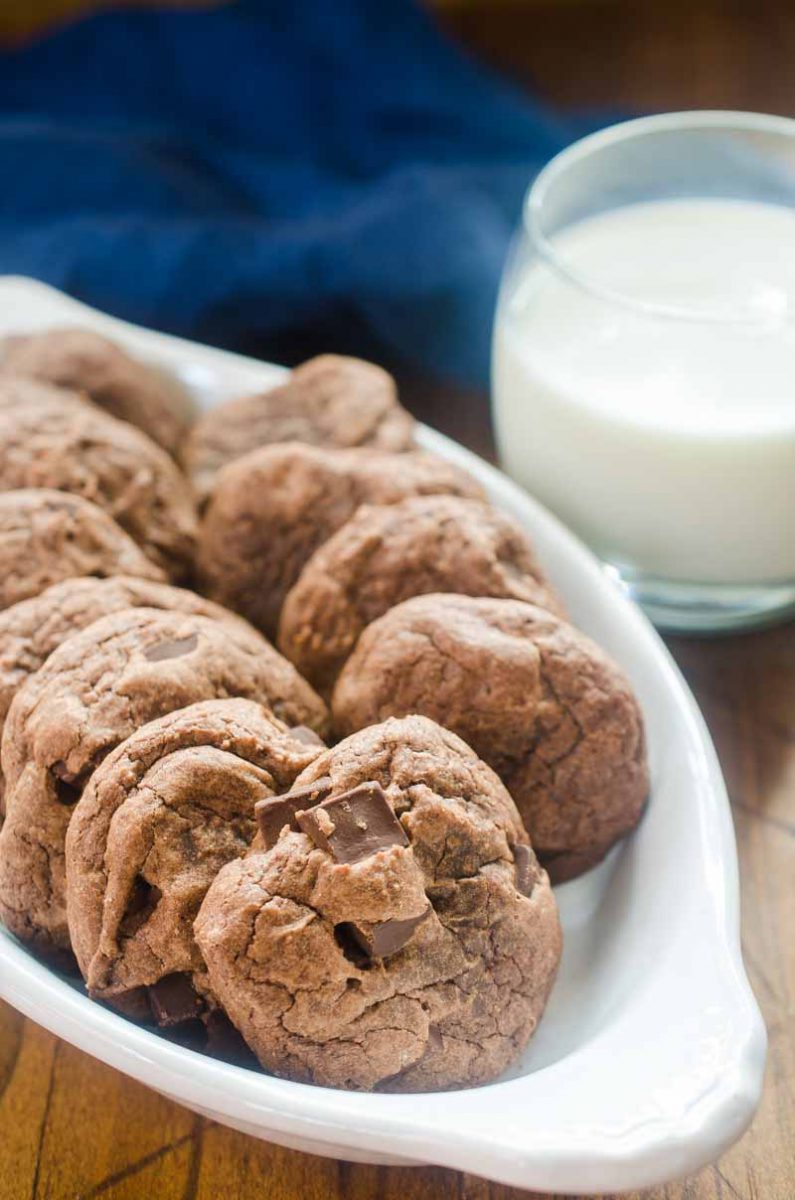 The dough can be frozen for up to 3 months. When you are ready to cook them simply remove them from the freezer and preheat your oven. You might need to cook them for a little longer, maybe 12 minutes.
If you want to learn more about which cookie doughs are good to freeze. Sally from Sally's Baking Addiction put together an extensive post on how to freeze cookie dough.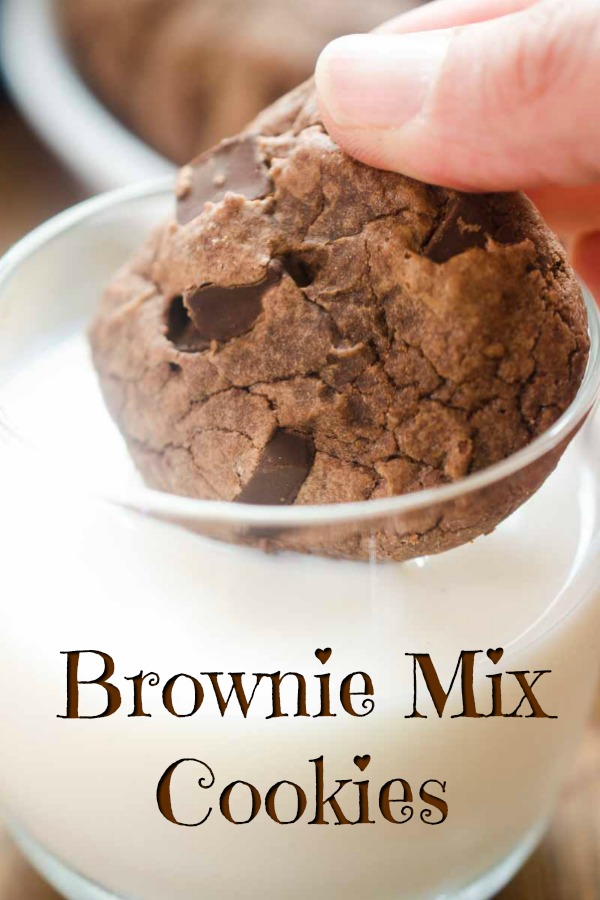 If you are looking for even more indulgence, you should give this Fudgy Brownie Cookie Ice Cream Sandwich a whirl.
Note: this post was originally published in 2009. Updated with video and new photos in 2018.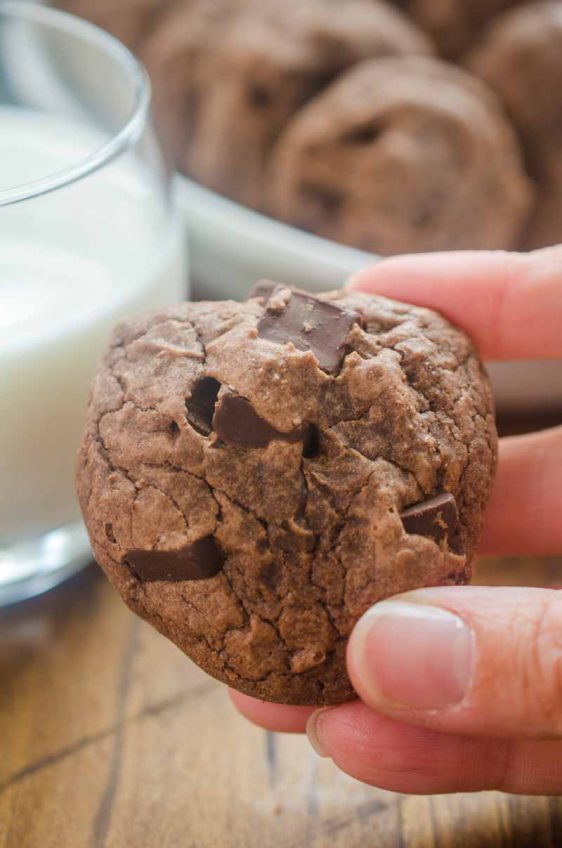 Brownie Mix Cookies
Brownie Mix Cookies are a delicious combination of two easy dessert recipes; brownies and cookies! They are super easy and always a crowd pleaser!
Ingredients:
1

package fudge brownie mix

I used Duncan Hines

1 1/4

cup

all purpose flour

1/4

cup

packed brown sugar

2

eggs

1/2

cup

1 stick butter, melted, cooled

5 - 6

tablespoons

cold water

1

cup

dark chocolate chunks

I found of bag of dark chocolate chunks but if you can't just chop a dark chocolate bar into chunks
Whisk together flour, brownie mix and brown sugar.

Using a heavy spoon, stir in eggs one at a time. Followed by butter and 2 tablespoons water. If the batter appears like there is too much flour add 1 more tablespoon of water. Batter will be very thick.

Fold in chocolate chunks

Preheat oven to 350 degrees.

Grease a cookie sheet.

Drop heaping tablespoons of dough on the cookie sheet, you want pretty thick cookies here to get the brownie feel, about 3 inches apart. Press down slightly. Don't flatten completely. Bake for 8-10 minutes.

Remove from oven, allow to cool 2 minutes on cookie sheet. Transfer to cooling rack to cool completely.
Nutrition facts not guaranteed.
Calories:
161
kcal
Carbohydrates:
23.8
g
Protein:
2.6
g
Fat:
7.5
g
Saturated Fat:
3.9
g
Cholesterol:
19
mg
Sodium:
93
mg
Fiber:
1.8
g
Sugar:
14.2
g
Keywords:
brownie cookies, brownie mix, chocolate, chocolate chunk, chocolate craving, chocolate dessert, dessert, Food, fudge brownies, Recipe