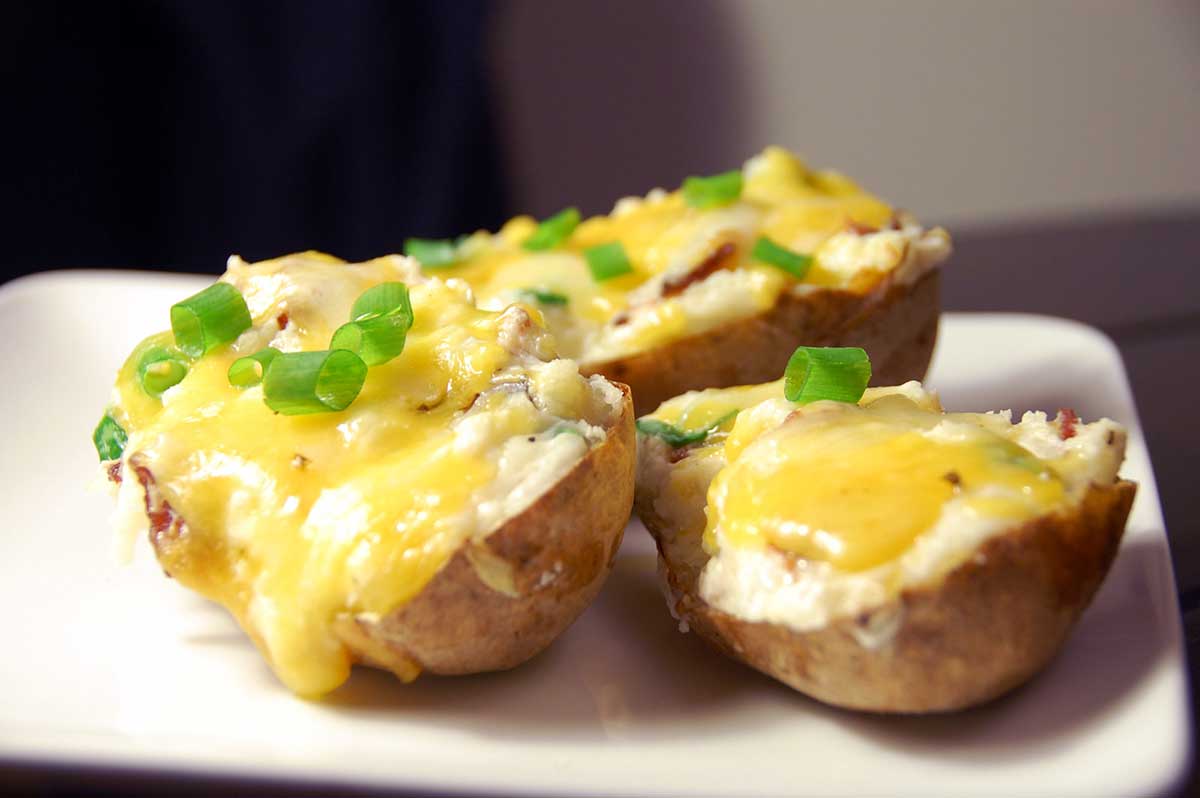 Cheesy Twice Baked Potatoes
Creamy mashed potatoes are one of my favorite things in the world. But mix them together with bacon, green onions, two different kinds of cheeses and then top them with even more cheese, and I am in heaven.
Cheesy Twice Baked Potatoes Recipe
Ingredients:
2 large baking potatoes, scrubbed and rinsed
4 slices thick cut bacon, diced into 1 inch pieces
1 tablespoon butter
1/4 cup milk
1/4 cup sour cream
1/2 cup grated cheddar cheese, plus about 1/4 cup more for topping
1/2 cup grated pepper jack cheese
2 green onions, diced about 2 tablespoons
Instructions
1
Preheat oven to 400 degrees. Puncture potatoes with a fork about 6 times around the potato, this will allow steam to escape while they are cooking. Bake for 50-60 minutes or until the skins are crispy but the potato is soft. You should be able to insert a fork and remove it easily.

2
While your potato is cooking cook your bacon until brown. Remove to paper towel lined plate. Set aside.

3
Once your potatoes are baked, turn your oven down to 350 degrees.

4
Slice the potatoes in half lengthwise (Note: be careful they will retain a lot of the heat for awhile). Being careful not to puncture the skin, spoon out the insides, place them in a mixing bowl and set the skins aside.

5
To the potatoes add butter, milk and sour cream. Use an electric mixer and mix until smooth.Stir in 1/2 cup cheddar cheese, pepper jack cheese and green onions. Mix well.

6
Fill the potato skins with the mixture. Top with remaining cheddar cheese.

7
Bake at 350 degrees in a baking dish until the cheese melts.
Notes
There are really endless variations to this recipe, its whatever suits you. I have tried adding some cooked ham instead of the bacon and it was delicious. Enjoy!