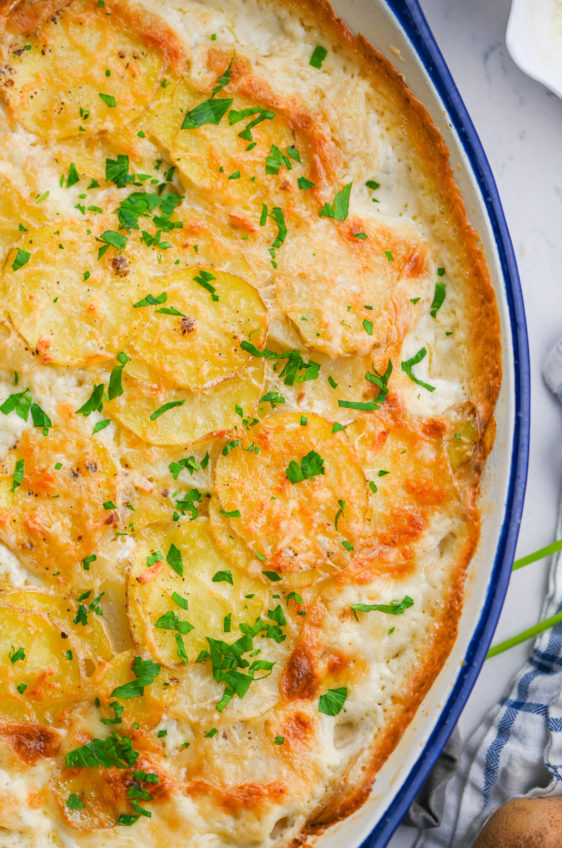 Scalloped Potatoes
Easy Scalloped Potatoes are a decadent side dish. With layers of potatoes, heavy cream and a touch of nutmeg. Perfect for holiday meals!
When it comes to side dishes, I gotta admit, any kind of potato is a favorite. Whether you're talking Homemade Mashed Potatoes, Smashed Truffle Potatoes, Roasted Red Potatoes or Cheesy Air Fryer Potatoes.  Anyway you serve potatoes, everyone is bound to love them. They are the perfect blank canvas to turn into all kinds of deliciousness.
Like these Easy Scalloped Potatoes. They are a classic for a reason! The rich decadent creamy sauce, the tender potatoes. It's really a match made in heaven.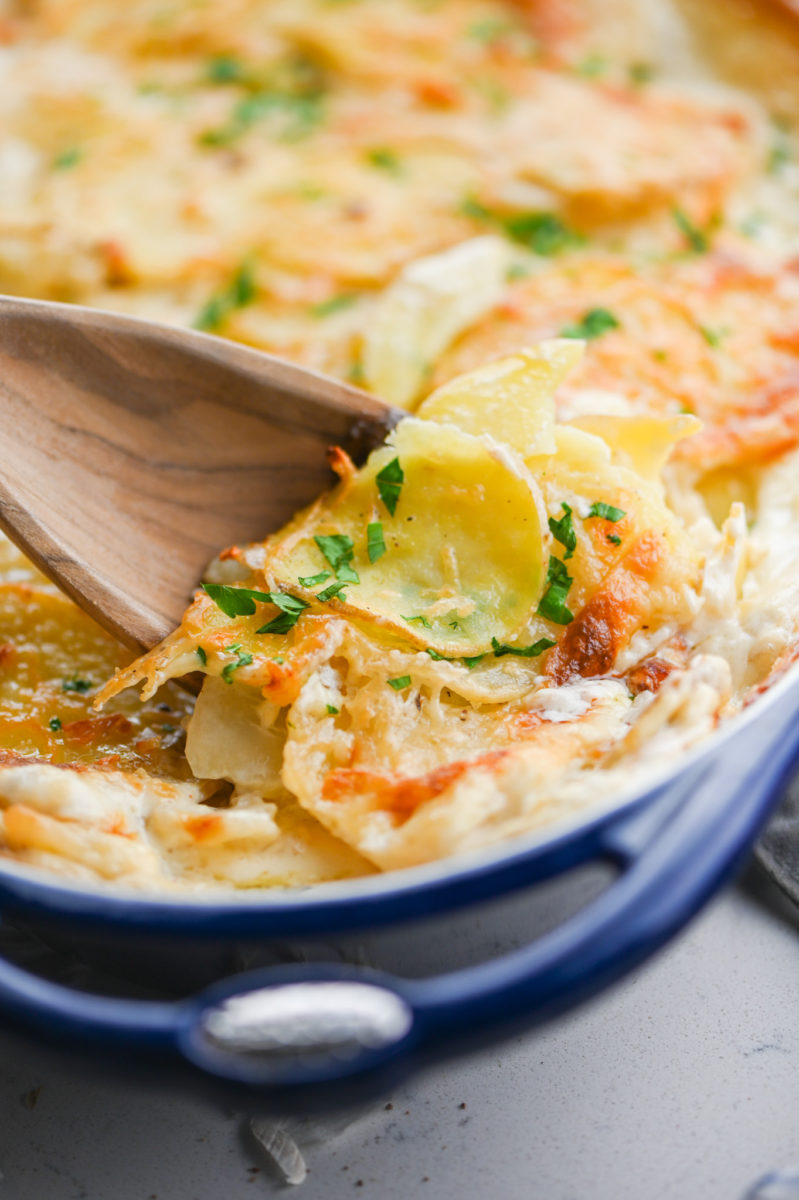 I used to not be able to tell the difference between scalloped potatoes and au gratin potatoes. To me they always tasted the same. In actuality au gratin potatoes are cheesy and scalloped potatoes are in a simple cream sauce. Because these potatoes have a little cheese I guess they are kind of some where in the middle. But oh what a delicious middle it is.
Let's talk about what you need to make them:
Easy Scalloped Potatoes Ingredients: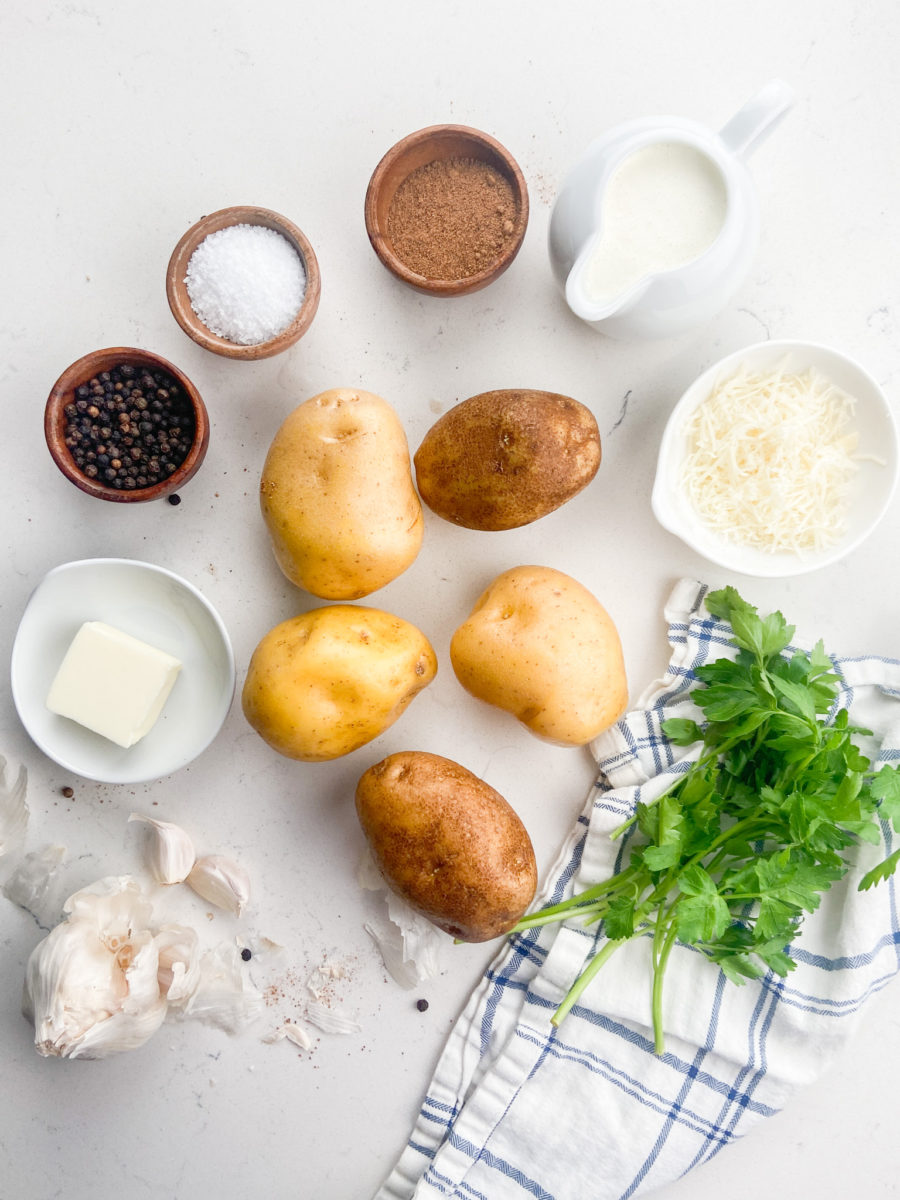 POTATOES: I use a combination of russet potatoes and Yukon gold potatoes. The high starch content in these potatoes helps thicken the creamy sauce as the casserole cooks. With russet potatoes, you will need to peel them first. Yukon gold potatoes you can leave the skin on.
BUTTER
GARLIC: Fresh minced garlic is perfect. It just gives a hint of garlic flavor but doesn't overpower the dish.
HEAVY CREAM: Heavy cream is a must. Scalloped potatoes are a creamy decadent dish and the cream is what helps make that happen. Don't substitute milk or half and half.
NUTMEG: Compliments the rich creamy sauce and potatoes very well.
SALT/PEPPER: To make sure that the scalloped potatoes aren't bland, make sure that you season your sauce well.
ROMANO CHEESE: Traditionally scalloped potatoes don't have cheese. But I couldn't resist the urge to add a sprinkle of sharp and salty Romano cheese. You can also use Parmesan cheese which is similar in taste but not quite as sharp.
Step by Step Photos and Instructions:
These are called Easy Scalloped Potatoes because they are, well, easy to make. I've included some step by step photos and instructions to help you along the way. But basically, to make scalloped potatoes you need to slice the potatoes, make the sauce and then layer.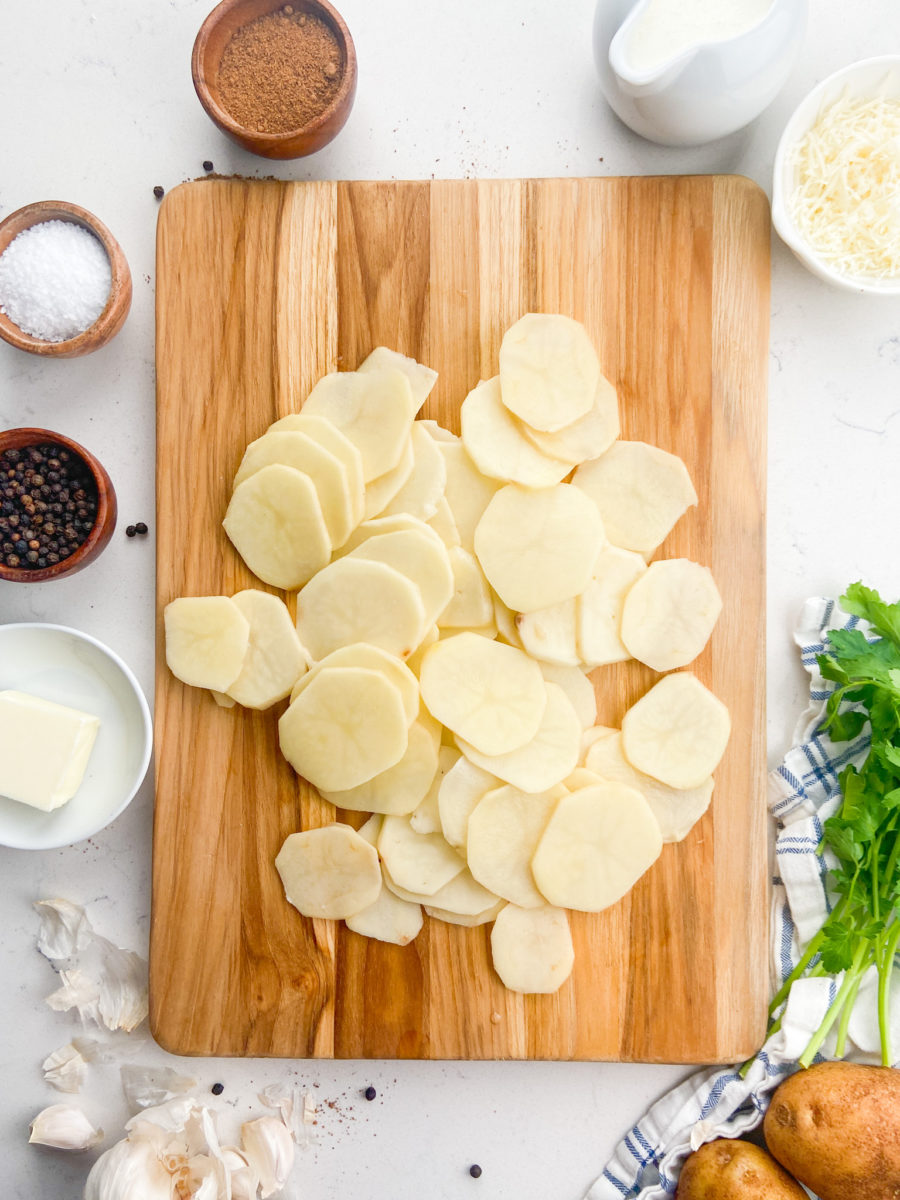 STEP #1: Preheat oven to 350 degrees. Butter a 2qt casserole dish.
STEP #2: Use a mandolin or very sharp knife to cut the potatoes into thin slices about 1/8 inch thick. 
STEP #3: :Layer 1/2 of the potatoes in the bottom of the prepared casserole dish. Scatter 1 tablespoon of butter and 1/2 of the garlic and 1/2 of the cheese over the top. 
STEP #4: Make the sauce by heating cream, nutmeg, salt and pepper just until steaming. Pour half of the sauce over the top of the potatoes. 
STEP #5: Repeat layers except for cheese. Cover and bake for 25 minutes. Uncover and top with remaining cheese and cook for another 25 minutes or until potatoes are tender. Remove from oven and allow to set for at least 5 minutes before serving.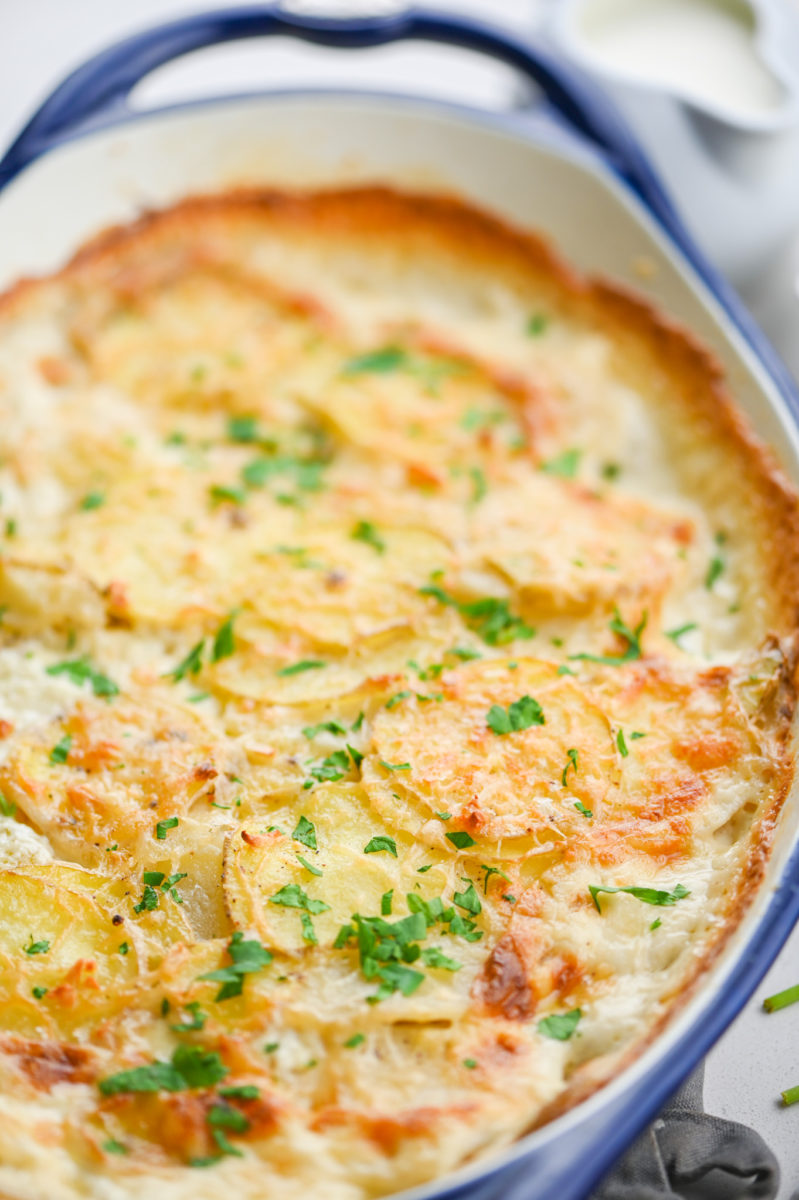 Storage and Leftovers:
Scalloped potatoes will keep for a few days in the refrigerator. Simply reheat in the oven at 325 until warmed through or pop them in the microwave for a minute or so.
Easy Scallop Potatoes Recipe FAQ: 
What is the difference between au gratin and scalloped potatoes?
Traditionally, au gratin potatoes are cheesy and scalloped potatoes are cooked in a cream sauce with no cheese. These potatoes lie somewhere in the middle. They are not overly cheesy but there is a bit of cheese.
Are scalloped potatoes supposed to be hard or soft?
Scalloped potatoes are supposed to be fork tender. If you pierce them with a fork and it slides out easily they are done.
Why are my scalloped potatoes soupy?
There could be a couple of different reasons for this. One: if you're using a pre-sliced potatoes they could have added ingredients that make them watery. Two: If you keep sliced potatoes in water to prevent discoloration, you need to make sure to pat them dry very well.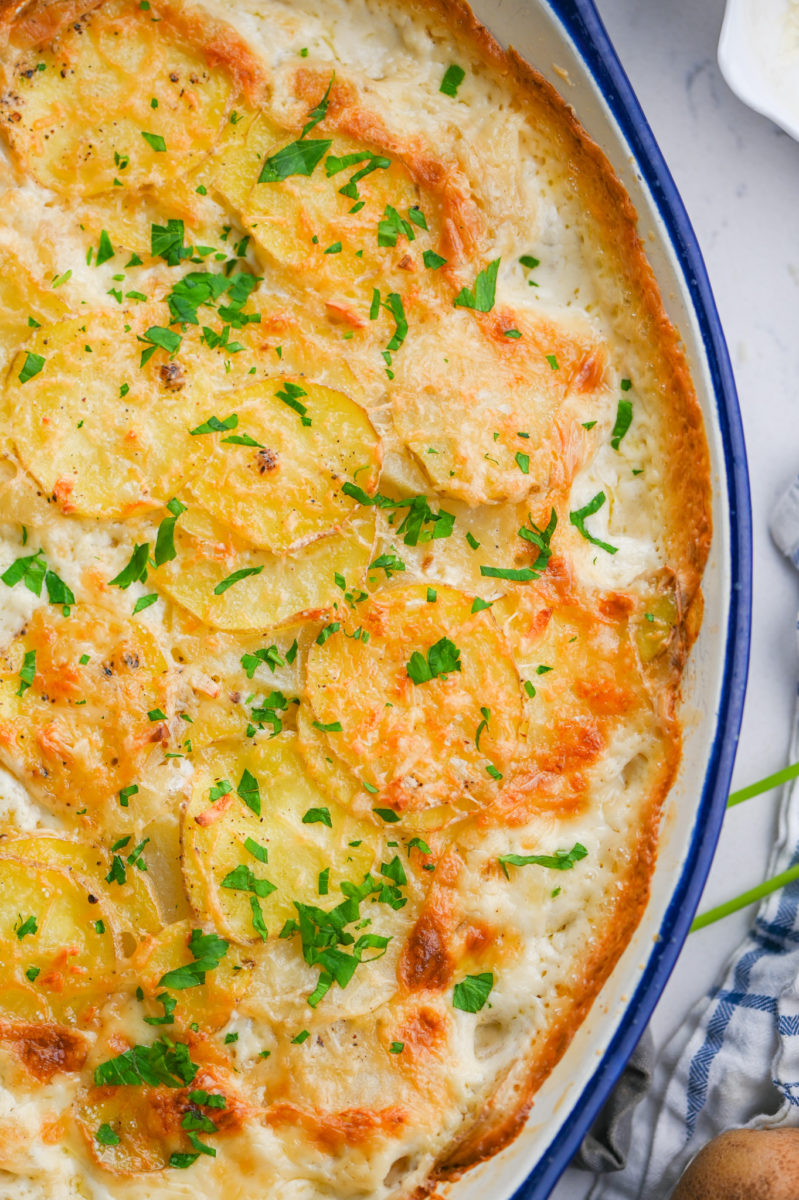 Looking for a something to serve with scalloped potatoes? Try these main dishes!
Meatloaf with Herbed Cream Sauce is a classic meatloaf recipe with the addition of a decadent cream sauce. Its a family favorite!
Brined Fried Chicken you can't go wrong with fried chicken! Follow this recipe for my secrets to make perfect fried chicken every time.
Scalloped potatoes make a great addition to your holiday table so serve them along side some Roasted Turkey Thighs.
Note: This recipe was originally published in 2011. Updated in 2023 with new photos, a slightly modified recipe and nutrition information.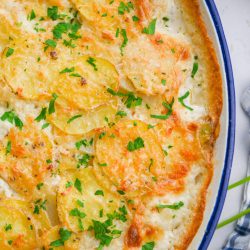 Scalloped Potatoes
Easy Scalloped Potatoes are a decadent side dish. With layers of potatoes, heavy cream and a touch of nutmeg. Perfect for holiday meals! 
Ingredients:
1 1/2

lbs

russet potatoes

or yukon gold sliced into 1/8 inch slices

2

tablespoons

butter

cut into pieces

4

cloves

garlic

minced

1 1/2

cup

heavy cream

1/4

teaspoon

ground nutmeg

1/2

teaspoon

black pepper

1

teaspoon

kosher salt

1/2

cup

freshly grated romano cheese

Parsley for garnish
If you use russet potatoes, peel them. If you use yukon gold, you won't need to peel them. I like to use a combo of both. 
If you don't have Romano, Parmesan is a good substitute. 
Nutrition information for estimation purposes only. 
Calories:
497
kcal
Carbohydrates:
35
g
Protein:
11
g
Fat:
36
g
Saturated Fat:
23
g
Polyunsaturated Fat:
2
g
Monounsaturated Fat:
9
g
Cholesterol:
115
mg
Sodium:
772
mg
Potassium:
831
mg
Fiber:
2
g
Sugar:
4
g
Vitamin A:
1380
IU
Vitamin C:
11
mg
Calcium:
230
mg
Iron:
2
mg
Keywords:
Easter, Food, holiday, holiday side dish, potatoes, Recipe, scalloped potatoes, side dish, Vegetarian