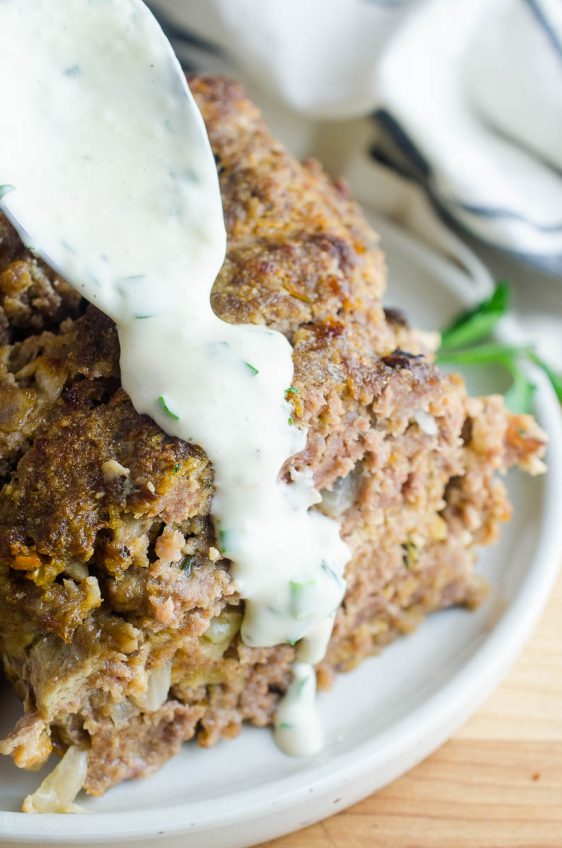 Meatloaf with Herbed Cream Sauce
A classic meatloaf topped with the best ever meatloaf sauce. If you're looking for the ultimate comfort food recipe, this is it. 

Meatloaf is an American Classic for a reason. It's stick to your ribs comfort food at it's finest. Most of us probably have memories of our moms making it. Or going to our grandmas for Sunday supper and sitting down to a plate of meatloaf, homemade mashed potatoes and sautéed broccoli.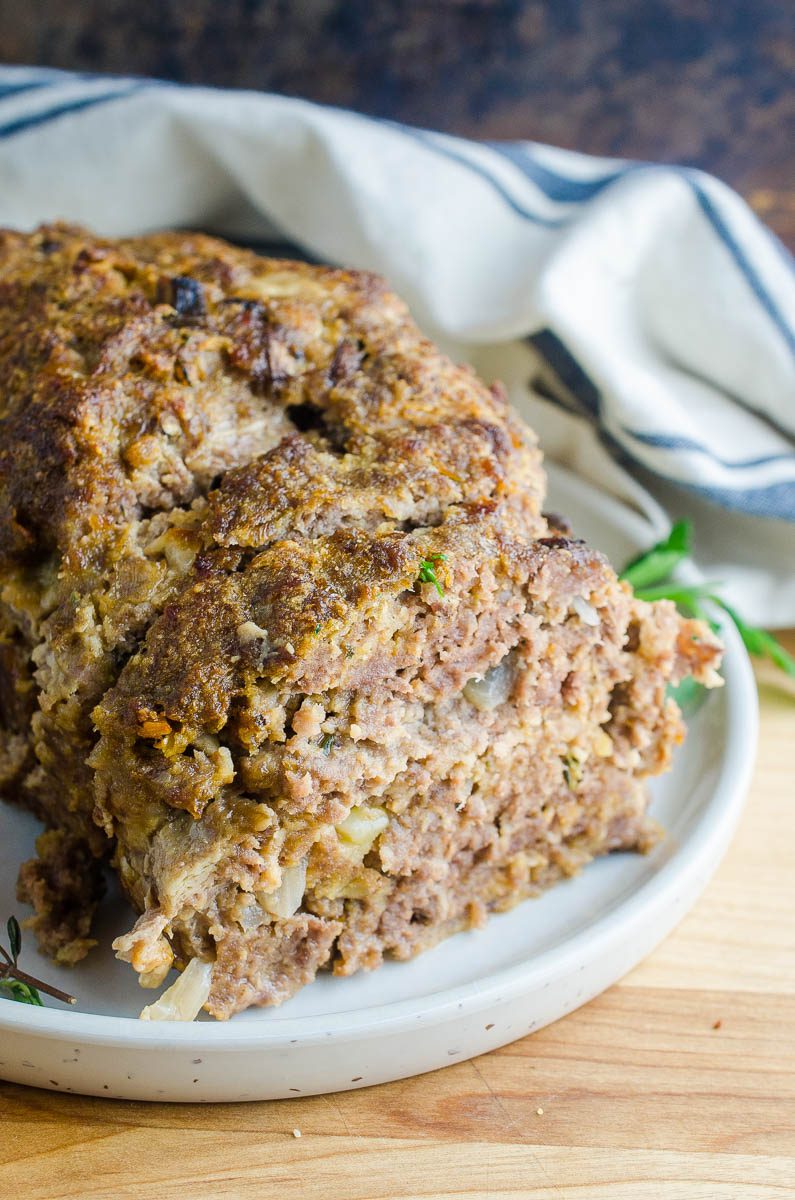 Meatloaf says home. And this recipe for Meatloaf with Herbed Cream Sauce is no different. With two kinds of meat, garlic, onions and herbs this meatloaf recipe results in a moist, flavorful meatloaf that your family will love.
Tips for making the perfect meatloaf recipe:
Use more than one type of meat. Using more than one type of meat will make your meatloaf much more flavorful. I recommend using a mixture of beef and pork sausage.
DO NOT OVER MIX. Use your hands to mix the meatloaf together but do not over mix. Doing so will result in a tough and dense meatloaf.
Like all meat dishes, it is better to give the meatloaf a chance to rest, about 10 minutes before slicing. This will help ensure that your meatloaf stays together better.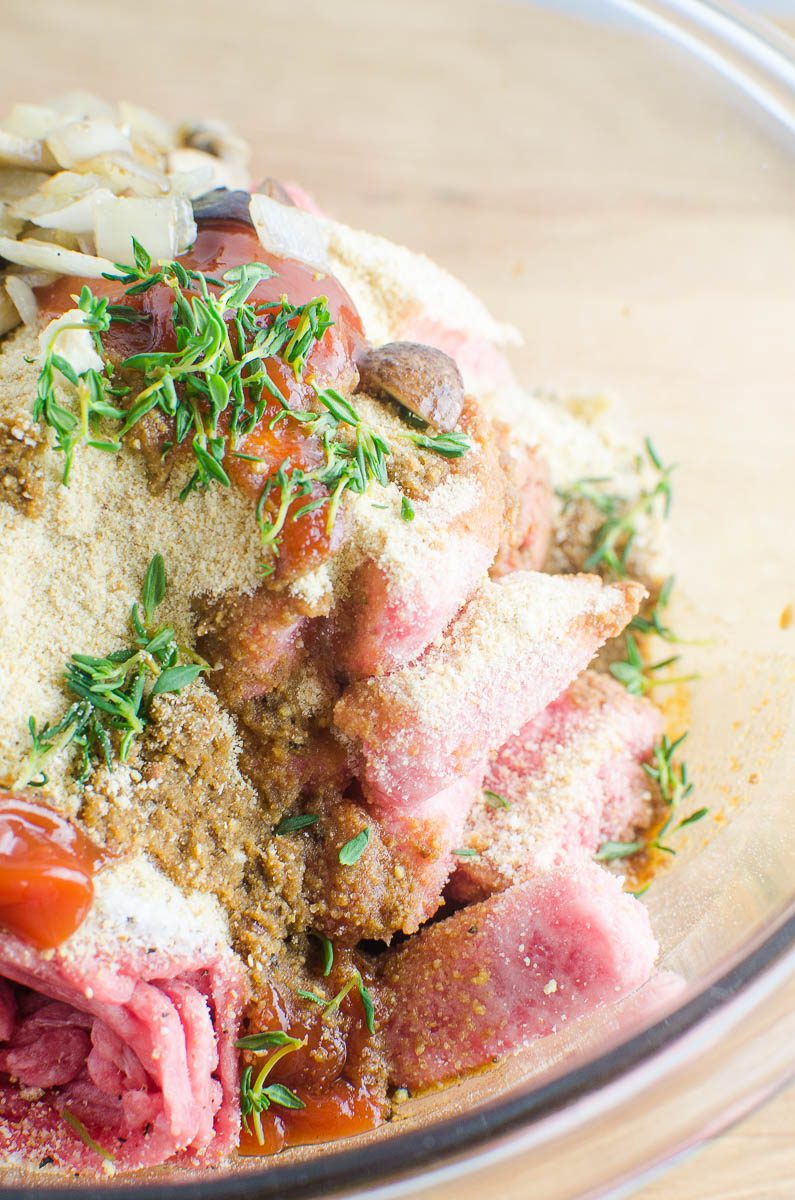 What is the best meatloaf sauce?
Now that we have the tips for making the perfect meatloaf, let's talk about the sauce. Traditionally, you'll find meatloaves made with a ketchup based glaze. This recipe however, gets an upgrade with a creamy herb meatloaf sauce. And it is fabulous.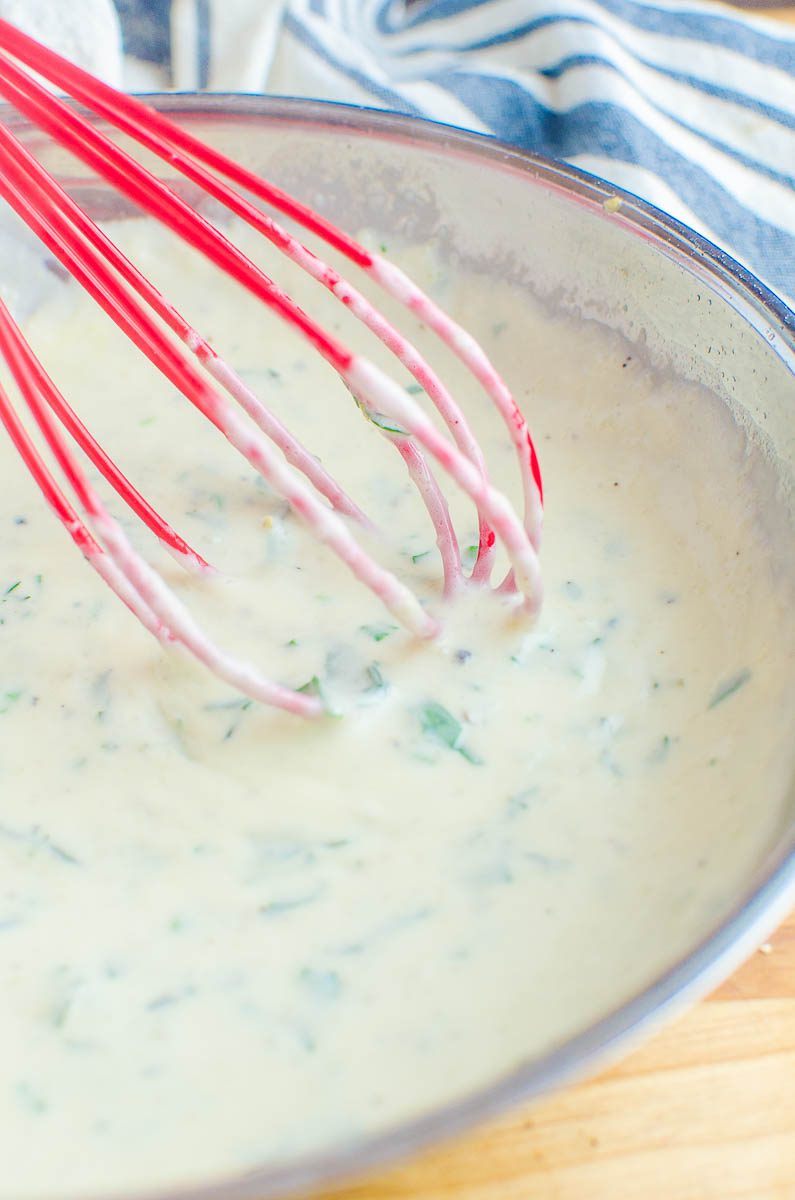 To make this sauce you'll need to reserve some of the pan drippings from the meatloaf and whisk them with flour, beef broth, and cream as well as fresh chives, parsley and thyme.
It makes a thick, creamy gravy that is perfect for spooning over the top of a slice of meatloaf.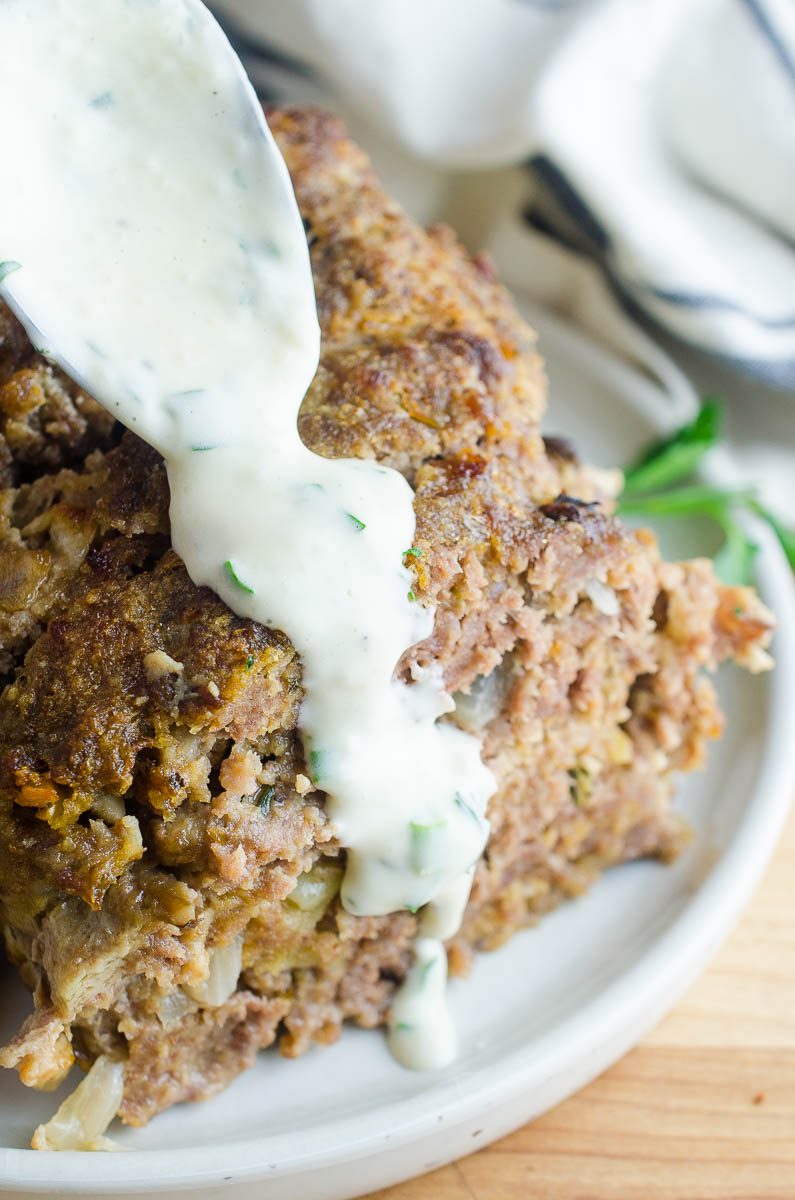 Looking for side dishes to serve with meatloaf? These are some of our family favorites!
More of our favorite beef recipes:
Filet Mignon with Peppercorn Sauce
Note: this recipe was originally published in 2009. It was updated with new photos and tips in 2019.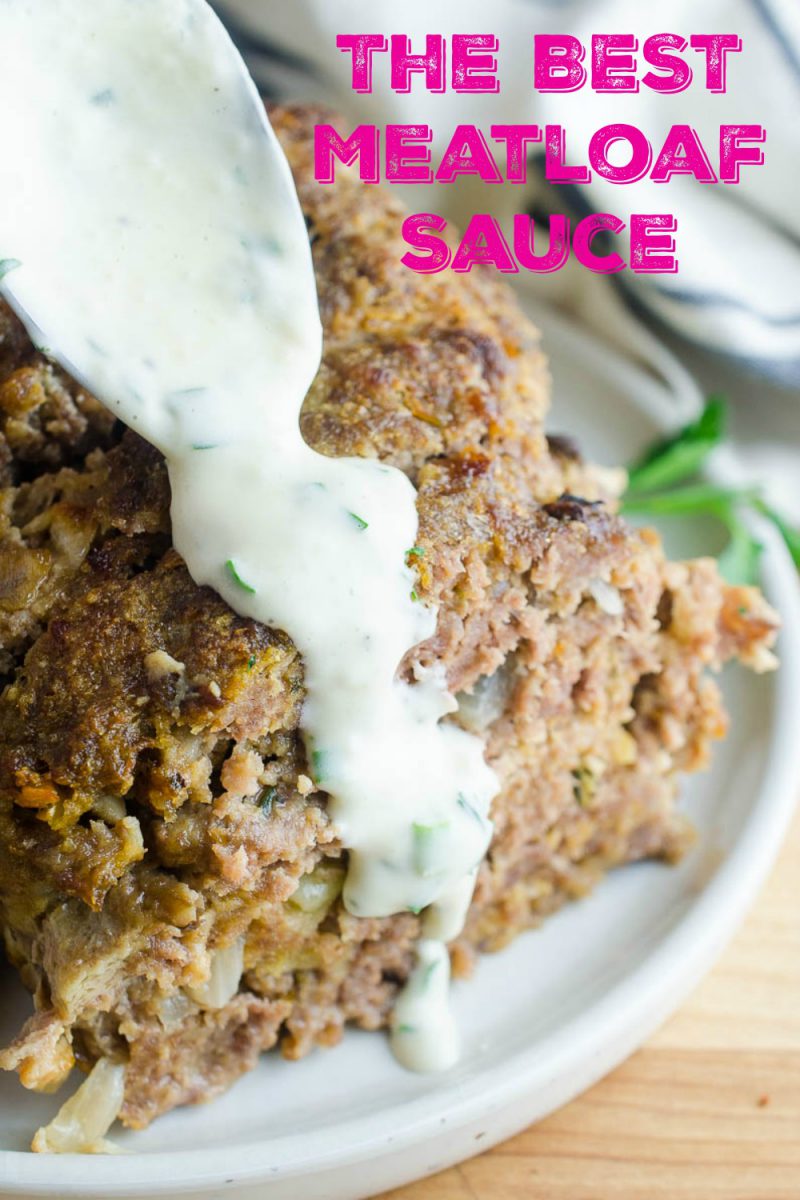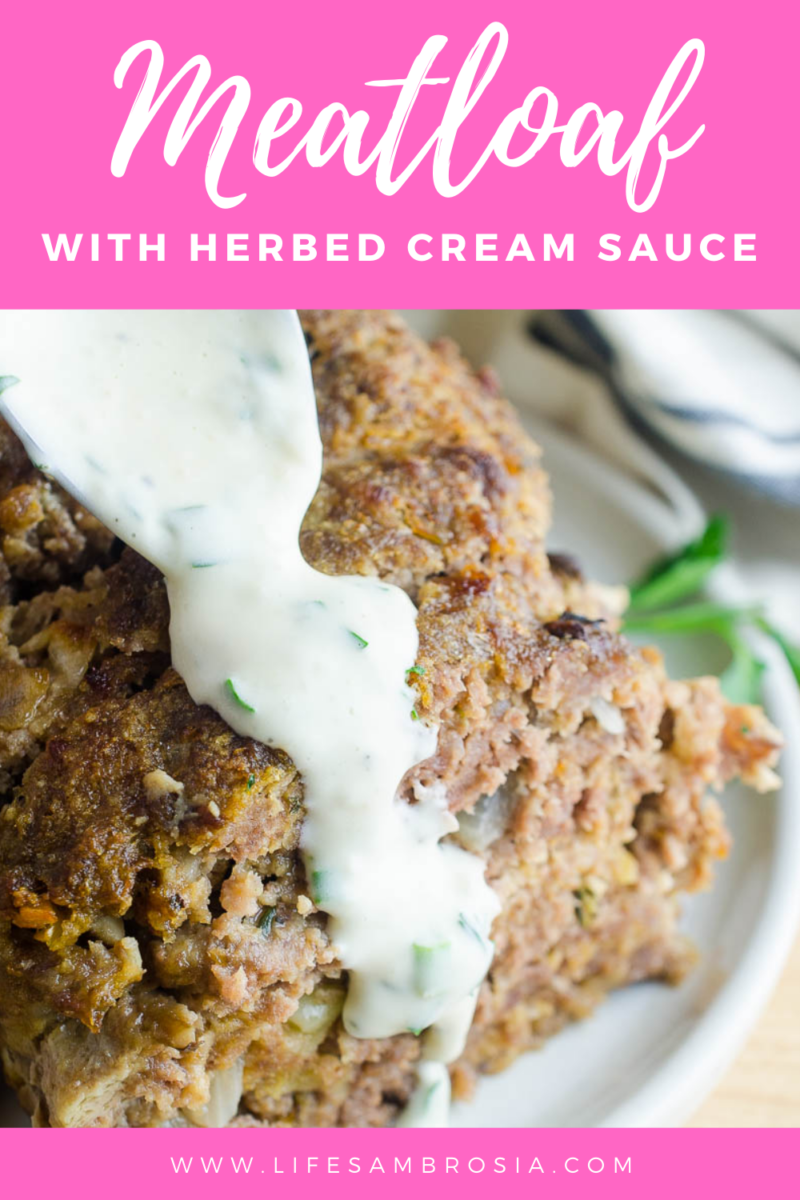 Meatloaf with Herbed Cream Sauce Recipe
Meatloaf Ingredients:
1 tablespoon olive oil
1/2 cup roughly chopped onion
1/2 cup roughly chopped crimini mushrooms
2 cloves garlic minced
1 1/4 pound ground beef (80/20)
6 breakfast sausage links, casings removed
2 eggs beaten
2/3 cup plain dry bread crumbs
1/2 teaspoon kosher salt
1/4 teaspoon fresh cracked pepper
1 tablespoon ketchup
2 tablespoons Worcestershire
1 teaspoon grated horseradish
1 tablespoon fresh thyme
Herbed Cream Sauce Ingredients:
1 tablespoon meatloaf pan drippings

1 tablespoon flour

1/4 cup beef broth

1/2 cup heavy cream

1 tablespoon chopped fresh chives

1 tablespoon chopped fresh parsley

1 tablespoon chopped fresh thyme

fresh cracked pepper and kosher salt to taste
Instructions
1
Preheat oven to 350 degrees.

2
In a small sauce pan heat olive oil. Once warmed add onion, mushrooms and garlic. Cook for 5 minutes or until softened. Remove from heat and allow to cool.

3
In a bowl combine beef, sausage, eggs, bread crumbs, salt, pepper, ketchup, Worcestershire, horseradish and thyme. Once the mushroom mixture has cooled spoon that over the meat mixture. Using your hands, mix until well combined. Form into a loaf and place in a 9-inch loaf pan. Cook for 35-40 minutes or until top is firm and internal temperature is 160 degrees. Remove from oven and allow to rest for 15 minutes before slicing. Meanwhile make your sauce.

4
Heat 1 tablespoon meat loaf pan drippings in a small sauce pan over medium heat. After warmed, whisk in flour, cook 1 minute. Whisk in beef broth. Slowly whisk in cream. Allow to simmer for 3-5 minutes or until sauce thickens. It should coat the back of a spoon. Stir in chives, parsley and thyme. Cook for 1 minute. Season to taste with salt and pepper.

5
Slice meatloaf, place on serving platter and spoon the sauce over the top.