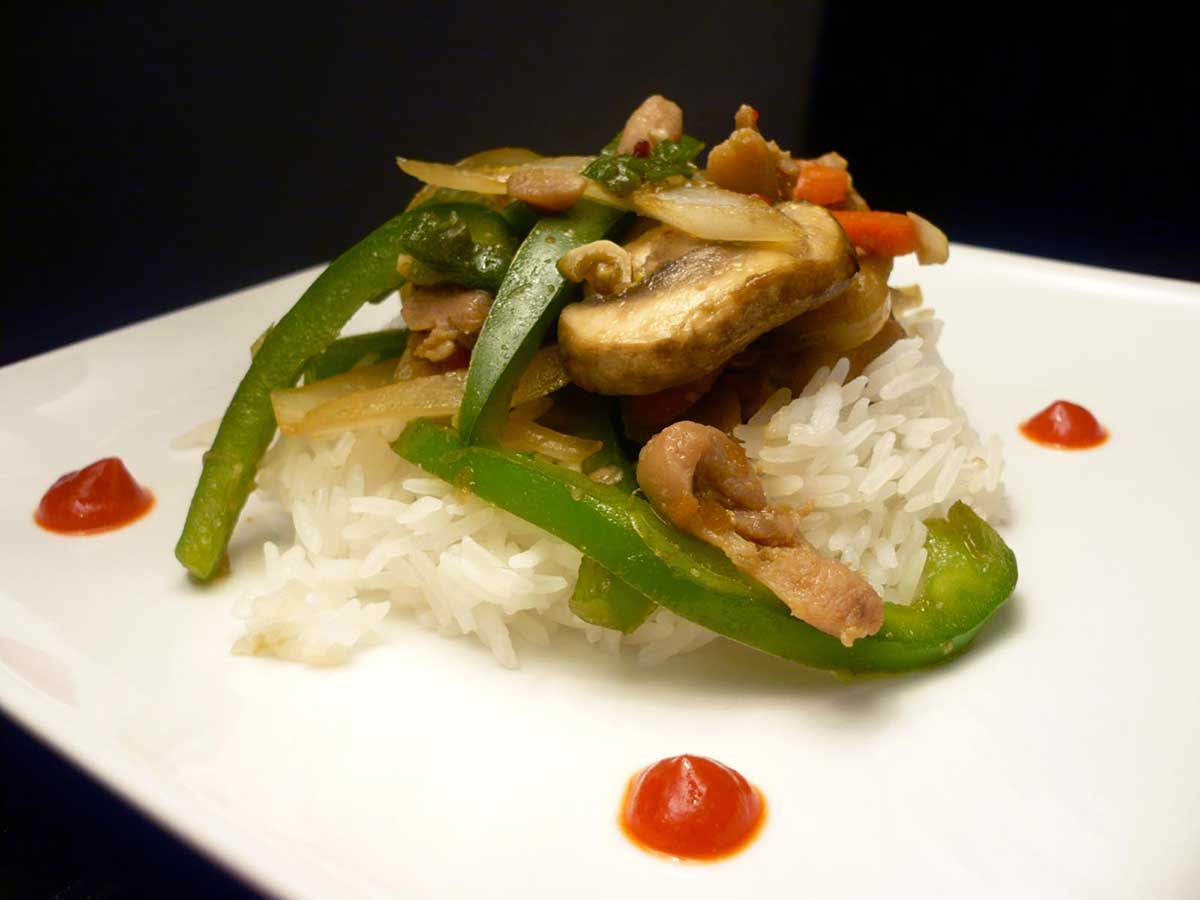 Spicy Chicken Teriyaki Stir Fry
Well here it is, the day after Christmas and while I love mashed potatoes, turkey, gravy and all the fixings, if I see another plate of the traditional holiday meal I may just explode. It is days like to today when I begin craving something other than traditional American food. A quick stirfy is always a nice option for this. This Spicy Chicken Teriyaki Stirfry, has juicy marinated chicken, crunchy vegetables and just the right combination of sweet and spicy.
Spicy Chicken Teriyaki Stir Fry Recipe
Ingredients:
1 pound of boneless, skinless chicken thighs, sliced into 1 inch strips
2 tablespoons Teriyaki sauce
2 teaspoons chili garlic sauce
3 cloves garlic, minced
1 teaspoon salt
2 cloves garlic, minced
1 tablespoon canola oil
1/2 cup mushrooms, sliced
1 green bell pepper, juilened
1 carrot, peeled and diced
1 jalapeno, diced (optional)
1/2 medium onion, sliced
1 tablespoon soy sauce
2 cups jasmine rice, cooked according to package instructions
Instructions
1
Combine the chicken, teriyaki sauce, 1 teaspoon chili garlic sauce, salt and garlic. Cover and refrigerate for 20 minutes.

2
In a large skillet or wok, heat the canola oil over medium heat. Add chicken and cook through. Approximately 8 minutes. Remove and set aside.

3
Add the veggies and saute for 2-3 minutes, until they are slightly soft, but still firm.

4
Next add soy sauce and remaining chili garlic sauce. Return the chicken to the pan and saute for 3 more minutes.

5
Scoop jasmine rice onto a plate and spoon stir fry over it.