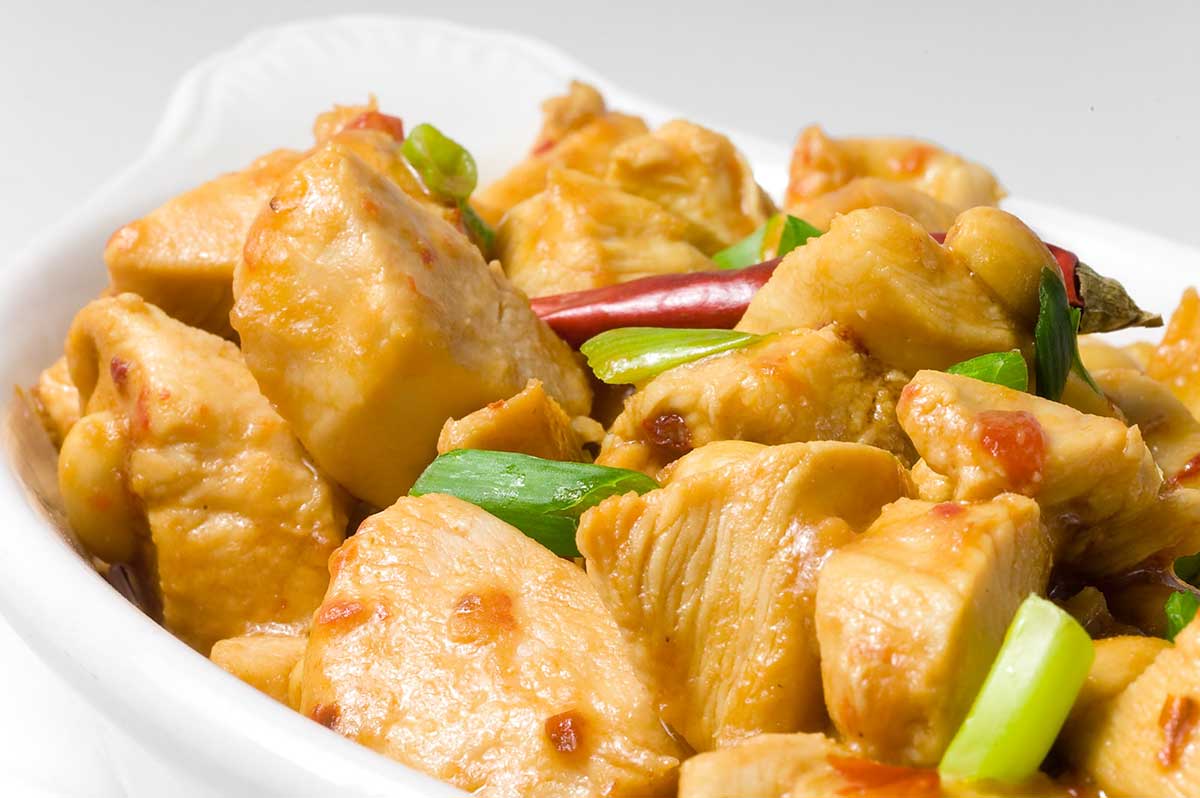 Kung Pao Chicken
A week before Ryan and I were planning to leave for Italy I was sitting down planning our menu and writing the grocery list. As I started to think of pasta dishes, where my mind always tends to go, I decided that it would probably be best if we stayed away from Italian inspired dishes and enjoy some of the flavors that we might miss while we're away. So next my mind immediately went to Asian cuisine.  I began thinking of various kinds of stir fries when I finally decided that Kung Pao Chicken would be a great choice.

If you have never had Kung Pao Chicken before, it is a classic spicy Sichuan dish with peppers, chicken and peanuts. I had a hard time finding the traditional Sichuan peppercorns that are often used in this recipe but that didn't take away from the flavor. I used chili paste as well as dried red chilies to give it the kick it needs.
Kung Pao Chicken Recipe
Marinade Ingredients:
1 tablespoon chili paste
1 tablespoon rice vinegar
2 teaspoons soy sauce
1/2 teaspoon garlic powder
2 teaspoons sesame oil
1 tablespoon cornstarch dissolved in 1 tablespoon water
3 boneless, skinless chicken breasts diced into 1 inch pieces
Kung-Pao Sauce Ingredients:
2 tablespoons soy sauce

1 tablespoon rice wine vinegar

1/4 teaspoon chili paste

1/4 teaspoon ground ginger

pinch of granulated sugar

3 teaspoons oil (canola, vegetable or other neutral oil)

1/4 cup roasted peanuts

3-4 dried red chilies

2 green onions, chopped for garnish
Instructions
1
Combine marinade ingredients and chicken in a bag. Marinate for 1 hour.

2
In a bowl whisk together soy sauce, rice wine vinegar, chili paste, ground ginger and sugar.

3
After chicken has marinated, heat 2 teaspoons oil in a skillet. Remove chicken from marinade and brown over medium-high heat. Transfer to plate set aside.

4
In the same pan you cooked the chicken in heat 1 teaspoon oil over medium-high heat. Add peanuts and chilies. Cook for 2 minutes. Pour in sauce mixture. Add in cooked chicken and toss to coat. Continue cooking over medium-high heat until the sauce has thickened and the chicken is cooked through.

5
Transfer to serving dish. Sprinkle with green onions and serve.