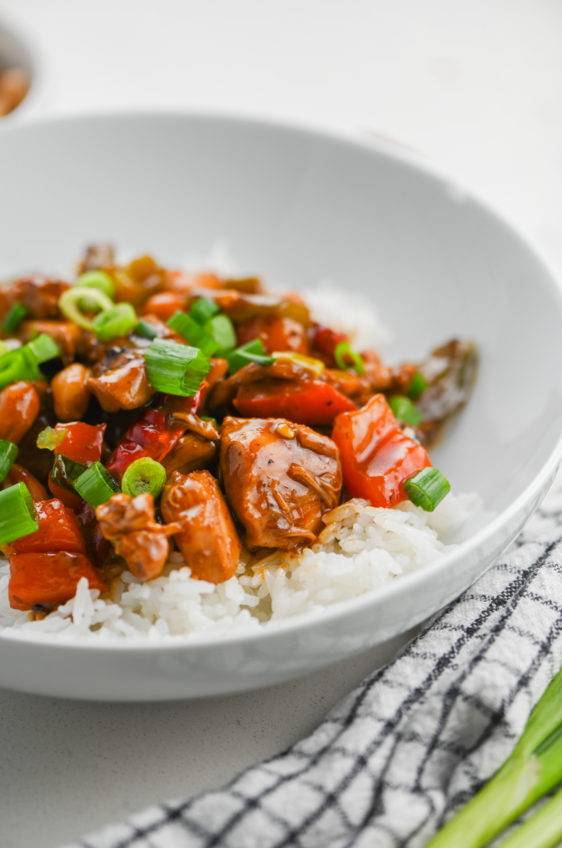 Kung Pao Chicken
Kung Pao Chicken is a spicy stir-fried chicken and vegetable recipe. The spicy sauce is made with chili sauce, soy sauce and black vinegar.

One of my favorite things to do is to recreate dishes that we order via takeout or recreate dishes from our favorite restaurants. I've made the Din Tai Fung Shrimp and Pork Wontons in Spicy Sauce , Salt and Pepper Calamari and even Copycat Taco Bell Mexican Pizza.
Like I said, recreating recipes is one of my favorite things to do in the kitchen. And today, I'm sharing this Kung Pao Chicken that is one of our favorites to get when we order take out. This spicy stir fry is loaded with flavor.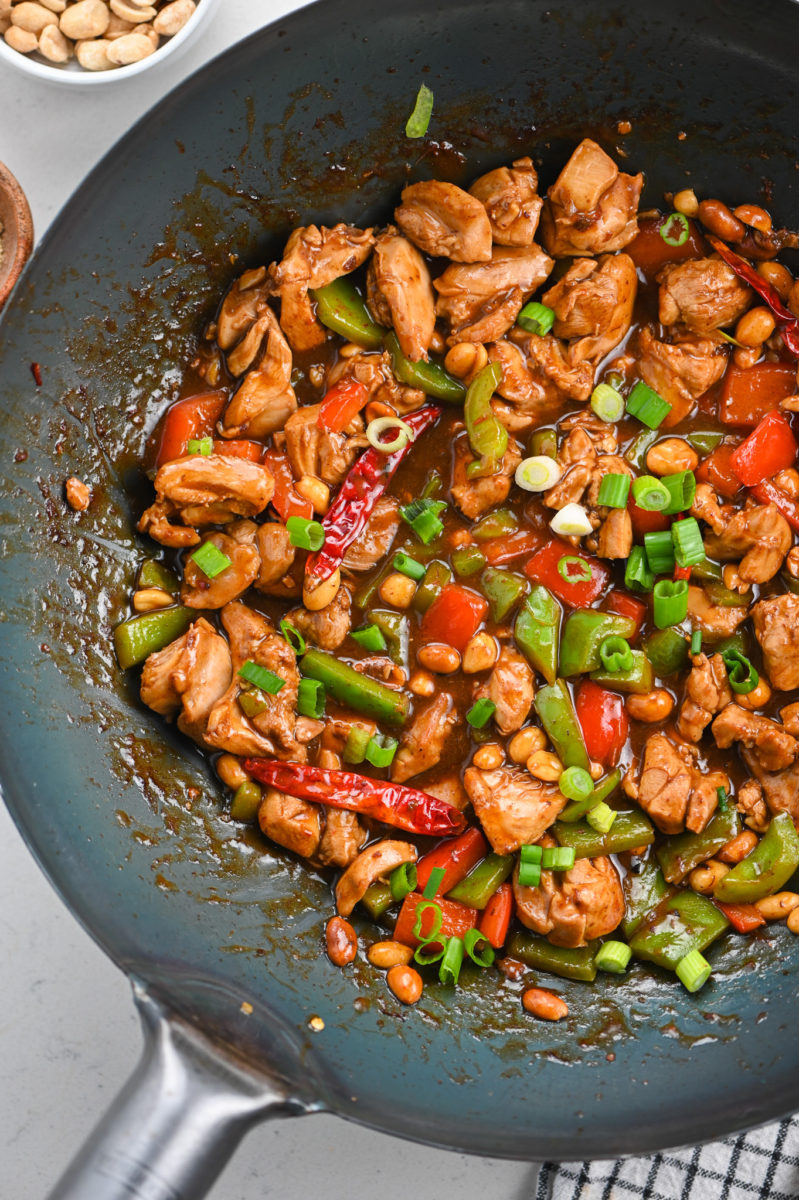 What is Kung Pao Chicken?
If you have never had Kung Pao Chicken before, it is a classic spicy Sichuan dish with peppers, chicken and peanuts. I had a hard time finding the traditional Sichuan peppercorns that are often used in this recipe but that didn't take away from the flavor. I used chili sauce as well as dried red chilies to give it the kick it needs.
Let's talk about all you need to make it.
Kung Pao Chicken Ingredients:
This recipe is broken up into two parts: The marinade for the chicken and then the stir fry it self. Since you'll be doing the marinating first, we'll go over that first.
KUNG PAO CHICKEN MARIANDE: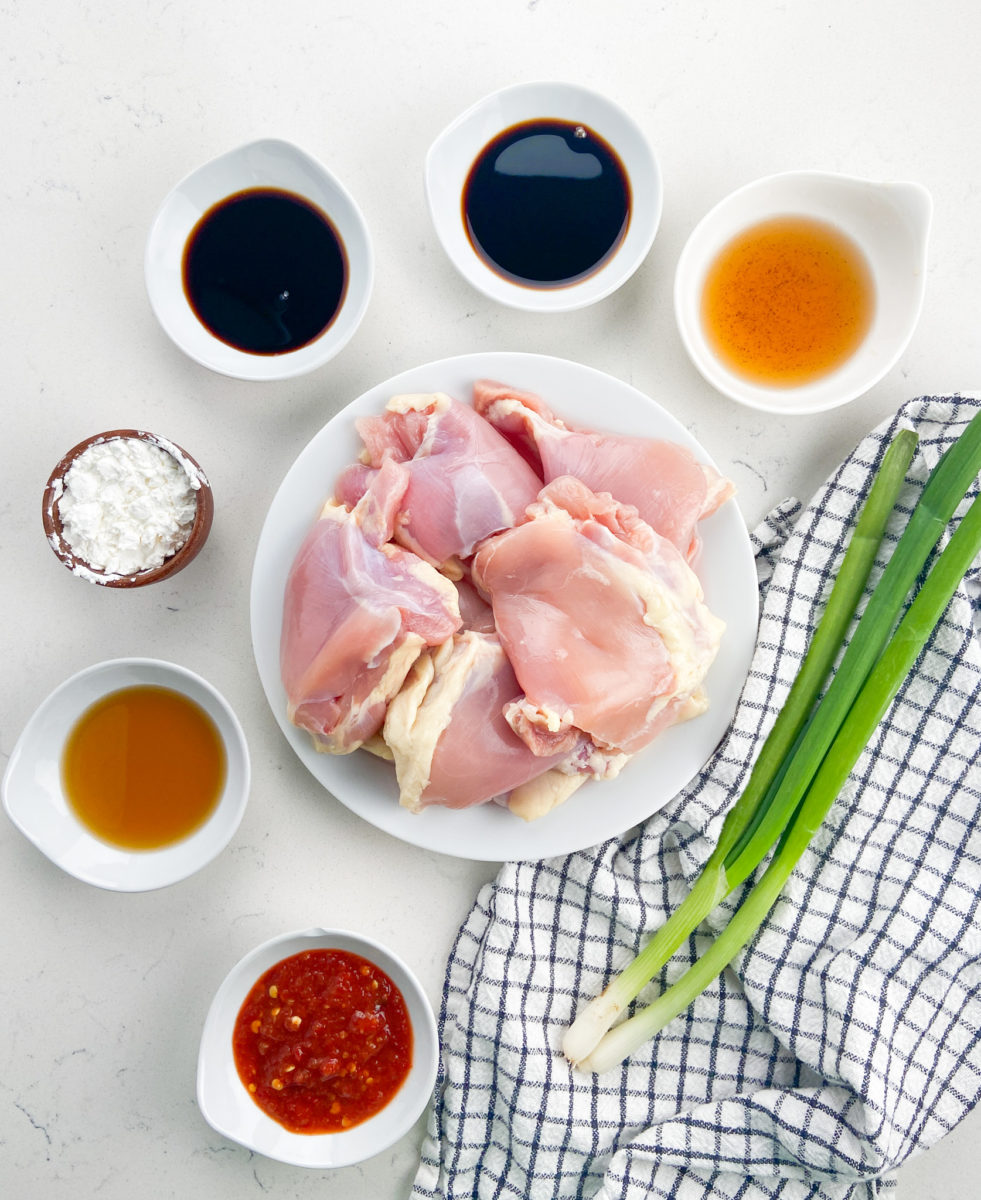 GARLIC CHILI SAUCE: This is readily available in grocery stores in the Asian/International aisle. I use Huy Fong Garlic Chili Sauce.
CHINESE BLACK VINEGAR: Chinese black vinegar is a full bodied vinegar with a slightly sweet flavor. It is less acidic in flavor than Distilled White Vinegar.
SOY SAUCE: This is going to add umami, salty flavor.
SESAME OIL: Adds a touch of nuttiness. A little goes along way. You don't need much!
SHAOXING WINE: A type of Chinese rice wine. If you cannot find it, the best substitute would be a dry sherry or Mirin Wine.
CHICKEN THIGHS: Boneless skinless chicken thighs work great in this dish. They stay tender and cook quickly. You can also substitute diced boneless skinless chicken breasts but they may take a bit longer to cook.
STIR-FRY AND SAUCE INGREDIENTS:
To make the stir-fry sauce, you're going to use several of the same ingredients that you use in the marinde.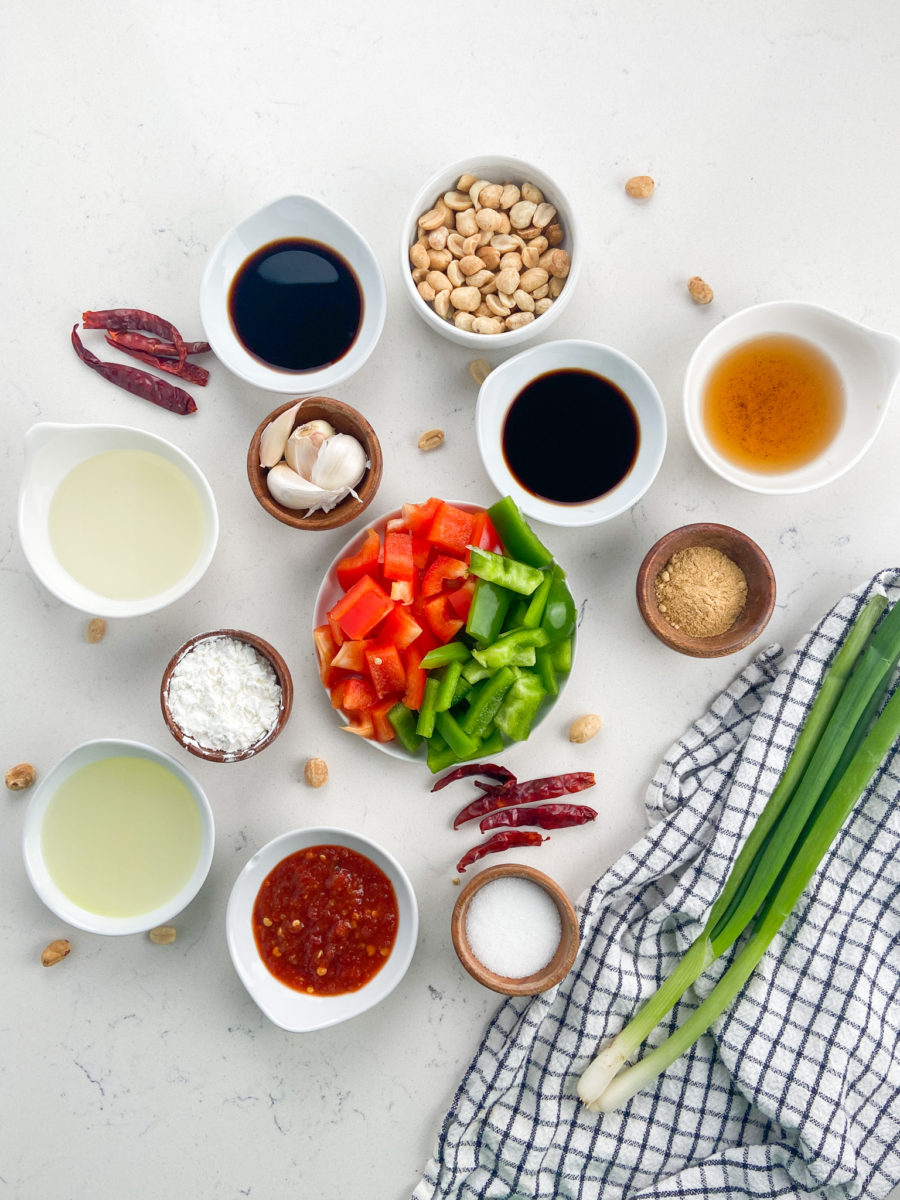 LOW SODIUM CHICKEN BROTH: Keep in mind you're using soy sauce in this recipe so using low-sodium chicken broth will help keep the salt content down so that you can adjust it to your tastes.
CORNSTARCH: This will help thicken the sauce.
SOY SAUCE
CHINESE BLACK VINEGAR
SHAOXING WINE
GARLIC CHILI SAUCE
PINCH SUGAR: To add a bit of sweetness and cut back on the acidity.
OIL
RED AND GREEN BELL PEPPER: I like to use a combo of the two because the color of the dish really pops.
PEANUTS: Use unsalted peanuts, again to avoid adding any extra salt.
3 – 4 DRIED CHILIES: You can use dried Thai chilies but if you cannot find them Dried Chili de arbol (often found in the International Aisle of the grocery store) will also work.
GREEN ONIONS: Add a subtle onion flavor and a pop of color to the dish.
Step by Step Photos and Instructions:
There are a lot of ingredients to Kung Pao Chicken which can make it seem a bit daunting. But don't let the long ingredient list intimidate you, I'll walk you through each step and provide pictures along the way.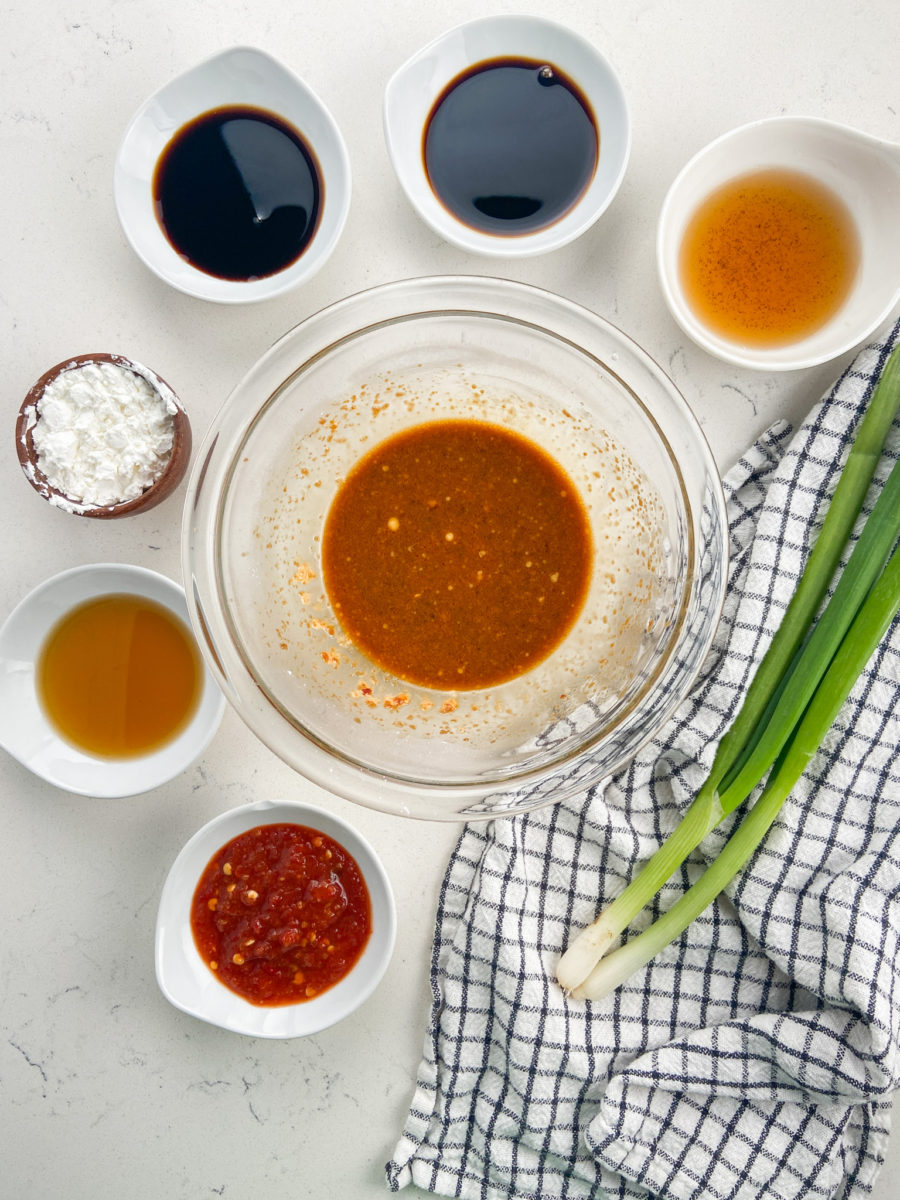 STEP #1: Whisk together all of the ingredients for the marinade.
STEP #2: Dice the chicken into bite-sized pieces. Pour marinade over the top. Cover and refrigerate for at least 1 hour.
STEP #3: Whisk together the ingredients for the sauce.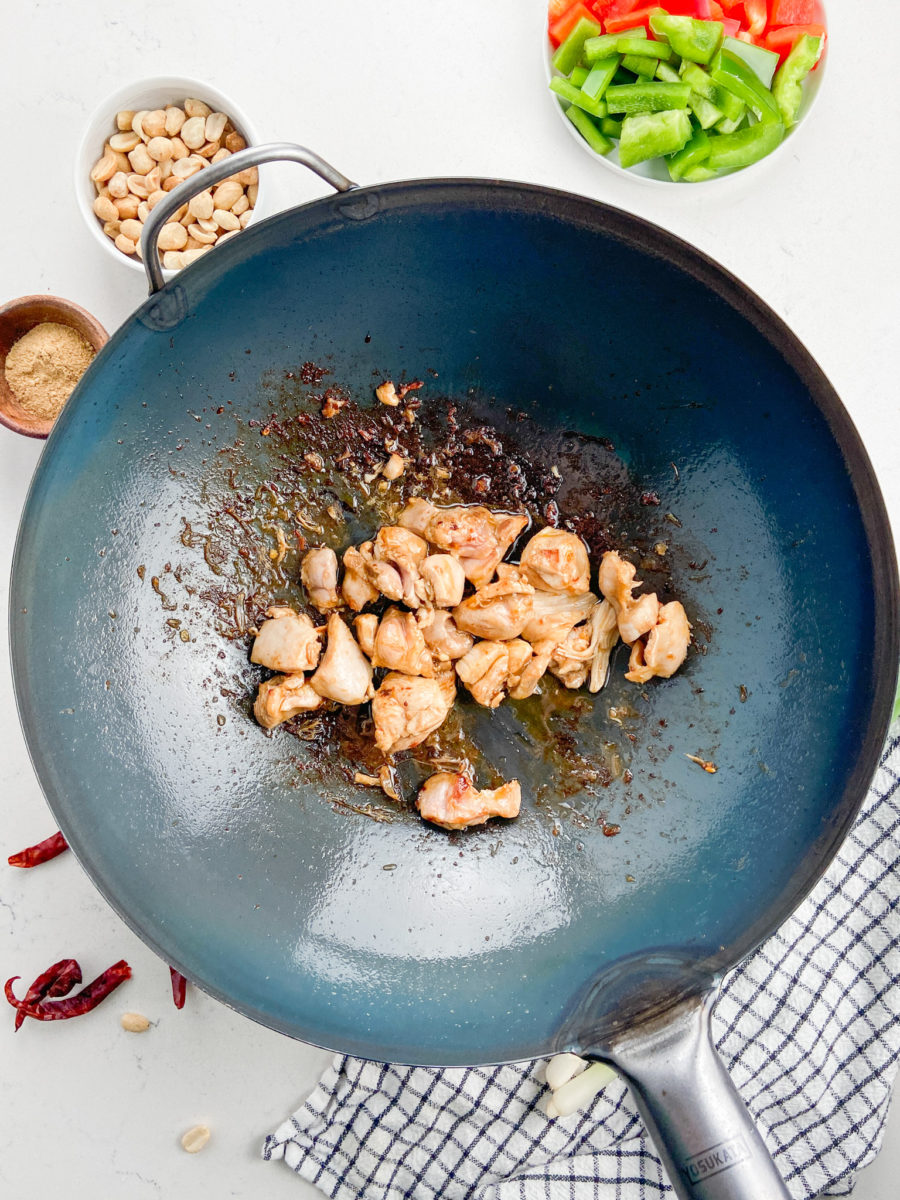 STEP #4: After chicken has marinated, heat oil in wok (or large skillet) and brown the chicken. You may need to do this part in batches.
STEP #5: Remove chicken and set aside. Heat another tablespoon of oil in the wok and add in green and red bell pepper. Cook just until they start to soften. Add in peanuts and dried chilies.
STEP #6: Return the chicken to the pan and pour the sauce over the top. Continue cooking until the sauce has thickened and the chicken is cooked through.
STEP #7 Sprinkle with green onions and serve with rice.
The dried chilies are pretty spicy and biting into one can be a bit hot. You can remove them before serving, or if you've got a chile head in the house leave them in for them.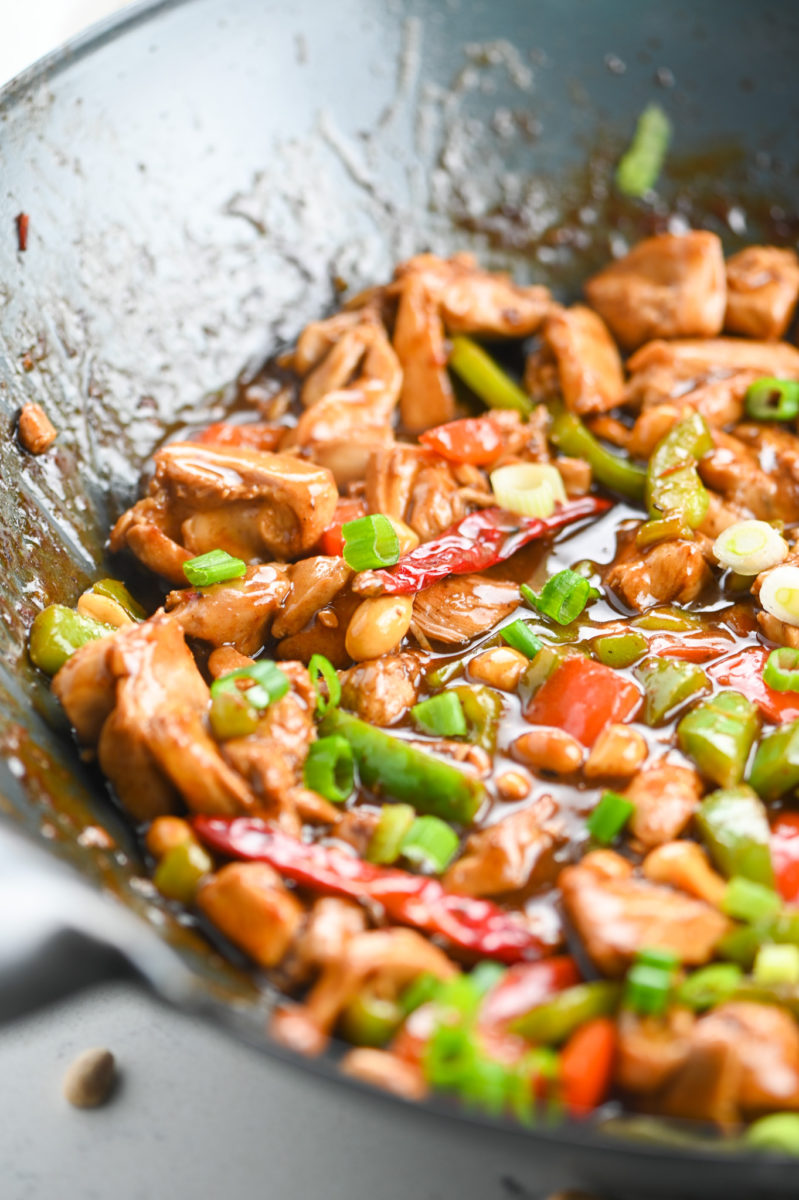 Storage and Leftovers:
This is really best eaten right after it is made, but it will also hold up a couple of days in the refrigerator. Just warm through.
Recipe FAQ:
What is the difference between Kung Pao Chicken and General Tso's Chicken?
General Tso's chicken is deep fried and coated in a sweet sauce. Kung Pao Chicken is stri-fried in a savory sauce that is a bit spicier and not as sweet.
What is the best substitute for Shaoxing wine?
If you can't find Shaoxing Wine, dry sherry will be the best substitute.
What is the best substitute for black vinegar?
If you cannot find black vinegar, you can substitute white rice vinegar or rice vinegar. I wouldn't use balsamic because, although they are the same color, balsamic can sometimes be a bit sweet.
Note: This recipe was originally published in 2009. It was updated with a new recipe, photos, nutrition information and step by step photos in 2023.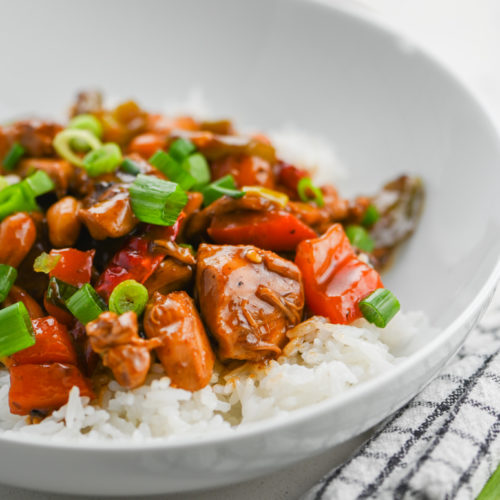 Kung Pao Chicken
Kung Pao Chicken is a spicy stir-fried chicken and vegetable recipe. The spicy sauce is made with chili sauce, boy sauce and black vinegar. 
Marinade Ingredients:
1

tablespoon

chili paste

1

tablespoon

Chinese black vinegar

2

teaspoons

soy sauce

2

teaspoons

sesame oil

1

tablespoon

shaoxing wine

1 1/2

pounds

boneless, skinless chicken thighs

trimmed and diced into bite-sized pieces
Kung-Pao Sauce Ingredients:
1/2

cup

low-sodium chicken broth

1

tablespoon

corn starch

2

tablespoons

soy sauce

1

tablespoon

Chinese black vinegar

1

tablespoon

shaoxing wine

1/4

teaspoon

ground ginger

1/2

teaspoon

garlic chili sauce

pinch

of granulated sugar
My family didn't find this version too spicy, but if you'd like to keep the spice down use 1 - 2 of the dried chilies. 
We prefer chicken thighs in this recipe, but you can also substitute boneless skinless chicken breasts. 
Nutrition information for estimation purposes only. 
Calories:
388
kcal
Carbohydrates:
10
g
Protein:
38
g
Fat:
21
g
Saturated Fat:
3
g
Polyunsaturated Fat:
6
g
Monounsaturated Fat:
10
g
Trans Fat:
1
g
Cholesterol:
162
mg
Sodium:
905
mg
Potassium:
695
mg
Fiber:
2
g
Sugar:
3
g
Vitamin A:
1250
IU
Vitamin C:
64
mg
Calcium:
39
mg
Iron:
2
mg
Keywords:
chicken, chili pepper, cornstarch, dried chili peppers, kung pao, peanuts, spicy