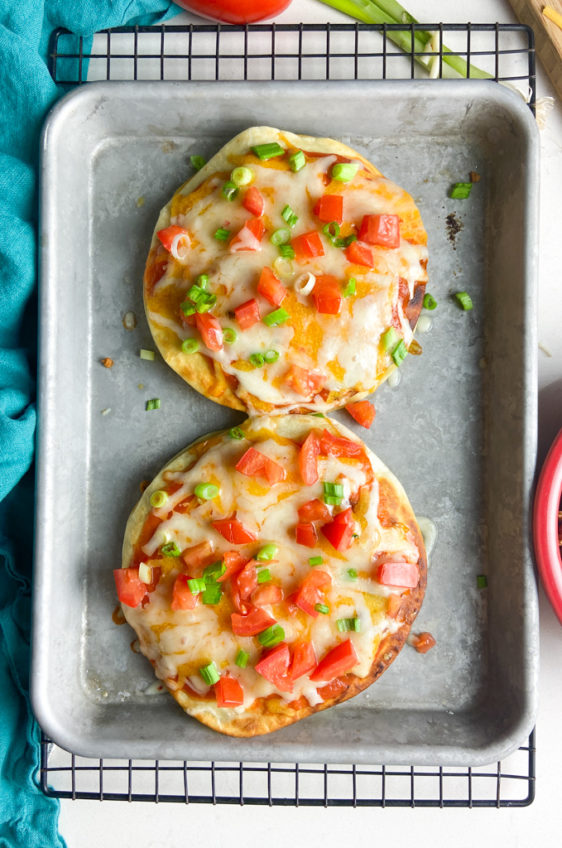 Mexican Pizza
With seasoned beef and refried beans sandwiched between crispy tortillas, topped with cheese, spicy tomato sauce, tomatoes and green onions, this Mexican Pizza is always a hit.
Were you as sad as I was in 2020 when Taco Bell decided to remove the Mexican Pizza from their menu??  Like seriously guys, as if the year wasn't lame enough Taco Bell had to get rid of their Mexican Pizza, WHY?!
But have no fear! I've got a solution to our discontinued menu item woes.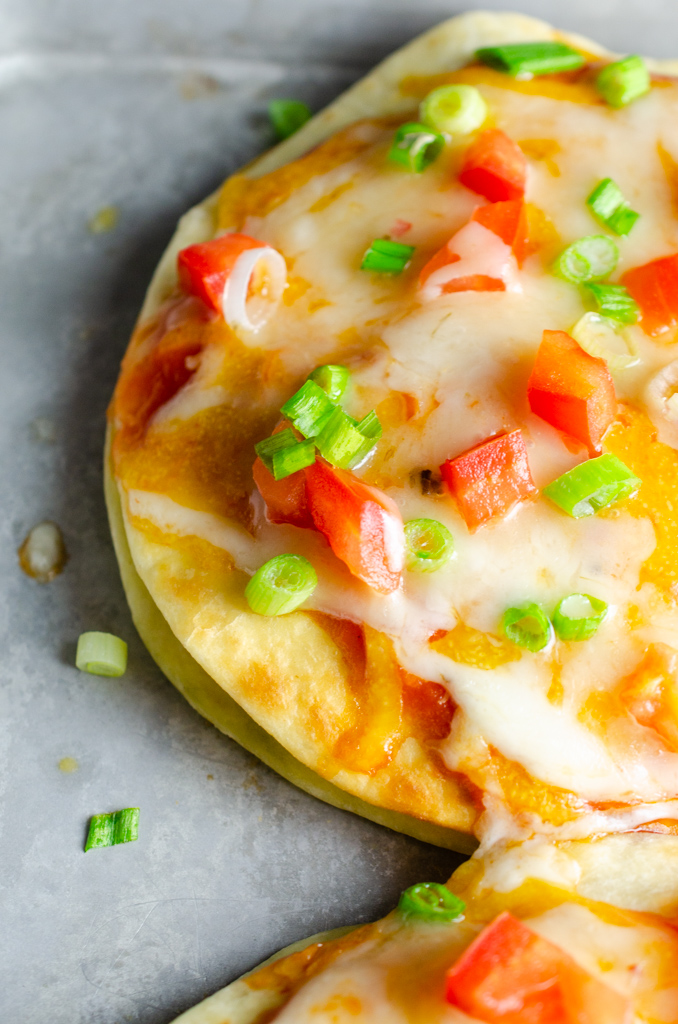 I have loved the Taco Bell Mexican Pizza since I was a kid and even craved it when pregnant with my first kiddo. It's this love for the  Mexican Pizza that prompted me to recreate it a few years back and share it on the blog.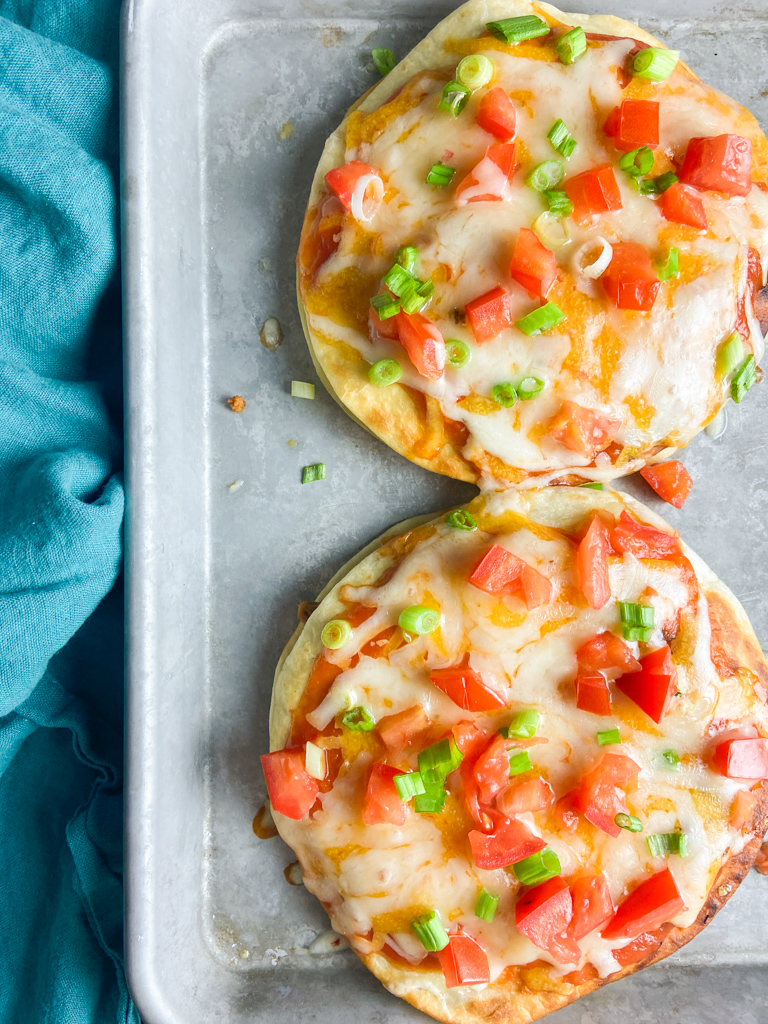 And now that Taco Bell took it off their menu, I thought it was time to make it again, take some new photos and share it with you! So if you've found  yourself missing it like me, keep reading!
What ingredients do you need?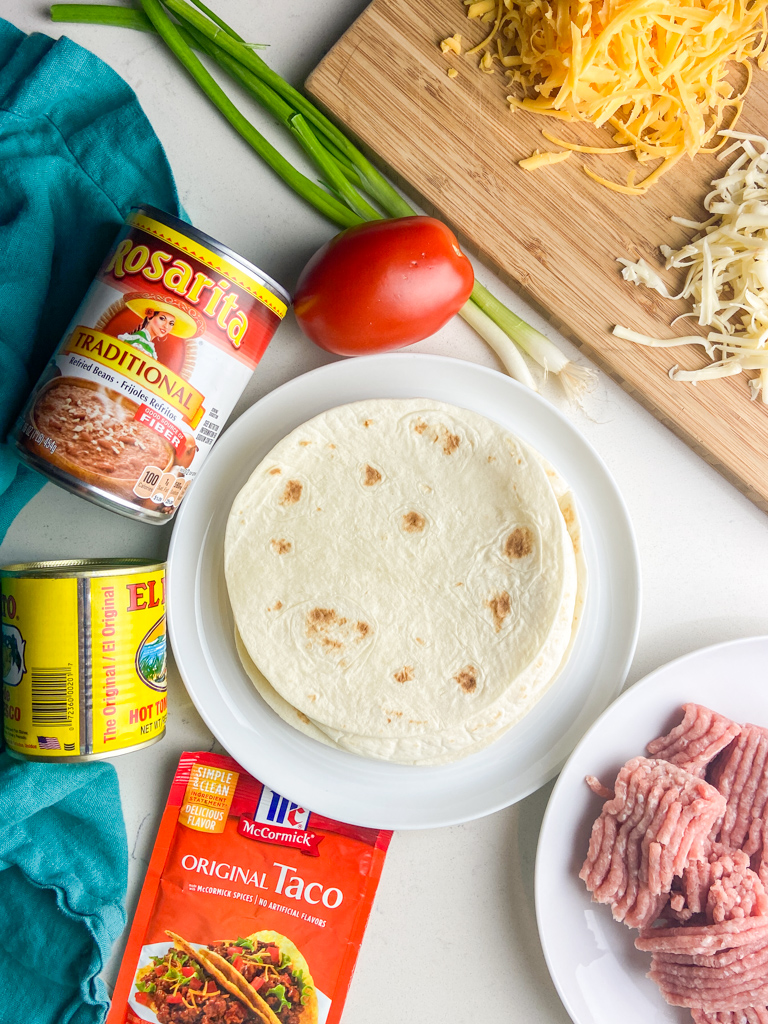 FLOUR TORTILLAS: You'll want the fajita size for this. They are usually 6 inches vs the 8  inches for tacos and 10 inch for burritos.
OIL: Just enough to coat the bottom of the pan to fry the tortilla.
GROUND BEEF OR TURKEY: Beef is traditional but you can use either or in this recipe. I've made it with both and  they worked great.
TACO SEASONING: Use your favorite blend!
MEXICAN STYLE TOMATO SAUCE: I use El Pato and usually find this in the hispanic aisle of the grocery store. It's a bit thinner and spicier than regular tomato sauce. You can substitute red enchilada sauce if you like.
REFRIED BEANS
CHEDDAR/JACK CHEESE: Shred this yourself! It melts better.
DICED TOMATO
GREEN ONION: Back in the good ol' days Taco Bell Mexican Pizza had green onions but somewhere along the way, like 5-ish years ago the green onions disappeared another questionable decision! ;) I think you should totes add them.
How to Make Mexican  Pizza: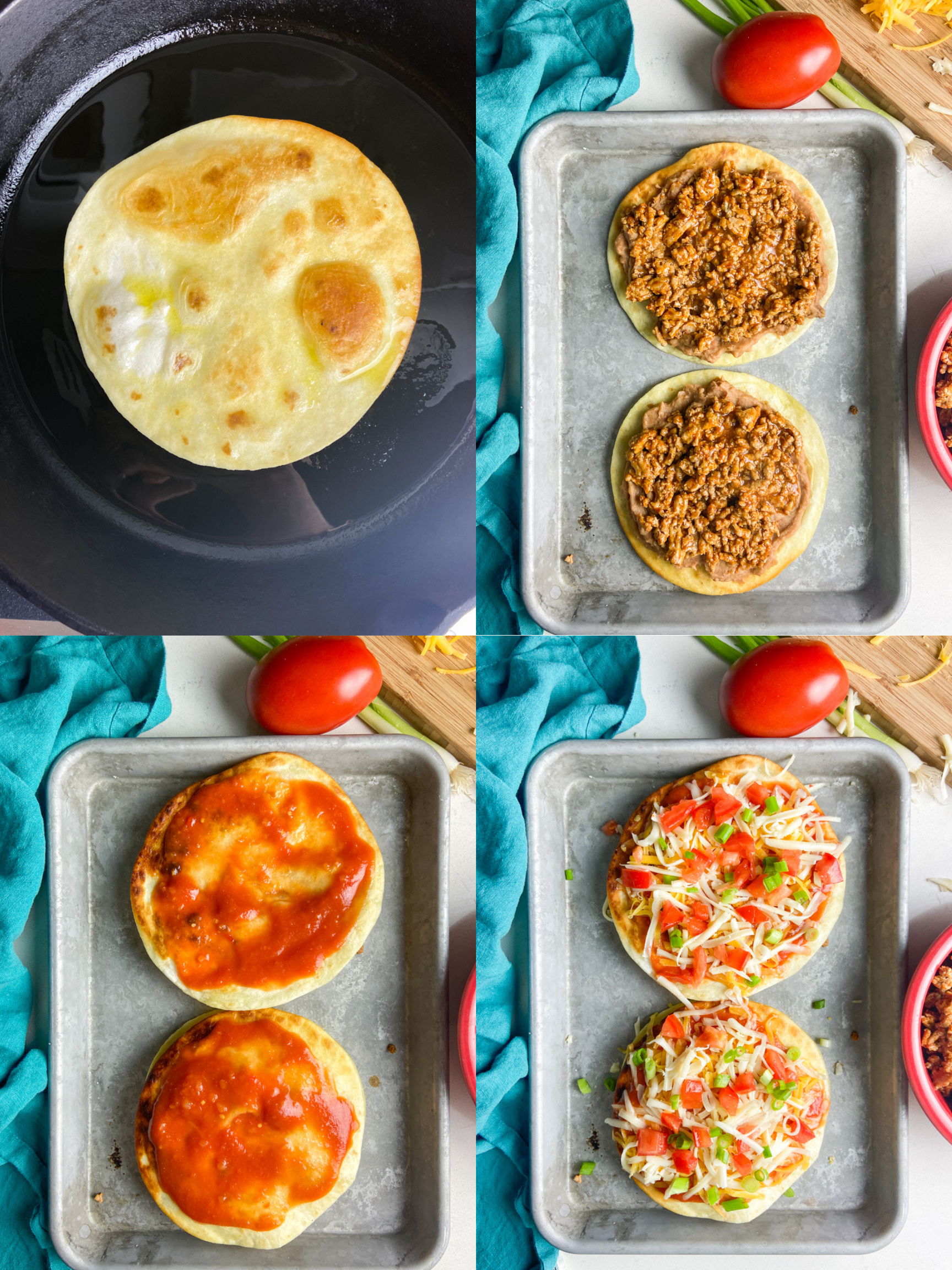 It's actually pretty easy, but let me walk you through it.
STEP #1: Brown the meat in a skillet and drain any excess fat. Add taco seasoning and water. Simmer 10 minutes.
STEP  #2: Warm the beans in one pot and the tomato sauce in another.
STEP #3: Place enough oil in the bottom of a skillet to coat it. Fry tortillas until golden brown, 1  – 2  minutes per side.
STEP #4 Assemble the pizzas: Place a tortilla on a baking sheet.  Spread a layer of refried beans over the top. Spoon meat mixture over the top. Top with another crispy tortilla shell. Spread tomato sauce on top. Sprinkle with cheeses, tomatoes and green onions. Place under the broiler and broil until the cheese melts, about 2 minutes. Serve.
This totally satisfied my craving for Taco Bell Mexican Pizza! So while the restaurant may have discontinued them, you can still satisfy yours!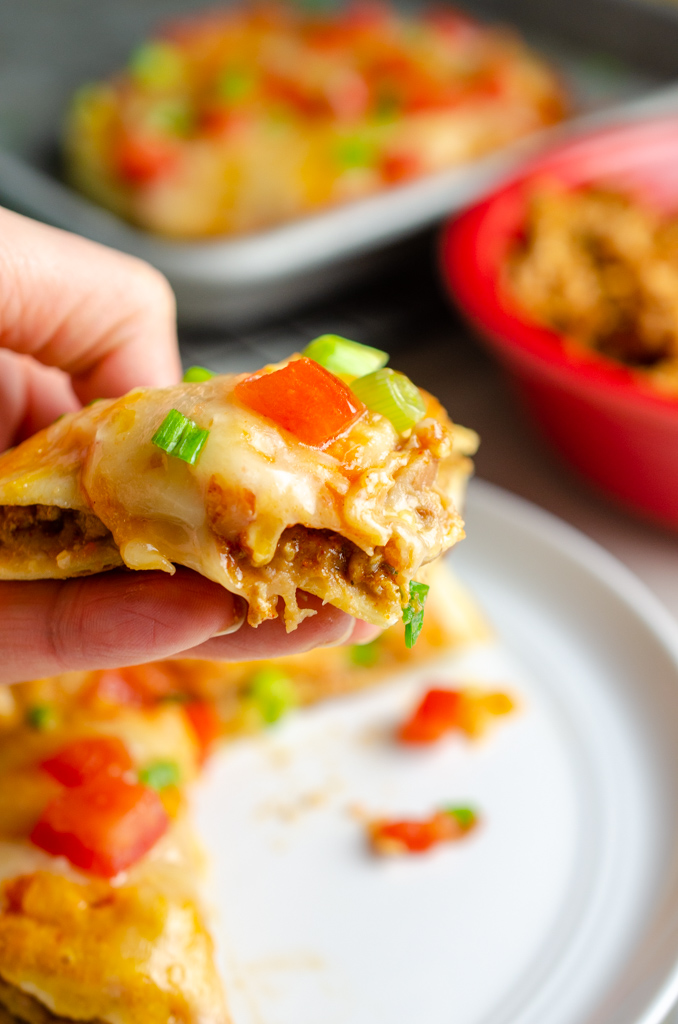 If you're looking for topping for a finishing touch, check out these!
Looking for more Mexican recipes?  Here are some of my most popular!
Shrimp Tacos with Cilantro Lime Sauce
Homemade Tortilla Chips Recipe
Note: this post was originally published 2010. It was updated with new step by step photos and nutrition information in 2021.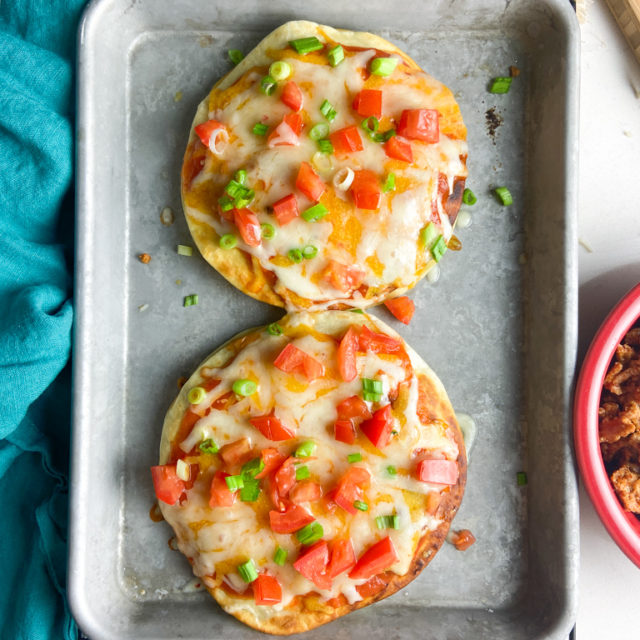 Mexican Pizza
Seasoned beef & beans sandwiched between crispy tortillas, topped with cheese, spicy tomato sauce, tomatoes & green onions make this Mexican Pizza a hit!
Ingredients:
1

pound

ground beef

you may substitute ground turkey if you like

2

tablespoons

taco seasoning

1/4

cup

water

1

7 3/4 ounce can Mexican style tomato sauce

1

14.5 ounce can refried beans

1/4

cup

canola oil for frying

8

fajita size flour tortillas

1

cup

shredded cheddar cheese

1

cup

shredded pepper jack cheese

2 to

matoes

seeded, diced

3

green onions

diced
Preheat oven on broiler setting.

In a skillet over medium heat, brown ground beef. Strain to remove any pan drippings. Return to pan and add taco seasoning and water. Reduce heat and simmer 10 minutes.

Meanwhile, heat your refried beans until they are warmed through. Also, in a separate pot heat your tomato sauce until it is warmed through.

Heat oil over medium-high heat. Fry one tortilla at a time until all are golden brown. About 2 minutes per-side.

Once the meat is brown, the beans and tomato sauce are warmed and the tortillas are fried, you can start assembling your pizzas. Starting with one crispy tortilla, layer refried beans and seasoned ground beef, then place another crispy tortilla on top. Next, spoon about 2 tablespoons of the Mexican tomato sauce on top, spreading it around with the back of your spoon. Sprinkle with cheddar and jack cheeses, diced tomatoes and green onions. Repeat until you've made four pizzas.Lay assembled pizzas on a cookie sheet, depending on the size of your cookie sheet you may need to do these in batches. Cook the pizzas under the broiler until the cheese melts, about 2 minutes.
Nutrition facts for estimation purposes only.
Calories:
780
kcal
Carbohydrates:
59.8
g
Protein:
55.6
g
Fat:
34.7
g
Saturated Fat:
11.4
g
Cholesterol:
145
mg
Sodium:
1869
mg
Fiber:
10.5
g
Sugar:
5.8
g
Keywords:
copycat recipe, mexican food, pizza, tacos