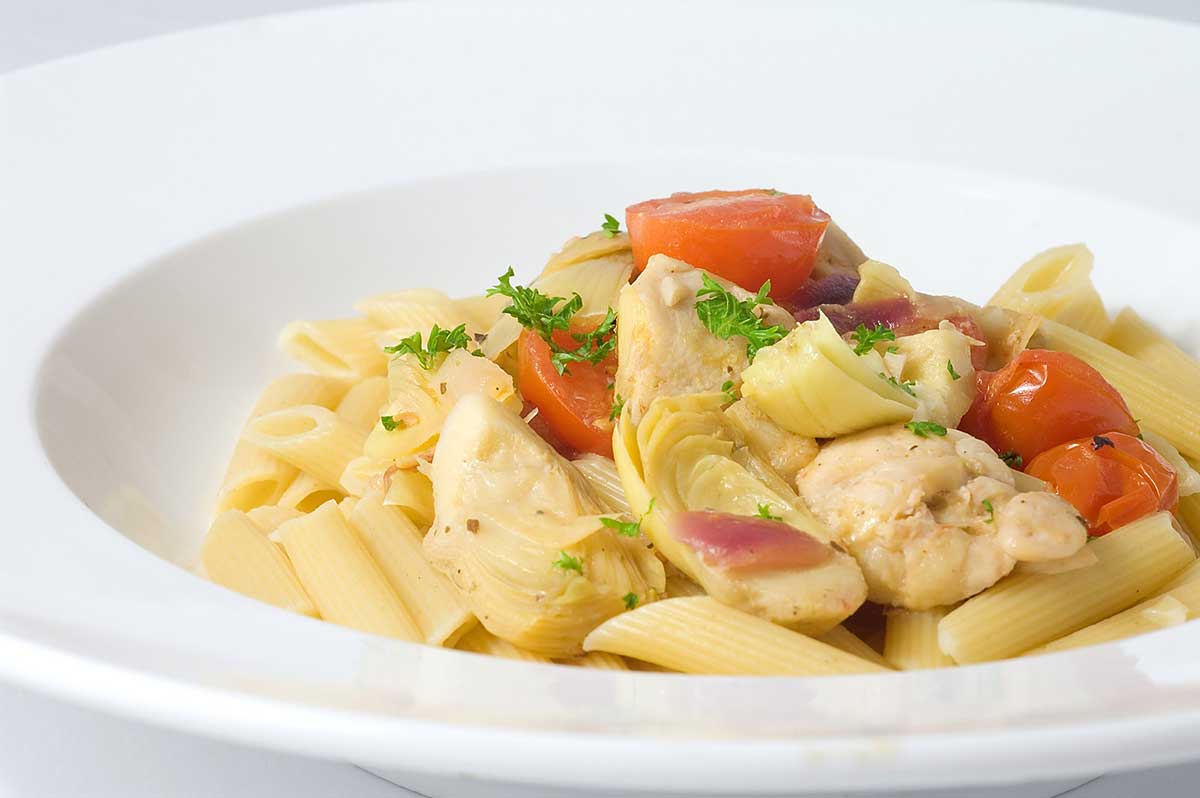 Chicken with Artichokes and Tomatoes
The closer that we get to summer and hopefully warmer weather, the more I begin to crave dishes that have fresh, bright flavors. I was inspired to create this dish while watching an episode of Ask Aida last week during which she made chicken with lemon and artichokes. Using that as a jumping off point, I decided to add cherry tomatoes and red onions before putting the whole thing over penne pasta.  It made a quick and delicious dinner.
While I am a big fan of boneless, skinless chicken thighs in dishes like my chicken curry, I wanted something a little lighter for this dish so I went with boneless, skinless breasts and the results were delicious. They browned up nicely and, unlike previous experiences with chicken breasts, they did not dry out.
Chicken with Artichokes and Tomatoes Recipe
Ingredients:
1 pound boneless skinless chicken breasts, cut into 1 inch pieces
1/2 teaspoon kosher salt
1/4 teaspoon fresh cracked black pepper
2 tablespoons olive oil
2 cloves garlic, minced
1/4 teaspoon dried oregano
1/2 red onion, diced
1 (14.5) ounce can quartered artichoke hearts
1/2 cup dry white wine (I used pinot grigio)
1 tablespoon lemon juice
1 cup halved cherry tomatoes
1/2 pound dried penne pasta
Instructions
1
Sprinkle diced chicken with salt and pepper. Toss to coat.

2
Start the water for your pasta.

3
Heat olive oil in a large skillet over medium heat. Add garlic, cook for 1 minute.

4
Stir in chicken, cook for 3-4 minutes or until the chicken starts to brown.

5
Stir in red onion, artichoke hearts, and dried oregano. Cook for 3 minutes or until onion starts to soften.

6
Meanwhile, if you haven't already, begin cooking your pasta. Cook according to package directions.

7
To the chicken pan, add wine to deglaze. Be sure to scrape up the bits that have stuck to the bottom, there is lots of flavor in there. Stir in lemon juice. Reduce heat and let simmer for 5 minutes.

8
Stir in cherry tomatoes, cook 1 minute.

9
Spoon mixture over pasta. Serve hot.
Notes
If you wanted to switch this up a bit, try substituting 1 pound of 31/40 count prawns for the chicken. To do this, skip step four so you cook the red onions and artichoke hearts before the shrimp. Add the shrimp to the pan just before you add the wine. Enjoy!