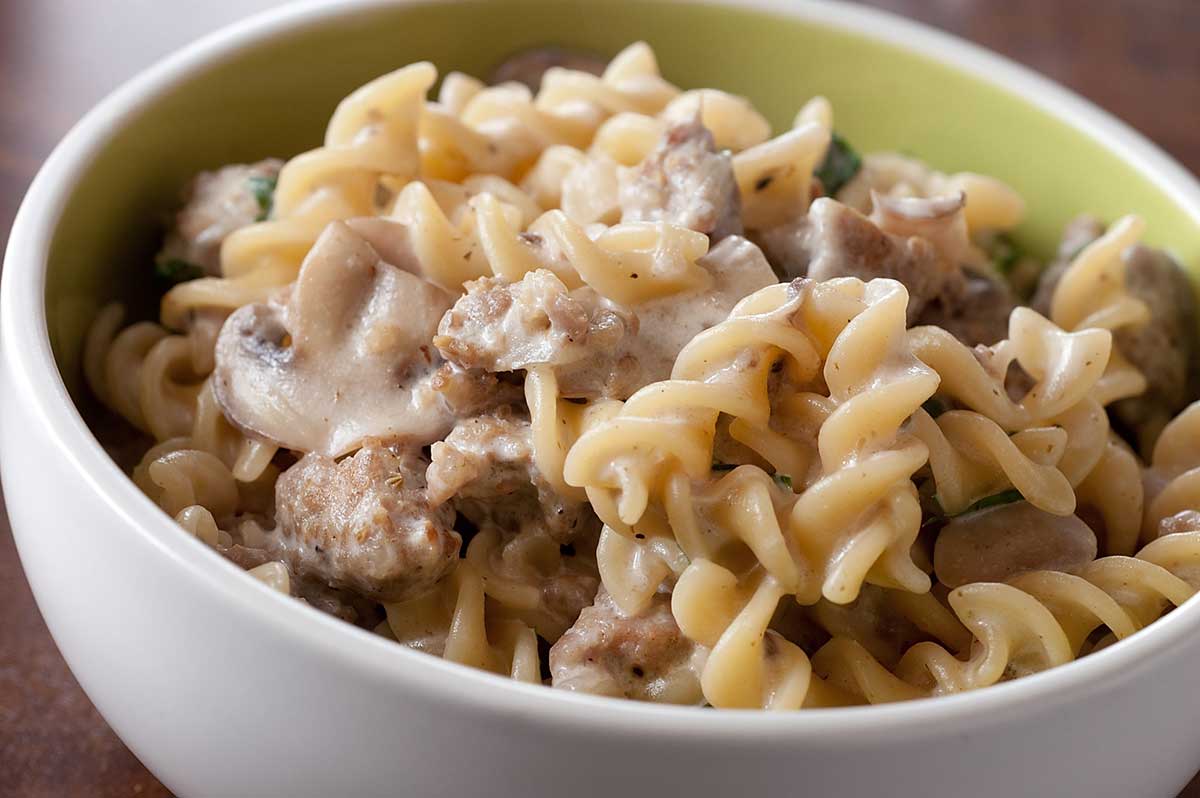 Creamy Mushroom and Sausage Pasta
Mushroom and sausage pasta is an easy weeknight dinner, but it tastes like you slaved over the recipe. It's creamy, rich, and pure comfort food.
You must make this mushroom and sausage pasta dinner. Like today. Maybe you could wait until tomorrow, but definitely do not wait much longer than that. I'm tellin' you, it is comfort in a bowl. How could it not be with Italian sausage, loads of Crimini mushrooms, half and half, sour cream and cream cheese?! Hey I said it was comfort in a bowl, not a diet in a bowl.
One of my many favorite things about fall is that it is mushroom season. I love anything and everything about mushrooms. Mushroom pilaf, mushroom quiche, stuffed portobello mushrooms. The list is long and lovely, just bring on the mushrooms, please.
Crimini mushrooms are my favorite because they can be used in many different things. They're like white button mushrooms, but they have an earthier flavor. For this reason, I chose to use them in the mushroom and sausage pasta.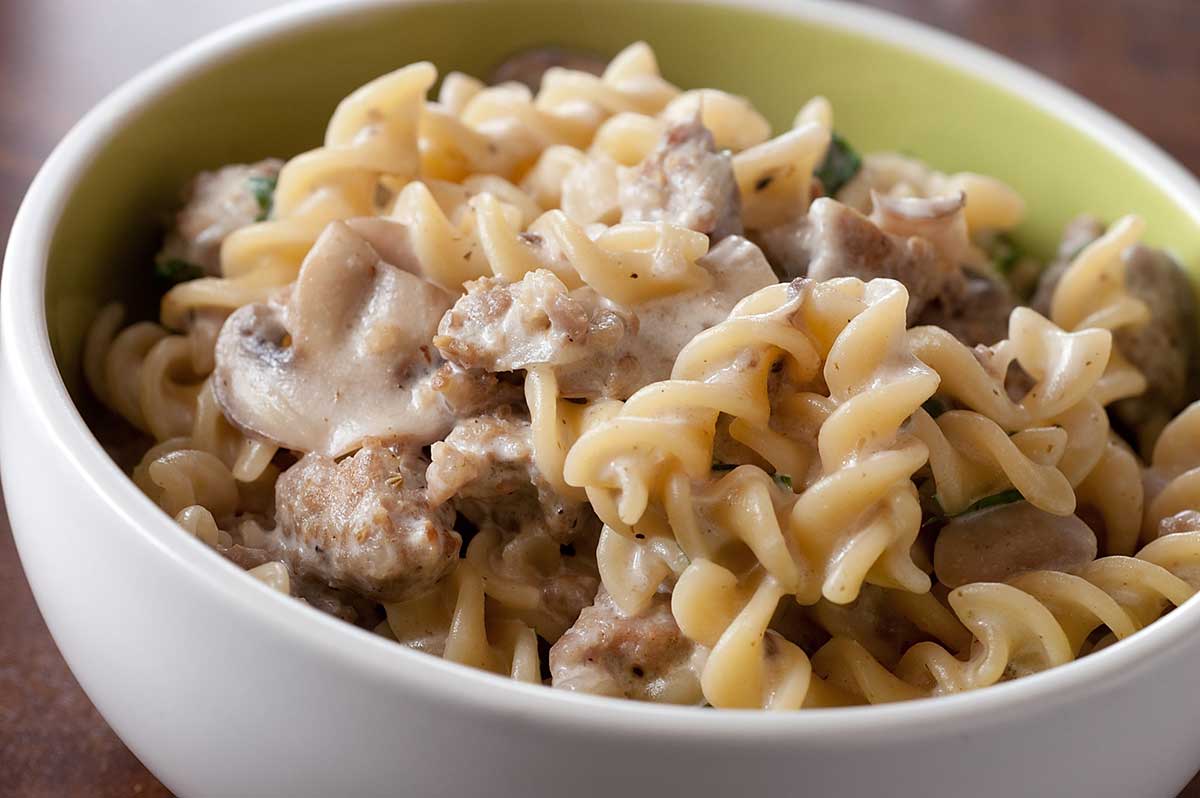 Speaking of pasta, I chose to use some fusilli, because it's what I had in the pantry. But you can use any kind of short pasta that you like. I think it would be good with penne, ziti or even elbow macaroni. Or you could just eat the sauce with a spoon. I don't judge.
After you make this creamy mushroom and sausage pasta (you WILL make it, right?), you might want to try these other recipes using crimini mushrooms:
Quinoa with Caramelized Crimini Mushrooms
Rice Pilaf with Crimini Mushrooms
Creamy Mushroom and Sausage Pasta Recipe
Ingredients:
1/2 pound dried pasta
13 ounces ground mild Italian sausage (about 4 links removed from casings)
2 tablespoons olive oil
3 cups sliced crimini mushrooms
1/4 cup diced shallots
2 cloves garlic, minced
1/4 cup white wine
1 cup mushroom broth
1/2 cup half and half
1/4 cup light sour cream
2 ounces cream cheese softened
1/4 cup fresh chopped parsley
salt and pepper
Instructions
1
Cook pasta according to package directions.

2
Meanwhile while pasta is cooking, brown Italian sausage in a pan over medium heat. Once browned transfer to a plate.

3
In the same pan that you cooked the sausage in add two tablespoons of olive oil and heat over medium heat. Stir in mushrooms, shallots and garlic. Cook 5 minutes or until mushrooms are softened and brown.

4
Pour in wine and mushroom broth allow to cook for 5 minutes. Scrape any brown bits that have stuck to the bottom of the pan. Return sausage to the pan.

5
Stir one tablespoon of the hot broth into the half and half to temper it.

6
Stir tempered half and half, sour cream and cream cheese into broth. Continue cooking until the cream cheese has melted and the sauce has thickened slightly, 5 -7 minutes.

7
Add the cooked pasta to the sauce. Stir to coat. Remove from heat and let stand 5 minutes. Stir once more and add chopped parsley. Season to taste with salt and pepper. Serve.