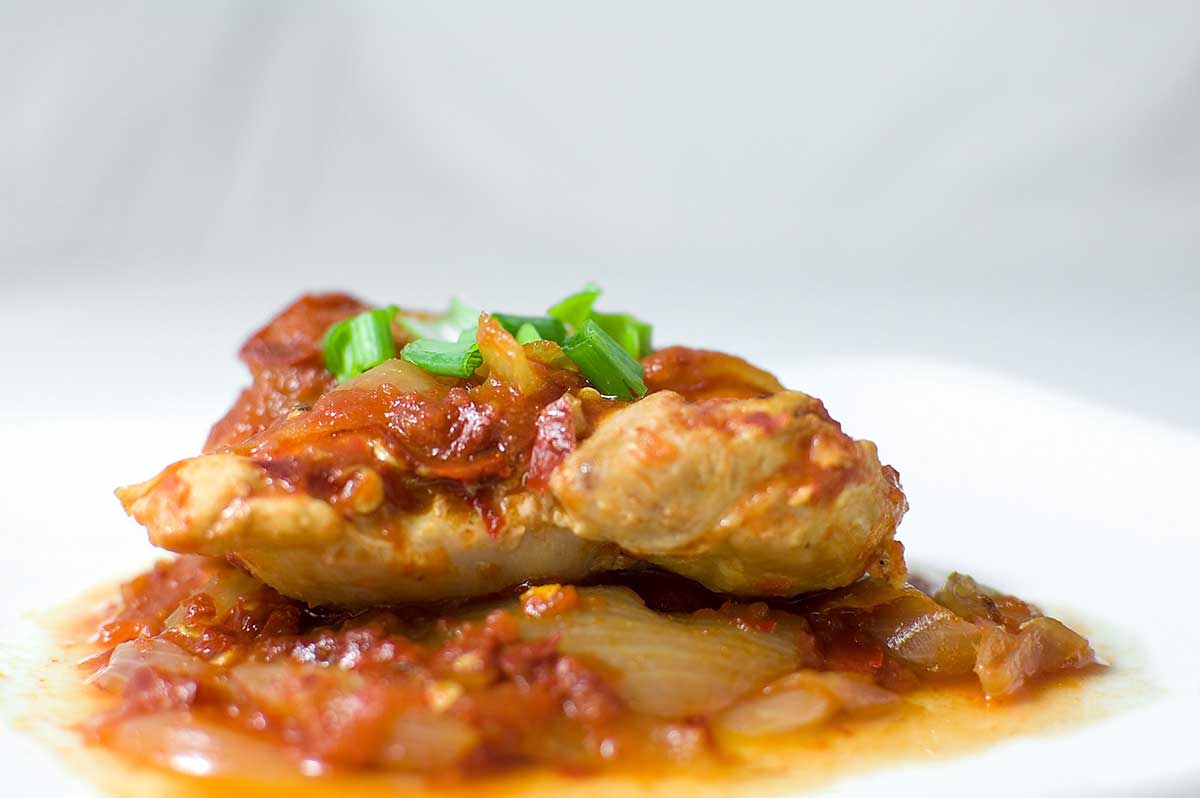 Chili Pepper Chicken
Ahh chicken. There is so much you can do with it, yet from time to time it starts to get a little monotonous. So the other day when I was trying to figure out what to do with some chicken thighs that I had, I decided to make something I'd never made before, and it turned out pretty darn good. First I blended Mexican style stewed tomatoes with dried California chili pods to make a smokey  tomato sauce. Next I sauteed onions until they were sweet and caramelized. Finally I placed tender chicken thighs on top of the onions, poured the tomato sauce over the top and baked it in the oven. Delicious!
The peppers that I used in this recipe are more smokey than spicy, so no need to really worry about the spice factor.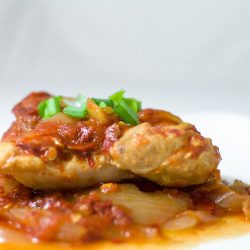 Chili Pepper Chicken
Chicken and caramelized onions in a smoky pepper tomato sauce.
Ingredients:
4

dried California chili pods

I found them in the Hispanic food section at my grocery store

2

cups

water

1

14.5 ounce can Mexican style stewed tomatoes

1

tablespoon

olive oil

1

onion

sliced

1/2

teaspoon

dried oregano

salt and pepper as needed

1

pound

boneless

skinless chicken thighs
Place chili pods in a bowl, pour water over the top. Let soak for 30-45 minutes or until they soften slightly.

While your chili pods are soaking, in a dutch oven, heat olive oil over medium heat. Cook onions over medium heat until they begin to caramelize, about 25 minutes.They will be slightly brown.

Once chili pods have softened, chop peppers, remove stems. Place peppers and stewed tomatoes in a food processor. Pulse until blended. The sauce will be a bit chunky. Add dried oregano and salt and pepper to taste.

Preheat oven to 350 degrees.

Season chicken thighs with salt and pepper and place them on top of caramelized onions in the Dutch oven. Pour tomato/chili mixture over the top. Bake for 25-30 minutes or until chicken is cooked through.
I served this with some corn and rice and it was the perfect weeknight meal. To take your rice to the next level, try using some of the water that you soaked the chilies in. It added a really nice flavor. Enjoy!
Keywords:
chicken, Chicken thighs, dried chili peppers, mexican cusine, stewed tomatoes