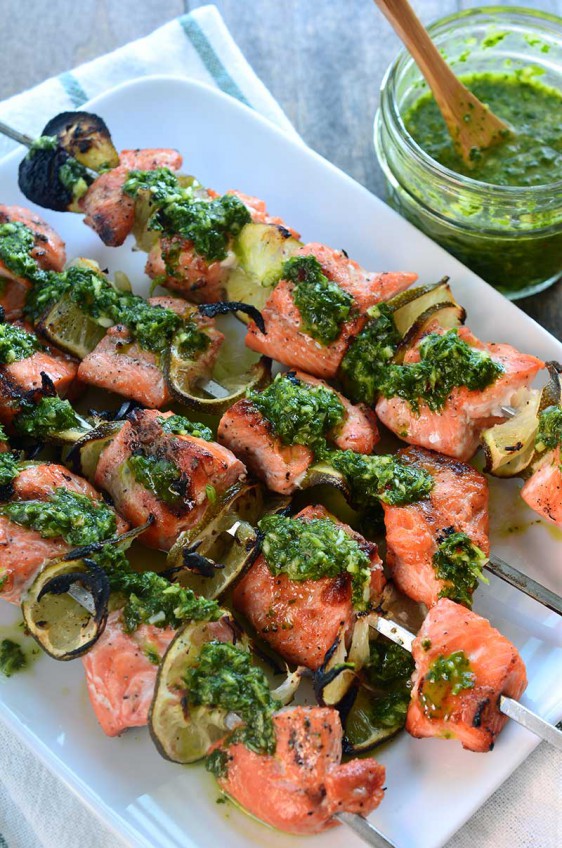 Chimichurri Salmon Skewers
Disclosure: Alaska Seafood provided the salmon for this chimichurri salmon skewers post. All opinions are my own.
Chimichurri Salmon Skewers are simple salmon perfection. Salmon pieces and lime grilled, then drizzled with fresh chimichurri sauce. They are quick and easy to make, loaded with flavor and practically scream summer. If you've got a BBQ coming up or are just looking for a light summer meal, this easy salmon recipe is for you!
Growing up in the PNW meant that salmon was always a staple in the kitchen. When I moved to Seattle, it became even more prominent. Especially during salmon season. People go crazy for the stuff here. I kid you not, there is a news crew at the airport to see the first Copper River Salmon come off the plane.
Salmon in the PNW is a BIG deal. Not just any salmon though, wild Alaskan salmon. It is some of the most flavorful salmon you'll ever eat and it is what I used to make these scrumptious Chimichurri Salmon Skewers.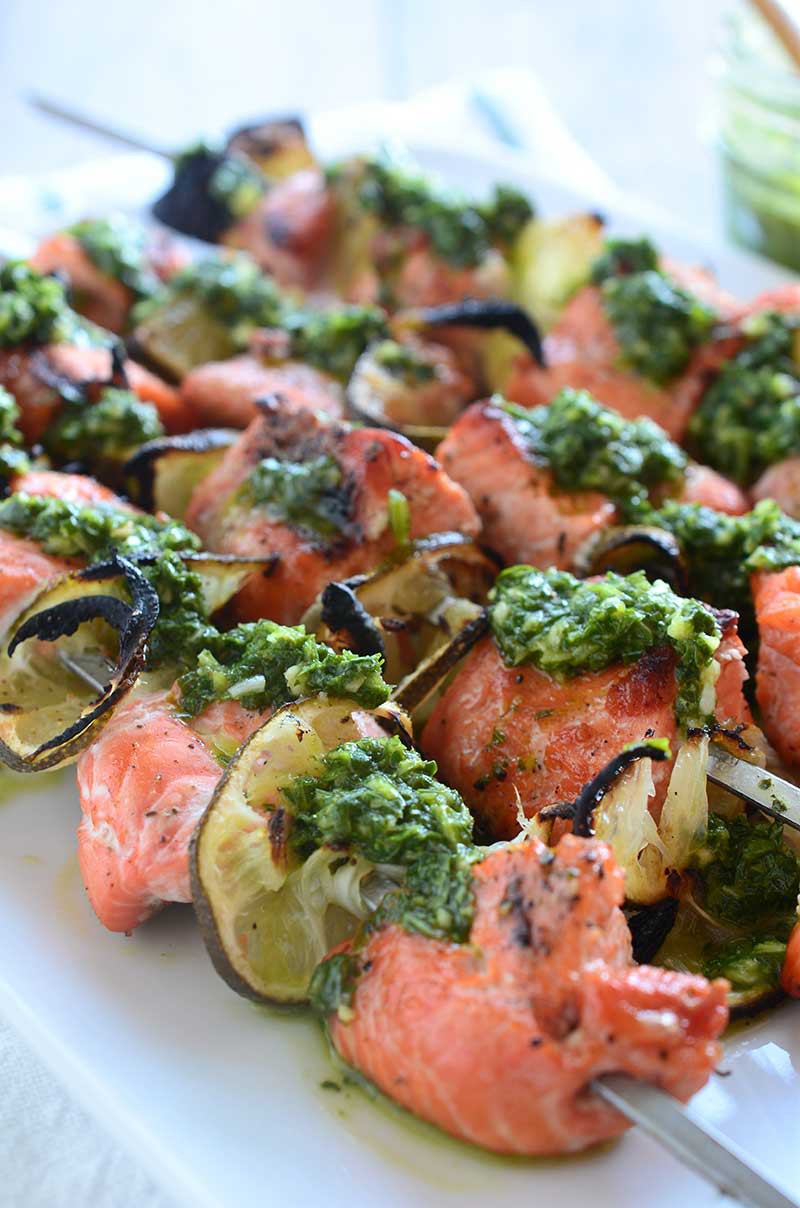 There are so many ways to enjoy salmon. It is great in a pasta or baked with caper butter. If you like smoked salmon, this salad is perfection. And if you are looking to break out the grill this summer, then these Chimichurri Salmon Skewers are exactly what you are looking for.
There is not much to these Chimichurri Salmon Skewers. They are crazy easy to make but so flavorful!
After seeing these gorgeous salmon skewers that Gaby made, I decided to skewer some lime with the salmon. I think it worked perfectly with the chimichurri. Just make sure that you cut the lime really thin so that it is easy to skewer. A mandoline slicer works great for this!
Note: I recently decided to buy myself some metal skewers. I did this because I would always forget to soak the bamboo skewers beforehand. If all you have is bamboo skewers, make sure you soak them for at least an hour to prevent them from burning.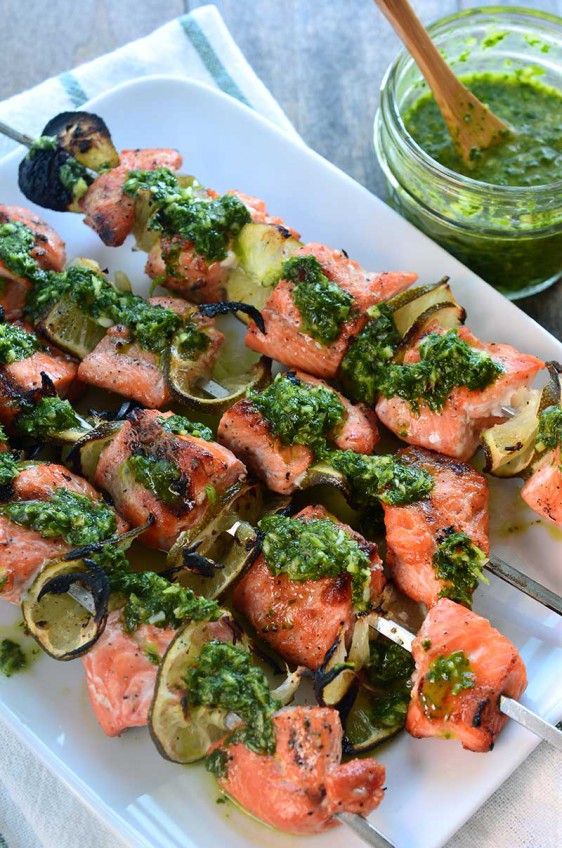 Chimichurri Salmon Skewers
Celebrate salmon season with these quick, easy and oh so flavorful Chimichurri Salmon Skewers. This easy salmon recipe is made with wild Alaskan salmon.
Make the chimichurri sauce first. Place cilantro, parsley, kosher salt, cumin, red wine vinegar and crushed red pepper in a food processor. Pulse the food processor and slowly add in the olive oil until the mixture emulsifies, about 1 minute. Let set at room temperature until ready to use.

Season the salmon liberally with salt and pepper.

To assemble skewers, thread one piece of salmon followed by one lime slice. 5 - 6 salmon pieces per skewer. Repeat until all salmon is skewered.

Preheat a grill over medium high heat. Spray grill with non-stick spray.

Grill salmon 2 - 3 minutes per side or until cooked through.

Remove skewers from grill, drizzle with chimichurri and serve.

You will likely have left over chimichurri, keep leftovers refrigerated and pour over grilled steaks and chicken.
Keywords:
bbq, chimichurri, grill, salmon, skewer