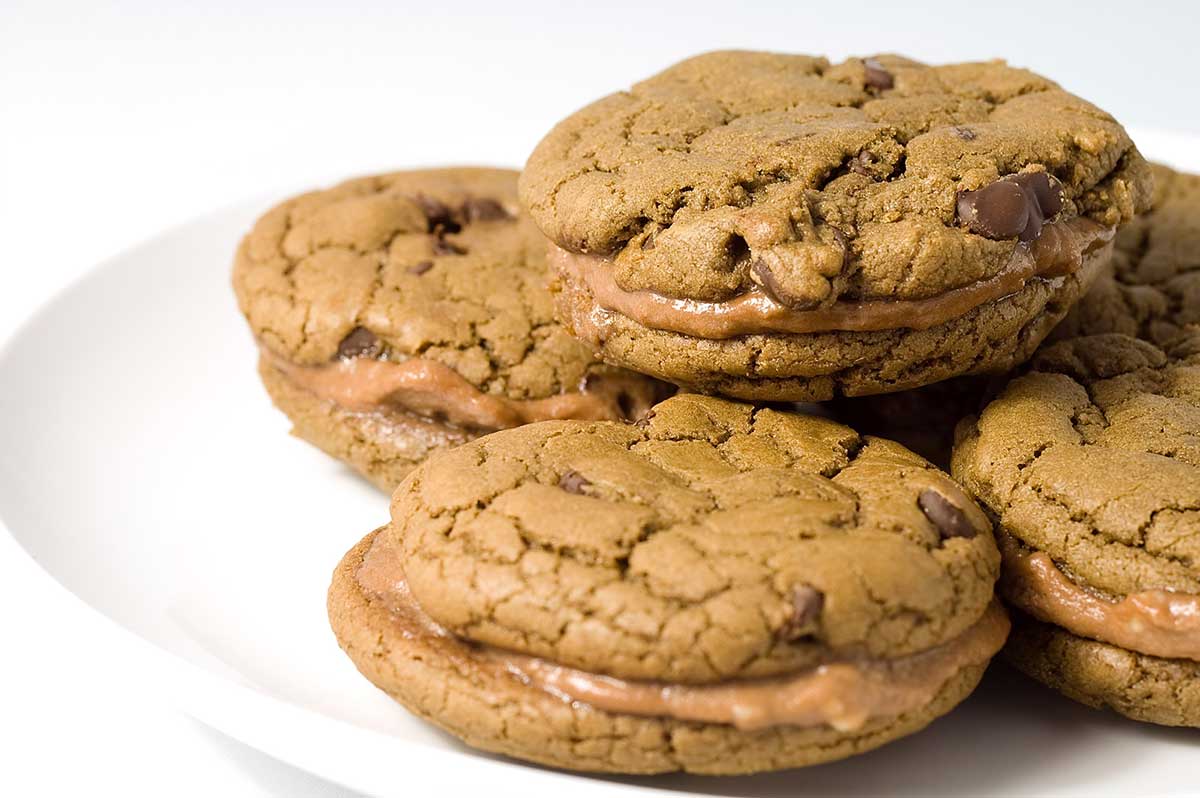 Chocolate Chocolate Chip and Nutella Cream Sandwich Cookies
I realize that it is the middle of bikini season and many of us are trying to avoid temptations from evil sweets but I just could not resist sharing this recipe. To be nice, I won't try to tempt you by going into detail about the semi-sweet chocolate chips and dark chocolate that I add to the cookies or the layer of fluffy Nutella cream sandwiched between two of said cookies.  I'll just tell you that these are some of the richest, most scrumptious chocolate cookies ever.  I know what your thinking, but I'm not really evil, I promise.
There is no reason or story behind why I decided to make these cookies. I was simply craving chocolate (again) and Nutella and wanted to create a dessert that combined the two. It had been awhile since I made some cookies so those seemed like the best choice, and they were.
Chocolate Chocolate Chip and Nutella Cream Sandwich Cookies Recipe
Ingredients:
5 ounces bittersweet chocolate
2 1/4 cups flour
1 teaspoon baking soda
1/2 teaspoon salt
1 cup packed brown sugar
1/4 cup granulated sugar
1/2 cup (1 stick) unsalted butter melted, cooled
1 teaspoon vanilla extract
2 eggs
1 cup semi-sweet chocolate chips
Nutella Cream
3/4 cup chilled heavy cream

1/4 cup mascarpone cheese

2 teaspoons granulated sugar

1/4 cup Nutella
Instructions
1
Preheat oven to 325 degrees. Line a cookie sheet with parchment paper set aside.

2
Melt chocolate in a saucepan over the lowest heat possible. Stir continuously until all chocolate is melted. Remove from heat and cool completely.

3
Sift together flour, baking soda and salt. Set aside.

4
In a large bowl beat butter, brown sugar and granulated sugar until creamy. Beat in vanilla. Beat in eggs one at a time. Beat in melted chocolate.

5
Slowly mix in dry ingredients. Batter will be thick.

6
Fold in chocolate chips. (Note: At this point, if dough seems too soft to work with, you can refrigerate for 30 minutes)

7
Drop rounded tablespoonfuls of dough onto prepared cookie sheet, taking care to make sure they are all the same size. Press down to flatten slightly.

8
Cook 8-10 minutes or just until set. Remove from oven. Allow to cool on cookie sheet for 2 minutes. Remove to cooling rack to cool completely.

9
To make the cream, whip cream, mascara and sugar in a bowl until peaks form. Gently fold in Nutella. Mixture will be light and fluffy.

10
Keep refrigerated until ready to use.

11
To assemble, with the bottom of a cookie facing up, spread a thin layer of Nutella cream on the flat side of one cookie. Place another cookie on top. Repeat with remaining cookies and cream.

12
Serve. Keep uneaten cookies refrigerated to keep cream from melting.
Notes
Note: Be sure to keep the Nutella cream cool. I have found that if this mixture gets too warm it loses its fluffiness. When that happens, I just pop it in the refrigerator for a little while, then whisk it and its ready to use.Enjoy!