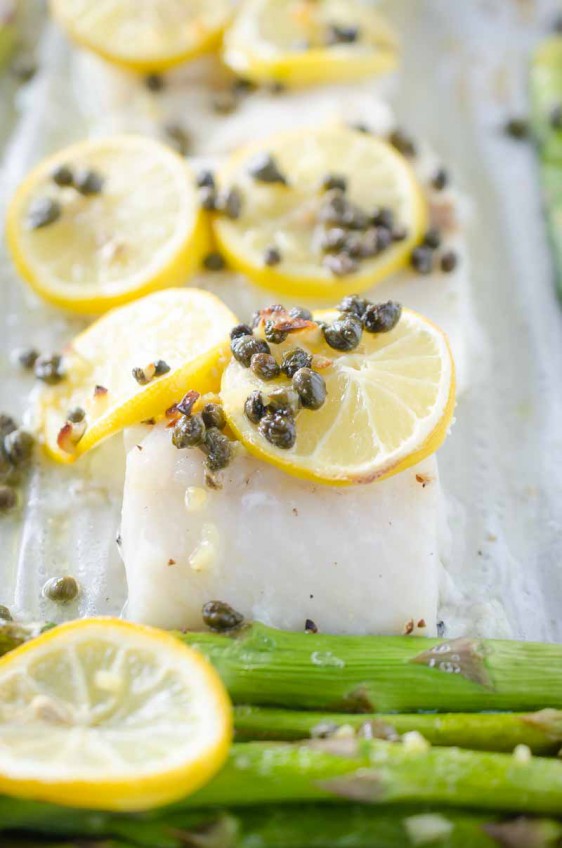 Cod and Asparagus Sheet Pan Dinner
This Cod and Asparagus Sheet Pan Dinner topped with lemons and caper butter just screams easy spring meal!
As someone who spends a lot of her day reading blogs, scrolling through Instagram and pinning on Pinterest, I see lots of trends in the food world. One that I have noticed over the last year or so is sheet pan dinners. I have been seeing sheet pan dinners everywhere, so I figured it was about time that I made one. They seemed pretty easy after all.
I decided that my first foray into the sheet pan dinner world would be something light, bright and perfect for spring. Enter this Cod and Asparagus Sheet Pan Dinner.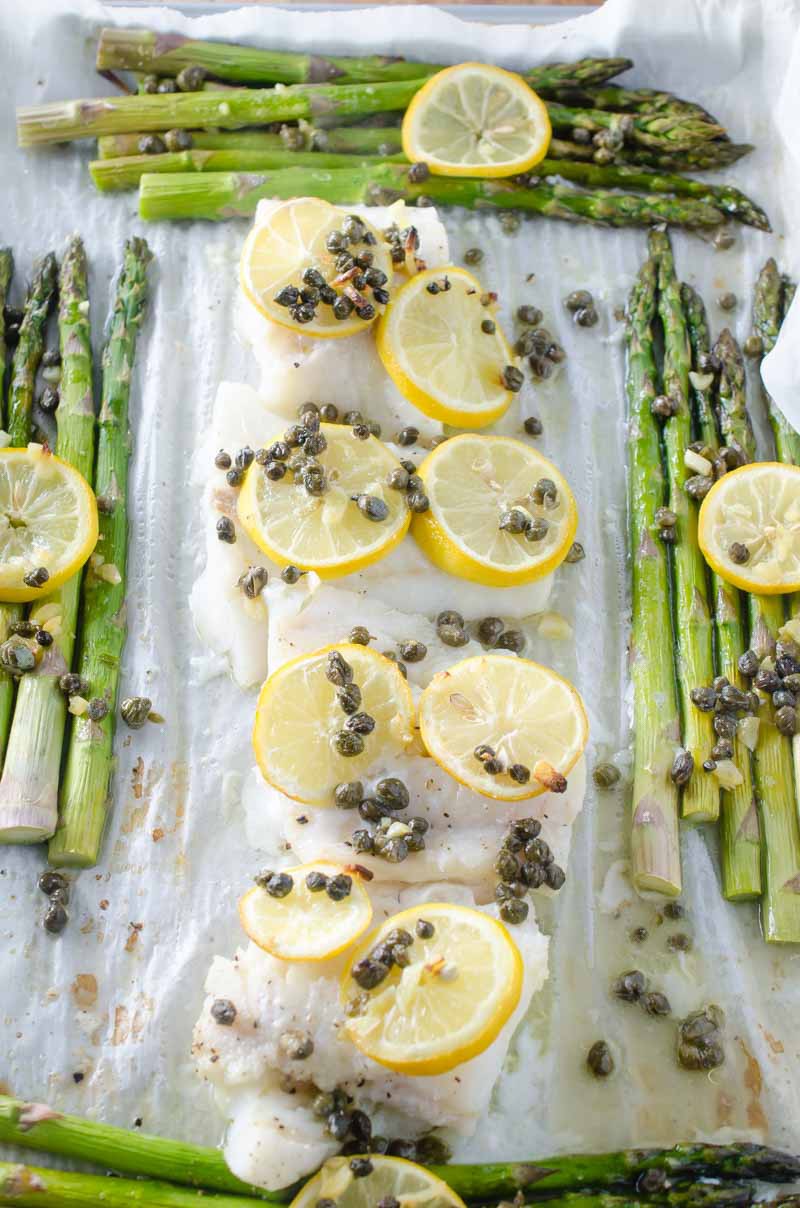 I decided to use asparagus because asparagus is, by far, my favorite spring vegetable. Starting in late February I start scouring the grocery store waiting for it to finally drop from $5 a pound. Then when it does, I pounce! I love it in salads and sautéed but it doesn't get much better than roasted. Unless of course, you are topping the roasted asparagus with lemons and caper butter.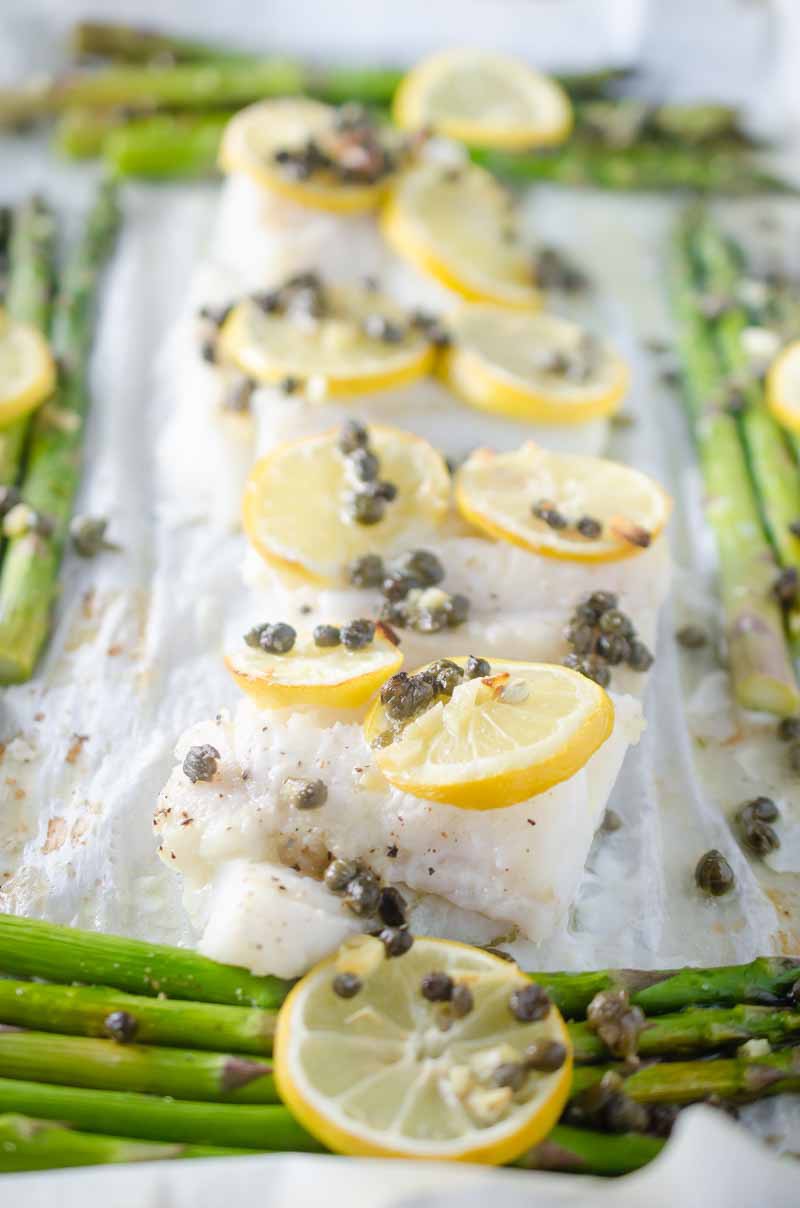 Although honestly, you could probably top a leather shoe with lemons and caper butter and I would eat it. I am obsessed!
Aside from asparagus, I decided to go with a light white fish. I could've gone with salmon since I live in the Pacific Northwest, but truth be told, if I had to pick a favorite fish it would be cod. I love that the flavor isn't too over powering and I love the flakiness of a perfectly baked piece of cod.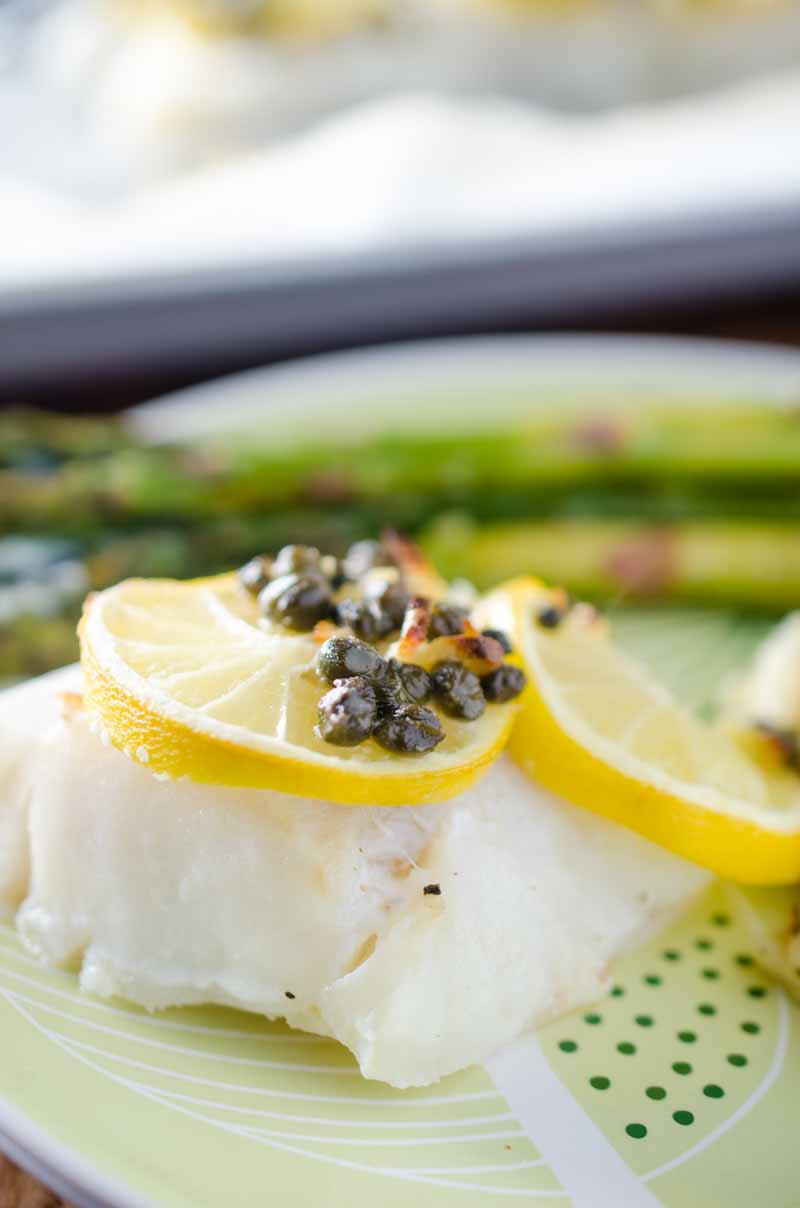 My boys love it too. In fact, my kiddos ate their first helping and then asked for more of this Cod and Asparagus Sheet Pan Dinner. I can't say I blame them though. It is pretty delicious.
If you, like my family, cannot get enough of capers you'll also want to check out my chicken piccata recipe. It's easy and also perfect for weeknights!

Cod and Asparagus Sheet Pan Dinner Recipe
Ingredients:
4 tablespoons unsalted butter
3 tablespoons non-pareil capers
4 cloves garlic, minced
4 - 5 cod fillets
1 pound asparagus trimmed
1 - 2 lemons sliced
salt and pepper
Instructions
1
Preheat oven to 425 degrees. Line a rimmed baking sheet with parchment paper.

2
Melt butter in a pan over medium-low heat. Add garlic and capers. Cook just until the garlic is fragrant, 30 seconds - 1 minute.

3
Place cod in the center of the prepared baking sheet. Place asparagus in bunches around the cod. Sprinkle with salt and pepper. Lay a lemon slice or two on top of each cod fillet and asparagus bunch.

4
Drizzle half of the caper butter over the top of the cod and asparagus. Bake in preheated oven for 15 minutes or until fish flakes easily and is cooked through.

5
Remove from oven and drizzle remaining butter over the fish and asparagus. Serve.