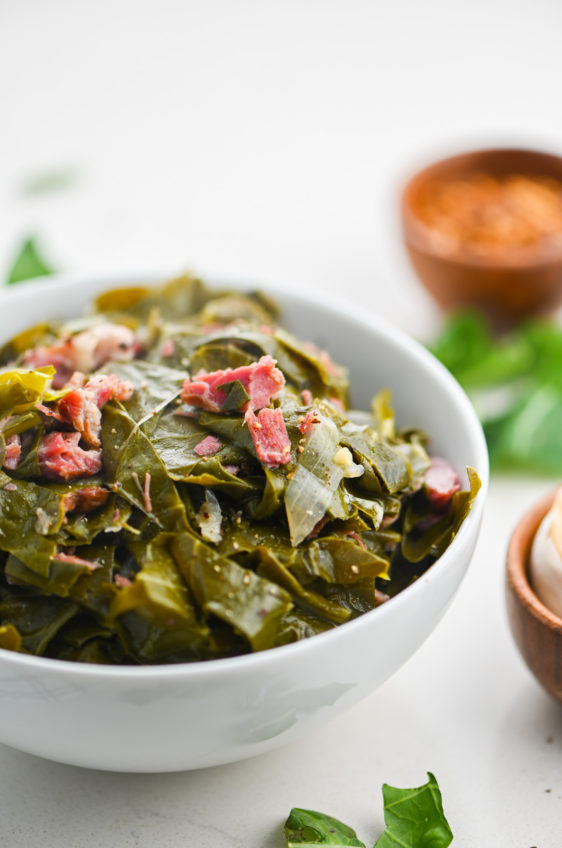 Collard Greens
Jump to Recipe
Collard Greens with Ham Hock are a southern classic! These slow cooked greens are full of flavor and perfect for Sunday dinner.
I'm not southern and have no southern roots, but boy do I enjoy southern food. Whether it's Fried Chicken, Southern Style Green Beans or my personal favorite, fried green tomatoes, Southern American food is one of my favorite cuisines. Perhaps it's because each southern recipe I try just screams comfort.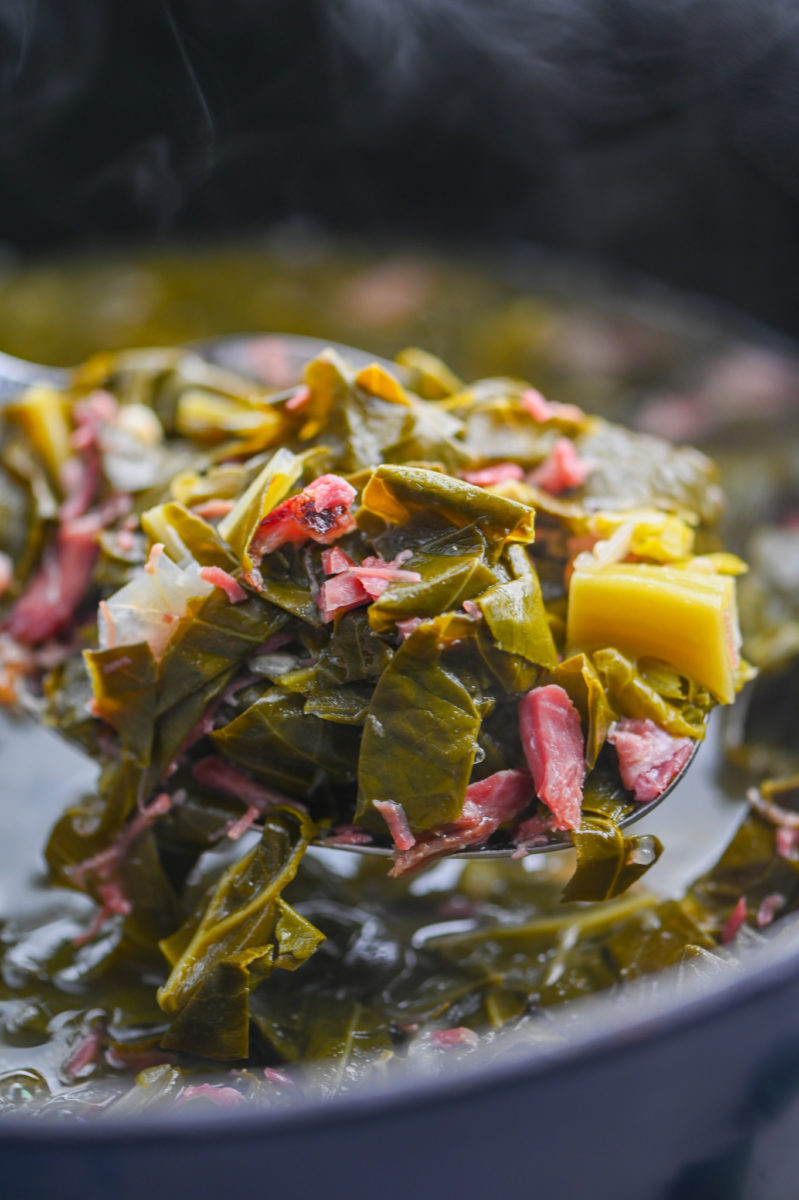 Take these Collard Greens for instance, they might not be the first thing that you reach for in the grocery store. But give them the Southern treatment by cooking them low and slow with ham hocks and they'll be a new favorite.
Let's talk about everything that you'll need to make them.
Ingredients you'll need: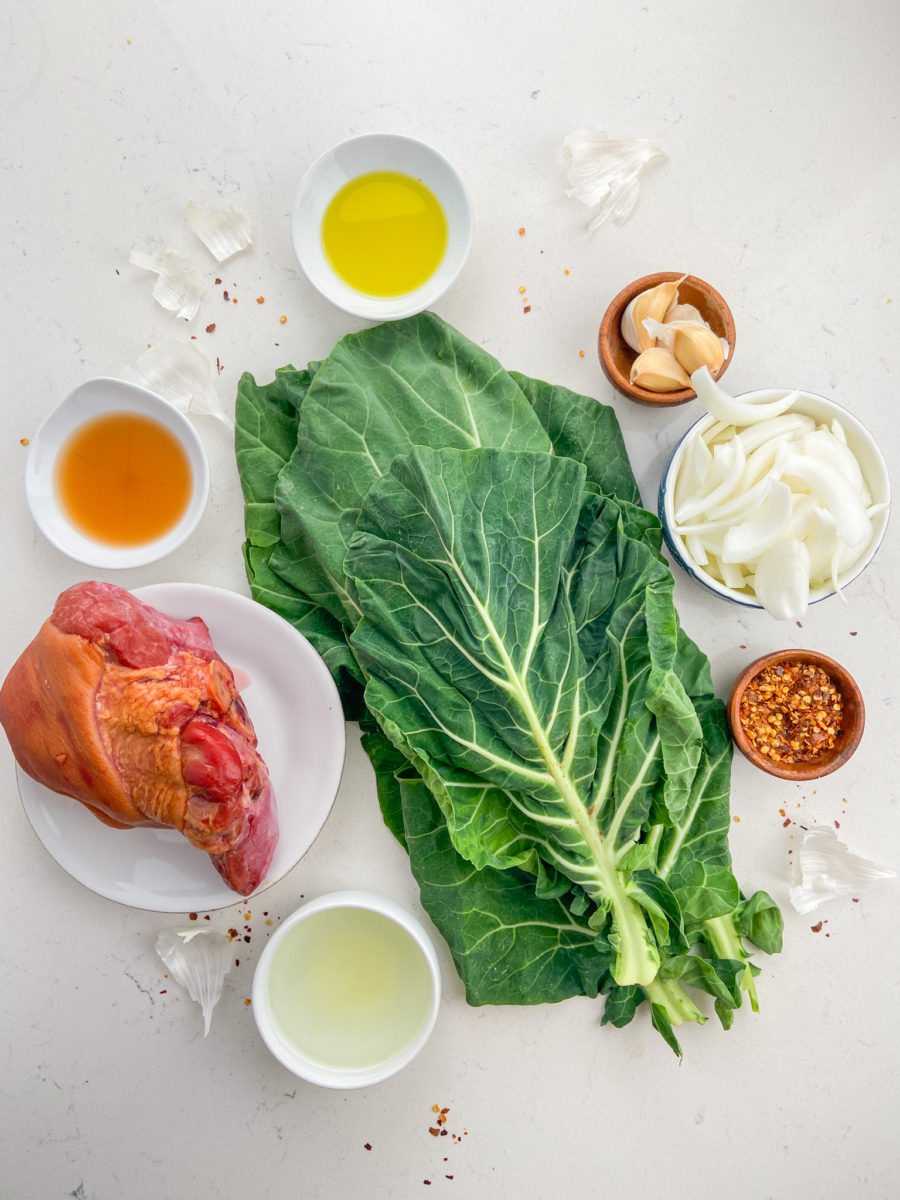 COLLARD GREENS: Collards are a member of the cabbage family and a southern staple. Did you know that Collard Greens are among one of the most nutritious foods you can eat? They are right up there with kale. Loaded with vitamins A, C and K. They also have tons of fiber and calcium.
OLIVE OIL: To sauté the onions
ONIONS: Yellow onion works perfect in this recipe.
GARLIC: 4 to 6 cloves
CRUSHED RED PEPPER: these are optional but they do add a nice touch of heat.
CHICKEN STOCK: Some recipes call for water but chicken stock adds a ton more flavor in my opinion.
HAM HOCK: Ham hock plays two roles in collard greens. First you'll cook the ham hock in the broth which will give it a smoky flavor. Finally, you'll chop the ham hock after cooking and put it into the greens to add some hearty meatiness to the dish.
APPLE CIDER VINEGAR: This will help cut the bitterness of the greens.
Step by step photos and instructions:
The key to making the ultimate Collard Greens is to cook them low and slow. That means that this recipe does take some time, about 3 hours but it's not really super labor intensive.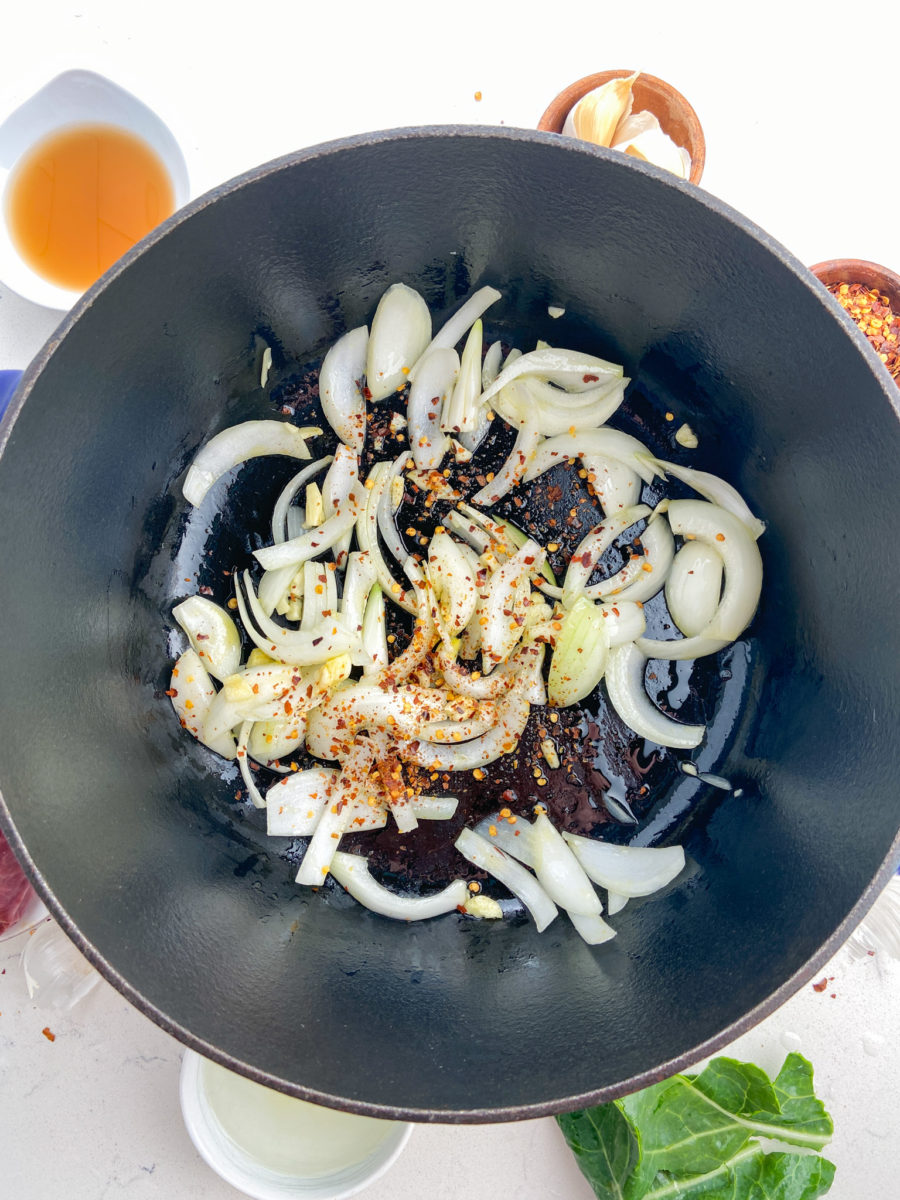 STEP #1: Heat olive oil in a large pot over medium heat. Add in onions, garlic and crushed red pepper. Cook just until the garlic is fragrant, about 30 seconds to 1 minute.
STEP #2: Pour in the chicken broth and add in ham hock. Cover, reduce heat and allow to simmer for 1 1/2 hours.
STEP #3: Clean the greens throughly. Soak them in water, pick then up to let the water drain off and repeat until they are clean. Remove stems and chop.
STEP #4: Remove the ham hock and chop the meat.
STEP #5: Add the cleaned greens and vinegar. Cover and simmer until they are tender about 1 to 1 1/2 hours. Season to taste with salt and pepper. Use a slotted spoon to serve.
While I like to serve my collard greens with a slotted spoon to avoid excess liquid on my plate, the broth that the greens are cooked in is often called the "pot likkor" and it is delicious. Especially with cornbread.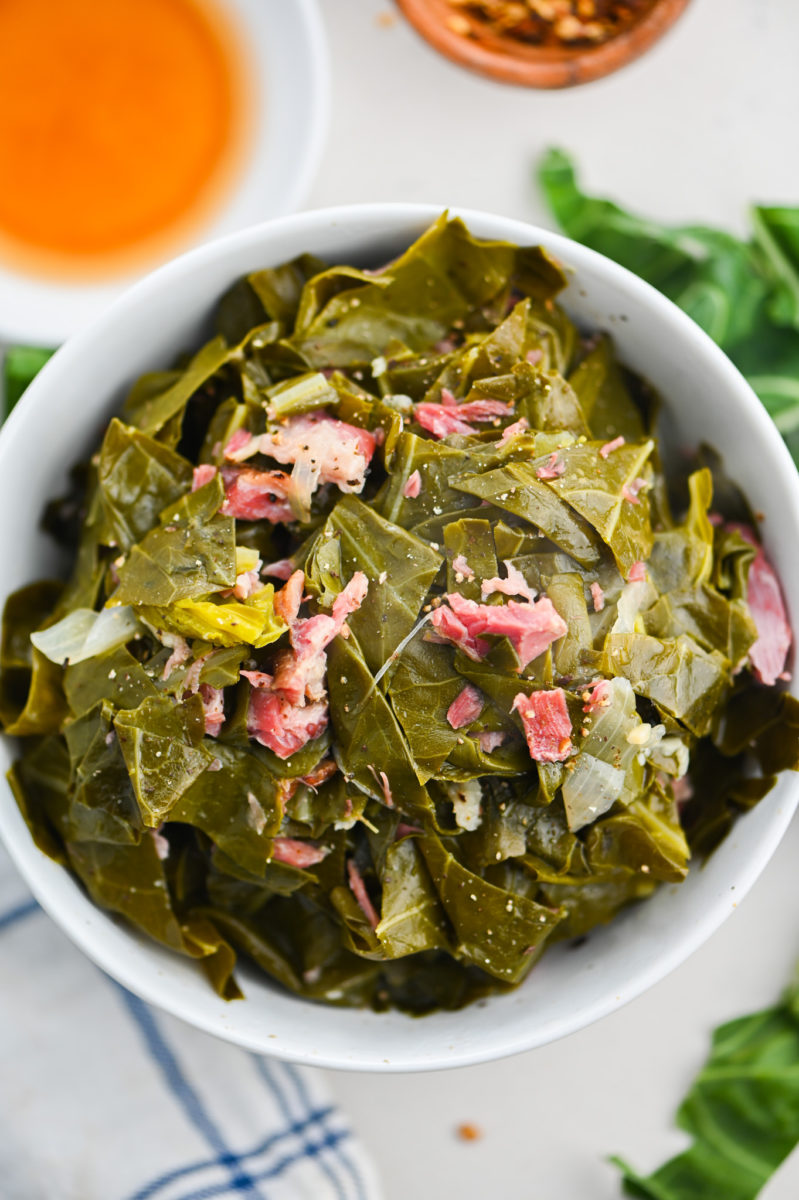 Recipe FAQ:
Do you need to clean collard greens?
Yes! Cleaning them is an important step. They are pretty sandy. To clean them soak them in water and then lift them out of the water so that it drips off of them. Repeat until cleaned, usually about 3 times.
Why add vinegar to collard greens?
It adds flavor and helps cut the bitterness.
Why do you eat collard greens on New Year's Day?
It is believed that they will bring prosperity in the New Year as the greens symbolize the green of dollar bills. And don't forget the Southern Black Eyed Peas!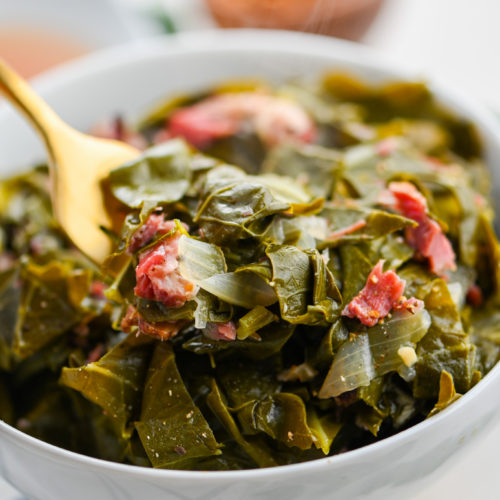 Collard Greens
Greens with Ham Hock are a southern classic! These slow cooked greens are full of flavor and perfect for Sunday dinner.
1

tablespoon

olive oil

1

yellow onion

sliced

4 – 6

cloves

garlic

1/2

teaspoon

crushed red pepper

8

cups

low-sodium chicken stock

1 1/2

lbs

ham hock

3

bunches

collard greens
Heat olive oil in a large pot over medium heat. Add onions, garlic and crushed red pepper. Saute just until garlic is fragrant about 1 minute.

Pour in chicken broth and add ham hock. Cover and cook for 1 1/2 hours or until ham hock is tender. Remove and chop meat into pieces.

Rinse greens thoroughly. Let them soak in water then pick them up and let the water drain off. Repeat until greens are cleaned. Chop.

Add greens to pot. Cover and simmer for 1 to 1 1/2 hours. Add ham hock and vinegar to pot. Stir and serve.
It is very important to rinse the greens, they can be really sandy. 
Use low sodium chicken stock because the ham hock can be salty. 
Crushed red pepper will add a little heat but not too much. If you're unsure start with 1/4 teaspoon and then have some on the table for people to add their own. 
Calories:
489
kcal
Carbohydrates:
12
g
Protein:
41
g
Fat:
31
g
Saturated Fat:
11
g
Polyunsaturated Fat:
3
g
Monounsaturated Fat:
14
g
Cholesterol:
124
mg
Sodium:
398
mg
Potassium:
939
mg
Fiber:
4
g
Sugar:
2
g
Vitamin A:
4818
IU
Vitamin C:
36
mg
Calcium:
270
mg
Iron:
3
mg
Keywords:
collard greens, comfort food, ham hocks, southern food