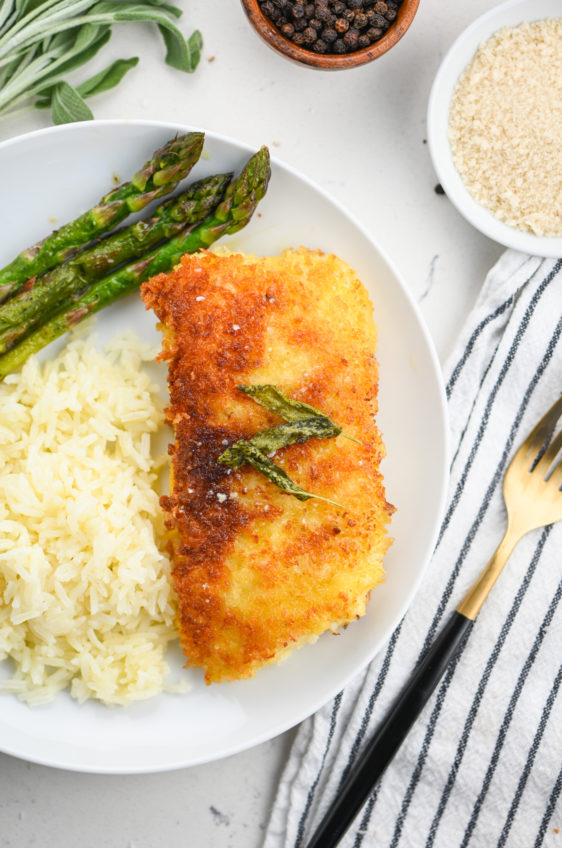 Crispy Fish with Sage Butter Sauce
If you're looking for an easy recipe that will wow your guests, and your taste buds, make this Crispy Fish with Sage Butter Sauce. It is perfect for special occasions but easy enough for a weeknight!
You guys, if you've never had Sage Butter Sauce I am about to rock your world. This decadent, butter sauce is one of those recipes that elevates any dish but is ridiculously easy to make.
I first had this dish when Ryan and I were in Italy. It was served just like this, over some perfectly flaky, fried fish. We went to Italy in 2009 and I still think about this dish. That is how delicious it is. I love the rustic simplicity of it and I think you will too.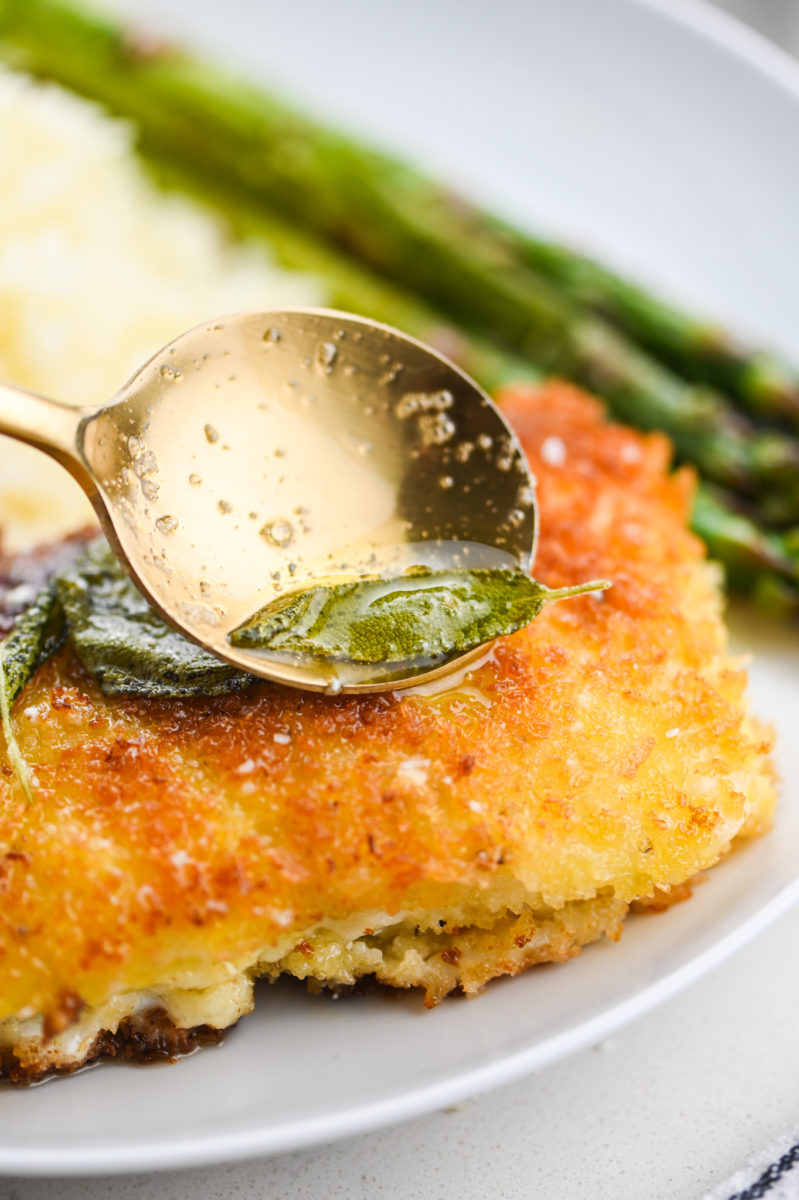 Let's talk about what you need to make it:
Ingredients to make Fish with Sage Butter Sauce: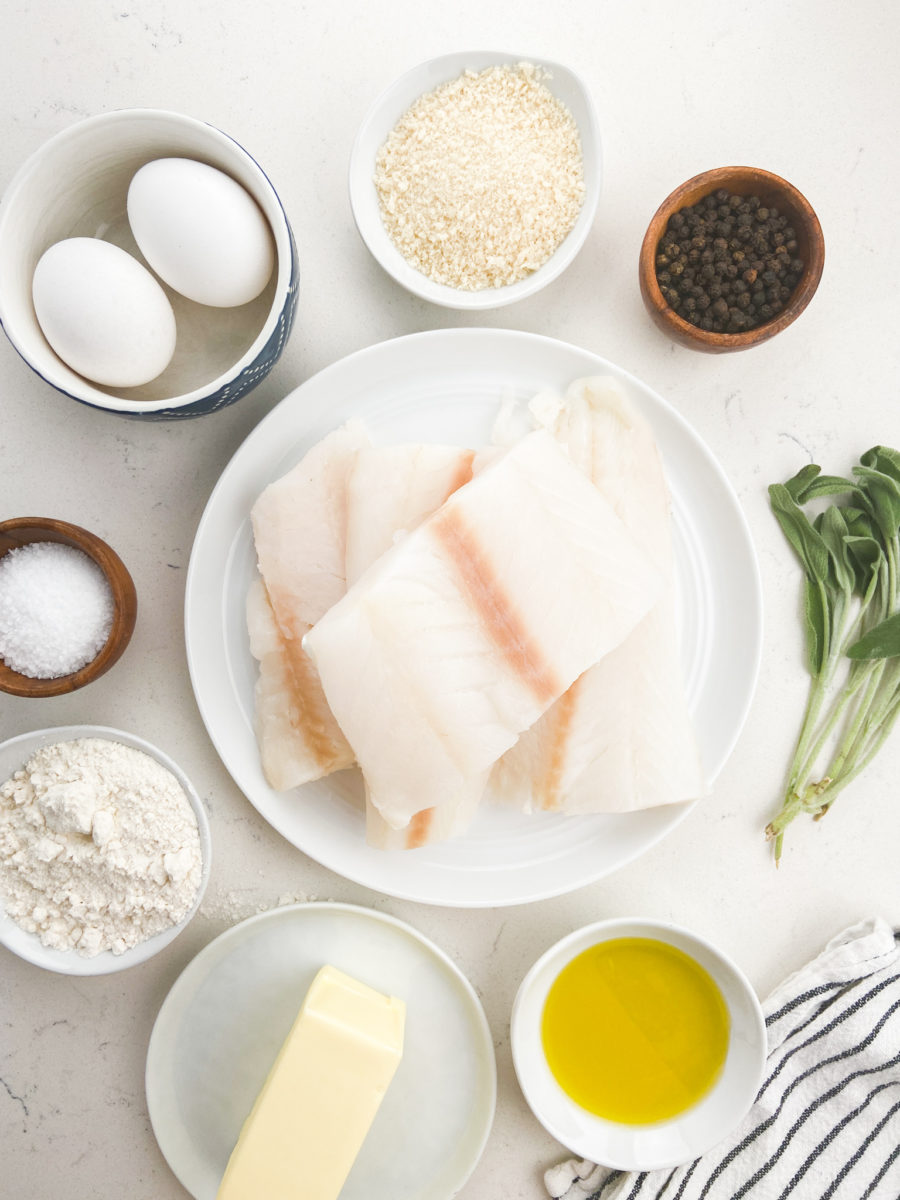 FISH: When I first had this dish, the fish was perch. Perch isn't widely available in my area so I went with cod. You can use any kind of mild white fish that you prefer. This would work well with tilapia, rockfish or halibut as well.
FLOUR/EGGS/PANKO: You'll set up an assembly line with flour, eggs and panko in three separate bowls. This will be used to coat the fish.
OLIVE OIL: Used for pan frying the fish.
UNSALTED BUTTER: It's best to use unsalted butter in this dish so that you can control the salt intake. I used salted once and the result was a bit too salty for our tastes.
FRESH SAGE: You'll need to use fresh sage leaves in this recipe (instead of the dried sage or ground sage). Not only will they give you the best flavor but the fresh leaves get crispy in the butter and they are simply divine.
Step by Step Photos and Instructions:
Now that you have the list of ingredients, let's me walk you through just how easy it is to make this Crispy Fish with Sage Butter.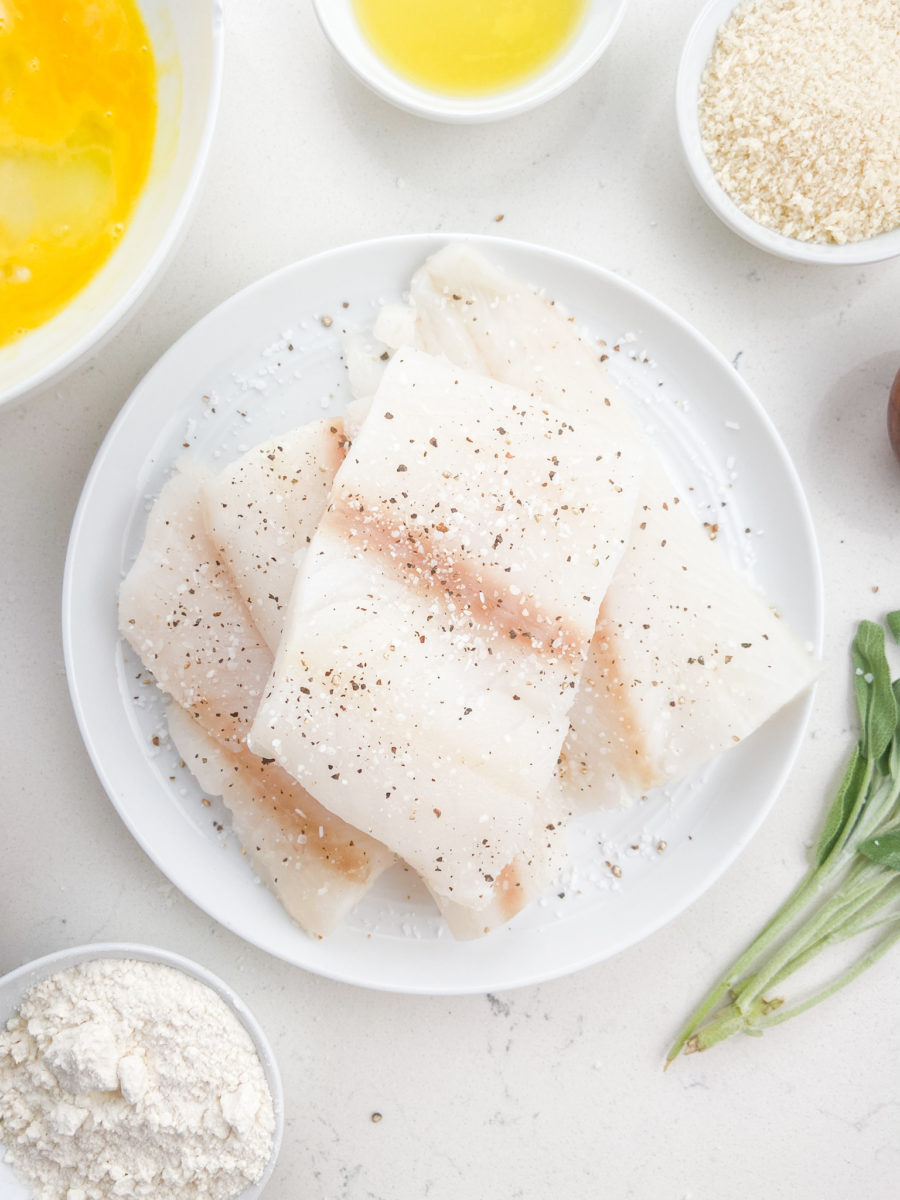 STEP #1: Season the fish with salt and pepper. Then dredge it in flour, dip it in egg and finally press it into panko bread crumbs.
STEP #2: Heat olive oil in a large skillet over medium heat. Depending on the size of your skillet you may need to do this in batches. If you do, simply keep the cooked fish in a warm oven.
STEP #3: While the fish is cooking, make the sage butter. Melt butter over low heat. Make sure to keep it low you don't want to burn it. Once it has melted add sage. Cook over low heat until sage leaves start to brown.
STEP #4: Drizzle sage butter over the top of cooked fish and serve.
I am not sure what my favorite part about this is. The crispy flaky fish, the decadent sage butter sauce or the crispy sage leaves. It is just all so good. And it is these kind of simple, rustic meals that started my love affair with the kitchen and I hope it adds to yours too!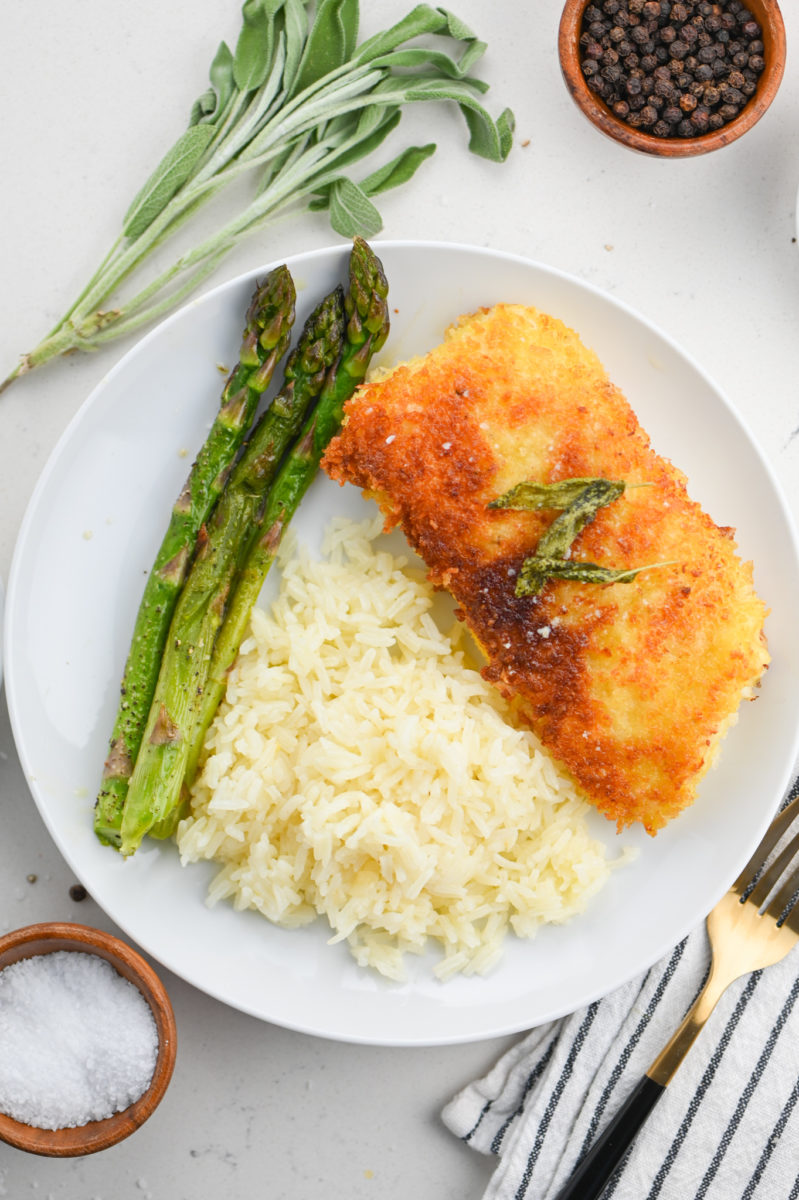 STORAGE AND LEFTOVERS:
This is really best eaten the day that it is made as the fish won't reheat very well without becoming over done. You can save the butter however, simply store it in the refrigerator and reheat over low heat.
What to serve with Crispy Fish with Sage Butter?
I served this with Garlic Rice and some Blistered Asparagus and my family loved it! It was a great light weeknight meal.
If you want to make it a little heartier, try placing the fish on a bed of creamy homemade mashed potatoes and then drizzle the butter over the top of it all.
Note: This recipe was originally published in 2010. It was updated with new photos, nutritional information, and a recipe that makes a larger amount in 2022.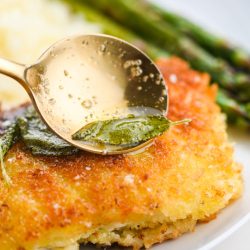 Crispy Fish with Sage Butter Sauce Recipe
Crispy white fish with a delectable sage butter sauce drizzled over the top.
Ingredients:
1 1/2

pound

cod fillets

4 pieces

salt and pepper

1/4

cup

all purpose flour

2

eggs

2

cups

panko bread crumbs

1/3

cup

olive oil

4

tablespoons

unsalted butter

8

sage leaves
Rinse and pat dry the cod fillets. Sprinkle both sides with salt and pepper.

Set up an assembly line. Place the flour in one bowl. Beat the eggs in another bowl and place the bread crumbs in the third bowl.

Dredge a piece of fish into the flour then the egg and then press into the bread crumbs. Repeat until all fish are coated.

Heat olive oil in a skillet over medium heat. Drop a piece of panko bread crumbs into the oil and if it sizzles the oil is hot enough. Cook fish 5 - 7 minutes or until golden brown on each side.

While fish is cooking, melt butter over low heat. Once butter is melted add sage leaves. Continue to cook until sage leaves brown slightly. Low heat is the key here, you want to be careful not to burn the butter.

Once fish is cooked through, transfer to a plate and spoon sage butter over the top. Serve.
I used  cod fillets for this because I usually have them on hand. You can use whatever white fish you prefer. When I originally had this at a restaurant in Italy it was perch. 
Use unsalted butter so that you can control the salt content of the dish. I find if I use salted butter the final dish is too salty. 
Nutrition information for estimation purposes only. 
Calories:
486
kcal
Carbohydrates:
28
g
Protein:
38
g
Fat:
23
g
Saturated Fat:
4
g
Polyunsaturated Fat:
3
g
Monounsaturated Fat:
15
g
Trans Fat:
1
g
Cholesterol:
157
mg
Sodium:
359
mg
Potassium:
821
mg
Fiber:
2
g
Sugar:
3
g
Vitamin A:
212
IU
Vitamin C:
2
mg
Calcium:
114
mg
Iron:
3
mg
Keywords:
butter, cod, fish, italian food, sage, sage butter, seafood