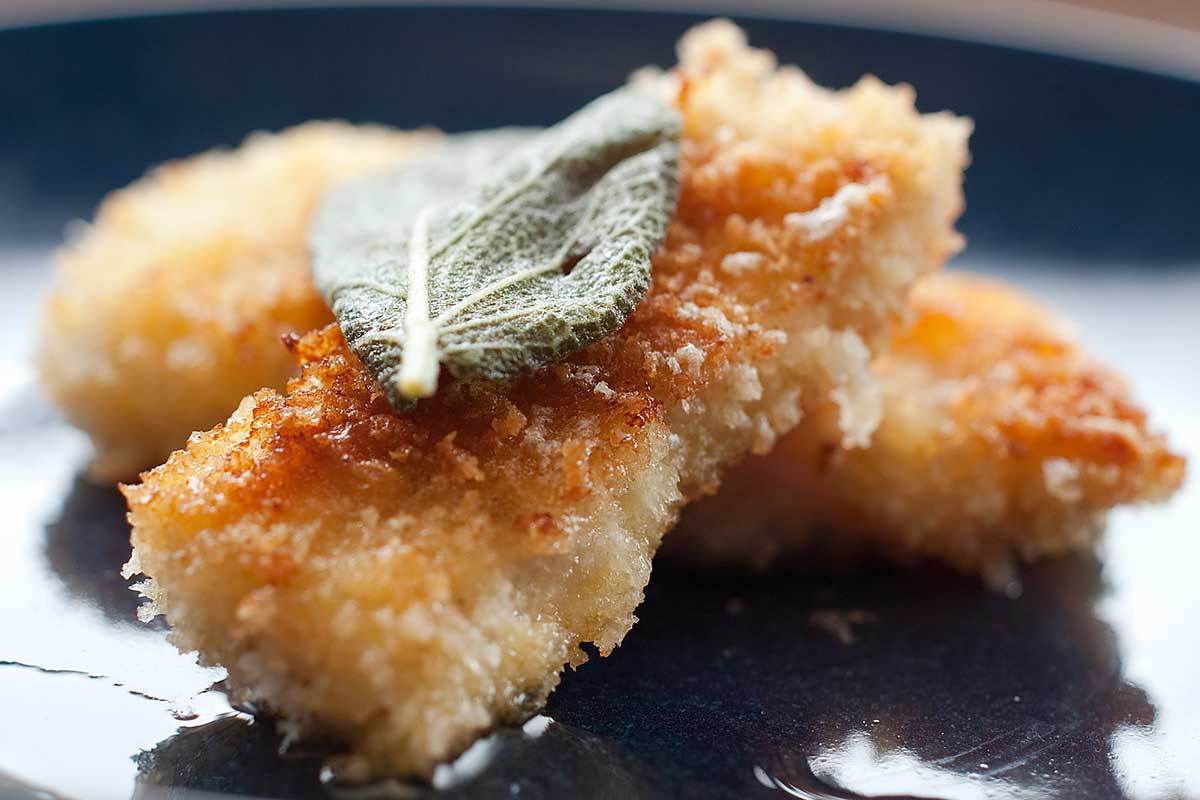 Crispy Cod with Sage Butter
Ok. Ok. Ok. I know I posted a butter recipe just the other day and today I am already sharing another one. But I really just couldn't help myself. You see, earlier this week I was reminded that just about a year ago Ryan and I were eating our way across Italy for the 2nd time in as many years. This time we had unbelievably fresh seafood Milan, perfectly medium rare steaks in Siena and fried zucchini flowers in Rome. And while personally, I think the food was the best in Siena, there was one meal, in Bellagio, that I still think about to this day. And today, I share it with you.
When we sat down and scanned the menu at Trattoria San Giacomo on that breezy evening, it didn't take long for my eyes (and stomach) to lock into the idea of the pan fried perch with sage butter sauce. And when it arrived, believe me when I tell you that first bite was pure heaven. It was crunchy, tender, buttery and the sage gave it a nice earthy flavor. I don't know what the etiquette is in Italy so I had to resist the urge to lick my plate clean, but I may have ran my finger along the edge just to get the last bit of butter sauce.
Note: I couldn't find perch here so I went with cod. You could use any other firm white fish you like. Halibut would be good and I also happen to like tilapia like this.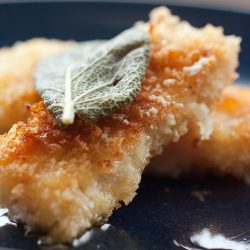 Crispy Cod with Sage Butter
Reminiscing about eating my way across Italy with this crispy cod with sage butter.
Ingredients:
1

pound

cod fillets

salt and pepper

1/4

cup

all purpose flour

2

eggs

1

cup

panko bread crumbs

1/3

cup

olive oil

4

tablespoons

butter

8

sage leaves
Rinse and pat dry the cod fillets. Slice them into 3 inch pieces. Sprinkle both sides with salt and pepper.

Set up an assembly line. Place the flour in one bowl. Beat the eggs in another bowl and place the bread crumbs in the third bowl.

Dredge a piece of fish into the flour then the egg and then press into the bread crumbs. Repeat until all fish are coated.

Heat olive oil in a skillet over medium heat. Drop a piece of panko bread crumbs into the oil and if it sizzles the oil is hot enough. Cook fish 5 - 7 minutes or until golden brown on each side.

While fish is cooking, melt butter over low heat. Once butter is melted add sage leaves. Continue to cook until sage leaves brown slightly. Low heat is the key here, you want to be careful not to burn the butter.

Once fish is cooked through, transfer to a plate and spoon sage butter over the top. Serve.
Keywords:
bellagio, cod, fish, Food, fresh sage, fried fish, italian food, italy, Recipe, sage, sage butter, seafood