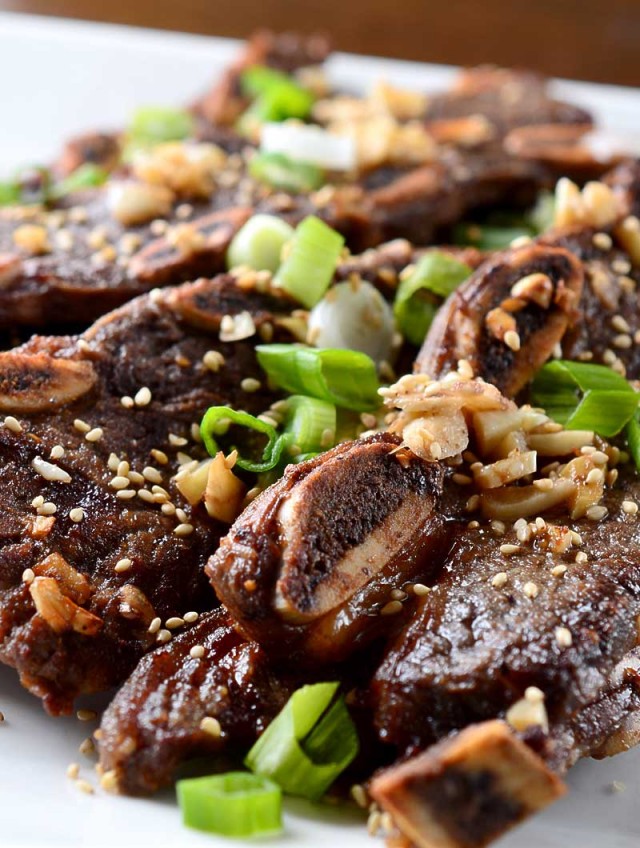 Grilled Flanken Ribs
Grilled Flanken Ribs are first marinated in a mixture of ginger and garlic and then grilled to perfection. Learn how to use this uncommon beef cut!
While the Fish Tacos with Spicy Slaw recipe won out when I asked friends on Facebook what they wanted to see last week, this recipe was a close second. And now that summer is right around the corner, there couldn't be a better time to make ribs. These aren't your standard BBQ ribs. No, no, no these Grilled Flanken Ribs are cut flanken style and then marinated in a sweet gingery garlic sauce before being grilled to perfection.
Flanken style ribs might not be all that popular but I am not quite sure why. They are inexpensive. Flanken ribs are cut then so they cook quickly. They usually have some good marbling. Marinated flanken ribs are  a tender, very flavorful cut of meat.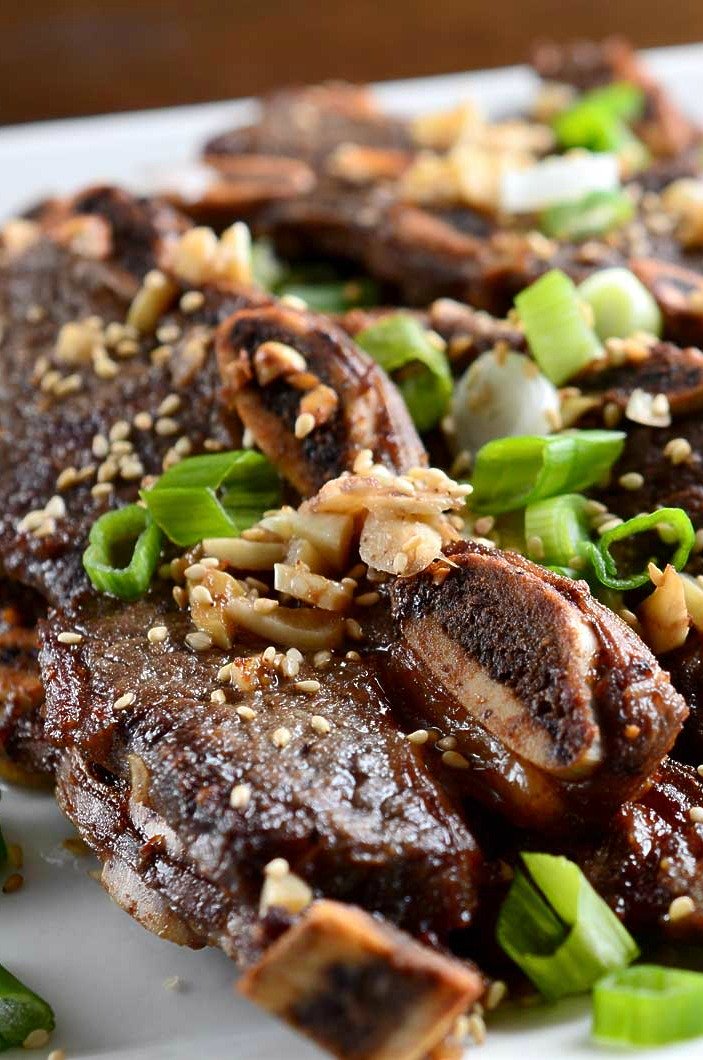 My grocery store always stocks flanken rips so I have been experimenting with different recipes using them over the last couple of months. Perhaps because I was first introduced to flanken ribs kalbi style, I have always been inclined to do an Asian style marinade with them. This recipe is the latest I tried and is definitely a favorite in our house. I served them with some sesame noodles and edamame and Kellan and Ryan kept asking for more. Reluctantly, I shared.
Next time, I'll make a double batch.  And I will be sure to serve it with this Garlic Rice  and edamame!

Grilled Flanken Ribs Recipe
Ingredients:
8 cloves garlic, minced
2 teaspoons ground ginger
1 teaspoon sesame oil
1/2 teaspoon black pepper
2 tablespoons soy sauce
2 tablespoons vinegar
2 pounds flanken ribs
2 green onions, diced
sesame seeds
Instructions
1
Combine first six ingredients together in a bowl. Mix well.

2
Place ribs in a resealable plastic bag or a bowl. Pour marinade over the top. Toss the meat to coat completely. Seal and refrigerate for 6 - 8 hours.

3
Remove from the refrigerator about 30 minutes before you want to cook to allow the meat to come up to room temperature.

4
Heat your gas grill over medium-high heat. Once hot cook ribs 2 minutes per side. You can also cook these in the broiler by turning your broiler to high and cooking the ribs 2 - 3 minutes per side on the middle rack. Remove and allow to rest for 5 minutes.

5
Sprinkle diced green onions and sesame seeds over the top and serve.