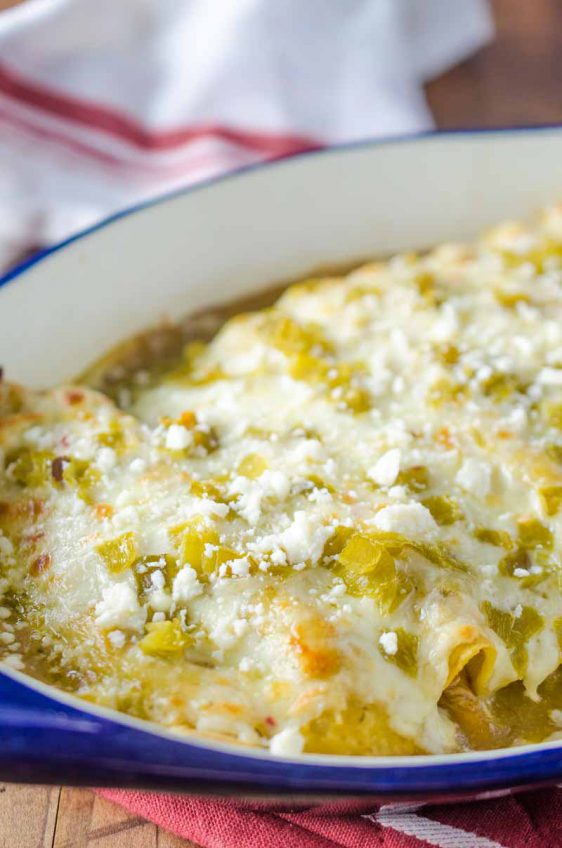 Green Chile Chicken Enchiladas
Green Chile Chicken Enchiladas are loaded with chicken, chiles and 3 kinds of cheese. This easy enchiladas recipe is a great way to use leftover chicken. 
I don't know about you, but I am always looking for new ways to use leftover chicken. Or ways to use the Costco rotisserie chicken that I cannot resist picking up each time we go. Chicken salad is always a good go to. So is adding it to sandwiches, soups and tacos. Chicken enchiladas are also a favorite Mexican dish around here. Especially these green chile chicken enchiladas.
I love making enchiladas because they are something you can make ahead of time and then just pop in the oven about a half hour before you want to eat. With T-ball and karate in full swing right now, easy dinners like this are just what we need.
And cheese. We also need cheese. Melty, gooey, luscious cheese.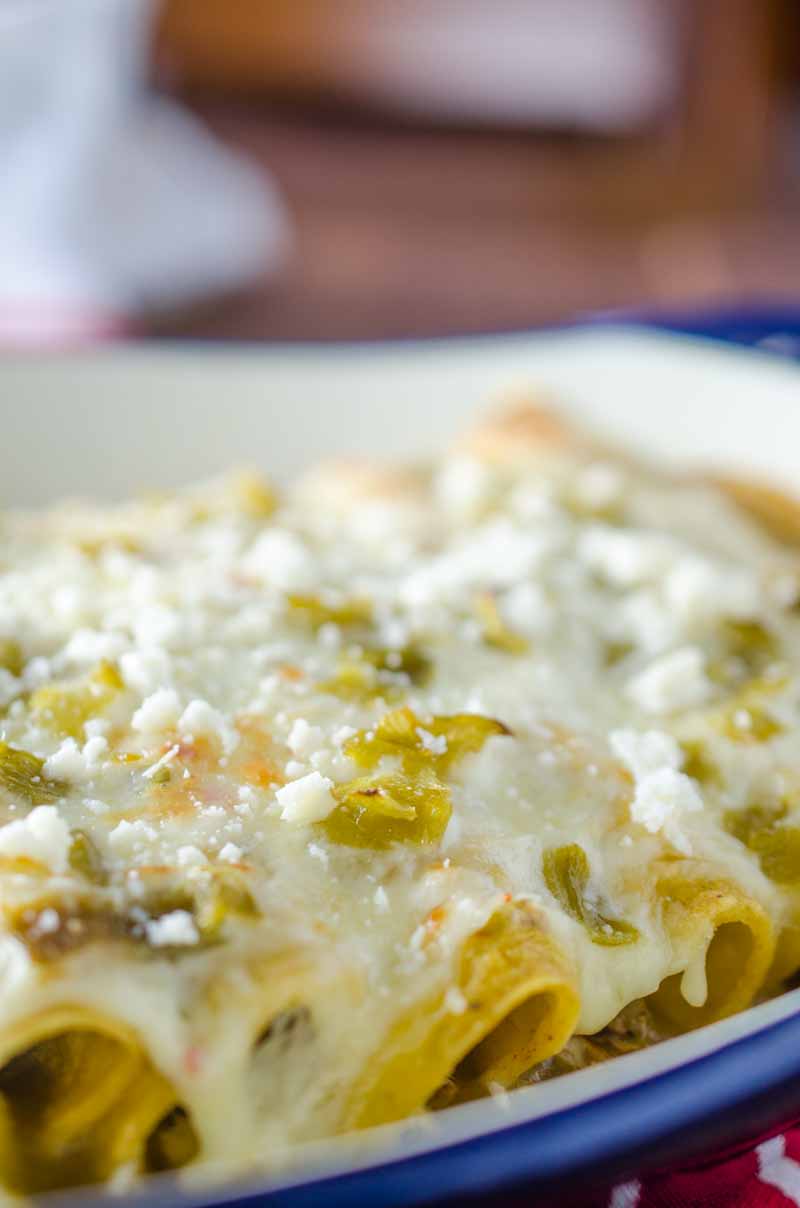 When I made these Green Chile Chicken Enchiladas, I knew that I wanted to make them super cheesy. The melted cheese has always been my favorite part of enchiladas. For this recipe, I use both pepper jack and monterey jack cheese. I like using pepper jack whenever I get the chance because I love the little kick it gives. It's subtle but you can taste the peppers. My kiddos didn't think it's too spicy but if you want to keep things super mild use all jack instead.
And not one to put only two cheeses in my chicken enchiladas, I topped these babies with some crumbled cojita cheese too. I just love the saltiness that cotija adds. It is a must for all my enchiladas, nachos and tacos.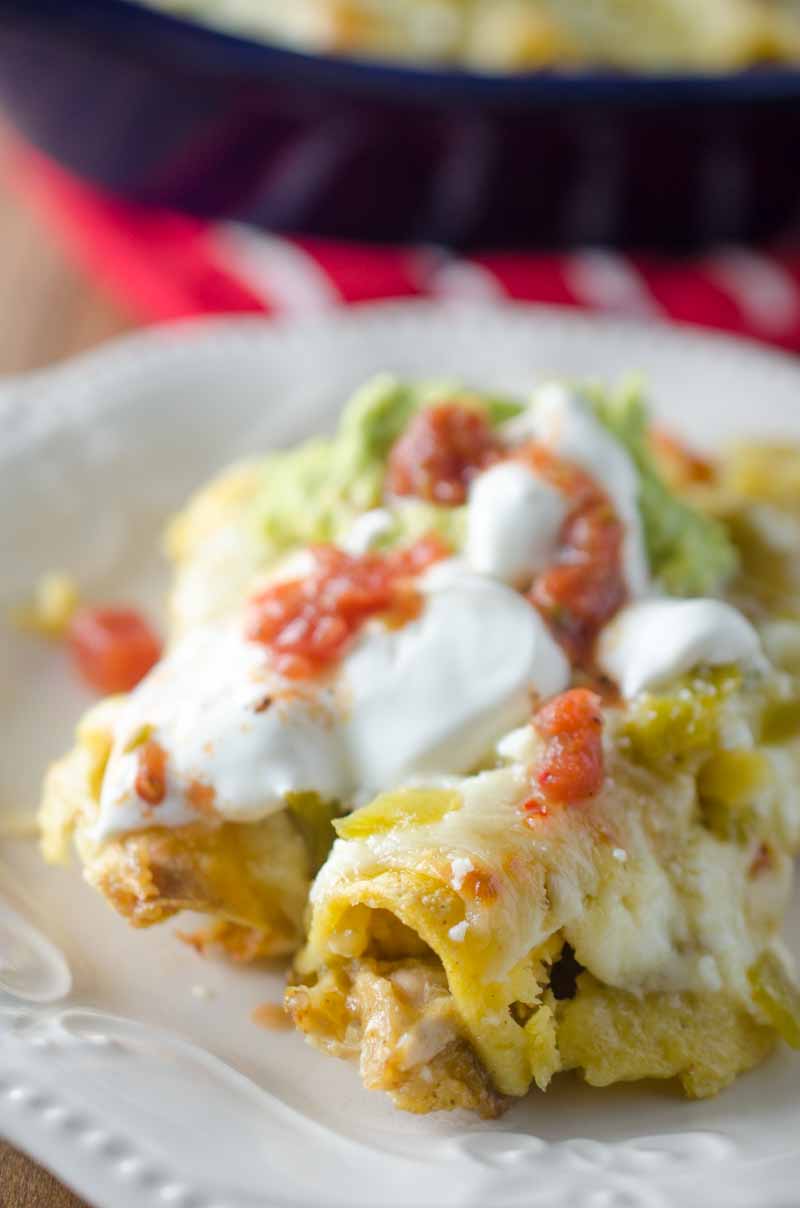 And when it comes to enchiladas you can't forget the other toppings! For these Green Chile Chicken Enchiladas we loaded them up. I'm talking sour cream, guacamole and pico de gallo. It doesn't get much better, right?
Green Chile Chicken Enchiladas Recipe
Ingredients:
1 tablespoon oil, plus more for cooking tortillas
3 cups cooked shredded chicken
1/2 yellow onion, diced
8 - 10 small corn tortillas
1 (7oz) can diced green chiles, divided
1 1/4 cup green chile enchilada sauce
1 cup pepper jack cheese
1 cup monterey jack cheese
1/2 cup crumbled cotija cheese
guacamole
sour cream
pico de gallo
Instructions
1
Preheat oven to 350 degrees. Spoon 1/4 cup of green chile enchilada sauce on the bottom of a baking dish.

2
Heat oil in a skillet over medium heat. Add onions, chicken and half of the can of chiles. Cook just until onions are soft, about 5 minutes.

3
In the same skillet, heat just enough oil to cover the bottom of the pan. Fry one tortilla for 15 seconds on each side or until it is soft. Transfer to a paper towel lined plate and repeat with remaining tortillas.

4
Lay the tortillas out on a flat surface. Place about 1/4 cup of the chicken mixture in the center and roll to close. Place the enchiladas, seam side down in the prepared baking dish. Pour enchilada sauce over the top. Spoon remaining diced chilies over the top and sprinkle pepper jack and monterey jack cheeses. Bake in preheated oven for 25 minutes or until bubbly. Turn on broiler and broil for 1 - 2 minutes if desired. Sprinkle crumbled cotija cheese over top.